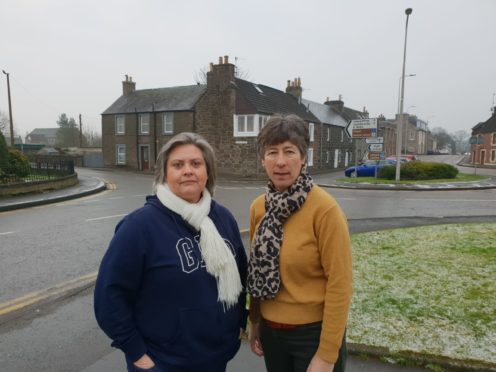 Politicians have raised concerns about the impact of eight-week long roadworks on tourism and business in Crieff and Strathearn.
SGN will carry out gas mains replacement work on the A822 Crieff to Muthill Road with the disruption possibly impacting the Crieff Highland Games or Drovers' Tryst Walking Festival.
Strathearn Conservative Councillor Roz McCall said she was "deeply concerned" about the planned works and encouraged members of the community to attend a two day public consultation later this month.
Ms McCall said: "I have already stressed the importance of the timing with SGN.
"Summer will cause an issue with the tourist trade and the Crieff Highland Games.
"Moving it forward will effect school exams, moving it back effects the Drovers' Tryst and will increase the time frame.
"It is no secret that I have deep concerns over the timing of the proposed works and it is imperative that as many people attend the public consultation events to ensure that all comments and concerns are truly taken into consideration as SGN move forward with this.
"Their time frame is eight weeks of road closure and additional weeks with traffic measures in place."
Liz Smith, Conservative MSP for the Mid Scotland and Fife, also urged people to attend the public meetings which will be held at Strathearn Community Campus from 9am until 5pm on February 15 and from 9am until 4pm on February 16.
Ms Smith said: "The main concern with the roadworks is the effect they will have on local businesses.
"Obviously, the gas pipe upgrade work needs to take place on the Crieff to Muthill road but I am urging local residents to attend these two public consultation events to ensure that everything is done to minimise disruption.
"I will be looking for answers from SGN at these consultation events as to how they can mitigate possible problems to motorists caused by the roadworks."
Katie Lobban, an SGN spokeswoman, said feedback from the public meeting would be "seriously considered".
She said: "We'll shortly be holding open consultations to gain feedback and capture any concerns from local residents and businesses about our upcoming project to upgrade the gas network in Crieff.
"All of the feedback and information we receive will be seriously considered, and will help us in the planning process of our project.
"This essential work involves the replacement of old, metal gas mains with new plastic pipe to ensure a continued safe and reliable gas supply.
"We need to replace these old gas mains and while there is no ideal time to carry out the work, the timescales will be agreed in consultation with the local authorities with a view to minimising the impact of our work on the local community."