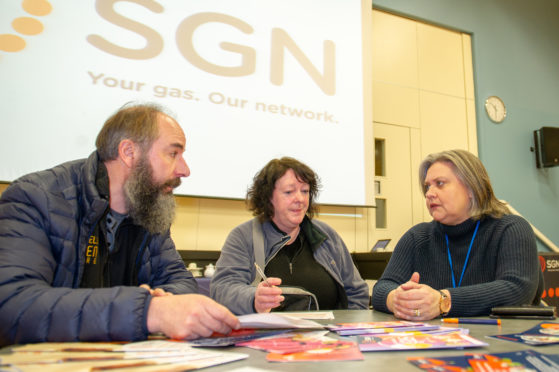 A controversial eight-week bridge closure at Crieff could be pushed back to winter as campaigners battle against gas works being carried out at the height of the tourist season.
SGN said it was "taking stock" of feedback from a two-day public consultation on the work planned for the Crieff to Muthill road, before making a final decision on a start date.
Campaigners say the gas company has been left in "little doubt" about the strength of feeling from local businesses and residents following the meetings at Strathearn Community Campus on Friday and Saturday.
David McCann, manager of Crieff Succeeds BID, said: "SGN at no point committed to pushing it back but they said there was a possibility that it could be pushed back to winter or the possibility of not closing the road at all and looking at other arrangements.
"As far as our survey went among businesses and residents the overwhelming preference is for the work to start in the winter months or even January and February.
"We don't want the road to be closed at any time but if there was to be a closure we would prefer it was during the winter months."
Roseanna Cunningham, the area's SNP MSP, said: "The representatives from SGN will certainly have gone away from the meeting with little doubt that this is an issue over which there are very strong feelings indeed.
"In particular, there was unanimity in the room that everything possible must be done to avoid closing the bridge and that there should be no question of the works being carried out during the peak tourism season."
A proposal to carry out the gas works over the summer months has been strongly criticised by local businesses in Crieff.
Critics say the associated road closure would put tourism and the town's highland games at risk.
Following Friday's consultation, Strathearn Conservative councillor Roz McCall, said: "SGN told me they are thinking about carrying out the roadworks in the winter, which would be ideal.
"This shows how important it is for local residents to attend these consultation events."
A SGN spokesperson said: "Over the coming weeks, we'll be taking stock of all the feedback we received as well as carrying out onsite surveys in North Bridge Street in the next stage of our planning process.
"We'll be digging small trial holes and running cameras through our gas pipe, which will help us establish the most effective way to upgrade this complex section of our network while minimising disruption to Crieff's residents and visitors."