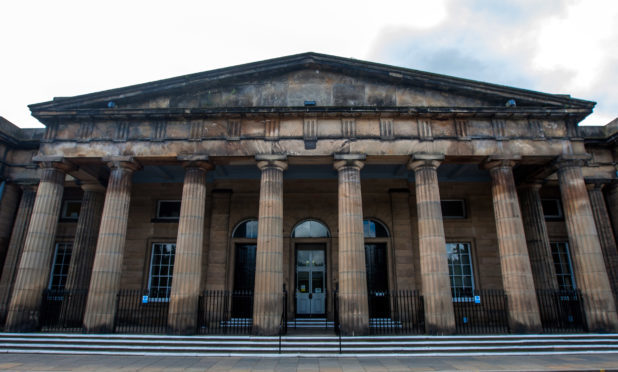 A joyrider who tried to run down a police officer and crushed his own friend's leg as he fled during a high speed chase has been locked up for 15 months.
Cameron Robertson, 20, was sentenced to detention after a sheriff berated him for showing a lack of remorse.
A police officer had to jump out of the way to avoid being run over and Robertson's friend was seriously injured as he tried to escape from the car.
Sheriff William Wood told Robertson: "You have shown so little remorse and so little contrition for the events of that evening that there is little to say by way of mitigation.
"Your response to social workers in relation to the police officer was that he could see the car was moving and that he should have got out of the way.
"The information I have is that you drove at him. Your wheels spun. That is so dangerous that I cannot see how I can avoid a custodial sentence.
"You knew at all times what you were doing. Your actions have consequences.
"I don't like sending a young man with promise to detention and it will blight your future career but I can't have boy racers in cars thinking they can do whatever they want."
PC Jamie Elder tried to stop Robertson, who was 19 at the time, as he drove directly at him in Aberfeldy, leaping out of the way at the last second.
Robertson drove along a pavement and through red lights at double the speed limit.
Kyle James, 24, was left with ligament damage and a broken leg as he was crushed against a wall while trying to flee the speeding vehicle.
Perth Sheriff Court was told that Robertson was driving so fast in and around Aberfeldy he managed to lose the police officers who were pursuing him.
Depute fiscal Eilidh Robertson said: "He began to accelerate away and officers pursued him, activating blue lights and siren.
"He accelerated through Aberfeldy, mounting the pavement to get round a stationary vehicle, and through two red lights.
"Officers estimated he was driving at 45 to 60 miles per hour throughout. They followed him around in a circle until he was lost to sight."
They got a tip-off an hour later that Robertson was hiding behind a church in nearby Weem and they found him and Mr James in the vehicle.
"The officers positioned their car to try and block the accused's car. PC Elder was standing in front of the car," Miss Robertson said.
PC Alan Band told the duo to get out of the vehicle, but as he put his hand down to open the door, Robertson put his foot down to race off.
---
>> Keep up to date with the latest news with The Courier newsletter
---
"The accused accelerated hard, causing the wheels to spin and the car to move forward at speed. PC Elder had to jump out of the way and twisted his knee in the process.
"The accused mounted a verge. Mr James opened the passenger door to try and exit but he got his leg trapped against a garage. He immediately knew he had a serious injury."
Machine operator Robertson drove to Ballinluig, where he left his friend, and drove off.
He was captured later and Mr James was found to have torn ligaments and a broken leg.
Robertson, of Lochview, Killichonan, near Pitlochry admitted driving dangerously and at excessive speed on various roads in and around Aberfeldy on March 21 last year.
He admitted driving through red lights, on the pavement, and forcing PC Elder to jump out of his path as he drove towards him.
He admitted causing Mr James serious injury as he tried to exit the car while Robertson fled from police.