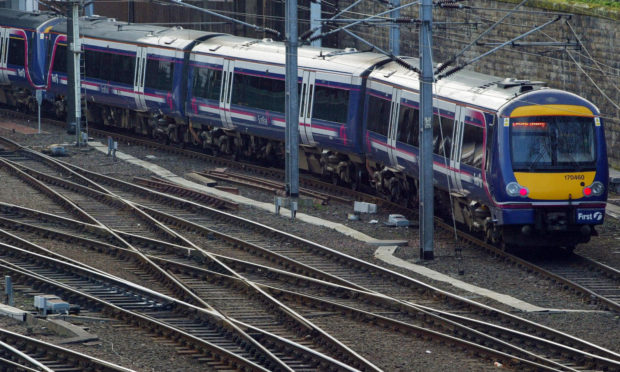 ScotRail's contract with the Scottish Government is under further pressure after passengers in Tayside and Fife bore the brunt of a string of rail cancellations on Tuesday.
Twenty-three journeys were called off across Scotland due to a shortage of train crew, with 15 of them due to travel to, from or through stations in Courier country.
Services from Edinburgh, Glasgow and Aberdeen to Dundee, Perth, Arbroath, Montrose, Glenrothes, Kirkcaldy and Cowdenbeath were among those affected.
The issues led to fresh calls for the Scottish Government to strip ScotRail of its contract to run the franchise.
North East Scotland Liberal Democrat MSP Mike Rumbles said "frustrated" passengers in Dundee and Fife had bore the brunt of Tuesday's cancellations.
He added: "I have been told that tonight's (Tuesday's) cancellations are due to staff shortages. If that is the case, then ScotRail should have been aware of the potential for cancellations and worked to spread the load across the entire network, rather than heaping problems on commuters to Fife and Dundee.
ScotRail boss warns of threats to hitting punctuality target by 2021
"ScotRail and the Scottish Government have admitted that performance is not good enough and the chronic shortage in staff shows poor management and a lack of foresight.
"It is time the Scottish Government took serious action and withdraws from the current contract with Scotrail, at the earliest opportunity."
ScotRail, which is operated by Abellio, said Tuesday's cancellations were caused by the late delivery of its new class 385 and InterCity trains, the knock-on effect of industrial action and the training of more than 20 drivers and conductors every day.
A ScotRail spokesman said: "This has been a challenging time for Scotland's railway, but things are improving. More trains are arriving on time than ever before, and everyone at the ScotRail Alliance is working flat out to provide customers with the service they deserve.
"Improving the service for our customers is the priority for everyone at ScotRail. We are training more than 20 drivers and conductors every day, and this will deliver continual improvements in the coming weeks and months."
Ticket acceptance for ScotRail passengers affected by the cancellations was arranged for the 6.10pm CrossCountry train, and 6.30pm and 8.32pm LNER services.
He could not confirm if further cancellations would be announced this week.
From November into December 2018, hundreds of ScotRail services were cancelled as a result of crew shortages brought about by staff training combined with RMT industrial action.
The rail firm was also been issued two remedial notices by Holyrood in less than two months – the first on December 24 and the second on February 8.
Last week First Minister Nicola Sturgeon warned ScotRail is in "last chance saloon" and could be stripped of the franchise if it fails to deliver on the second notice.
More than 60 trains cancelled due to staff shortages as ScotRail 'normal timetable' resumes
'We know this isn't acceptable': ScotRail explains the reason behind crew shortages causing so many cancelled trains
And transport secretary Michael Matheson said that if the company failed to meet even one of the 19 commitments in the remedial plan, it could lead to the Scottish Government terminating Abellio's contract.
He added: "As the First Minister has already said ScotRail are in the last chance saloon. So if they don't get it right, that should make it very clear to them what the potential consequences can be."
A Transport Scotland spokesman said: "Ministers fully expect performance to improve at the earliest opportunity to meet franchise and regulatory targets, and that can only be achieved by delivering strong performance now.
"ScotRail is well aware of the necessity for them to meet these expectations."