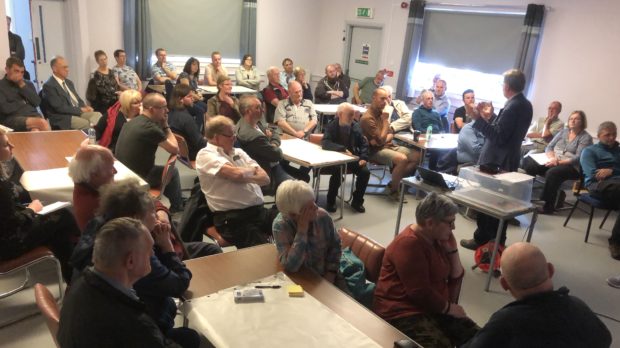 Strong support is emerging for a west Fife rail link.
More than 50 people attended a meeting held by Green MSP Mark Ruskell in Kincardine, with the majority in favour of reopening the line from Dunfermline to Alloa, with a station in Kincardine.
The railway line was previously used to transport coal to Longannet power station, but has been mothballed since the plant closed in 2016.
Recent interest from the Spanish company Talgo in building a train factory at Longannet has reignited hopes for the line but there are concerns that this could once again provide a freight-only service.
Representatives from Fife Council and Talgo attended the meeting along with local residents from Kincardine, Culross, Valleyfield and other west Fife villages.
Participants raised issues including the generally poor state of bus services, the difficulties of getting to work and education and training opportunities and the problems in connecting to Edinburgh.
There were strong views expressed that any proposed reinstatement from Alloa to the Longannet site must consider the business case for further extension east to Dunfermline.
There was also interest in forming a cross community group to consider next steps.
The Mid Scotland and Fife MSP said: "There have been long-standing aspirations for reopening a rail link between Fife and Clackmannanshire, but the future of the site at Longannet has always thwarted progress.
"The exciting proposal from Talgo, however, has breathed new life into the campaign.
"There's now a clear demand for the railway line to be used by the train manufacturer, but we need to make sure that the hope for a passenger service too isn't sidelined."
Mr Ruskell added a full passenger link between Alloa and Dunfermline would not only open up access to the potential jobs at Talgo, but reinstate a regular public transport link for other commuters, students and leisure passengers across a region that has "too often been left behind".
"Strong community campaigns have been key to progressing the case for new railway lines and stations in other parts of Fife, like Levenmouth and Newburgh, and I hope the same energy will now help to push forward the case in west Fife," he added.
A second meeting is due to be held in Alloa Town Hall on May 20.