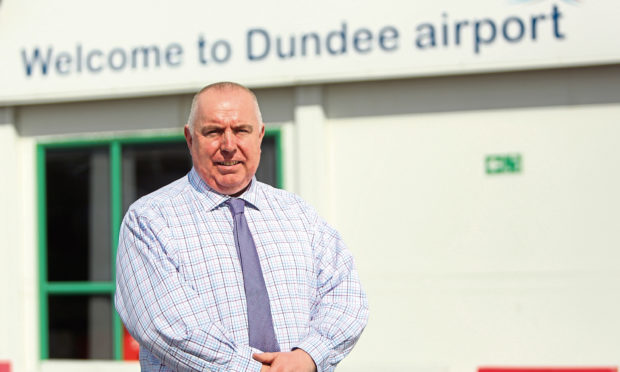 Dundee Airport has introduced new safety measures following an accident which left an aircraft with damaged landing gear.
The plane, carrying the pilot and one passenger, was taxiing ahead of a flight to Aberdeen Airport on February 7 at around 5.30pm when air traffic control noted hearing a loud bang after an oil strut became lodged in a grassy area.
Marks left by the plane indicate it continued taxiing straight over the grass without turning left along the curved portion of the taxiway where it meets the main apron.
The pilot reported losing sight of the taxiway edge lights against the brightly-lit runway.
However, a witness familiar with both daytime and night aircraft operations at Dundee Airport observed the aircraft taxiing during the incident and told investigators he believed it was travelling too fast.
According to an official report: "The aircraft, whilst taxiing at night at Dundee Airport, departed the right side of Taxiway E at the point where the taxiway curves to the left prior to joining the main apron.
"The aircraft's left main landing gear oleo was damaged as it rolled over the paved edge of the main apron.
"A contributory factor in the pilot's loss of situational awareness of his position on Taxiway E may have been his loss of sight of the taxiway edge lights against the brightly-lit main apron.
"Excessive taxiing speed may have also been a contributing factor."
It is understood it would have been dark when the aircraft began taxiing, with the sun setting at around 4.55pm on February 7.
The pilot reported feeling the plane had gone over a depression in the taxiway, followed by a loud bang which he thought was one of the landing gear struts bottoming out.
After being contacted by concerned air-traffic controllers, the 59-year-old stopped the aircraft to investigate. It was then attended by members of the AFRS who discovered the left main landing gear oleo had burst and was leaking hydraulic fluid.
The report into the incident states Dundee Airport was in no way at fault but bosses have now introduced a taxi speed limit into the warnings section of the Aeronautical Information Publication (AIP) document for the airport.
It also plans to reduce the severity of the lip between the grass and the main apron surface at the point where the taxiway joins the main apron.
Dundee Airport manager Derrick Lang said: "Dundee Airport conducted an investigation following the incident and we have taken action as a result.
"The report makes clear the airport was not at fault, nonetheless we have introduced a taxiway speed limit and are also reducing the severity of the lip between the grass and the main apron surface to allow a smoother transition in the event a similar incident occurs in future."