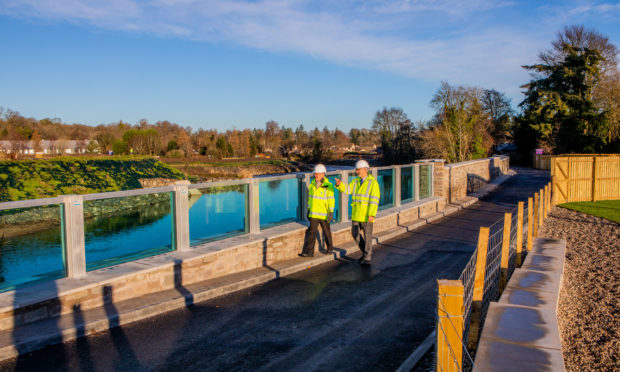 Almondbank residents say they have been blighted with problems following the completion of the village's £25 million flood defence scheme.
The project, intended to stop the River Almond spilling into the low lying parts of the village, was officially signed off last December.
However, Methven and District Community Council chairman Kenny Simpson said he was still receiving complaints from Almondbank residents.
He said fences, erected by main contractors Balfour Beatty, had been left behind and the sports pitch remained "unusable" due to damage to its surface and drainage issues.
Mr Simpson said locals were also unhappy that trees which were chopped down by the water's edge were only likely to be replaced with shrubs.
The lingering issues comes after villagers dealt with noise and other disturbance for four and a half years.
The plans fell schedule at various stages, due partly to issues with two of the bridges under construction.
A new confluence bridge had to be demolished and re-built while Lochty Bridge construction was delayed so changes could be made to the design.
Perth and Kinross Council has paid out more than £40,000 in incidental compensation to villagers, with more claims still being submitted.
Mr Simpson said residents were unhappy that the problems were continuing after the project was supposedly finished.
"Children can't play on the football and rugby pitch, it's just a pile of weeds. We keep getting asked when it will be ready," he said.
"Some trees on the riverbank have been chopped down, I think by mistake, and we were told they would be getting replaced.
"They didn't need to cut them down as they weren't affecting any of the building of the flood defences. Now we've been told there's not enough earth to replant, so there will just be shrubs instead.
"There were more trees cut down at the water plant which won't be replaced. We've been told these are all minor changes for which the council don't need any consultation."
Perth and Kinross Council said contractors were still dealing with snagging issues and insisted homeowners and business owners were being kept informed.
A spokesperson for the local authority commented: "The Almondbank Flood Protection Scheme is nearing completion and through significant investment has already delivered a considerable reduction in flood risk to communities and businesses in Almondbank and Lochty.
"The main contractor, Balfour Beatty, is currently on site and is in the process of completing any remaining works, and all relevant property owners are being fully consulted
"Trees were intentionally removed from the riverbanks to make way for the construction of the new flood defences. Replacement landscaping has been put in place however it will take a number of years for this to grow and fully establish.
"Works are still ongoing to reinstate the sports pitch by the start of the new season in mid-August.
"The water and waste supply final commissioning work to the pavilion will take place over the next few weeks, and elsewhere remedial works have been carried out to some ponding areas."
Residents are being urged to report any issues which have arisen due to the flood protection scheme to their team.
The council concluded: "The council continues to closely liaise with residents to address their concerns, as we have throughout the entire process
"Both parties appreciate the patience of residents during the final works to complete this important flood scheme which will be of great benefit to the community as a whole."