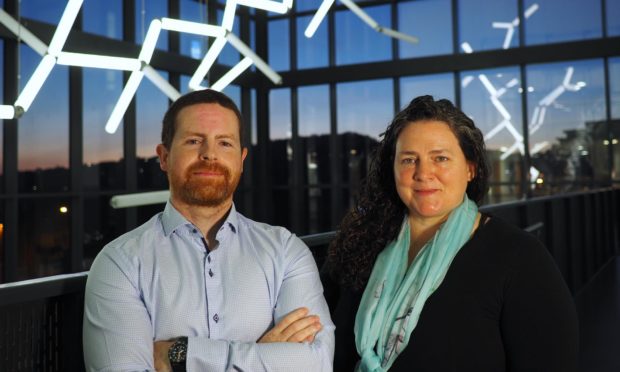 Two Dundee businesses were awarded more than £100,000 to grow at this year's Scottish EDGE competition.
University of Dundee spinout company Ten Bio Ltd won £65,000 in the national competition supporting Scotland's most exciting new enterprises.
GoRoadie, a tech firm which connects driving instructors with people seeking driving lessons, was given £40,000.
The competition is the UK's largest business funding competition, supporting Scotland's most innovative, high-growth potential start-up businesses.
This year Scottish EDGE received a record-breaking 327 applications. Almost £1.1 million was awarded to 33 successful applicants.
Ten Bio founders Dr Robyn Hickerson and Dr Michael Conneely have created a patented, human skin culture system that offers a compelling alternative to animal testing.
"We are thrilled to have receive a Scottish EDGE award, especially considering the quality of all of the finalists," said Dr Hickerson.
"This is a tremendous honour. The EDGE prize will be critical in our early growth and certainly play a key role in our success."
Michael Carr, co-founder of GoRoadie, said the award would allow the firm to add another member of staff.
He said: "This is amazing news for us and for Dundee. Seeing how amazing the EDGE finalists were, we are so proud to take home a prize.
"With this, we are going to hire an engineer to build the app instructors keep asking us to build.
"We are committed to improving instructor's quality of life by making their day to day easier. Winning EDGE gives us the chance to do this faster."
The Scottish EDGE competition is funded by the Hunter Foundation, the Royal Bank of Scotland, the Scottish Government, Scottish Enterprise and private donors.
The competition is delivered twice per year with the total pot of money awarded now exceeding £16 million in the 16 rounds now completed.
An additional £500,000 loan from Scottish Enterprise to Scottish EDGE will also allow the winners to access top-up loan funding to further boost their awards.
Linda Hanna, managing director of Scottish economic development at Scottish Enterprise, said: "Congratulations to all the winners in what was another high-calibre competition.
"We're pleased to provide an additional £500,000 loan funding to help more of Scotland's most promising and ambitious entrepreneurs grow their businesses, and look forward to engaging with them on their journeys.
"In these challenging times it is wonderful to see so many young companies, who have a pivotal role to play in Scotland's economic recovery, continuing to pursue funds for growth."
List of this year's Scottish EDGE winners:
Bellfield Brewery – The UK's first, exclusively gluten-free and vegan brewery – Edinburgh – £70,000 (loan).
Brave Strong Beautiful (Community Interest Company) – hairdressing and beauty salon offering employability services –  Edinburgh – £50,000 (Social Enterprise EDGE)
Craft Prospect Ltd – A space engineering practice utilising artificial intelligence (AI) and quantum technologies to improve satellite operations – Glasgow – £80,000
Fresh Car Care – Mobile car care app helping subscribers manage their car cleaning and maintenance – Edinburgh (Prestonpans) – £25,000 (STV Growth EDGE)
GoRoadie – A marketplace connecting learner drivers with qualified driving instructors – North-East (Dundee) – £40,000
IntelliPalp Dx – Biomedical engineering company developing devices for the early detection of prostate cancer – Edinburgh – £75,000
Matugga Distillers Limited – An ambitious distillery producing an award-winning range of artisanal Scottish rum spirts – Livingston – £25,000
MI:RNA Ltd – Offering revolutionary diagnostic testing that identifies heart disease in companion animals using a blood sample- Edinburgh (Westfield) – £45,000
Ogi Bio – Start-up biotechnology company developing retrofittable devices to change the way that microbes are grown and managed – Edinburgh – £45,000
Origin Peptides – Manufacturer of peptides, for research, cosmetic and pharmaceutical use – Edinburgh – £35,000
Pillow Property Partners Ltd – International travel tech platform that matches holiday homeowners with quality guests from around the world – Ayrshire (Dundonald) – £25,000
Piseach, trading as Bubu Skincare – Creates unique skincare masks targeted globally at gen z/millennial customers – Highlands & Islands (Alness) – £35,000
Quosient, trading as Earth Blox – Earth observation data offering access to terabytes of space satellite – Edinburgh – £30,000
Seawater Solutions – Social enterprise seeking sustainable farming practices which uses seawater to grow salt-tolerant crops – Glasgow – £25,000 (Circular Economy EDGE)
Ten Bio Limited – Biotech spin-out company providing patent-pending human skin testing platform that closely mimics intact living skin– North-East (Dundee) – £65,000
Topolytics Ltd – An analytics platform which applies data science to make the world's waste system more visible – Edinburgh – £45,000
Touchlab – Uses cutting-edge electronic-skin to build teleoperated robot avatars in outer space and hazardous environments – Edinburgh – £100,000 (Higgs EDGE)
Utopi Limited – IoT enabled, smart building integrator to help businesses optimise space and performance – Glasgow (Hamilton) – £30,000
Wildcard EDGE winners:
Confidence Plus Ltd – £10,000
KelpCrofting – £10,000
Mygo4ward Ltd – £15,000
ReadSmart (Bright Page Technologies) – £10,000
Recycl8 Ltd – £10,000
Silver Lion Innovations £10,000
SolarisKit Ltd – £10,000
Young EDGE winners:
Bare Bones Chocolate Ltd – £10,000
BioLiberty – £15,000
Crover Ltd – £10,000
Hoko Design Ltd – £10,000
Knit It (Creative EDGE) – £10,000
MacIsaac Ltd – £10,000
Pomelo Collective Ltd T/A Reath – £10,000
Rafikï Coffee – £10,000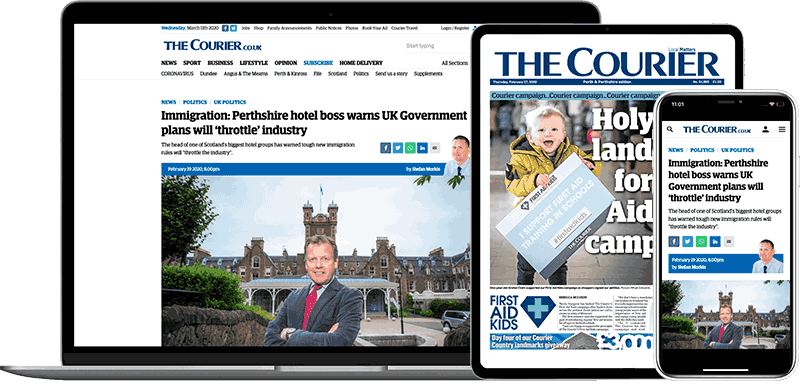 Help support quality local journalism … become a digital subscriber to The Courier
For as little as £5.99 a month you can access all of our content, including Premium articles.
Subscribe