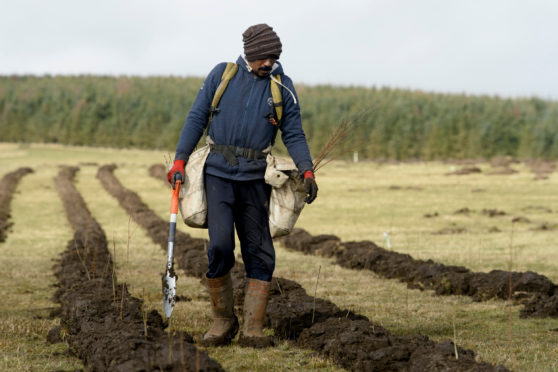 The Scottish Government has signalled that it is prepared to increase already ambitious targets for new forestry planting and aim for 18,000ha of afforestation per year.
Around 10,000ha / year is currently being planted and government has set targets of 12,000ha / year from 2021/22 to 14,000ha in 2022/23, reaching 15,000ha from 2024/25.
However, rural affairs secretary Fergus Ewing has committed to working alongside the wood and forestry sector lobbyists, Confor, which has called for the target to be expanded to 18,000ha/year.
Mr Ewing said he welcomed the industry support for increased levels of tree planting.
"Scotland's new Forestry Strategy identifies as a priority for action over the next 10 years, the expansion of forest and woodland area, integrated with other land use objectives.
"This will help to further reduce Scotland's greenhouse gas emissions, drive sustainable economic growth in the forestry and other land-use sectors, enhance Scotland's biodiversity and increase the positive contribution of urban forests and woodland's in Scotland's towns and cities," he said.
"I look forward to working with the forestry and land-use sectors to identify opportunities for further cooperation in achieving these ambitious goals."
Demand for plantable land has already resulted in inflated prices for hill farms and many farmers have taken advantage of woodland grants. The farmers' union is supportive of farm woodland and shelter belts, but has raised concerns about bigger acreages being turned over to forestry.
Union president Andrew McCornick said: "We've no objection to woodlands, but foresters like blocks of 100ha or more to make it easier for planting and harvesting, and worryingly that's the direction it's going in.
"They also seem able to buy upland farms more easily than farmers."
nnicolson@thecourier.co.uk