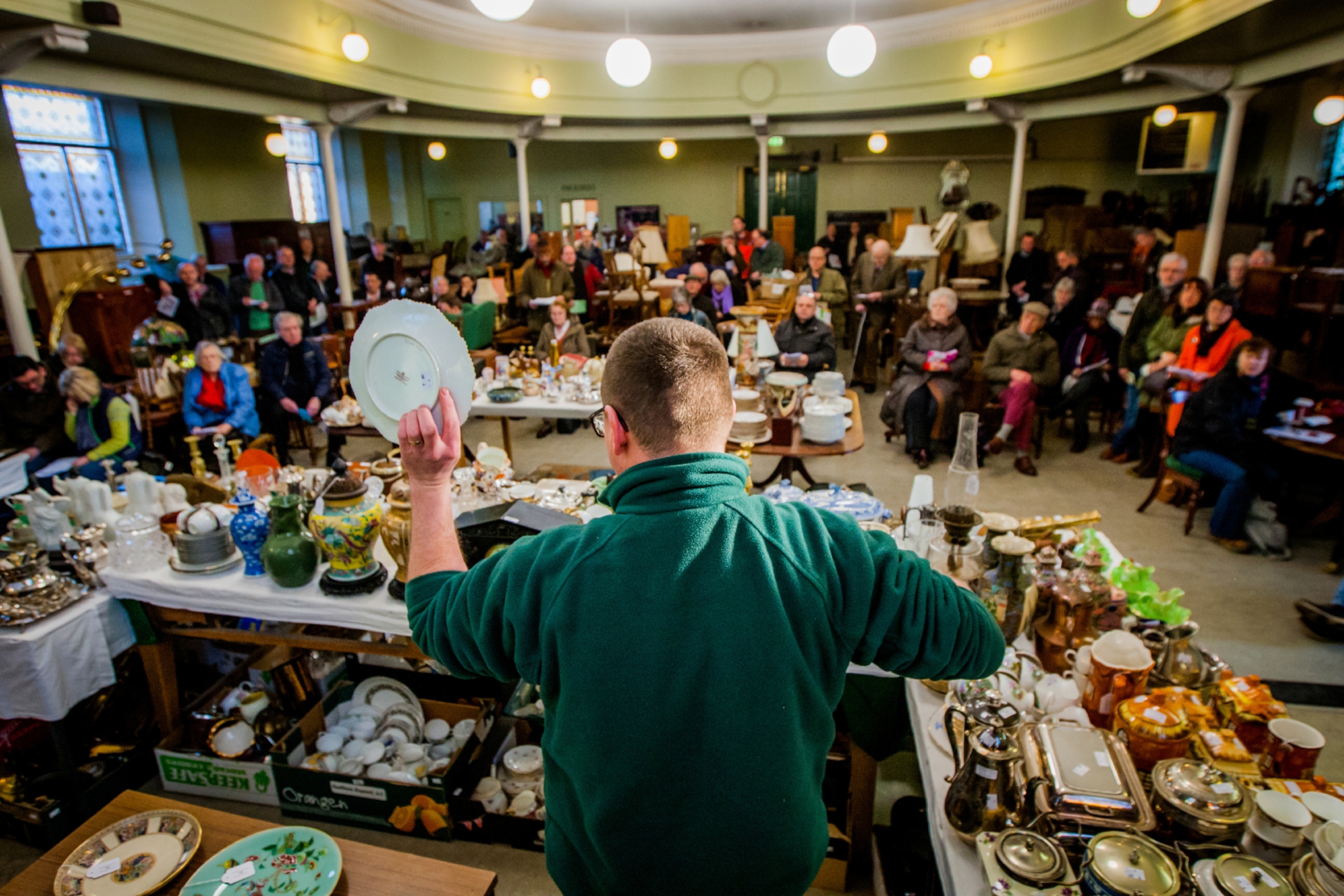 From coffins and rare comics to grandfather clocks and ornamental cow's heads, you never know what you might find in an auction. Gayle Ritchie visits two in Courier Country
A beef, muscular lad picks up a fragile china teapot and proudly displays it aloft to the dozens of potential bidders dotted around the vast auction hall.
A woman in a red coat peers down over her specs and scrawls a note in her programme while across the room, brows furrow in concentration.
Bidders nod and shake their heads while auctioneer Steven Dewar – a master at cajoling people into parting with just a few more pounds – chants out figures in a rhythmic monotone.
Pausing for breath, he beguiles: "A lovely Victorian porcelain teapot decorated in blue and gilt and painted with flowers? I can't tempt you? £75? Are you absolutely sure?"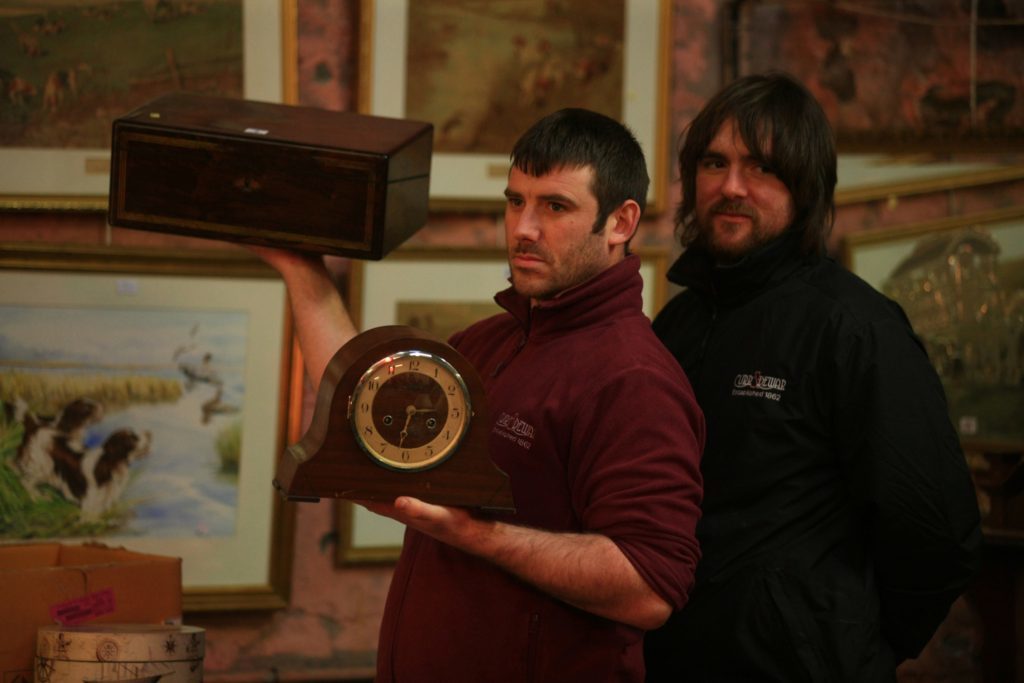 Within seconds, Steven's gavel hits the podium. The teapot sells for a cool £95 and the process begins again with the next item – a retro dial phone.
It's mixed auction day at Curr and Dewar in Dundee and people have flocked from across the city and beyond in the hope of grabbing a treasure, or at least a bargain.
On display is a bizarre – some might say motley – collection of goods, most from house clearances but many from the collections of private sellers.
Electric guitars, curling stones and chimney brushes are lined up next to an 1830s grandfather clock and vintage golf clubs, while fine china sets and tureens balance on top of stainless steel milk containers.
A doll's house sells for £10, while a motor boat engine goes for £75, an accordion fetches £40 and a gents watch realises £250.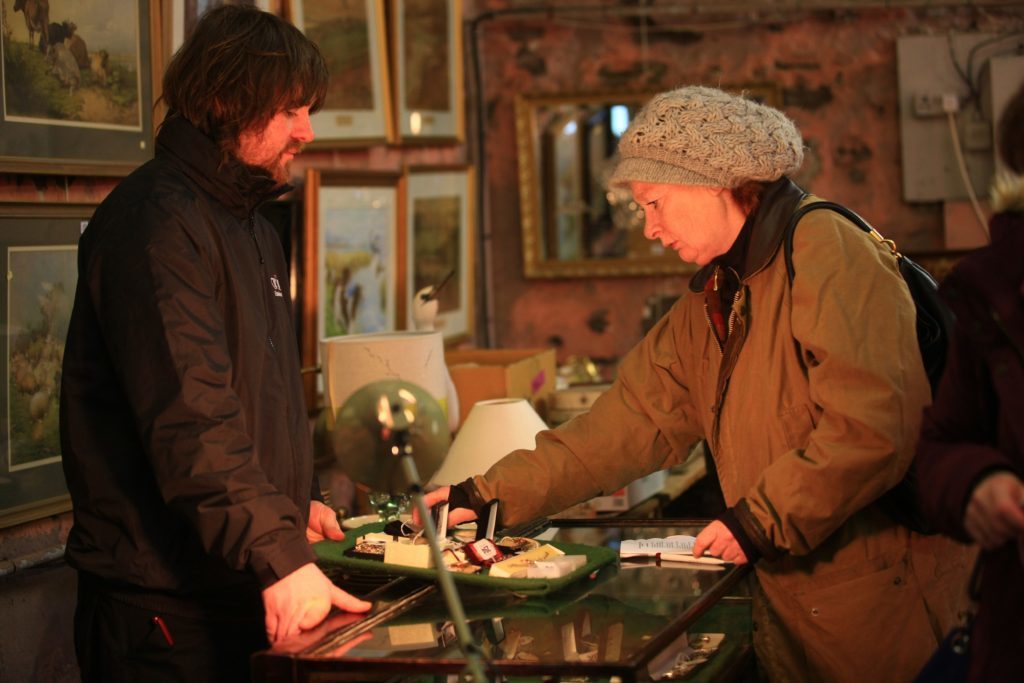 There's an abundance of old tellies, hi-fis, stamp collections, toys and games and one lot boasts a fur coat and bowler hat, "the kind every gentleman should own", according to Steven.
At the other side of the hall, there's a rocking horse, a vintage air force jacket, ornaments, paintings, gas masks, jewellery, walking sticks, Persian carpets and a collection of Dundee Football Club programmes.
There are also heavy goods – dressing tables, church benches, entire office suites, beds, sofas, sideboards and footstools, dishwashers, washing machines and garden furniture – and it's obvious why big strong men like Richie Stewart are needed. Teapot handling is one of the lighter jobs he'll be taking on today.
Up on the podium, Steven, a fourth generation auctioneer dressed smartly in suit, shirt and tie, cracks a few jokes but stresses he "discourages rabble, as if people are in a classroom".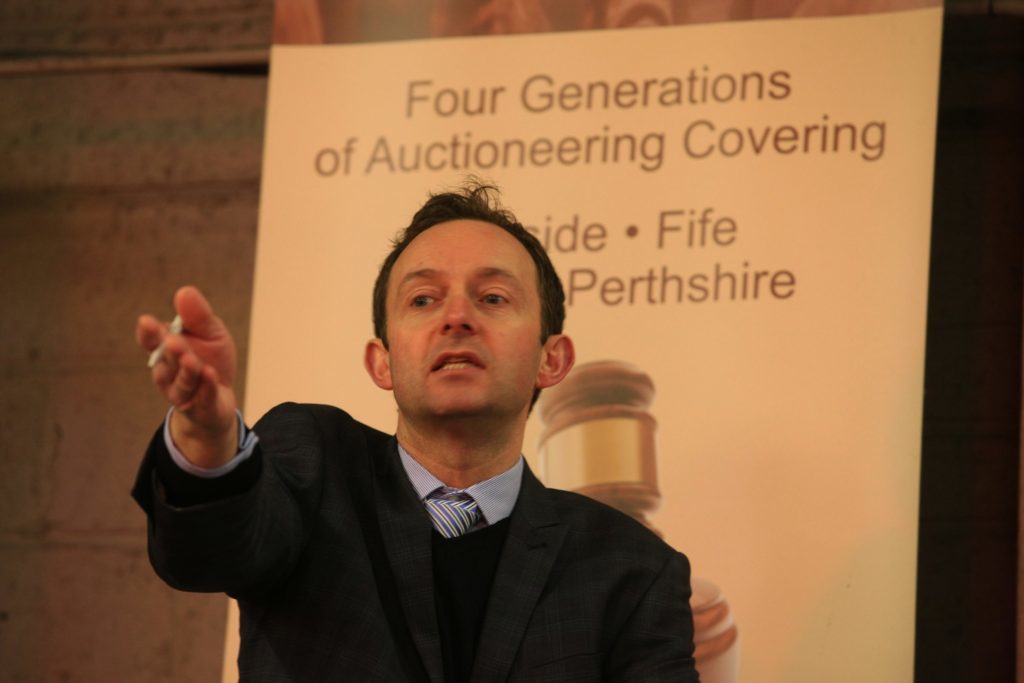 That's just as well, because auctions here are fast-paced, averaging 200 lots an hour; you need to pay attention or you could miss that 17th Century soup ladle.
During a break, I catch up with Steven, 47, and find out how the magic happens.
"You can always guarantee seeing unusual and wonderful things at auction – things granny would have had and things you haven't seen for decades," he beams.
"One comment I hear regularly is, 'I used to have one of those and I can't believe how much you just sold it for'."
Among the more unusual items he has sold are coffins, a collection of stag and Highland cow heads from a chap in Edzell who was emigrating, and a Lincoln Continental motor car collected from a local executry estate.
"Oh, and we sold a taxidermy of a goat's head for £170," he remembers.
The police lost and found auctions were always a source of surprises.
During Steven's 30-year career, he's also sold off Christmas turkeys, the contents of an equestrian centre (aside from the horses) and "everything from pallets of bricks to clocks."
Some of his most memorable sales include a collection of 1920s railway posters and Empire Marketing Board posters which sold for £22,000, and a rare DC Thomson publication, The Magic Comic, issues one to 24, bound as one book, which sold for £13,000.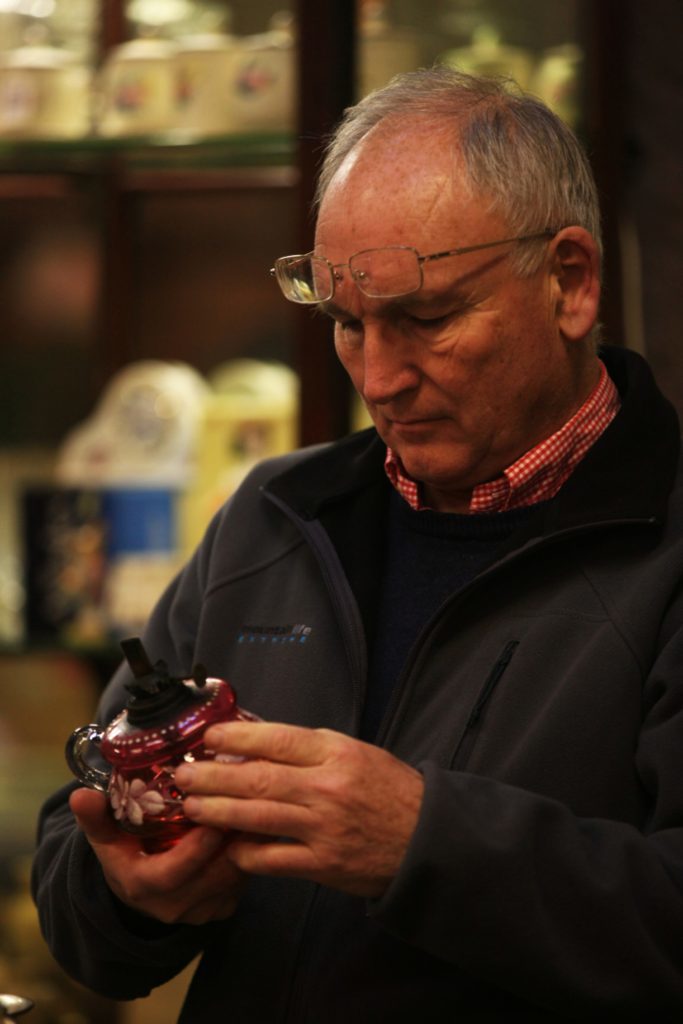 "People often turn up with boxes full of items asking, "how much will this make?", he says.
"Some antiques and collectibles are extremely valuable, reaching hundreds and thousands of pounds, while sometimes bric-a-brac might only reach a fiver."
It's this unpredictability that makes the job and the auction house environment so exciting, he says.
"You can never tell what's going to arrive on your doorstep and every auction is different – but all are exciting."
His advice to beginners? Come along, get a feel for how the day progresses and return another time and put down a couple of bids.
"You're guaranteed to get the bug," he says. "If nothing else, an auction is an opportunity for a right good rummage.
"Keep visiting and what you are looking for will eventually turn up."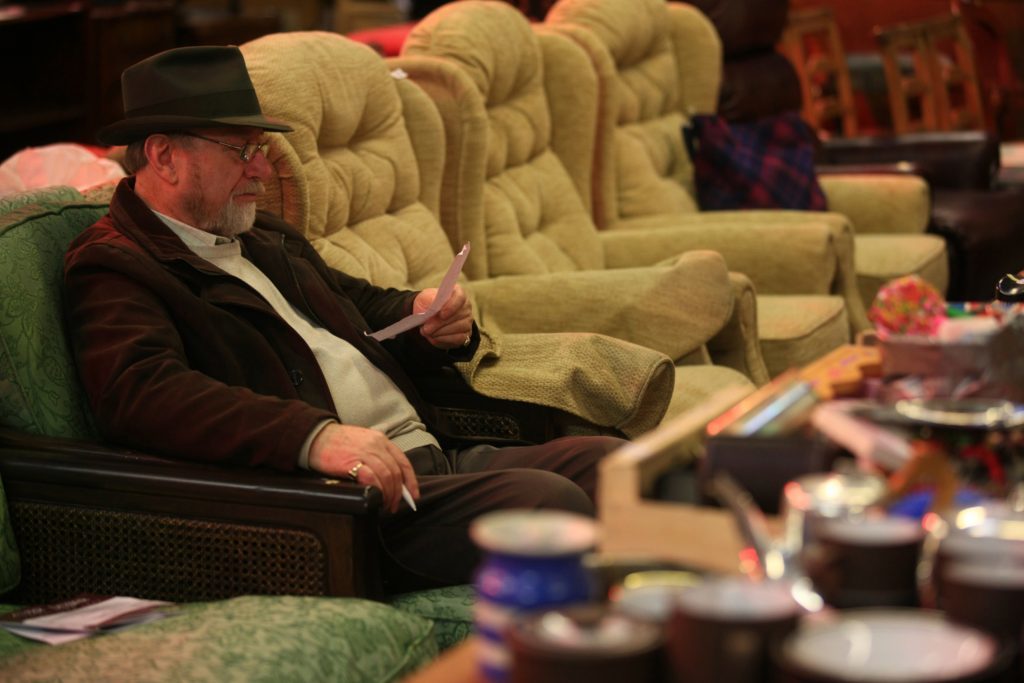 Auction fever
An hour before the auction kicks off at Lindsay Burns and Company's saleroom in Perth, there's a buzz in the air that's almost electric.
Auctioneer Nick Burns has 717 lots to fire through and he's confident he will sell everything.
There's brassware, glassware, books, photo albums, porcelain urns, a 19th Century silver snuff box, antique pistols, a Nazi bayonet and a collection of war medals.
Then there's a 1926 gold pocket watch, Clarice Cliff pottery, and porcelain salvaged from the Nanking cargo ship, which spent 235 years at the bottom of the South China Sea after being hit by a torpedo in 1943.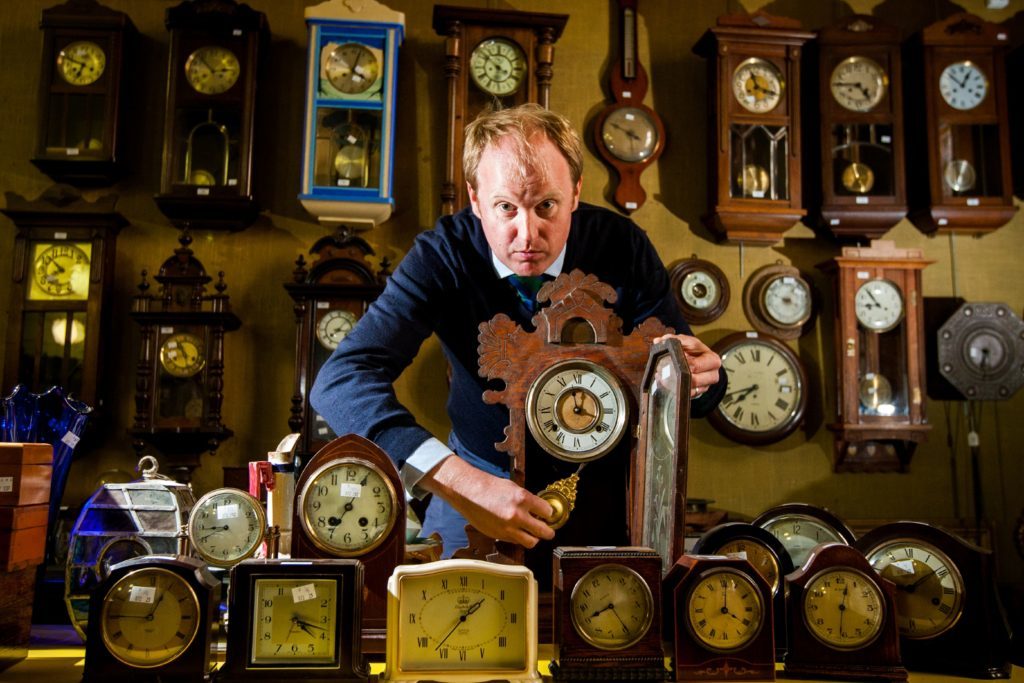 Bang on 10am the auction starts, paddles are raised, and with Nick, 40, rattling through 150 lots an hour, it's fast and furious.
The highest prices are shared by two separate lots – a pair of early 20th Century silver tureens and covers, and an art deco burr walnut five-piece bedroom suite. Both make £950.
Among the buyers is Charlie Stuart. He's travelled from Stenhousemuir to buy coins and medals from the 1930s.
"I spent £270 today and I'll sell them online for a profit to pay the bills," he reveals.
Kenneth Stewart has taken a day off work as an insurance officer at St Andrew's University to come to the auction. He's got his eye on an 1800 painting, a quern (a hand tool for grinding corn) and some 1900s curling stones and says even if he doesn't buy anything, it's a great day out.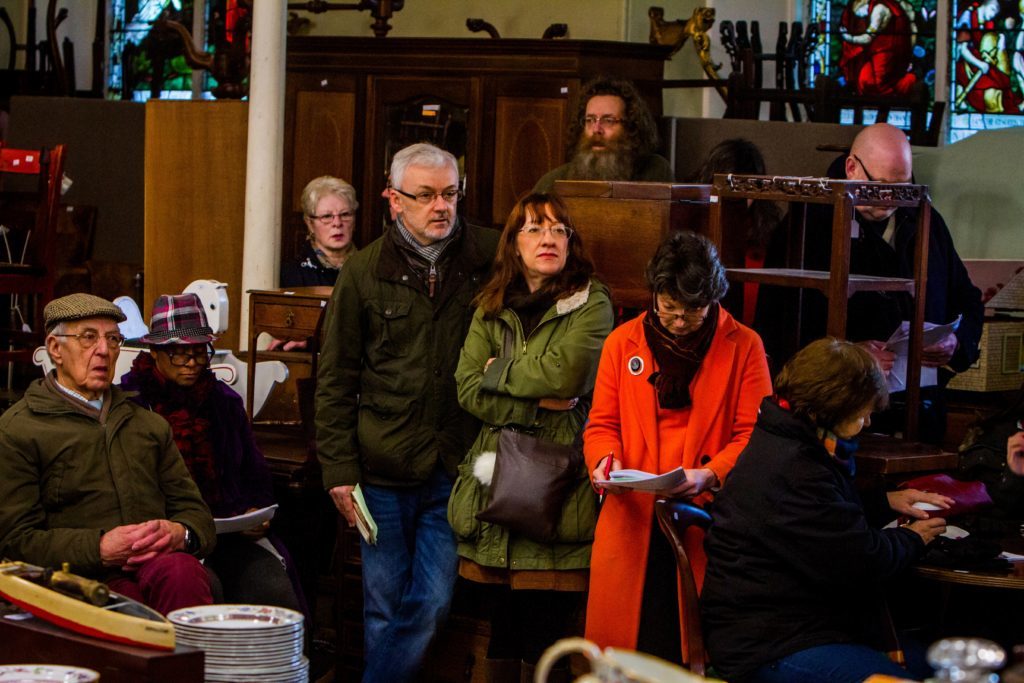 While the auction may appear seamless, there's a lot going on behind the scenes, with buyers bidding over the phone and live via the internet.
"It's very much a team process setting up and running the auction," says Nick, whose wife Claire helps out in the office alongside staff, answering phones and jotting down details of absentee bidders."
And sale day is only a part of it. Nick, visits places across Scotland "from castles and country houses to small, incongruous, unassuming houses" offering valuations and advice, taking inventories, photographing items and putting them on his website.
During one such visit, to a property in Blairgowrie, he discovered 26 bottles of 1940s Glenfiddich whisky, some of them still wrapped in their original tissue paper.
These fetched a staggering £30,000 at auction; working out at around £1,153 a bottle.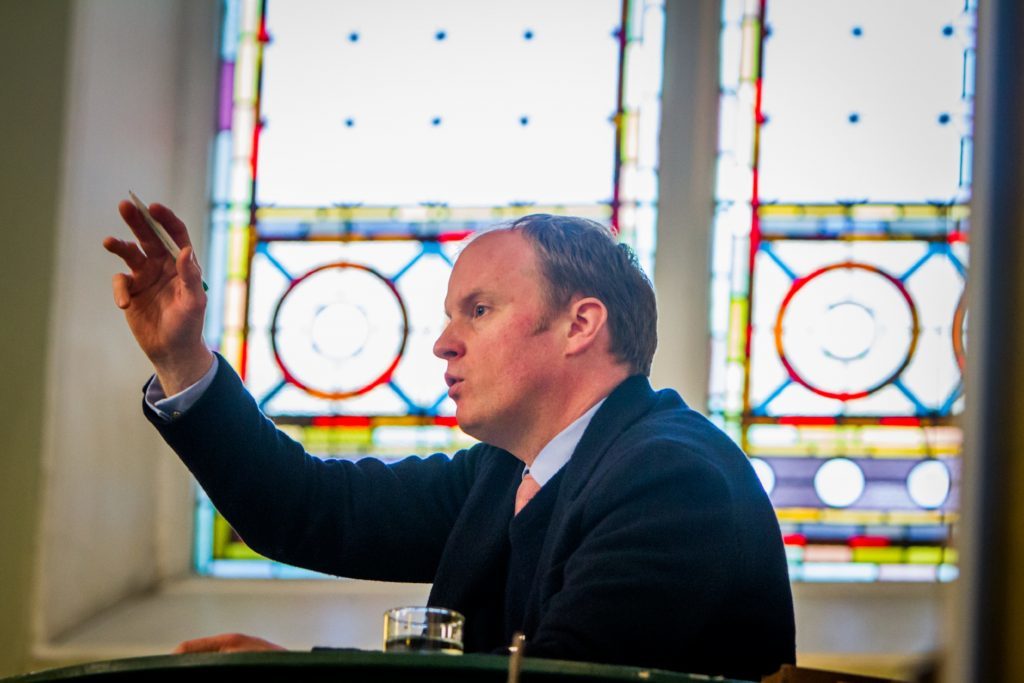 Then there was the time he found nine bottles of Petrus wine from the 1950s stashed away in a garage. They netted £10,000.
Another highlight was the discovery of Indian Company School watercolours, which Nick went on to sell for more than £100,000.
A collection of oil paintings by John Maclauchlan Milne sold for £90,000 and an 1820 Chinese blue and white Daoguang period vase fetched £55,000.
In 2007, a pair of life-size 18th Century Italian white marble lions bought in Venice and erected at the gates of Clunie Power Station near Pitlochry went under the hammer for £75,000.
An Elizabethan spoon found in the Tay Estuary and stored in a spare bedroom, sold for £3,000.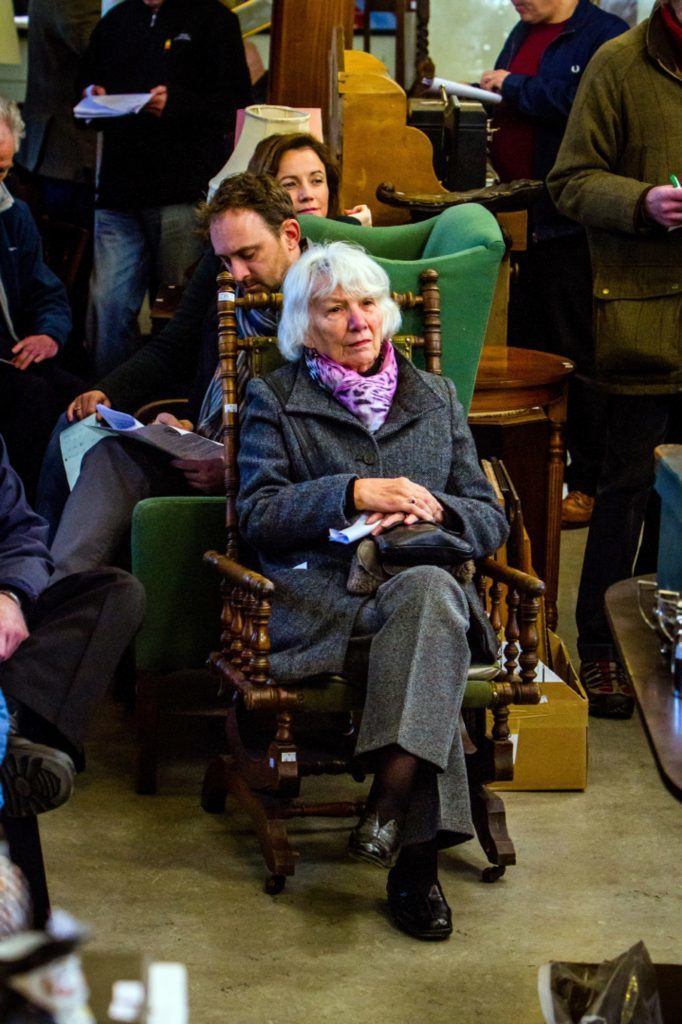 And last year Nick sold a portrait of a boy for £12,000 after it had been dismissed by another auction house as being worth less than £500.
Another exciting moment was when Nick was charged with selling the contents of Drumfork – "the £1.5 million estate that JLS star JB Gill was in the running to buy back in 2013" near Blairgowrie.
Other stately properties he's cleared include Torosay Castle on Mull, Kinpurnie Castle near Newtyle, and Kinmonth Castle just outside Perth.
"Things that sell well include artworks, antiques, whisky, wine, silver jewellery, carved figures, rugs, furniture and long case clocks," muses Nick.
"There's a whole range of values, from £5 up to £50,000 and beyond."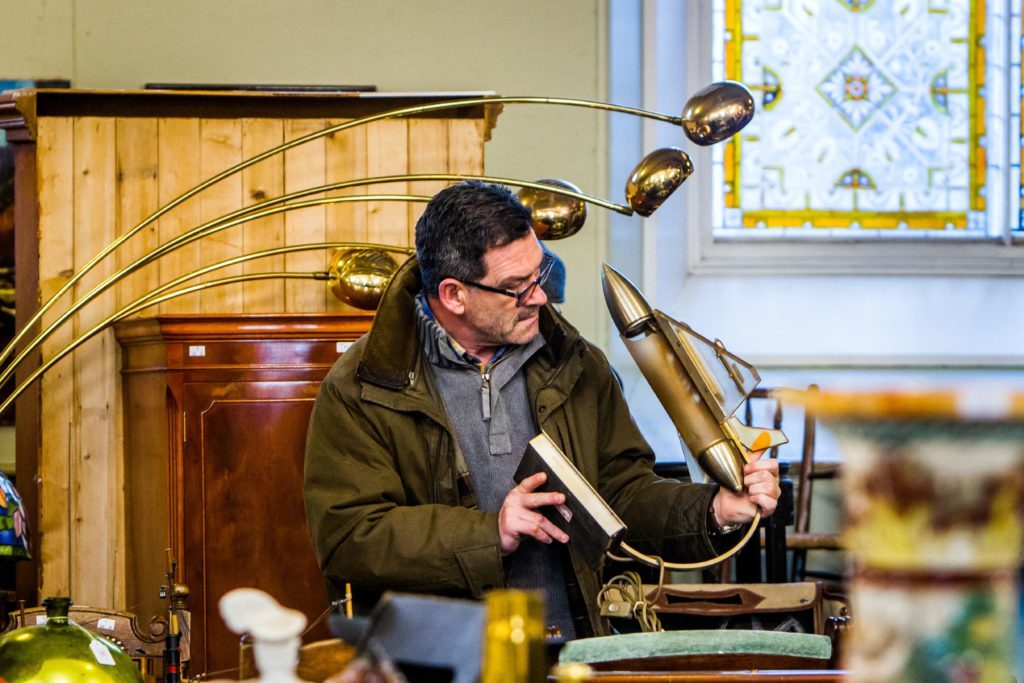 Sadly, some things do end up in the dump because people don't think they hold any value, says Nick, who boasts an honours degree in fine art valuation.
"But it gives me great pleasure when an item fetches a higher price than anyone might have imagined."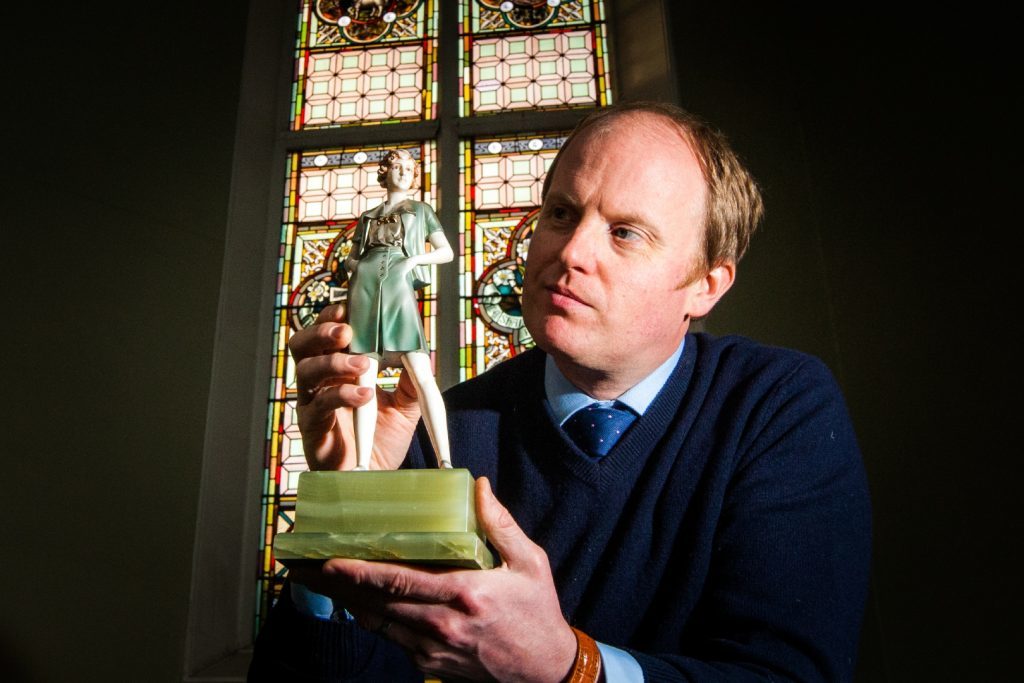 info
Curr and Dewar dates back to 1862. Its saleroom is on North Isla Street, Dundee.  The next auction is on March 21 at 10am. www.curranddewar.com
A relative newcomer, Lindsay Burns and Company was established in 1982. Its saleroom is on King Street, Perth. The next general sale is on March 9 followed by an antiques and fine art sale on April 26-27. www.lindsayburns.co.uk