As a high quality advert promoting The Courier hits cinema and TV screens, Michael Alexander joined the cast and crew for an exclusive 'behind the scenes' look at the film-making process.
It's a Wednesday morning in The Royal Arch pub, Broughty Ferry, and there's a moody, smoke-like haze in the air.
Two men sit quietly, engrossed in their morning newspapers.
Another is propping up the bar, staring into space.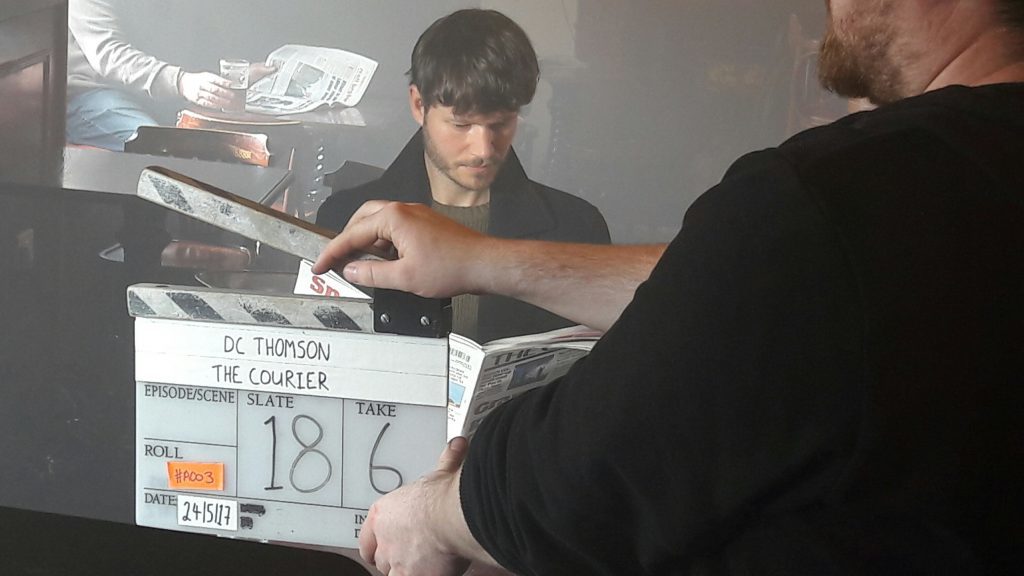 Then suddenly, one of them  – a younger man, dressed in casual green jumper and black overcoat – looks up and, staring directly into the movie camera that's gliding towards him on specially constructed runners says: "You can find all sorts of stories anywhere. But if I want the real stories, I read them, in black and white, right here," he says tapping his print copy of The Courier in front of him, "and here!" he adds tapping the digital version of the paper visible on his iPad.
There's a pause.
"That's lovely. Great!" declares BAFTA award-winning movie director Martin Smith, who is intently scrutinising the cinematography from the side and keeping out of shot along with the producer, make-up artist and other members of the film crew.
"Ok, starting positions again! Can you straighten your back a bit more this time please!" he says to the lead actor as German-born cameraman Julian Schwanitz resets the camera, soundman Cammy Mercer adjusts his headphones and stylist Zoe Radcliffe moves in to quickly brush down the actor's collar ahead of the next take. The extras seated in the background laugh as one of them jokes he needs another pint!
Welcome to the set of 'For the Real Stories' – a high quality commercial being made about The Courier which was released in across 49 cinema screens in Tayside and Fife and on STV from June 16.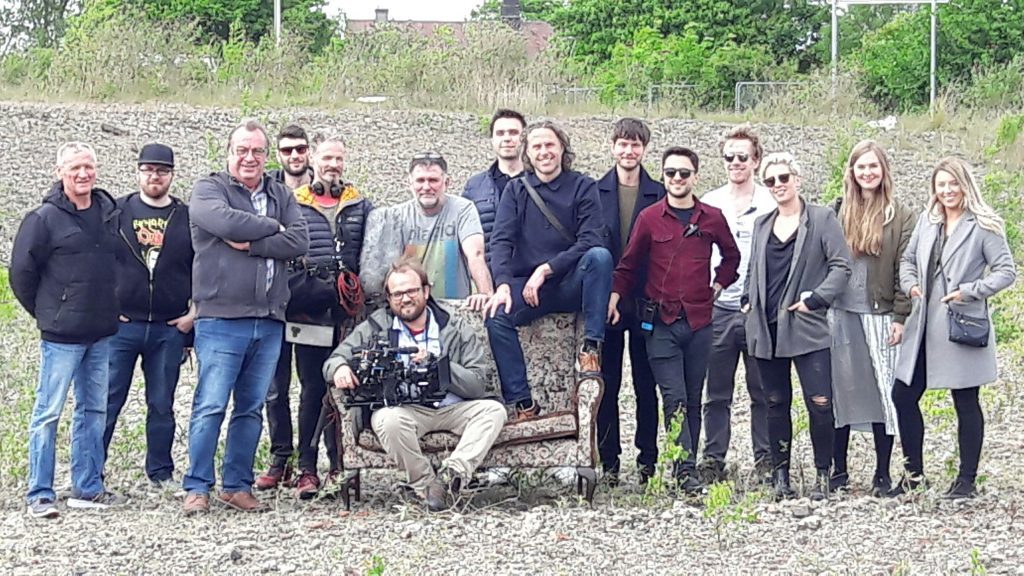 Over the course of two days in May, the 30-strong cast and crew attached to Edinburgh-based Greenroom Films shot at carefully selected locations throughout Dundee and Tayside – and the real Courier was given exclusive 'behind-the-scenes' access to the film-making process.
We followed the team as they zipped around locations including The Caird restaurant in Dundee city centre, Murray's chippy in Broughty Ferry, waste ground at Dundee's Kingsway East, the Prego shoe boutique in Broughty Ferry – finishing up with a memorable scene atop Arbroath cliffs.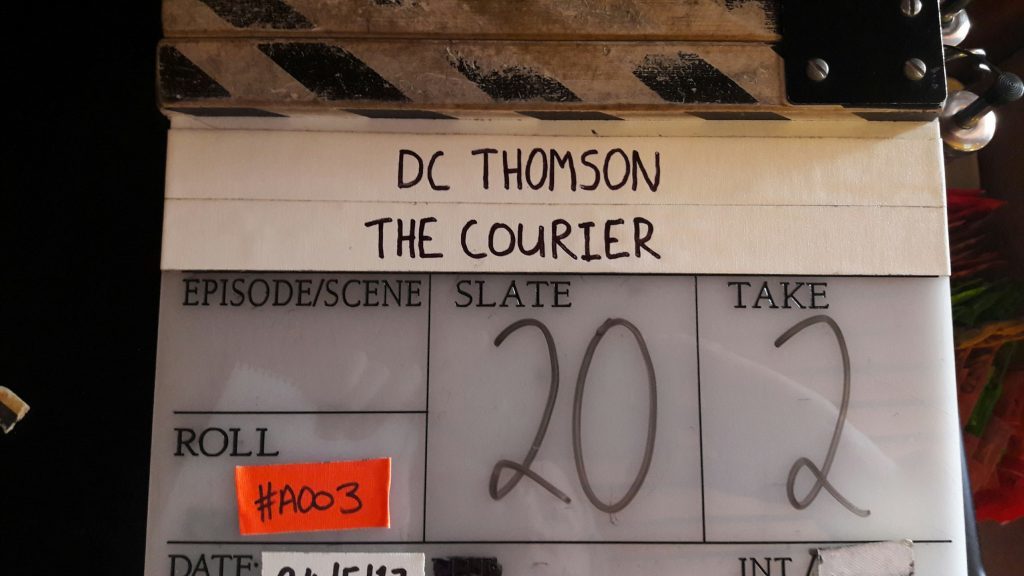 The script, which questions whether stories are black-and-white or whether a complex truth exists somewhere in-between, was filmed over two days with potentially hours of footage to be edited down later into a one minute advert for cinemas and a 30-second commercial for TV.
Glasgow-born freelance film director Martin Smith, 44, won a Scottish BAFTA in 2006 for his gritty short film Tracks – a coming of age drama about a kid who kills his brother's cat – and has made numerous high profile documentaries.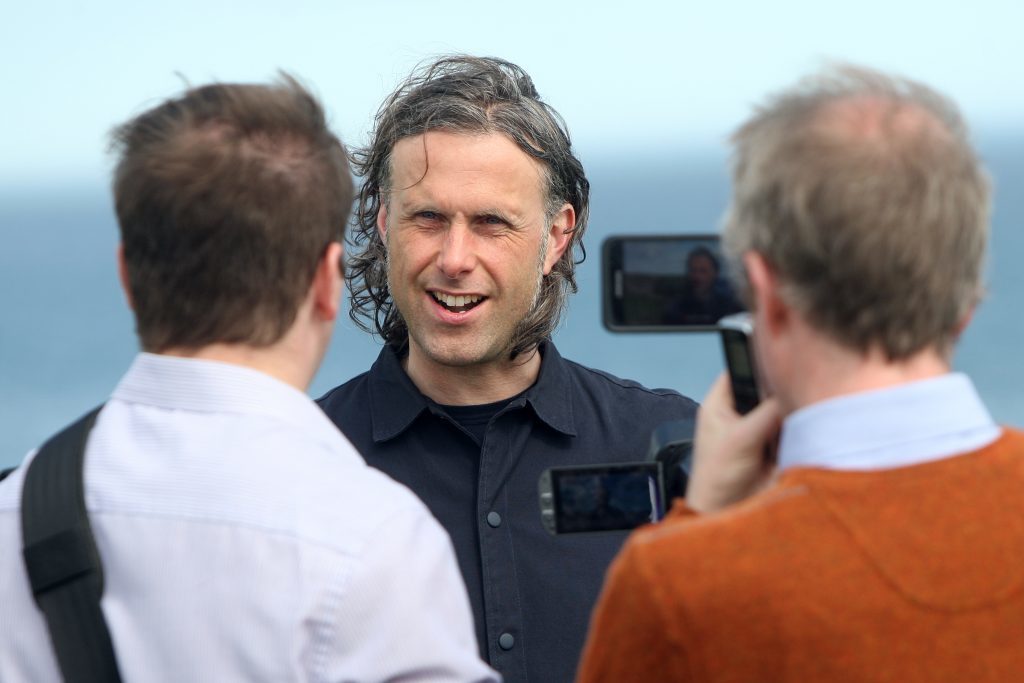 He explains how in this era of so-called 'fake news' and multi-media , The Courier film is ultimately about how the Dundee-based title, which celebrated its 200th anniversary and won UK regional newspaper of the year in 2016, can still be relied upon to cut to the heart of the 'real' stories.
"There's so many ways that things can be seen now but ultimately it's all about Courier journalism and how special it is to read and get the real story," explains Martin, who enthusiastically talks about a script that is bursting with charm and character while being beautifully balanced with authenticity.
"People want to access news immediately on the iPad these days, and we include that. But the print edition is still special. It's something people want to spend time with.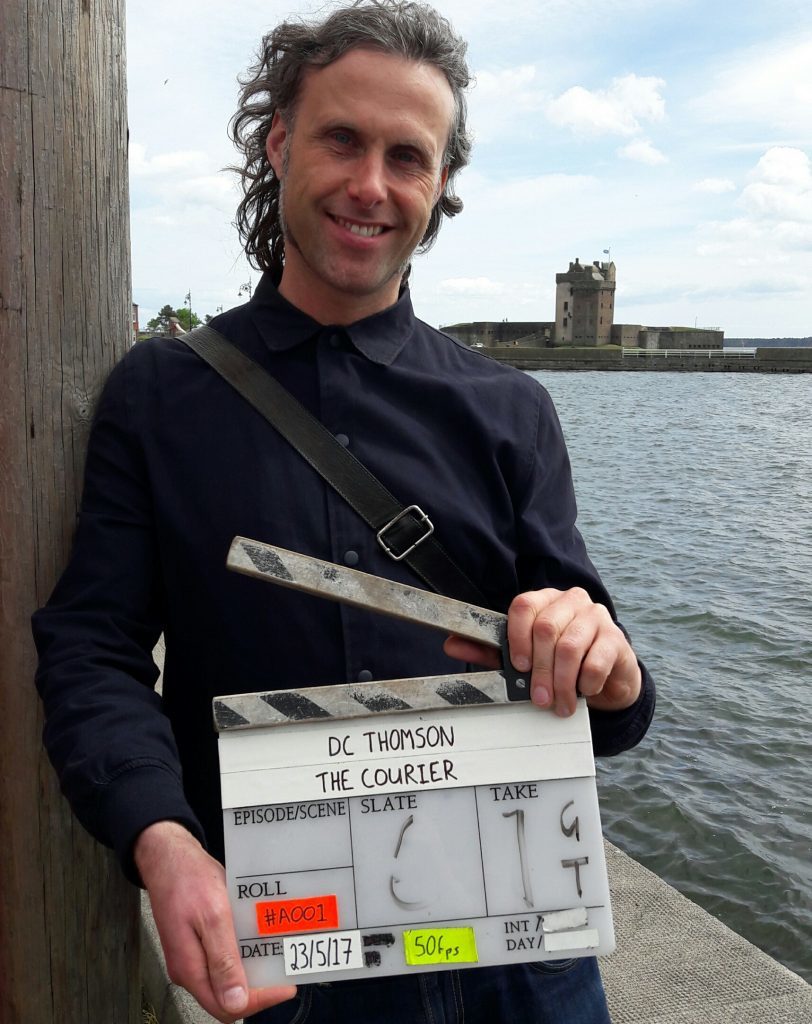 "I think print is something special because it's curated.
"In a digital edition you might just go to sections that you like, whereas a newspaper is all in front of you and you go through it page by page.
"So the film's all about covering all of the elements of The Courier follows – the serious news – but also the funny things too, in a slightly playful way. It's also saying 'what's the real story?'"
The advert features an 'everyman' lead character called 'Jack', and starts off on a bus – filmed in the Kingsway area – where he spots a seemingly sweet and innocent elderly lady.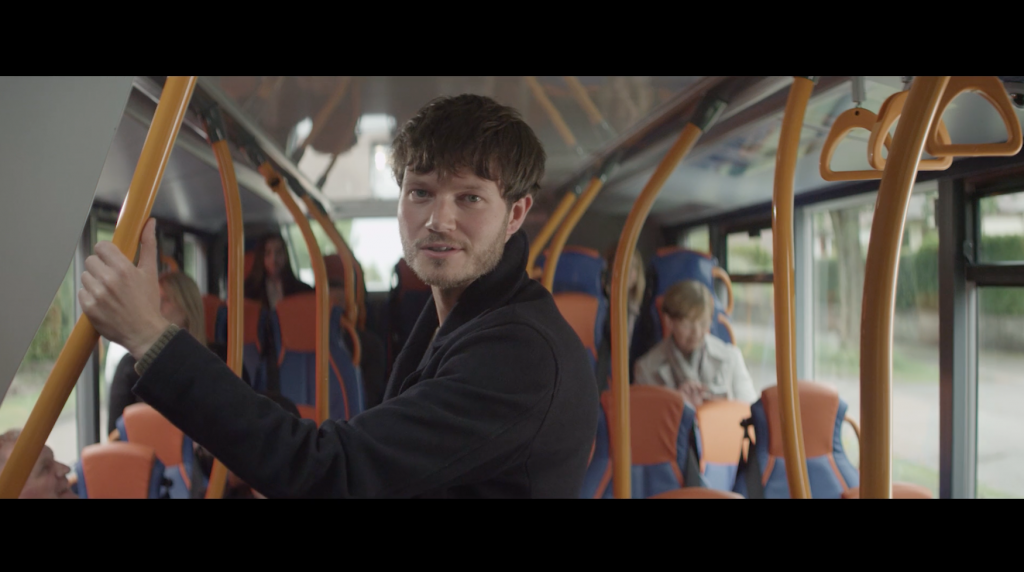 But it's later revealed, thanks to The Courier, that she's actually a con-artist granny who's defrauded her customers out of thousands of pounds.
The action moves to an artfully-constructed shoe – made by the prop man from junk found in a charity shop – in the window of a shop in Broughty Ferry.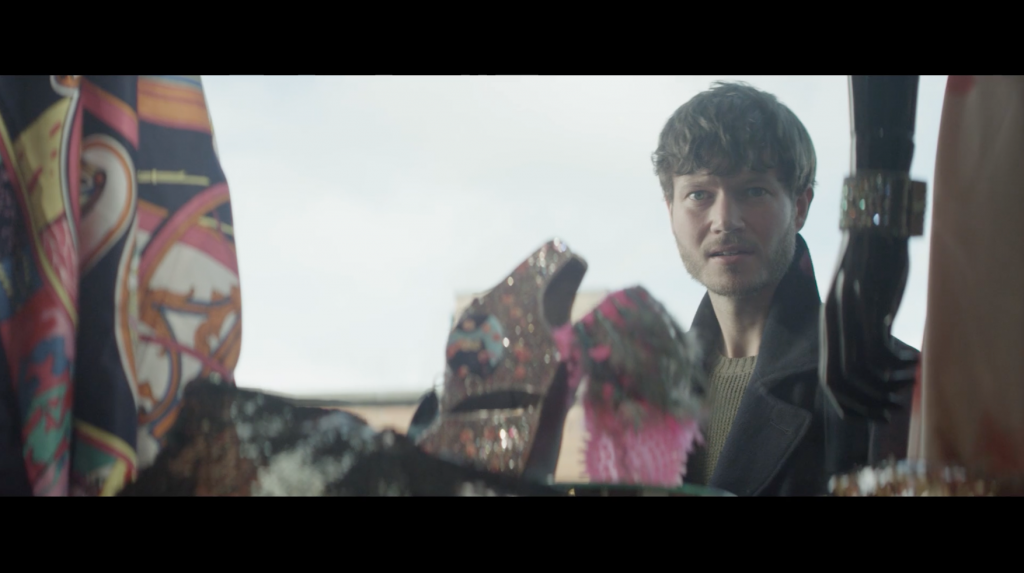 It's a nod to the city's creativity and fast moving fashionistas. But what are they all about?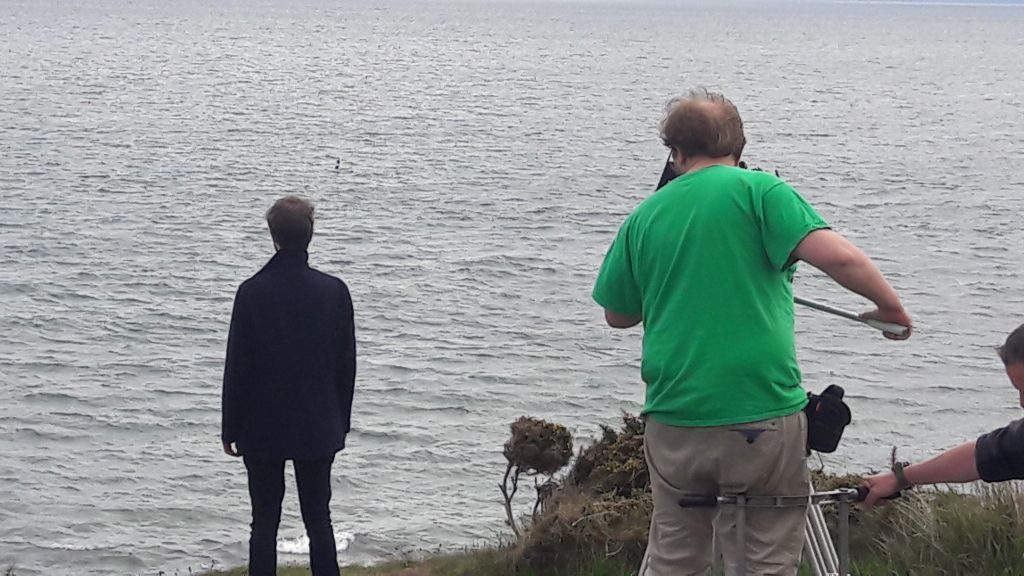 Cut to an epic cliff looking out to sea at Arbroath. There are said to be 600 billion discarded plastic bottles in the oceans. We can't see them, but they are out there. Or are they?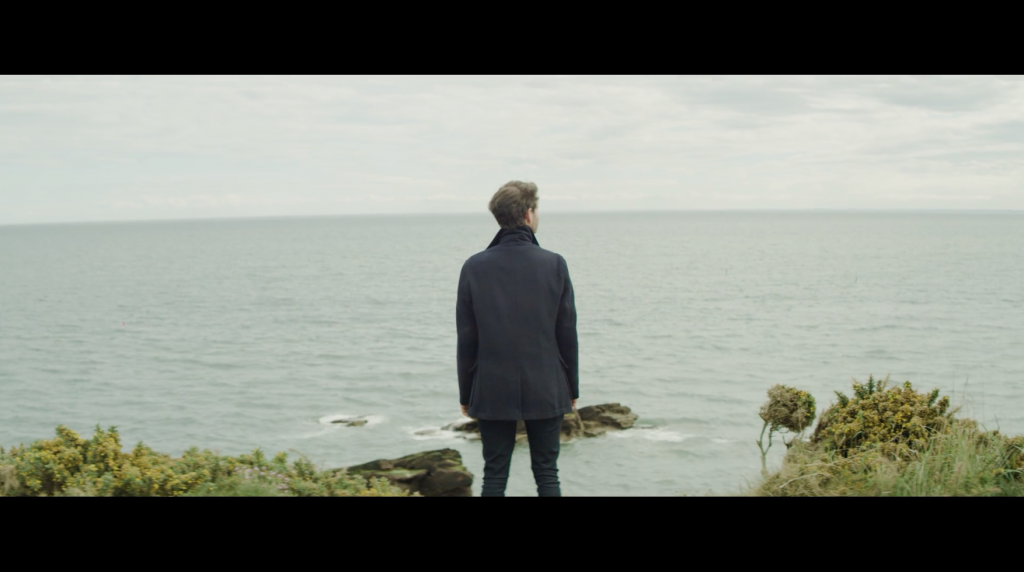 Then, there's potential for a great cinematic moment as Jack's car follows a dithering driver through a Perthshire glen – a metaphor for today's political climate.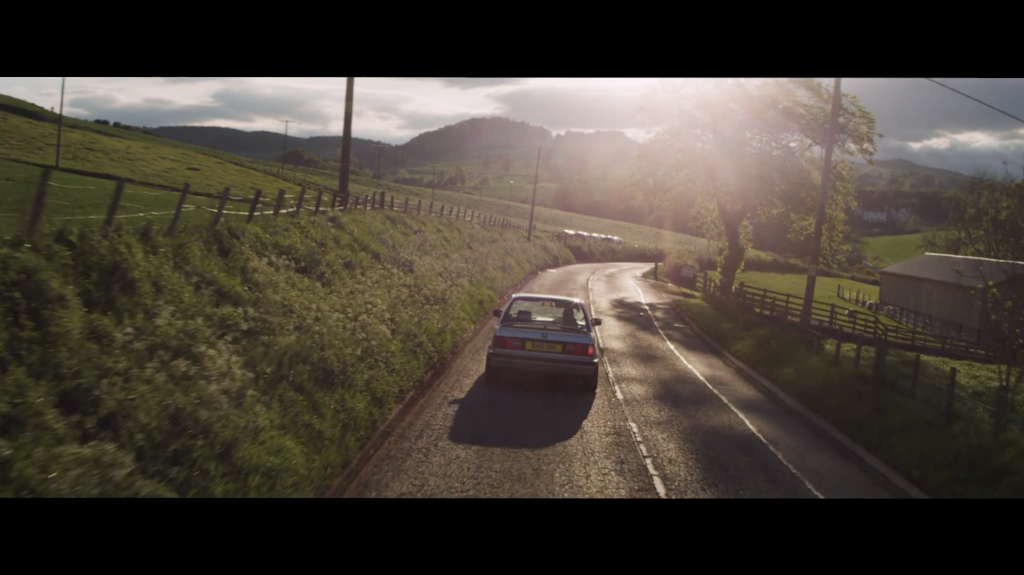 Before a memorable scene is shot from a moving vehicle with Jack on a sofa on the Kingsway  wasteland, posing questions about the future of the site, and ultimately, whether society has certain responsibilities.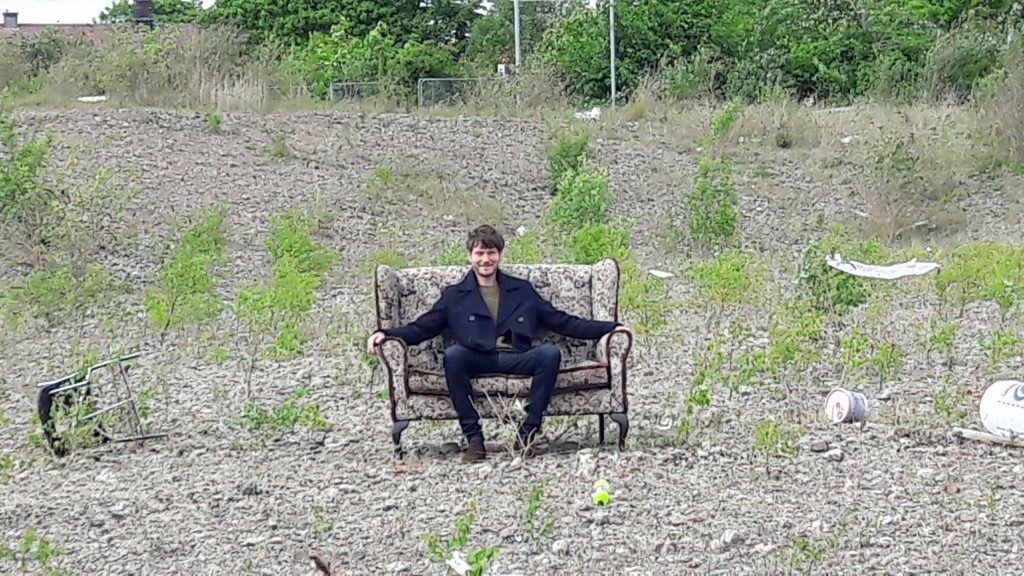 "I'm sure these are questions that a lot of our audience will wonder," says Martin.
"Jack is very much in the mind of our audience throughout this journey. With a quizzical charm – just enough curiosity with a healthy scepticism – he's seeing every situation for the potential it has.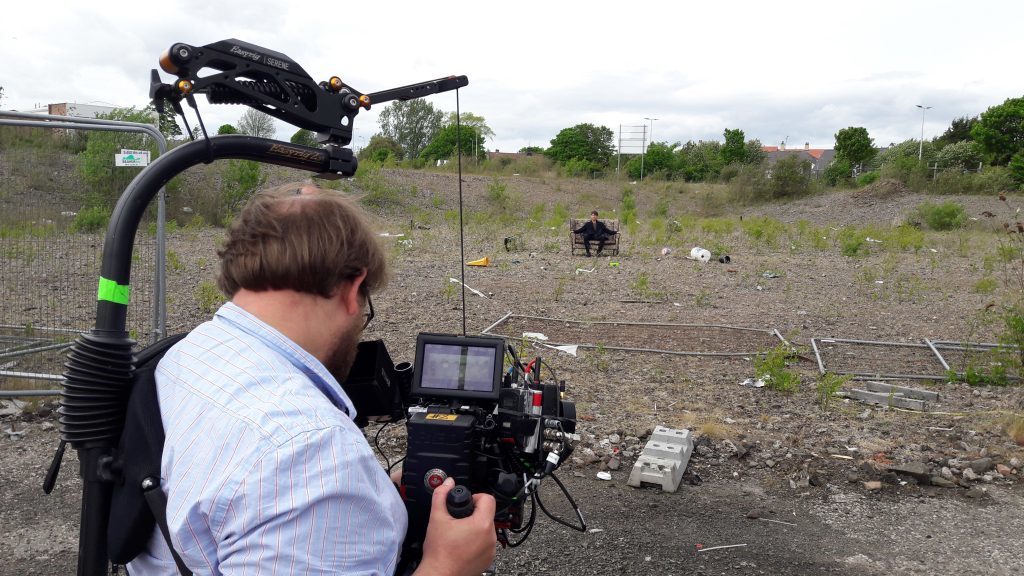 "I suppose what our lead character is doing is questioning of the situation. He's not necessarily cynical but he's questioning every single situation we see. And I think that's quite a healthy thing to do. And then when he wants to read the real story, he buys The Courier."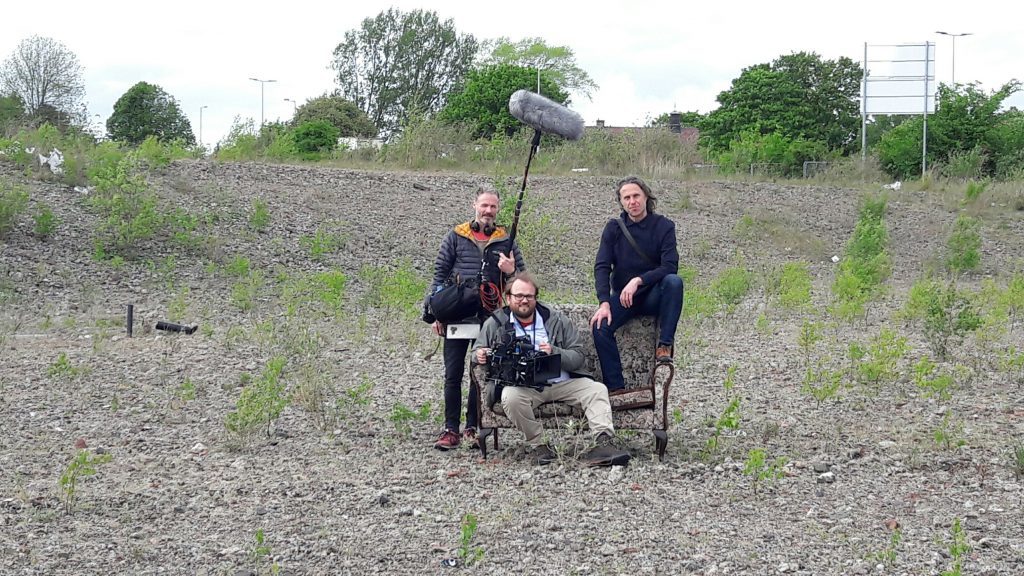 The Courier catches up with 'Jack', played by Glasgow-based agency actor Max Raskin, 33, as filming gets under way for a restaurant scene at The Caird in Dundee's Nethergate.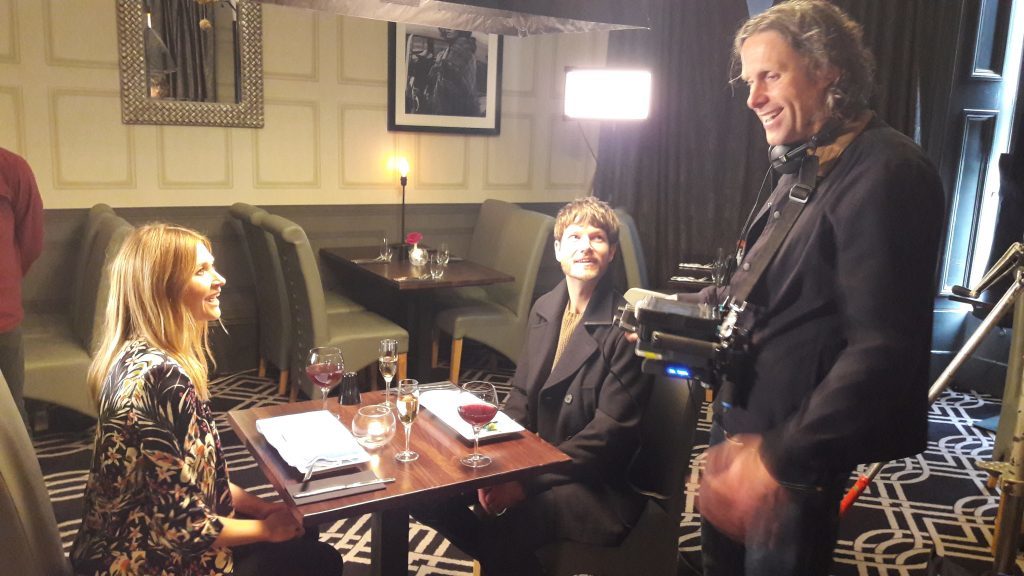 With the crew running to a very tight schedule before the venue opens to the public for real later that morning, the bar has been transformed into a make-shift dressing room  whilst the camera and lighting crews are setting-up their equipment around a dining table through in the restaurant.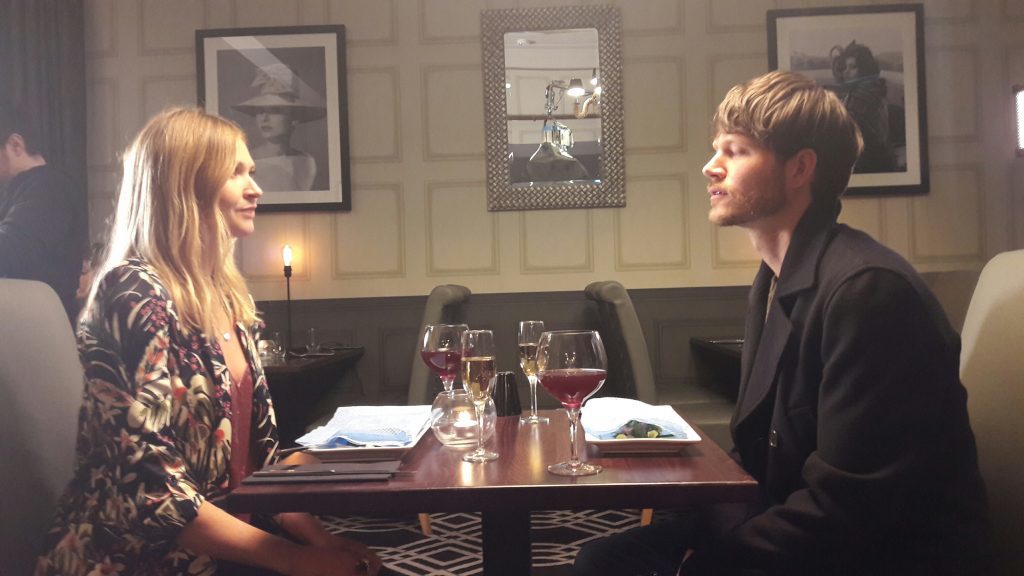 Max, who was in the pilot episode of Game of Thrones as a Lannister Guard and played a zombie in World War Z, juggles agency acting with life as a part-time DJ.
Revealing this was the first lead feature role he'd done, he says: "I've only got five lines and don't know much about Jack other than he's a nice guy. But it can vary from job to job. Sometimes you don't get much notice that you are needed on set after you apply for a job. It's quite exciting!"
Sean Duncan, 21, originally from Kinghorn, Fife, and now based in Glasgow, has been signed up as an extra through the Real People agency. He has appeared in River City and has taken annual leave from his day job as a quantity surveyor to spend the day sitting in the background of the restaurant scene.  He says: "For me it's a bit of fun. It's advisable to have done some drama course but I don't have any formal training."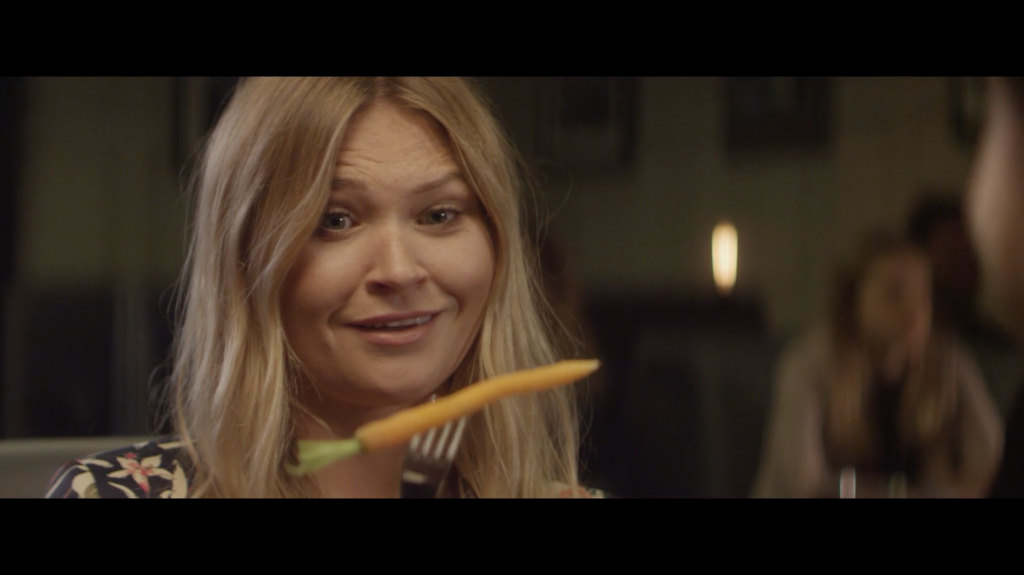 Gillian Ball, 23, from Edinburgh is preparing the makeup and hair for actress, musician and yoga teacher Clare Martin, 34, also from Edinburgh, who plays the part of Max's girlfriend in the restaurant scene. Clare, whose granny lives in Dundee, admits that she knows very little about her role – but that's par for the course for all shoots with just a few days' notice after casting.
"There is a grand plan but we just don't know it!" she laughs.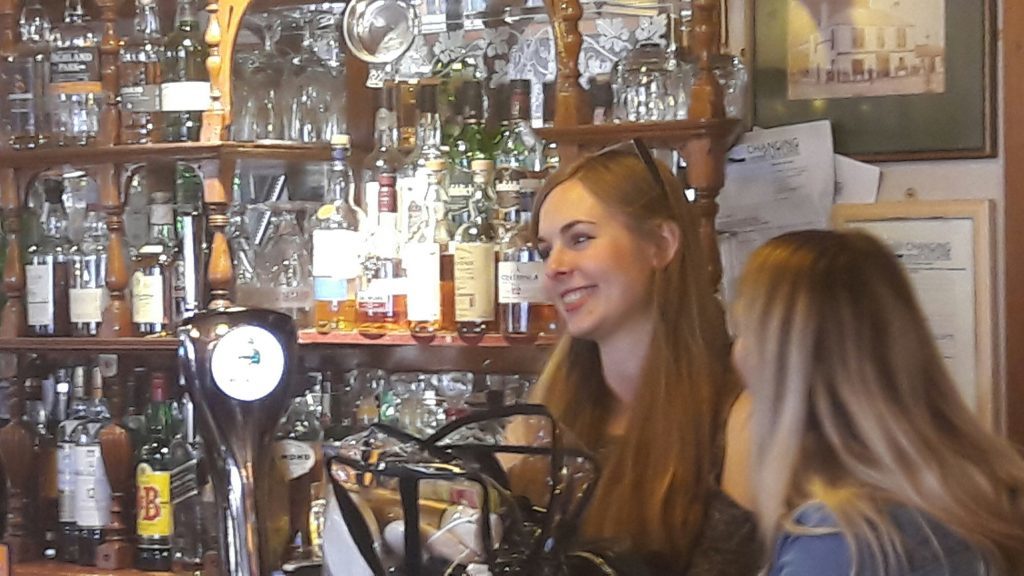 Gillian adds: "What I love about these sets is that everyone has their own jobs behind the scenes then everyone comes together to make it happen. There's a real buzz."
As preparations get under way to film the first scene, George Barr, who set up Greenroom Films 15 years ago after a career in advertising, is monitoring a small screen at the bar to 'tidy the frame' before a shot is even filmed.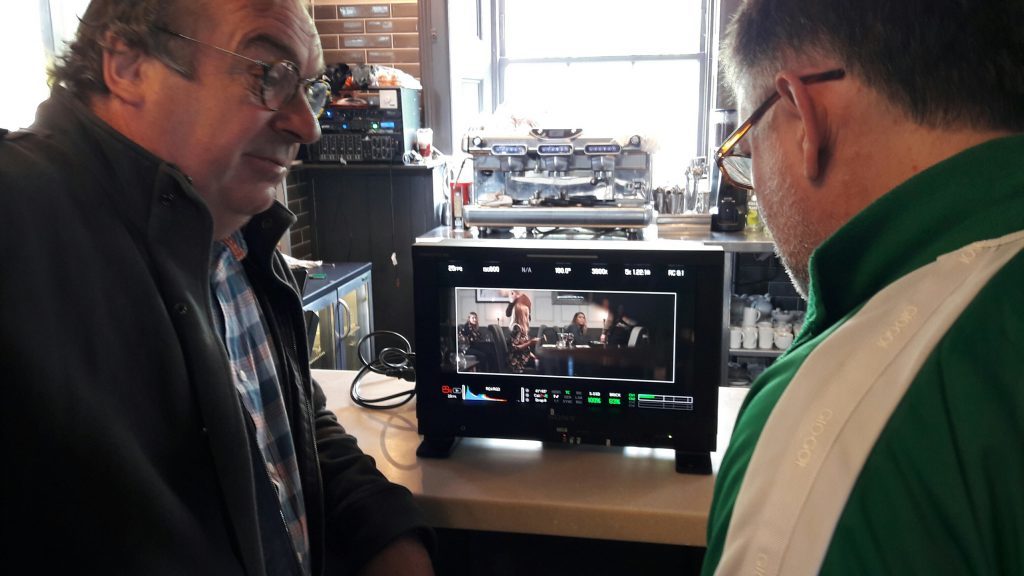 With the help of prop sourcer Fred Macmillan, he is searching the frame for unwanted reflections, copyrighted paintings and extras inadvertently protruding from the lead actors' head.
"We are shooting using anamorphic lenses which gives that cinemascope look," George explains.
"It also makes the lights flare out which is a nice technique, and we are shooting on a Red camera which is used to make movies. The lenses are worth something like £100,000. So it's all state of the art stuff."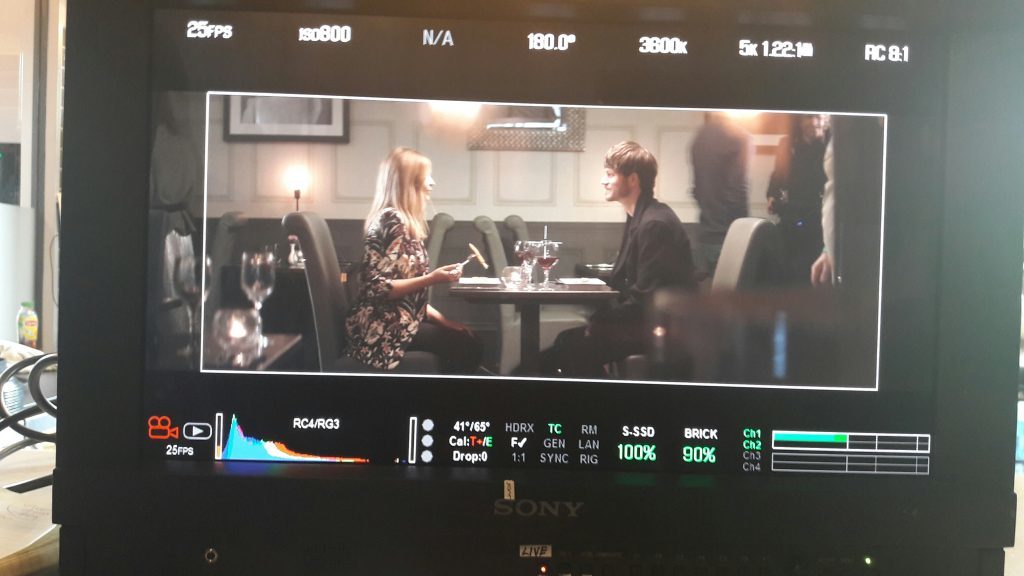 George says the film industry in Scotland is "quite buoyant" at the moment and he is hopeful that a studio can be developed in Scotland soon.
It's the dawn of digital technology, however, that has helped broaden creative horizons.
"It's certainly made it easier to make films up here," he explains. "We used to shoot on 16mm or 35mm film but there were no labs in Scotland, so we had one of the first digital cameras of this type in the UK, meaning we could do everything here in Scotland, which is a major benefit.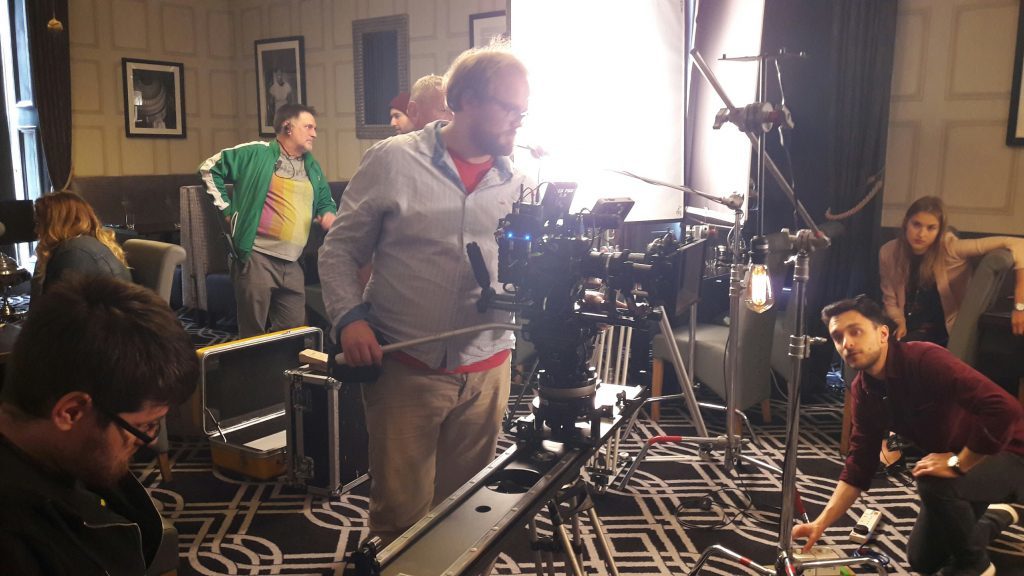 "Making a film like this, we will probably shoot five or six times more than we'll use. It depends on how good the actor is, how good the focus puller is, how good the cameraman is.
"When you go and shoot a commercial, clients will say 'why do you need all these people'? But you actually need each and every one of them. If you are a man or woman down it slows the whole process."
Producer Lucy Ball says The Courier project has been in development for months after DC Thomson & Co Ltd contacted Greenroom.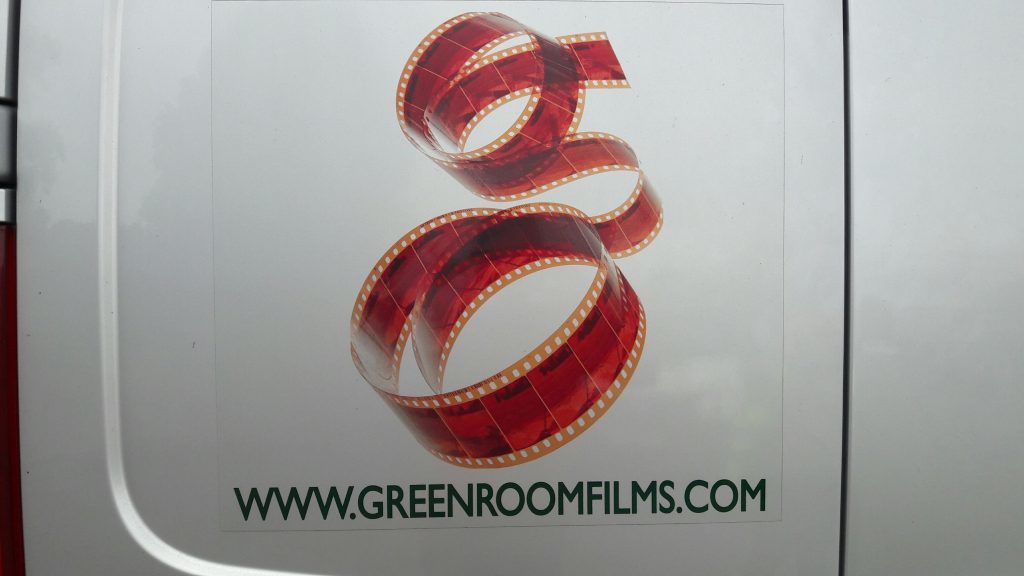 In the end, there had been a "very short time frame" to get filming under way, and would be a relatively short period to edit it.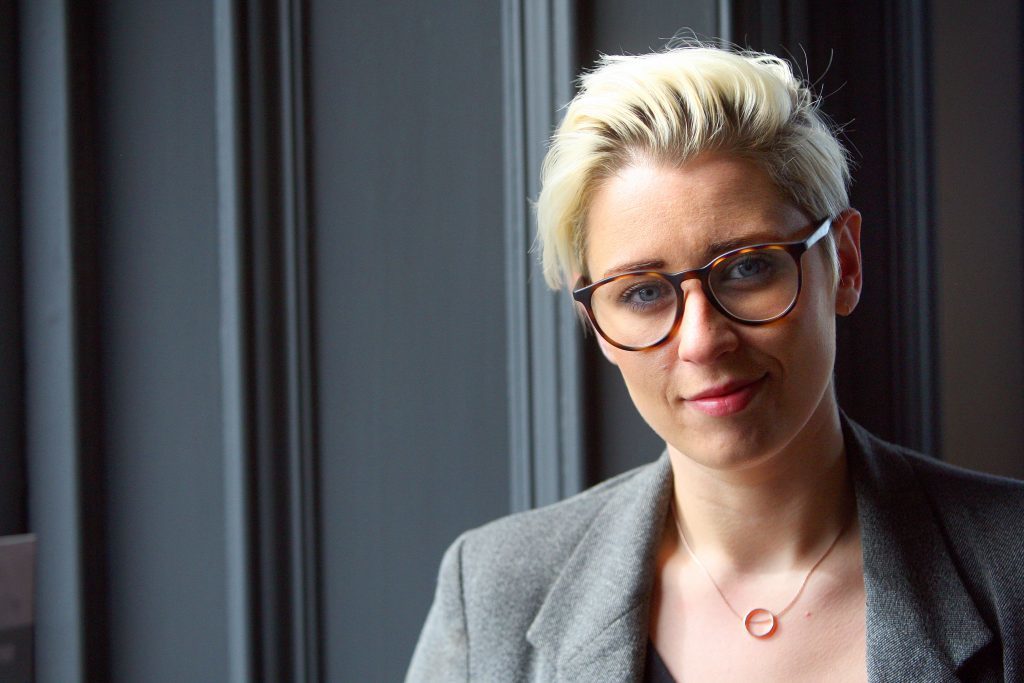 "It's about the stories that matter to the community," she says. "If you want the actual answers, the actual truth – you read The Courier. It's about the quality of the paper. It's about reminding people of the joy of sitting down to read quality stories written by proper writers."
There's no doubt that the filming schedule is a bit madcap – buzzing around in convoy from location to location. Often a film like this might be shot in one location.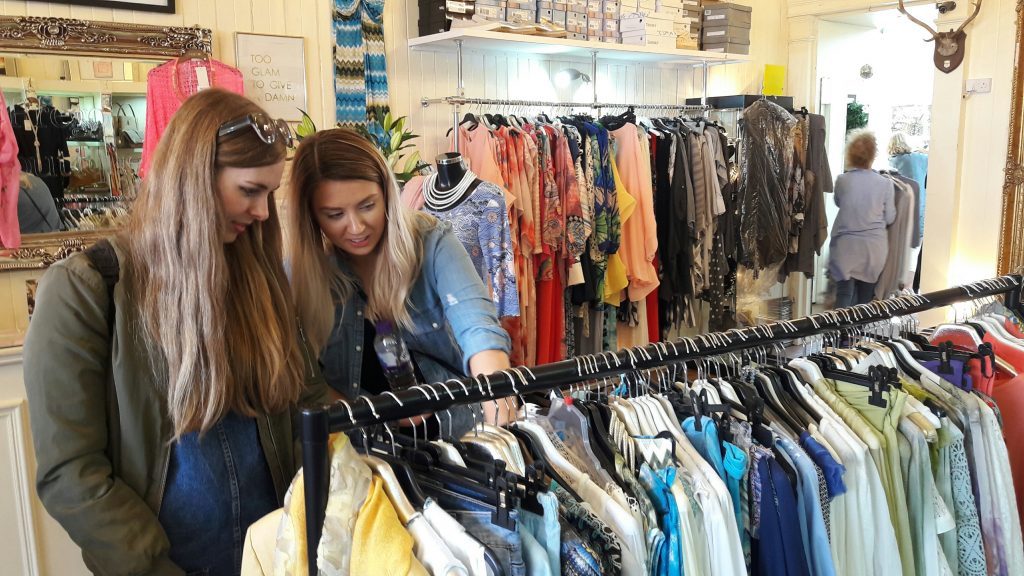 But this production involves four different locations every day, with just two hours spent at each. Then there's the feeding of cast and crew to be arranged – and making efforts to avoid the wrath of parking wardens with trucks parked outside shops for hours at a time.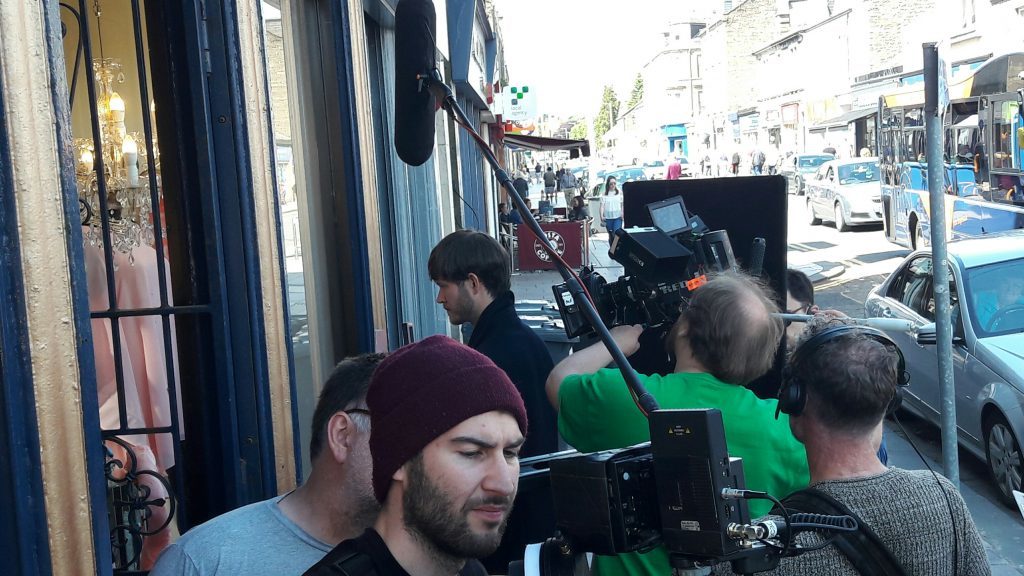 It's these real-life locations, however, and lack of big name actors, that give it that feel of authenticity.
Murray Angus and his wife Anna own Murray's chip shop in Broughty Ferry. They were approached by the film company some time ago to have their premises used as a location.
The production crew use chalk paint to write a temporary chippy menu on their window as the camera positions are set up.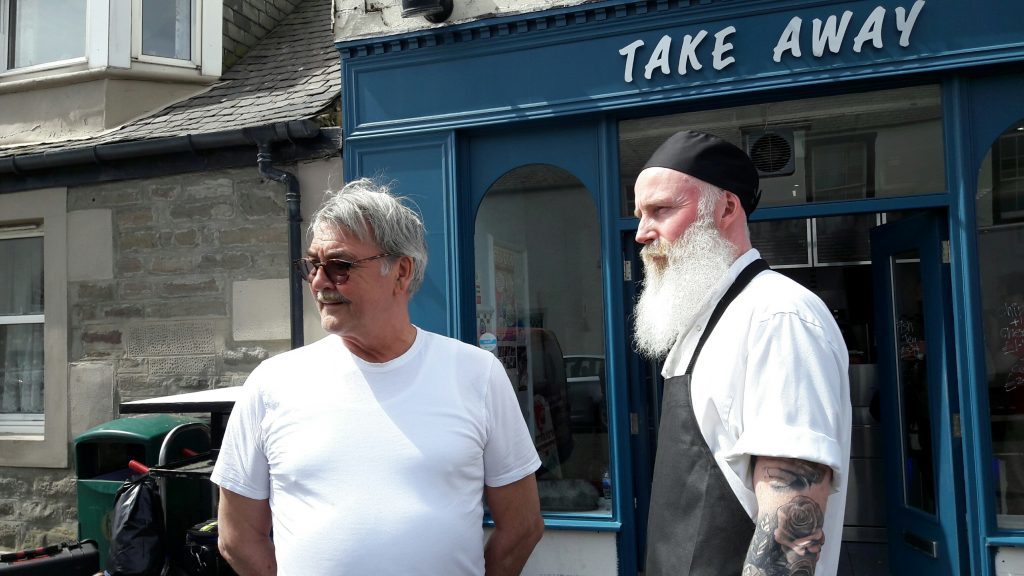 But while Murray laughs when he says his wife's first choice to play him in a movie would be George Clooney, it's bearded and heavily tattooed agency actor Dave Dixon, 48, from Edinburgh, who will be playing a 'rock n'roller' chippy frier for the purposes of this scene.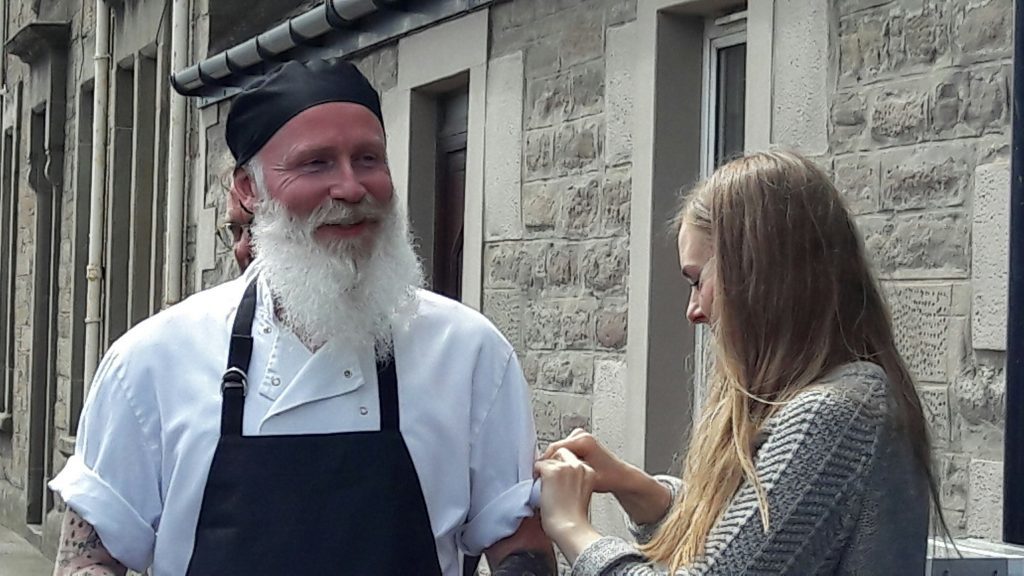 Dixon,  a former New York investment banker, who works as a full-time blues musician and model, is a newcomer to acting roles.
"It's an adventure for me as well!" laughs Dave, who was sitting in Harvey Nichols bar in Edinburgh one afternoon about 18 months ago when he got approached by a modelling agency asking if he'd like to star in their beard and grooming adverts.
"I think I'm an ex-rock n'roll chip shop owner with a shady past!" he laughs.
"I play the part of a well-kent face in the community but actually a character that no one really knows who he is or what he's about – a bit of an enigma in the town who has a chip shop!
"It's quite apt that I don't know much about the character either!"
What's striking about the production process is the dynamism, the team work and the vision – even if the order of filming out of chronological sequence might not make it clear to an outsider.
Martin assures me, however, that everything will make sense when it hits the screen.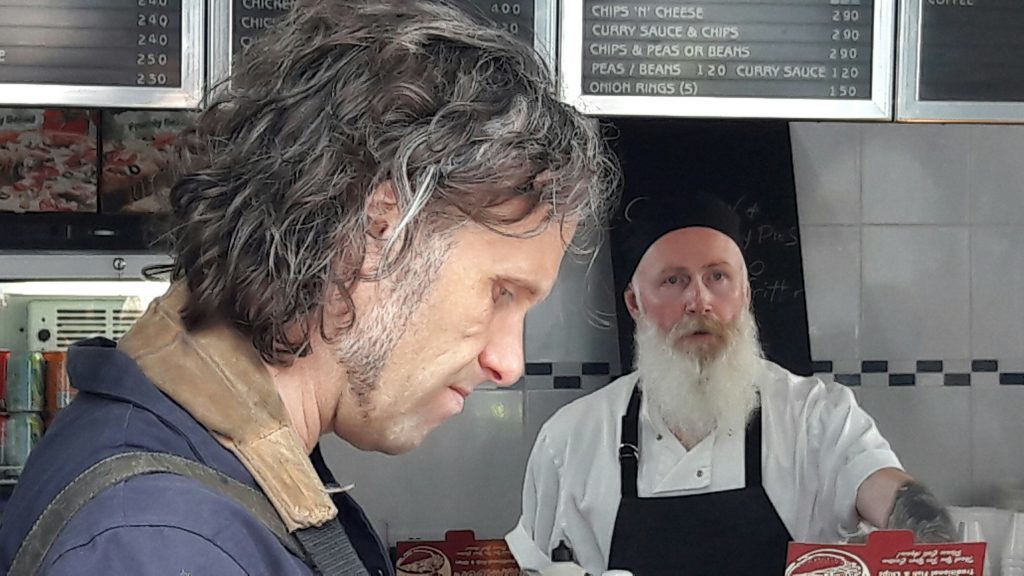 "A film maker like Ken Loach will film everything in sequence so that the characters are going through the journey and all the character motivations and everything," he says.
"But normally, and particularly with something like this where we've got so many locations in such a short period of time, we'll shoot out of sequence. But there's a sense to it logistically. It's really exciting to be involved with."