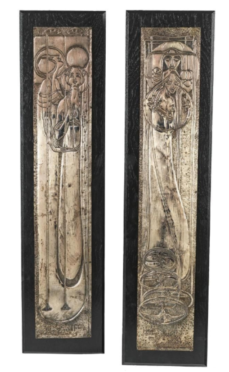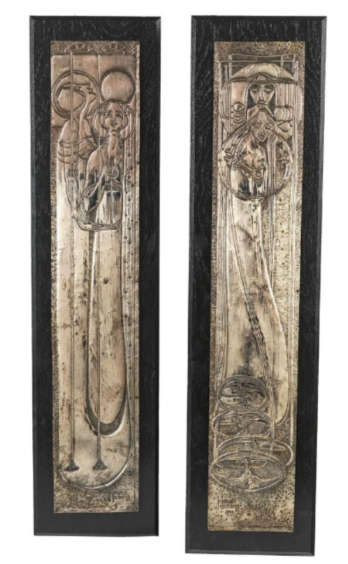 Dorotheum is the largest auction house in central Europe boasting 700 sales per year in 40 categories, curated by 100 experts with the backing of more than 300 years of experience since being founded in Vienna by Emperor Joseph I in 1707.
Its sale on Wednesday includes a treasure from the top drawer of Scottish design – but one much at home in Vienna, where it was exhibited in 1899 and where it has been hiding ever since!
This is a stunning pair of wall reliefs by Margaret Macdonald (1864-1933), whose design work became one of the defining features of the Glasgow School style.
Silver plated in relief decoration, partly with hammered décor, the two panels depict Day and Night. Both are signed by Macdonald and dated 1899.
Now imagine them as part of a work by her husband Charles Rennie Mackintosh, as that is for what they were intended.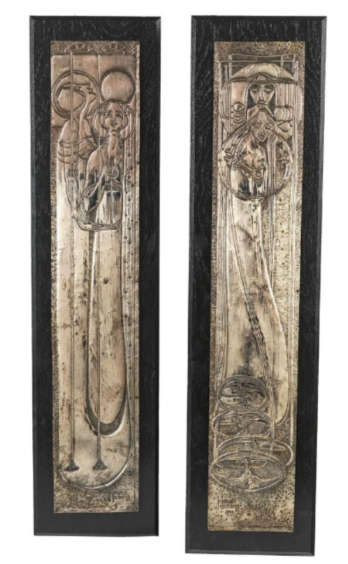 Two feet in length, the reliefs were part of a smoker's cabinet by Rennie Mackintosh displayed in the 'Scottish Room' at the Eighth Exhibition of the Vienna Secession in 1900. The cabinet was acquired by Hugo Henneberg after the exhibition and kept in his house, built by the famous Austrian architect Josef Hoffmann, on Hohe Warte in Vienna. Scots academics, meanwhile, feared the cabinet and its precious reliefs had been lost.
Similarly, Macdonald's grandest work, The Seven Princesses, three wall-sized gesso panels, disappeared when the Waerndorfer villa in Vienna was sold in 1916. In 1990, the panels were rediscovered in the basement of the Museum of Applied Arts in Vienna, where they are now on permanent display.
The reliefs appear at Dorotheum this week, estimated at 40,000- 80,000 euros.
If only V&A Dundee had the funds…
Picture: Margaret Macdonald reliefs, 40,000-80,000 euros (Dorotheum).