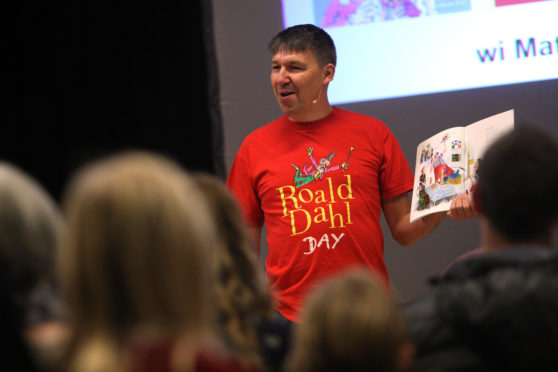 Imagine being punished for speaking your native tongue. And yet, unbelievably, that's what happened to Matthew Fitt, who was left dazed and confused by his early years at school in 1970s' Dundee.
"I was hit with rulers and the tawse for saying words like 'hoose' and 'bairn' one minute and then given prizes for saying the same words in Burns' competitions and singing them albeit badly for the Leng Medal," the author and champion of the Scots language recalls.
"It was an inspirational teacher who taught me that I wisnae mad and that there actually was a language spoken in Scotland other than Gaelic and English.
"I realised the reason I got thumped at school for using words like 'greetin' and 'scunnered' was because these words are Scots and for some reason there were lots of folk in Scotland who went their dinger whenever they heard anyone speaking this language. The rich dialect of Dundonian really seemed to annoy them," Matthew, 51, continues.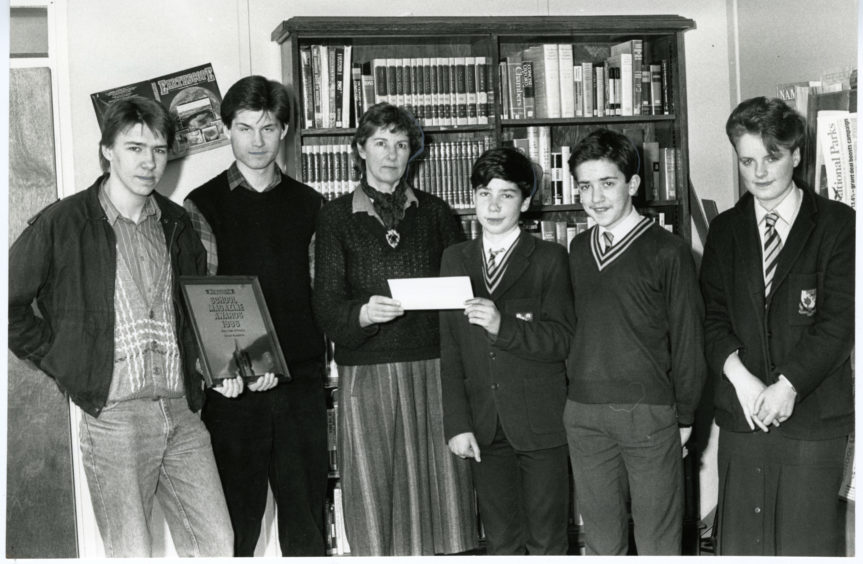 Matthew has translated several well-known children's books into Scots including The Eejits by Roald Dahl, Mr Mingin by David Walliams, Harry Potter and the Philosopher's Stane by JK Rowling and many more for Itchy Coo Books which he co-founded with James Robertson in 2002.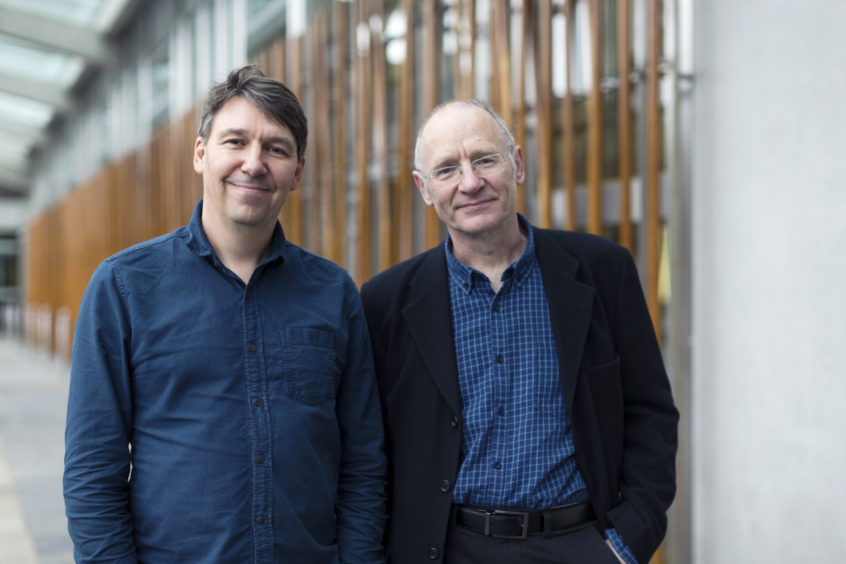 "I chose these books because they were popular, well-known, a challenge to translate – especially Harry Potter – but mostly because I hoped lots of children would read and enjoy them in Scots," he reveals.
His next project is Asterix and the Olympic Gemmes.
"I was a big fan of Asterix when I was wee and I feel very privileged to have now translated seven Asterix books into Scots."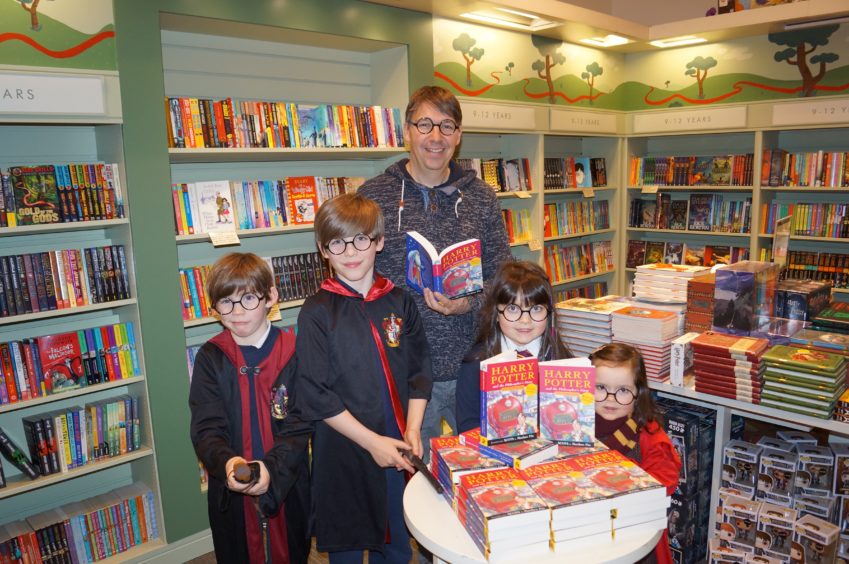 So why is it so important to reintroduce the Scots language to today's children?
"The Scots language [which includes various dialects – Doric, Dundonian, Glaswegian, Orcadian, and Shetlandic, to name but a few} is important to Scotland because it is ours and ours alone," says Matthew. "This means it's up to us and only us to look after it. The same way we've let species of animals and plant disappear, we've done more or less the same to Scots.
"And unless we do more than we're doing at the moment, Scots is definitely on its way out," he warns.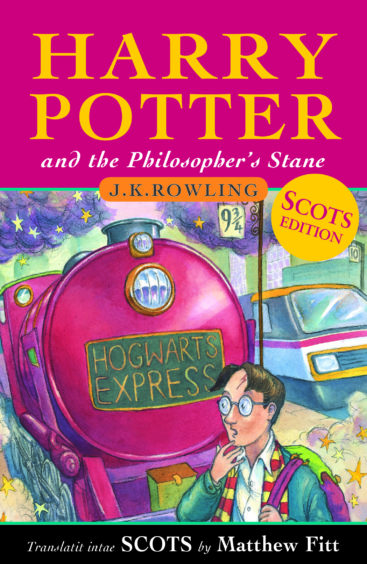 "I was at a Dundee school recently where just about all the bairns used to speak Dundonian. Teachers were telling me that very few of them do now. They were saying that the kids' smart phones are the main cause of this with young people texting more but speaking less."
Encouragingly, the books sell well not only in Scotland but further afield too. "We've had quite a lot of sales in the US recently," says Matthew, who leads a project for schools called Scots Hoose.
"Our aim to is provide free Scots language resources for pupils to make them more confident to use Scots and to have more confidence with English, French and other languages too," he explains.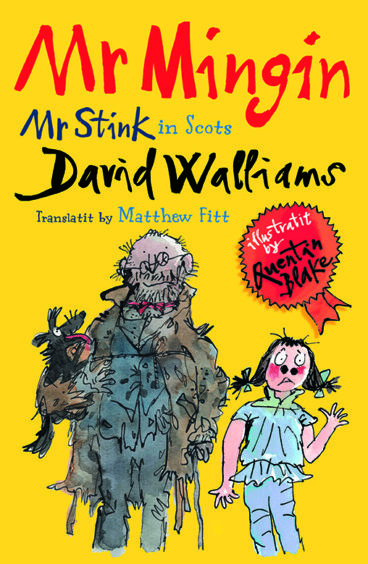 It looks as if Matthew's enthusiasm for his mother tongue has been passed on to his own kids, who, he says, are a constant source of inspiration.
"My son suggested the name of a Scots horror story could be Hunners o Scunners which is brilliant and I really want to try to do something with that. I might even bung him some extra pocket money unless he gets an agent and squeezes more dough out of his auld dad for Pokemon cairds and Gummy bears," he laughs.
Another Scottish author following in Matthew's footsteps is Anne Donovan who has just published the 2019 Roald Dahl Book of the Year, Matilda, in Scots.
Best known for her novel Buddha Da, her short story collection Hieroglyphics and Other Stories is currently one of the prose set texts for Scottish literature in Scottish schools.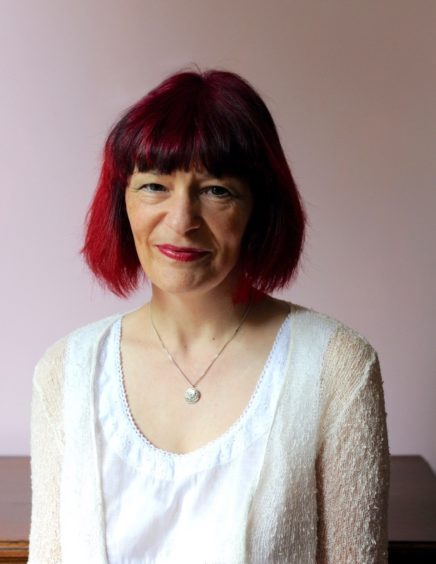 The former teacher was thrilled to be asked to translate the story of everyone's favourite bookworm by Matthew and James Robertson.
"They are both great Scottish writers who have done so much to promote and publicise writing in Scots," enthuses Anne. "I'd read lots of Itchy Coo books and it was a big honour for me to be asked to do this."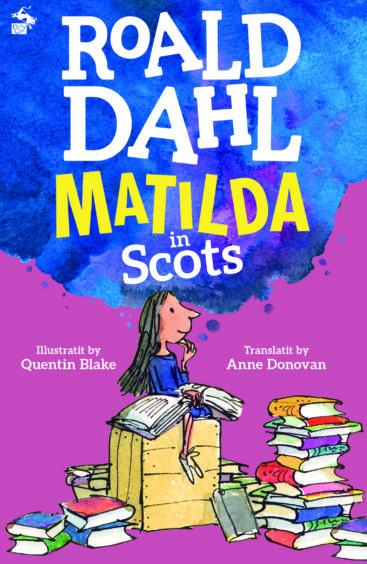 But translating the book wasn't without its challenges. "It's a beloved book by a great writer so it's a big challenge. It's also one of the longest Roald Dahl books," says Anne. "You have wonderful characters and a great story, but how do you change that into another language and do justice to it?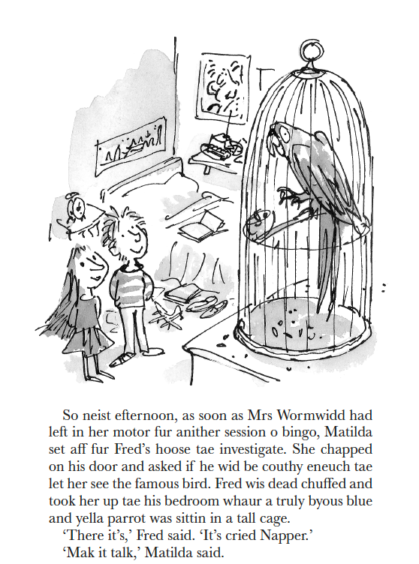 "There's also the choice of which word to choose when there are often many options.
"But it was brilliant to be able to play around with the words. Miss Trunchbull, the Heidie, insults the weans all the time and that gave a lot of scope for using brilliant insulting Scots words. Here's an example: 'Ya minger!' the Trunchbull belloched. 'Ye're a walkin flech-factory! Ah dinnae want tae see ony mair o ye the day. Go and staund in the corner on wan leg wi yer coupon turnt tae the waw!'
"There's also the issue of trying to balance writing a true version of Scots as well as making it readable and it was great to have the experience and expertise of James and Matthew on hand."
Anne believes that while Scots is a wonderful, vibrant language it has often been seen as a 'not so good' version of English.
"Some Scots constructions (didnae, cannae, for example) have been called 'bad English'. Many Scots speakers refer to their language as 'slang', and this devalues it too. In the past bairns have been corrected for speaking their ain tongue at school," she points out.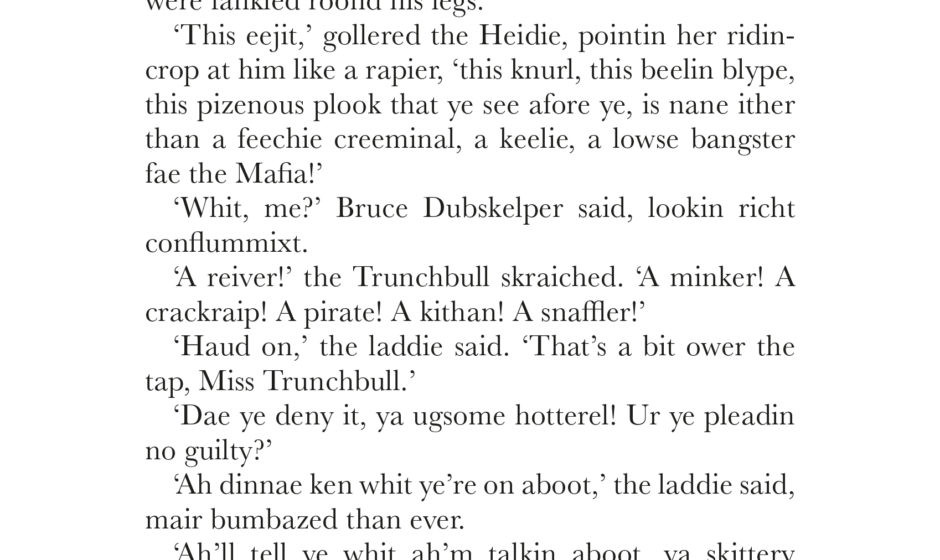 "Language is influenced by the media, and very little of that is in Scots. Words that were heard every day even a few years ago are less common.
One example that scunners me is 'flu jab'! 'Jag' was the word everybody used for an injection – how did it become jab, on posters and in the media, and now in folk's speech? I think jag is a much better, jaggy word, that says what it does!
"But through books and translations, folk can see and hear the power and beauty of the language."
If you've been following the Oor Wullie BIG Bucket Trail, you might have read that Laura Green, Scots speaker and education specialist for the Scots Language Centre, will be going into Scottish primary schools to run Scots language workshops and raise awareness of the wealth of Scots language and literature.
"Scots is an incredibly important part of our culture and heritage," Laura affirms. "Many of our greatest writers – the likes of Robert Burns, Walter Scott, and Nan Shepherd – as well as contemporary writers such as James Kelman, Anne Donovan and Jackie Kay, have all used Scots in their writing.
"In the last census, 1.5 million people reported that they use Scots, and many people consider Scots to be their first language.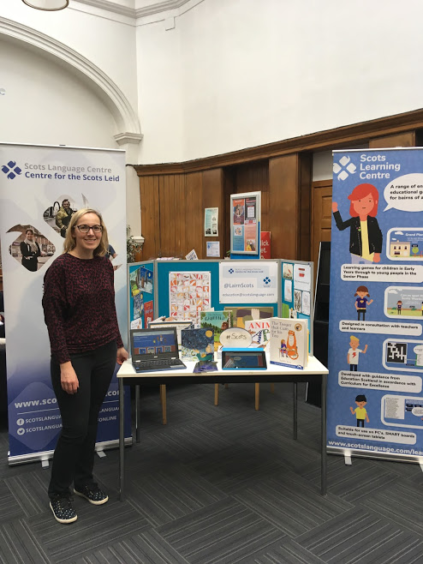 "For children who speak Scots, including the language as part of the school curriculum supports their inclusion. Their confidence and engagement are increased – and their literacy skills enhanced – by being encouraged to use their mother tongue.
"My own children prefer Susan Rennie's Scots translation of Judith Kerr's The Tiger Who Came to Tea (The Teeger that Cam for his Tea) and think the English version sounds funny!" she chuckles.