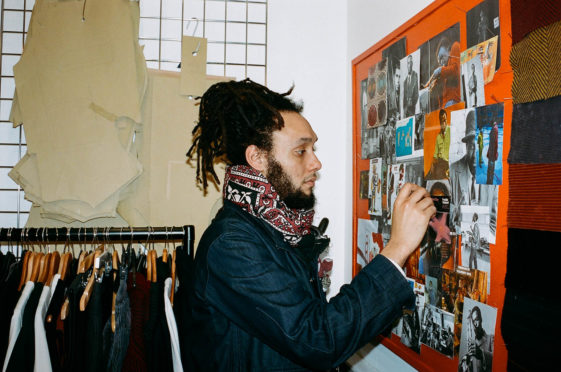 An exciting new exhibition at V&A Dundee celebrates the Jamaican-Scottish heritage of talented young designer Nicholas Daley. Caroline Lindsay finds out more.
Always drawing and painting as a child, and often visited by dapper relatives from the West Indies wearing brightly-coloured clothes, it was almost inevitable that Nicholas Daley would grow up to be a designer.
The talented 29-year-old, who founded his menswear label in 2015 and has gone on to grow a successful international fashion brand, has just launched a unique exhibition called Studio Nicholas Daley in the Michelin Design Gallery at V&A Dundee.
Featuring garments from Nicholas' own collections, family items, photographs and mood-boards, the exhibition reveals his collaborations with Scottish brands, the importance of his Jamaican-Scottish heritage – including his links with Courier Country – and the influence of reggae and punk music in his approach to fashion.
Nicholas' parents, Jeffrey and Maureen, first met at the Barracuda nightclub in Dundee. Before long, between 1978 and 1982, they were running one of the first reggae club nights in Scotland. Eventually, however, they moved to Leicester in search of work and it was here that Nicholas was born.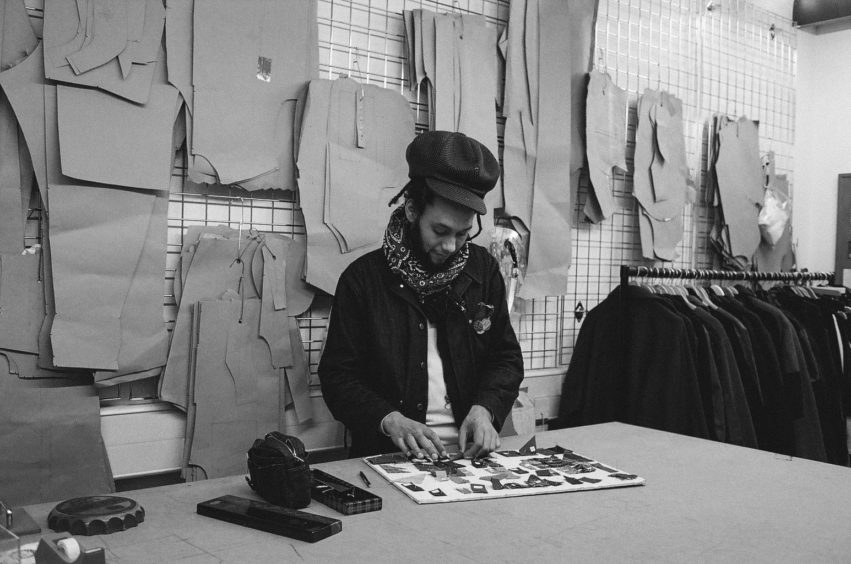 "It wasn't like I woke up and became a designer but I was exposed to lots of different elements of creativity when I was growing up," says Tottenham-based Nicholas.
"Mum was a knitter and did crochet, Dad was into DIY, Grandad was a shoemaker in Jamaica and my great-grandfather was a coffin maker.
"Relatives from the West Indies would come and visit wearing their Sunday best – a trilby and polished shoes. Seeing your uncles in three-piece yellow suits sticks in your head."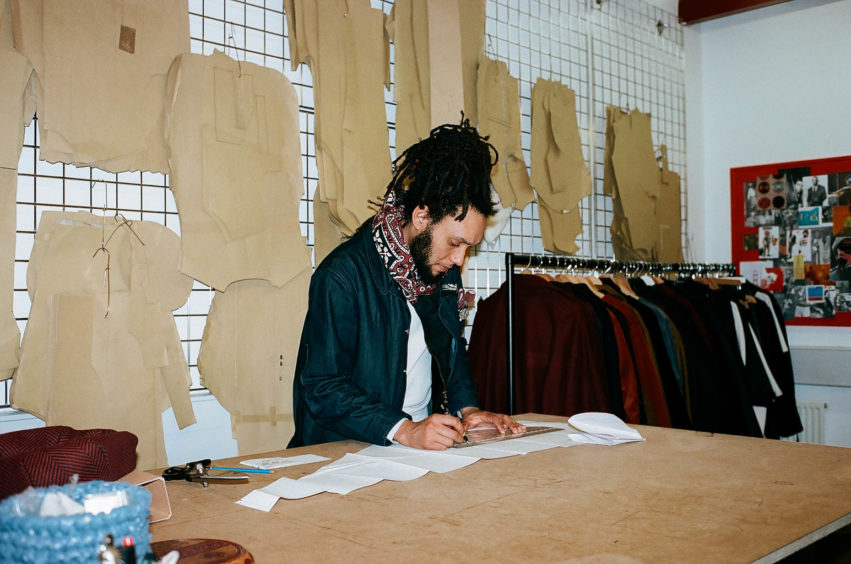 When he turned 16, Nicholas got a job in a street wear shop in Leicester and, at the same time, started developing his own individual style.
"I had lots of different trainers. In fact, I've still got some back at home in Leicester and Dad want to put them on eBay but I want to hold on to them," he chuckles.
"I'd also buy vintage clothing and military surplus and then dye them in bright colours like indigo to customise them."
After graduating from Leicester's De Montford University, Nicholas went on to study for a BA in men's fashion at Central Saint Martins in London.
"Leicester is a happening place but everything is amplified in London and my class had students from all over the world. It wasn't just about building a portfolio, it was about the whole experience," he recalls.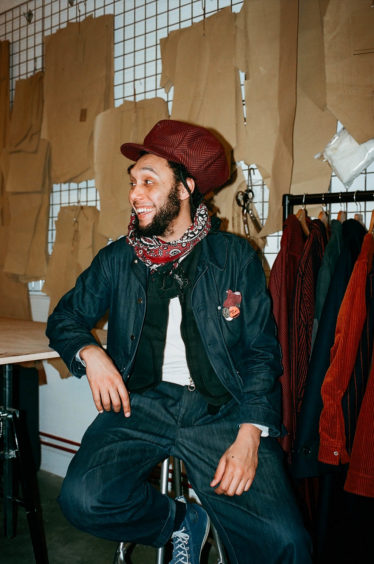 Art school opened his eyes to the "great catalogue" of British designers like John Galliano, Alexander McQueen and Christopher Kane, and he was left in awe of their fabrics, their cuts and how they approached their ideas.
"I'm inspired by Japanese designers too, their process and ideas," he continues. "I admire their design and aesthetic and now, in fact, my biggest market is Japan, so my designs resonate with them."
Nicholas's approach to design is to use a form of storytelling to ensure a clash of cultures is present in every collection.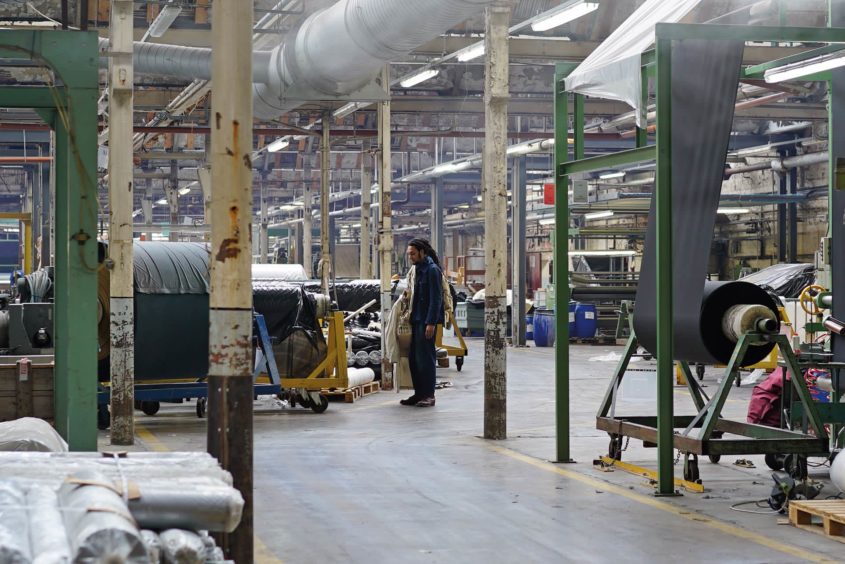 Working creatively in partnership with Scottish heritage brands, including Lochcarron Weavers, Halley Stevensons (waxed cottons supplier) in Dundee (who started supplying Nicholas back in 2013, for his graduation collection), and Nutscene Twines in Forfar, is a vital part of his ethos. A main focus is on the re-working of tweeds, jutes and tartan as part of his investigation into themes like identity, belonging and authenticity.
"One of my collections, Black Watch, was based on the Black Watch tartan, and tartan in general from a global perspective. For example, the Piccadilly group in the Congo wear the full tartan Scottish kilt, despite the intense heat, and examples can also be found in South Asian and Indian textiles," he says, before revealing that the next place after Scotland that produces bagpipes is Pakistan.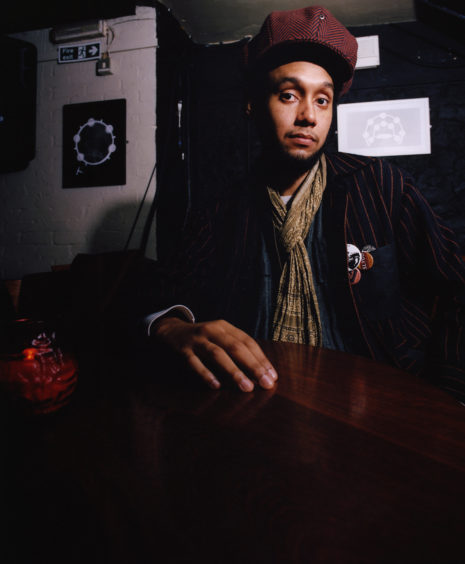 Nicholas also cites a Jamaican Black Watch soldier called George Rose as an inspiration.
"He fought in the Battle of Waterloo, and lost one of his arms. He was the highest ranking Jamaican soldier in history  you can see a mannequin of him in the Black Watch Museum in Perth," he says.
"I love how I can take tartan, one of the most famous fabrics in the world, and show how strong the identity of being Scottish is, how it connects to great Scottish design, and how it affects my work."
Nicholas launched his Spring/Summer 2020 collection back in June and will showcase his Autumn/Winter 2020 collection in January. Currently collaborating with iconic brands Adidas, Woolmark and Fred Perry, he remains modest.
"I'm only 29 and I'm still growing. I don't think I'll ever be what you might call a finished product as I'm always learning and developing."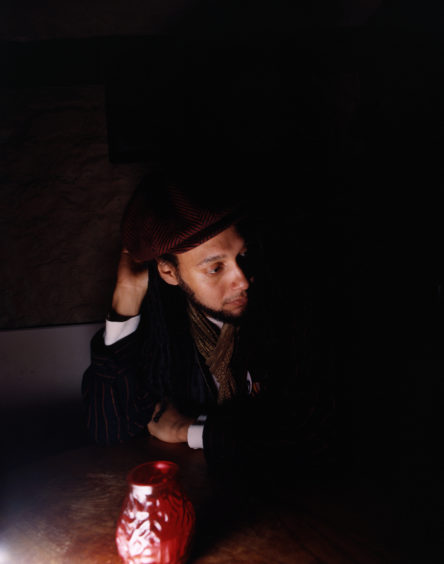 The process of designing a garment takes about six months, "though it feels much shorter," says Nicholas.
"I always start with the fabric – it is so important. I see how it drapes and handles and I have lots of fabric swatches. Inspiration comes from vintage clothing and workwear, and then I think about colours and shapes.
"Next I work on the designs both by hand and digitally, before reviewing them.
"Then I make a prototype in cotton drill and if that works well, I move on to the first sample before making the final adjustments. Then the finished product is ready to go down the runway."
Nicholas is no stranger to Dundee, having been given a guided tour by his mum of Lochee, where she grew up, and iconic high spots like Clark's 24-hour bakery. As a youngster he also spent idyllic holidays with his aunt near Loch Leven, so he's proud to be bringing his exhibition to Dundee and timing it to coincide with the renewal of his parents' wedding vows and his dad's 70th birthday.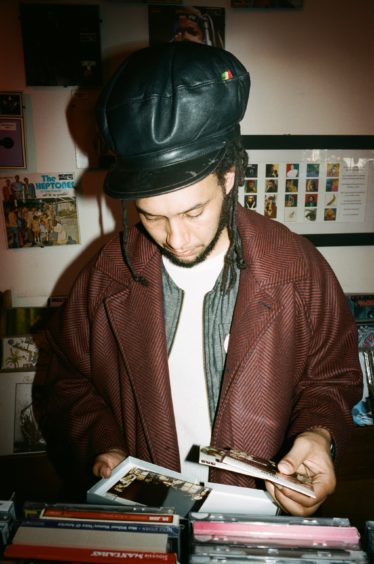 His only regret is that his grandparents aren't alive to share in his joy.
"Mum's parents are buried in Balgay Cemetery and I wish they were still here to see my exhibition," he says. "Also on my mum's side, my great aunts and great grandmother worked in the jute mills so I owe a debt of gratitude to my ancestors of Dundee who have gone before us to give my parents, and then me and my sister, the lives we have now.
"It's nice for me to be doing the exhibition – I'm so proud of my heritage. I guess it's just like all these layers and different perspectives of where you come from. The exhibition is about how I'm connecting with all these different elements. My whole life has been such an interesting mix, so many Scottish and Caribbean connections. You can see the Scottish influence in the names of towns and cities in Jamaica and even Bob Marley could trace his surname back to Celtic origins. Jamaica has a hint of that Celtic ancestry, and rum gets drunk fast, just like whisky in Scotland. Mind you, most cultures like a good drink," he chuckles.
"I'm so grateful to V&A Dundee for giving me this amazing exhibition space and the chance for people who might not have heard of me to find out more about me and my work.
"I hope visitors of all ages will come along and take part in this celebration of my family and heritage, and Scottish manufacturing."
Studio Nicholas Daley will be displayed in V&A Dundee's Michelin Design Gallery, until February 7 2020. It has been curated by V&A Dundee curator Mhairi Maxwell.