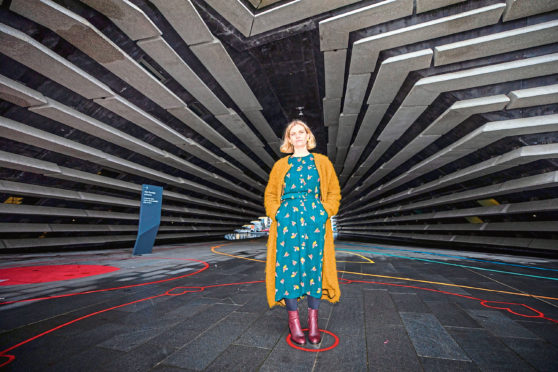 It's a cold, wet Monday morning in October but V&A Dundee is buzzing – as it has been since it reopened.
Dozens of socially distanced, masked-up visitors are enjoying coffee in the cafe, lunch in the restaurant, and a tour round the superb Mary Quant exhibition.
Also buzzing is the design museum's new director, Leonie Bell. The 45-year old is three weeks into her new job and greets staff warmly as we make our way through the £80 million building.
She has a very high regard for the museum's staff, who have added the responsibilty of taking track and trace info, mask wearing, social distancing, hand sanitising and increased cleaning to what was already a busy job. "The people that work front of house are so important," she says. "Everyone was nervous about coming back together and they've been wonderful and focused on what's really important – how to smile with your eyes, how to still give a warm welcome."
During lockdown the museum held virtual talks and a "chalkscape" outside allowed local youngsters to get creative.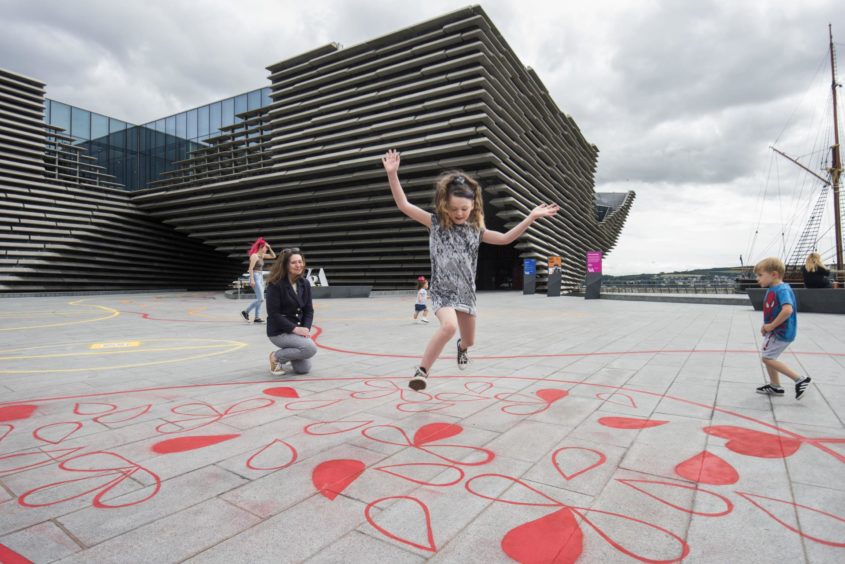 V&A Dundee reopened on August 27 after a five-month closure due to Covid-19. Its exhibition on iconic 60s fashion designed Mary Quant has been extended to the end of January.
Full price tickets for Mary Quant cost £10.50 and there are also three free exhibitions: the Scottish Design Galleries, Sewing Box for the Future, and Now Accepting Contactless.
The latter is set up on the museum's ground floor and examines the role of design in helping protect people from the coronavirus pandemic.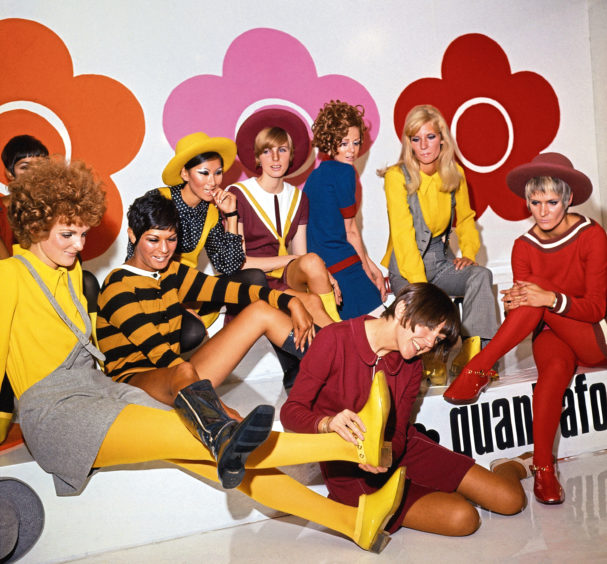 Covid-19 restrictions mean the museum is operating at a much reduced capacity. The maximum daily number of visitors has been cut from 2,500 to just 800, and everyone has to book ahead of their trip. Tickets are frequently booked out several days in advance.
V&A Dundee has already announced its next two exhibitions. Night Fever: Designing Club Culture will run from October 31, 2020 – February 14 2021. Michael Clark: Cosmic Dancer looks at the life of the Scots dance prodigy and opens on October 30 next year.
"Night Fever is of course quite poignant now, given that night clubs and dance halls are all closed, but they're a massive part of our culture, especially for our youth," Leonie continues. "The Michael Clark dance exhibition from the Barbican is a celebration of one of our greatest ever choreographers, who was brought up in Aberdeenshire."
"We have a great programme team that oversee exhibitions and events. They're coming up with exhibitions up to three or four years in advance. My job as director is to set out the vision and the values and make sure we're a thriving, sustainable world class exhibition centre that makes a difference locally.
"The relationship with V&A South Kensington and the other V&As in London is a brilliant thing for us to have and I think Quant embodies that. It is an international quality fashion exhibition and people have been travelling from all over Scotland and into England to see it.
"I foresee a mixed relationship going forward – content that is generated by us and content that comes to us from the V&A in London."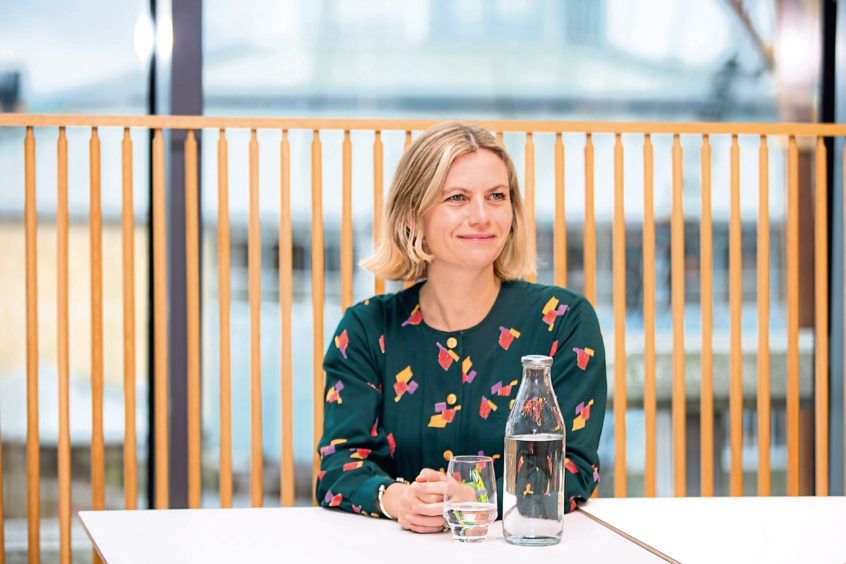 Born in Dundee, Leonie was brought up in Newport and went to Madras before attending Glasgow University where she studied English then took a postgraduate in the history of design and decorative arts.
Her first job after graduating was at a design shop at the Italian Centre in Glasgow. She was involved in work on Glasgow's successful bid to become UK City of Architecture and Design in 1999, then spent eight years as programme director of the Lighthouse Scotland Centre of Architecture and Design in Glasgow, followed by stints working on the Olympics, Commonwealth Games, then Creative Scotland. She was seconded to the Scottish Government and helped create Scotland's first cultural strategy in more than a decade.
"I spent two years working on the culture strategy, which was about the role culture plays across society and how you prepare for a flourishing future for Scotland," she says.
She then led the Future Paisley Partnership at Renfrewshire Council, helping lead the town's cultural regeneration – a role she said helped prepare her for her job at V&A Dundee.
"Working alongside community groups and neighbourhoods and with many of our partners we helped tackle some deep rooted challenges that a town like Paisley has, which shares some characteristics with Dundee," she says.
"The job was part of Paisley's bid to become UK's City of Culture. Paisley is like Dundee in that it's proud of its cultural roots and its cultural diversity."
Has Dundee changed much in the 27 years since she last lived in the area?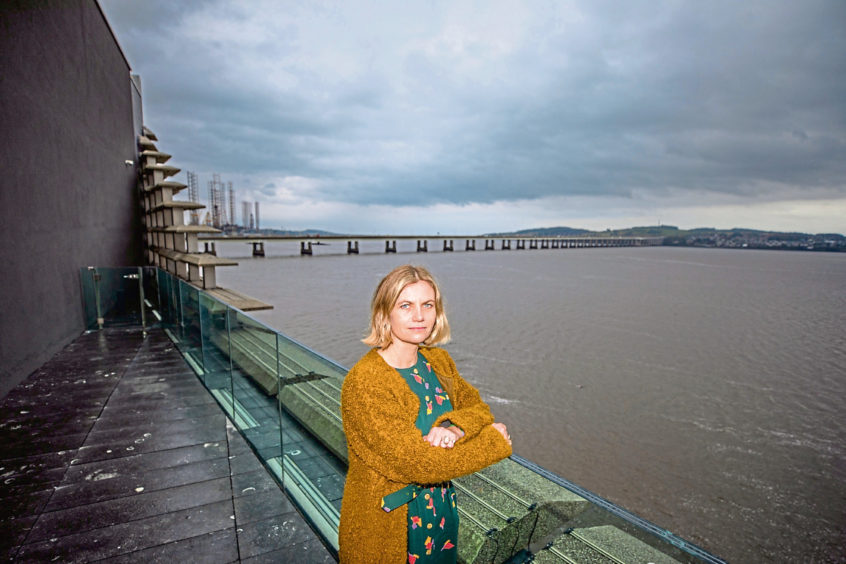 "It's weird because so much has changed and also so little has changed. It feels like I've come full circle. Coming back in autumn was interesting because I remember the colour of the trees when I was a little girl walking to school.
"This building is an emblem of significant change. I used to swim in the Olympia when it occupied this space. I think the Olympia leisure centre which was where this building is now was my first introduction to brutalist architecture. It was my first understanding that architecture could be more than just Victorian."
Leonie says she's returning to a city which punches well above its weight when it comes to culture.
"The Rep has been here for a long time and is a pioneer of art and community and DCA is one of the best arts centres in Britain, if not even further afield. There has always been something special about Dundee in terms of the university, the arts school, the people, the architecture and these two great bits of engineering that stretch out from the city – the road and the rail bridges.
"Dundee really didn't know what it had when I was a young girl and over the last 10 years it's worked out that its culture and its people are its greatest assets. And it's a city that's in one of the most stunning geographical settings. The Tay estuary is one of the most beautiful riverside locations in the UK if not Europe."
While most people seem delighted with the £1 billion waterfront redevelopment's flagship building there are those who doubt its value.
Two criticisms surface time and again in The Courier's social media comments and its letters pages. One is that the space is under-utilised, with the ground floor occupied by a cafe and a gift shop. The other is that V&A Dundee does little for the city's poorest areas and its most left-behind citizens.
Does Leonie think those criticisms are fair? "I think everyone who lives in Dundee should have an opinion about the museum. It's important we have these conversations. We should be scrutinised and we should be challenged. Every resident in this city should feel that this is their museum.
"In terms of space, Covid has made us change that. We no longer have the cafe downstairs. There are still tables where you can have a picnic or a coffee but we're no longer serving food. There is now an exhibition downstairs called Now Accepting Contactless.
"I take the criticism that there is empty space but I also think it's giving us sanctuary at this time. We have 800 people coming into this museum per day, which is our maximum capacity with Covid measures, and we're hitting that almost every single day.
"Since we reopened 34,000 people have come through our doors and almost 1,000 young people have taken part in the chalkscape outside. People feel safe here at a time of extreme turmoil. I think we can be grateful that we have this space and we have a building that's designed to this quality.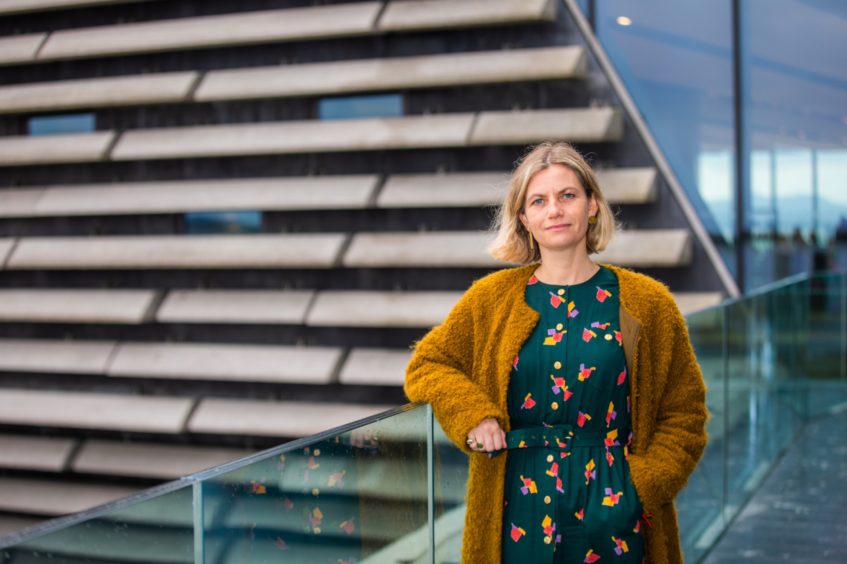 "In terms of making a difference to the neighbourhoods that have the greatest poverty we need to do more on that and I and the teams are committed to doing more than that. The museum is not just here for some people, it's a place where every single resident can come to. We'll work really hard to be better in that area."
Art and culture cannot cure social problems like poverty, drug addiction and social isolation – but Leonie says they must be part of the solution. "Culture needs to be at the table when social problems are being discussed. Culture and creativity are part of the answer. They're a key way to help people develop confidence, identity and skills.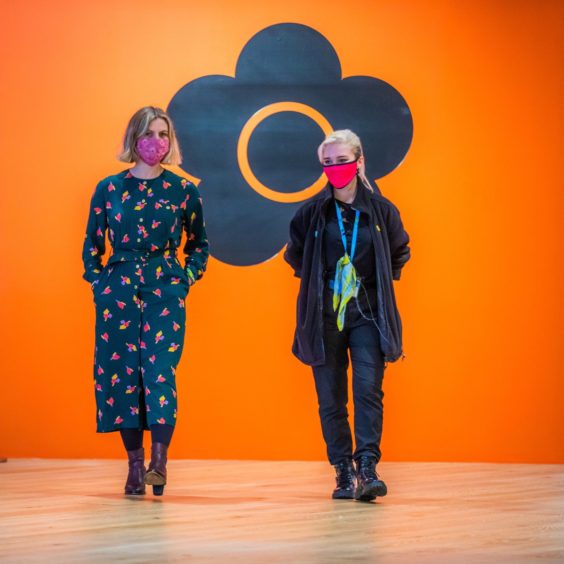 "I'm only in my third week here but I intend to meet with our partners, including education, health economic regeneration and environmental sustainability.
"My job is to make sure the V&A is for every citizen of Dundee."