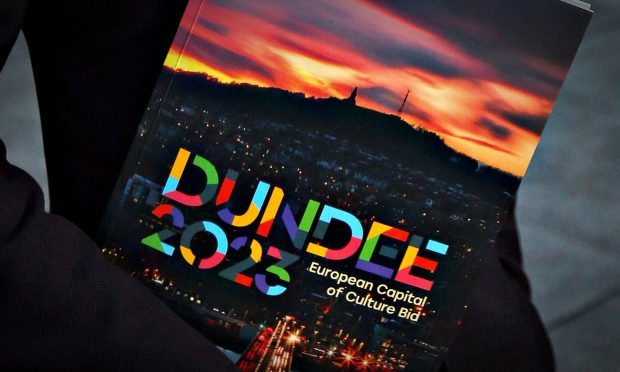 Dundee's disappointment in having its City of Culture hopes dashed will have been mirrored by four other UK cities, also in the running for the 2023 Europe-wide accolade.
The decision by the EU to exclude the British candidates is churlish in its timing rather than in its rationale.
The award is reserved for member states, countries wishing to join the European Union, and those belonging to the European Economic Area, criteria unlikely to apply to us in six years' time, unless there is another referendum that reverses last year's Brexit vote.
So in one sense it is hard to argue with the Brussels snub. However, as has been pointed out, the Eurocrats have known since June 2016 of Britain's intention to leave but have waited until the city bids were launched before bringing down their axe.
Dundee, in common with its rivals for the title, spent hundreds of thousands of pounds in its quest to become the 2023 European City of Culture, and will now have little to show for it.
Those behind these bids insist that the EU-bestowed title can enrich a city, though some estimates of this enrichment sound a little far-fetched. Would the honour really have attracted an additional 500,000 tourists to Dundee, as culture minister Fiona Hyslop claimed?
Nevertheless, the advantages of European recognition are hard to quantify and cities such as Glasgow and Liverpool undoubtedly raised their artistic profiles when they won the crown back in 1990 and 2008 respectively.
Of course, it could be said that these benefits arise because city councils, eager for the spoils, temporarily increase their arts budgets, not necessarily a charge to fling at Dundee, which committed itself to the glorious V&A years ago.
But what this latest episode in our post-Brexit dealings exposes is the general demotion of the arts to nothing more than a political pawn.
Scotland's ruling party has never been renowned for its bankrolling of arts organisations, unless they are tartan-tinged. The Scottish Government's Expo Fund to the Edinburgh International Festival, while welcome, does not support art for its own sake.
More seriously, the SNP has presided over 10 years of cuts to music teaching in schools, with its council tax freeze forcing many local authorities to raise fees for instrumental lessons, and pricing all but the middle classes out of a music education.
Now a leading arts commentator has warned that Scotland is facing "cultural carnage" as the government prepares to slash funding to Creative Scotland in next month's budget.
Ruth Wishart, who sits on Creative Scotland's board, wrote in a Sunday newspaper that in the worst case scenario "a whole swathe of our artistic community" would not be funded, "many of whom would inevitably go to the wall as a result".
Against this background, it is strange the SNP has suddenly reinvented itself as the country's cultural custodian.
Nicola Sturgeon raged at the City of Culture blow to Dundee last week, declaring herself "utterly dismayed".
And SNP health minister Shona Robison, the MSP for Dundee East, has now also jumped on the arts bandwagon, but it has nothing to do with the arts as such.
Both she and the First Minister, along with several party colleagues, have seized on Dundee's fate as a convenient stick with which to beat the Conservatives.
"Dundee's European Capital of Culture bid looks as if it is going to be the latest victim of the Tories' obsession with taking this country out of the European Union against our will, and they should hang their heads in shame," said Sturgeon.
Robison, meanwhile, is demanding that the UK Government reimburses the money Dundee has spent on its City of Culture bid because it is, she maintains, being unfairly punished for the result of the EU referendum.
While Dundee did indeed vote to remain in Europe, about half a million nationalists did not, something the SNP has never been able to come to terms with.
But the hypocrisy here is not really about that vote. It is about a party that has never prioritised arts spending now trying to make political capital over the loss of a cultural prize.
There probably isn't much the UK can do about the EU ban. If the SNP is genuinely concerned about the cultural engagement of Dundonians, and all Scots, in fact, it could ring-fence resources in the December budget for arts projects.
The arts, as Ruth Wishart reminded us, account for 70,000 jobs in Scotland, contribute to the economy, mean big business to tourism, and bring immeasurable other rewards.
They deserve to be backed in their own right and not through the narrow prism of political expediency.