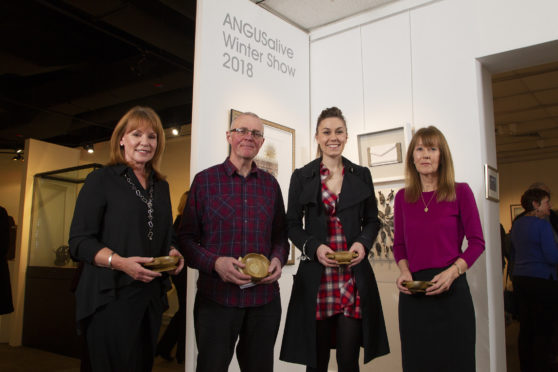 An annual Angus showcase of artistic excellence has been unveiled with the opening of the 2018 Meffan winter show in the Forfar town centre gallery.
At an evening reception in the West High Street, winners received a special memento of their success and the voting opened for art-loving visitors to pick the peoples' favourite in the show.
The Angus Alive prize of £1,500 was awarded to Christine Wylie for her photogravure work Conus Ater; The Word Itself is a Musical Sound, a mixed media piece by Barbara Anne Morton; and Grace Maran's acrylic on canvas, Two Girls.
The Colin Dakers Memorial purchase prize of £1,000 was won by Bruce Shaw for his etching, Black Spout, and Divergence, a card and pulp paper construction by Julia Gardiner.
The open art competition invites professional and non-professional artists resident in Scotland to showcase their work and have it considered for inclusion in Angus' public collection.
This year's exhibition, selected from more than 170 submissions, includes painting, sculpture, drawing, printmaking, jewellery, and photography.
All of the artworks exhibited are available for sale.
The winners of the two purchase prizes have their work included in the Angus Council art collection, managed and cared for by the local authority's arms' length Angus Alive culture and leisure trust.
This year's judging panel was joined by Lucy Byatt of Hospitalfield in Arbroath and Stephen Palmer from Creative Scotland. The Colin Dakers Memorial prizewinner is selected by Mr Dakers' family.
To encourage young craftspeople in this Year of Young People, Angus Alive also presented winners with specially commissioned tulip-wood quaichs handmade by Angus Young Engineers, based at Forfar Academy.
The exhibition also includes a public vote to select the winning work by an amateur artist and voting for that will close at 5pm on December 7, with the winner receiving a £200 prize.
Angus Alive senior manager Fiona Dakers said: "There was an exciting array of artworks submitted to the to the Meffan winter exhibition 2018 and we thank everyone for their entries.
"The variety of media and themes makes for a hugely enjoyable exhibition.
"Supporting Scottish art and artists is an important part of our charity's work and this open exhibition is always a favourite with our visitors."
The exhibition runs until Saturday December 29 and entry is free.