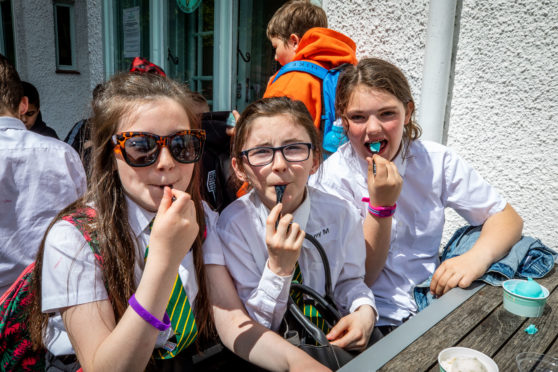 I scream, you scream, we all scream for ice cream! Gayle joins a group of schoolkids for a "farm to cone" experience in Fife.
It's every sweet lover's dream – to visit an ice cream factory and taste pretty much everything in sight.
That is indeed what happened when I joined a group of primary seven pupils from Craigowl Primary School in Dundee on a "farm to cone" discovery mission.
The idea was to give kids (and myself) an insight into how ice cream is made, where the ingredients come from, and to then gobble down a whole bunch of (small) tubs of the stuff.
We started off at Pittormie Fruit Farm near Cupar where farm manager Euan Cameron gave us a tour of the fruit fields and explained how various berries are harvested.
The farm boasts everything from loganberries, strawberries, tayberries (a cross between a raspberry and blackberry), gooseberries, brambles, blueberries, raspberries, strawberries and currants, plus it also grows vegetables.
"All our fruit is grown outside and there are no polytunnels – we believe it gives a better flavour," said Euan, showing us a tray of strawberry plants.
"You can eat the fruit or make jam and jelly, or freeze it for use later."
Of course, the fruit also features in the fabulous ice cream and sorbet made by Jannettas Gelataria in St Andrews.
"We freeze the fruit for Jannettas, so that ice cream can either be made from fresh or frozen fruit, depending on the season," said Euan. "They're taking half a tonne of strawberries from us in 2019!"
Family-run Jannettas has been producing scrumptious gelato for four generations, using either locally sourced ingredients or importing from Italy.
There are a staggering 54 varieties of gelato daily to choose from, with flavours ranging from traditional vanilla to more exotic flavours such as pistachio and rose. They also sell sorbets and frozen yoghurts.
The difference between gelato and ice cream? Gelato uses more milk than cream so it has less fat. It's also churned at a slower speed than ice cream, which makes the mix fluffier.
Once the pupils had wandered up and down the berry dreels identifying different fruits, avoiding the odd thistle and nettle (Euan doesn't use chemicals as he's ultra environmentally-friendly), they got to sit inside his fruit tractor.
Their whoops of joy could be heard from Dundee!
Our next stop was Queensway Business Park in Glenrothes, where we met Owen Hazel, aka The Ice Cream Man and co-owner of Jannettas, in action. It's here, in the factory, that all the wholesale produce is made for the company.
After kitting us out in chef hats, he made a batch of raspberry sorbet (using raspberries from Pittormie), firstly hand-sieving the seeds because, in Owen's opinion, sorbet should be smooth.
We watched, transfixed as he then heated them up to soften, pasteurise and remove any bugs. He then added sugar and water and loaded the mix into a "batch freezer".
After a few minutes, excitement levels had soared, and we were all in heaven when Owen handed us a tub of sorbet each. The room went silent as we savoured our treats and wow, they were truly heavenly.
Next up, Owen made a batch of strawberry ice cream. This proved even more of a hit with the kids, but I think I preferred the sorbet, as did the teachers.
Our final stop for the day was…you guessed it – Jannettas in St Andrews.
Having put in our orders earlier (I chose mango sorbet), we sat outside in the sunshine devouring our scoops of deliciousness.
It was a fantastic day of learning (and eating) and one which gave a fantastic insight into the ice cream industry.
Some kids revealed they had never been to a farm and didn't have a clue how ice cream was made.
The fact they were able to link Pittormie to the factory and finally, to the ice cream, was brilliant.
Indeed, Jannettas does a lot of work with young people and any interested schools are being encouraged to get in touch for similar educational tours.
Business development manager Charmaine Duthie said: "As well as Craigowl Primary, we've engaged with nursery schools, other primary schools, high schools and youth groups like Scouts and Guides.
"We believe in giving back to the community we work and live in but also believe it's hugely important to spread the good word about opportunities in the hospitality industry.
"We hope that by going out to schools and having them visit us, it whets an appetite in them to consider our industry as a career choice.
"Janettas has had placement students from France, Yorkshire and locally to spend days and weeks working with us.
"We enjoy taking time to show them what we do and you never know – it might ignite a spark and they may just be the next entrepreneur who starts their very own Jannettas."
Craigowl first approached Janettas when the company was giving a demonstration at Dundee Science Festival last year.
One of the school's teachers, Susan McKenzie, asked if Jannettas could visit her class and teach them about ice cream making and the company's history.
They did so in January and the response from pupils – and teachers – was incredible.
"We'd never had such an engaged, well-prepared and well-informed bunch of pupils! said Charmaine.
"They were a delight and so we asked if they might like to follow the process of ice cream making from start to finish – from farm to cone."
info
Any schools, youth or community groups keen to enjoy the "farm to cone" experience with Jannettas should contact Charmaine on 01334 473285 or enquire online at jannettas.co.uk
Owen and Nicola Hazel have run the business for the last 20 years. They are the fourth generation of her family to run Jannettas. The business was started in 1908 by Nicola's great-grandfather, Bennett Jannetta, as a soda parlour and tobacconist.