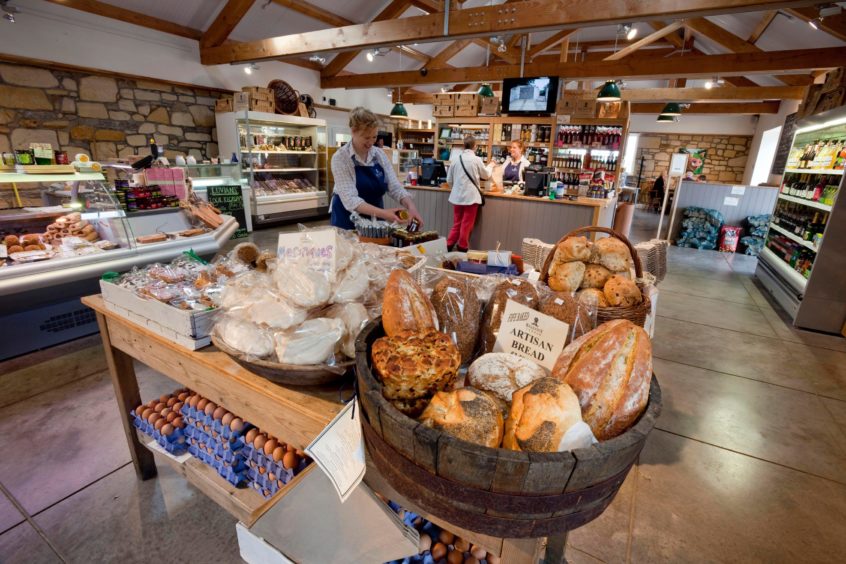 This week, Murray discovers that small local businesses really DO deliver!
Nearly every day I cycle quite leisurely from Wormit to Newport, my grudging and rather lame excuse for exercise; whilst doing so I quietly seethe about Westminster briefings, giving added value to my limited exertions by making me swear a lot, pedal quicker and thus increase my heart rate and lung capacity. At last a deliverable result for Matt Hancock!
However, despite this tokenistic nod to health my burgeoning belly provides ample proof that it's not so easy to offset the daily ingestion of a staggeringly high number of calories which, like the wine bottles that spawned them, are largely empty.
Right now, all I think about is food and all I talk about is food, and if I'm not thinking or talking about food I'm thinking about the lack of wine to drink with the food and how that bottle of port from Christmas three years ago actually could be OK with a delicate fish dish.
My justification is that Keith Floyd probably invented it years ago, an excuse for loucheness which works in most areas of life.
Drinking alone
Whenever I look at quizzes which purport to identify whether you have a drink problem (my father was an alcoholic, so I'm always aware of the glass being half empty) I fall at the first hurdle; 'do you ever drink alone, at home?' has always seemed a very silly question when so many of us live alone and so many people like a drink. So yes, guilty as charged to that particular crime.
In fact, being honest, I think booze is a key factor in getting me and many of my friends through this daily nightmare. Still no uncorking before 6pm though – which is an hour after many of my mates – so I DON'T HAVE A PROBLEM, RIGHT?!!
It was bad enough at the start of this lockdown when all my culinary worries centred around the fact the pasta shelves were empty. This was before my neighbour Mel gave me a sourdough starter, which acted as the leaven to my lumpen angst, making it rise to heroic proportions.
Have you ever given birth to, adopted or fed a sourdough starter? It's as truculent as a juvenile delinquent and as needy as a cat.
It multiplies overnight, making you dream that your kitchen is engulfed in fermenting dough as you slumber. What at first seems a benign and welcome addition to your home quickly becomes like a toxic and angry teenager, festering in the corner, bubbles rising but with nowhere to go.
When Mel went on to give me a yoghurt culture I quickly learned that unattended glass jars can actually lactate.
Food mass has now reached epic proportions as more and more suppliers deliver to the house.
On days when you feel isolated from the world and social media is driving you nuts, the ring of the bell with a new delivery can be as exciting as…oh, I don't know, extending your permitted exercise time by 10 minutes, or picking wild garlic from a secret stash by a nearby stream that turns out to be someone's garden.
You have to take your thrills when you get them these days.
Our postman is my new best friend and it takes all my resolve not to sit him down two metres away and give him tea and scones, ask him how his day was and tell him about the optimum proving time for a sourdough loaf.
A concurrent Amazon delivery would make it a party on the path, and one I would happily host if there were enough facemasks.  Such is the struggle of many of life's soloists who right now are just longing to be in the orchestra.
I haven't been to a big supermarket since lockdown started and in truth I don't miss them at all. Like many, my ideas of consumption have changed, and not just because of the paucity of some ingredients. This lockdown has taught me that I can get everything I need from our local Co-op and Spar, our baker, our butcher and everything else online.
Of course I'm aware that supermarkets offer ease and value for many shoppers, particularly families, but I don't want to go to them if I don't have to. In this way I'm actually spending less, because I'm not buying stuff I don't need.
Local online deliveries have really stepped up to the mark and I have to single some relatively new ones out for praise.
Firstly, Balgove Larder in Fife finally have an online ordering facility. I ordered a vegetable box plus some sausages, flour and yeast which, at the time, was harder to come by than hand sanitiser .
The flour had come from Fisher and Donaldson (who have also just started deliveries), but was bagged into smaller, domestic-friendly sizes to be sold at Balgove.
But the stars of the show were the sausages which were just wonderful – eating them felt like the end of rationing, as if I hadn't tasted a proper meaty banger for years.
Stellar reputation
Next up is the astoundingly good David Lowrie Fish, based in St Monans. I feel pretty evangelical about this venture because they supply loads of local restaurants including The Newport, the Peat Inn, Haar, Kinneuchar Inn and the Cellar. Their stellar reputation amongst chefs precedes them; they're simply the best.
Last week I got a very attractively- designed box filled with the freshest fish ever – £35, delivered to my door by Lewis Lowrie, who even gave a recipe tip for the wonderful slab of monkfish.
But I didn't want to cook this fish; I had asked for sashimi grade because, at that point, a lunch of raw fish served on a beautiful plate, with a bowl of soy sauce and a deep hit of wasabi, seemed the most unimaginably luxurious thing on the planet.
And it was! To eat so simply and yet so well reminded me not only of the joy of a good lunch but also of the attention to detail, experience and wealth of knowledge that comes from a small, family business who simply raise the bar by just caring so much about what they provide.
Lewis Lowrie, the latest of generations of his family to work in the fishing industry said; "it didn't feel right that local people in Scotland didn't have direct access to all the fresh seafood that was sourced so close to them.
The current circumstances pushed us to speed up the process of delivering direct to people's doors.
It felt more important than ever to find a way to deliver fresh seafood to people at home, both to bring a bit of joy to all those who love fish but also to support our family run business and local communities during this unprecedented crisis".
I believe plans are underway to open a retail shop in St Monans soon; at the moment a pop up runs at weekends. Top stuff and amazing value for fish of this quality!
Saturday night takeaway
Lastly, getting to Saturday night without a breakdown seemed a celebratory enough reason to try Adam Newth's Taykaway/Tayberry to You, the takeaway/delivery service operated from his Broughty Ferry restaurant kitchen.
I've enjoyed Adam's food on many occasions – for me he's without doubt the best chef in the area – and, driving through deserted Dundee to pick up our order, I got a bit low with the enormity of the challenge we are all facing.
Restaurant owners and staff are on their knees, and here is a guy who is stoically providing top restaurant quality food in circumstances that would challenge and defeat so many of us.
I arrived outside the kitchen to witness a hive of activity; it turns out that Adam's decision to keep his kitchen open has been a very popular one.
Later he texted to say that his original order of 250 compostable food containers, which he thought would last for 3 months, has run out so quickly that he had to order 700 more.
If it felt melancholy to be standing outside the kitchen whilst my order was packed up (like everyone, I equate restaurants with joy, laughter and celebrations), my spirits were lifted by the food.
It was delicious, and very good value (£50 for a delicious set meal for 2, £30 for a set meal for one, including wine; vegetarian, kids and a la carte menus are available).
This is basically as close as you can get to having Adam come to your house and cook for you; excellent food and beautiful presentation, with the same visual flair you get in the restaurant.
Food for friends
I ordered food for my neighbours too, so what we had included the following starters: whipped goats cheese, smoked beetroot and candied walnut salad; a delicious terrine of ham hock, smoked chicken, black pudding and rhubarb puree; Scottish shellfish potato salad, curry dressing and micro herb salad, and crispy Linlithgow haggis fritters, tatties, neeps and Arran mustard remoulade.
Main courses included slow cooked duck leg, creamed potato, baby onions, root veg with thyme glaze, and a very nice chicken supreme with roasted celeriac risotto, hazelnuts, leek and asparagus. All ace.
A white chocolate and raspberry ganache was the sugar rush that it sounds like – I don't normally like white chocolate except for the now-clichéd but delicious version melted over frozen berries – but this dessert changed my mind.
The bread is always great at the Tayberry and it proved thus here; a cheese course is also included. You can also order wine if it's not included in your menu and a delicious selection of Tayberry spirits are available including a rhubarb and clootie dumpling flavoured gin.
Asked about his new venture Adam said; "When the going gets tough the tough get going. It was a sudden act of desperation to keep my business afloat while the virus took over everyone's daily life – but also I wanted to keep the spirits up for our regular guests.
It's been a challenge but so rewarding seeing everyone celebrating special events but in their home, using Tayberry to You to lighten the darkness a little. As a small business it's not always possible just to say STOP! We have to adapt and overcome.
Why has it been a success? Good food + contactless delivery + a smile from a distance = happy faces = happy chef". Small businesses deliver!
Balgove Larder.      01334898145                               balgove.com
David Lowrie Fish.  01333 730770                            lowriefish.co.uk
Tayberry To You.    01382 698280.                           tayberry.uktakeaways.co.uk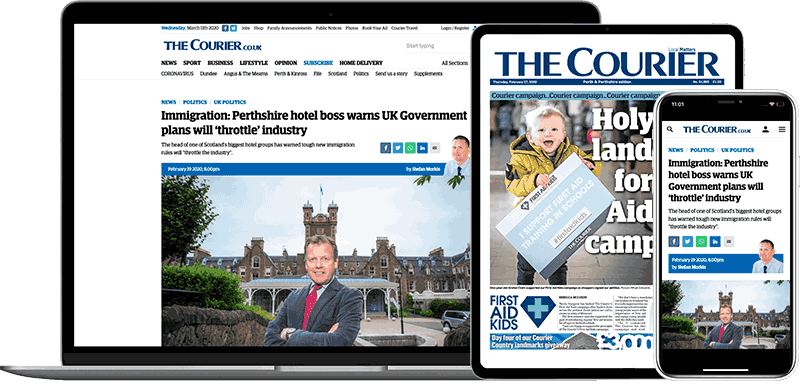 Help support quality local journalism … become a digital subscriber to The Courier
For as little as £5.99 a month you can access all of our content, including Premium articles.
Subscribe