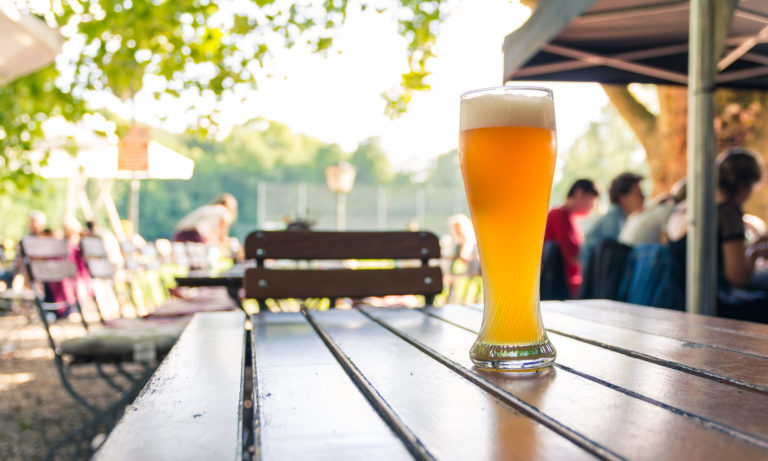 Pubs and restaurants which were hoping further easing of lockdown restrictions would mean they could open outdoor spaces within days, now face a further wait – with many having already invested in special equipment and technology.
For them, the ability to serve customers in the open air would have allowed them at least to start generating some income – albeit restricted – and begin what will hopefully be the journey to recovery.
But the announcement by the First Minister Nicola Sturgeon that a decision on beer gardens and terraces reopening would be pushed back by another two weeks was met with disappointment and anger by some who had gone to considerable lengths to prepare for reopening.
Many have spent the past few weeks trying to cover every angle when it comes to ensuring the safety of customers and staff, introducing hand sanitisers, screens, contactless ordering and payment systems.
Others had put in additional decking and marquees and had been adapting car park space to be able to seat customers. Now, those plans go back on hold as they await further news from the Scottish Government.
In Angus, Carnoustie is familiar with providing as much outdoor space as it possibly can for patrons, with the town having hosted a worldwide event only recently.
It was just two years ago that the Open Golf Championship visited the quiet seaside town when many pubs and hotels utilised their outdoor space to cater for the huge influx of visitors to the town.
Rob Alcock at the Kinloch Arms Hotel in Carnoustie said they were hoping to put their outdoor space to good use by erecting two marquees with a view to opening when the government says they can.
He said: "From Sunday we will have two marquees set up in the car park.
"We have been busy doing floor plans for a flow through the area as every pub that opens has to have a floor plan. It has been important that we worked how this was going to operate and there will only be one way in and one way out.
"There will be sanitation stations at the entries and exits, all of which will be manned to ensure that people are obeying the rules.
"There will be lots of signage, no drinking at the bar and a lot of important messages around the venue."
Rob added that ensuring everyone enjoys themselves safely and that they trust that the measures put in place will keep them safe.
"That is absolutely the key thing," he added. "Everyone has to have the confidence that they can come out and have a drink with their partner, their family or on their own knowing that when they go home they have been safe.
"The toilets will be one in and one out with full sanitisation and the entire area will be sanitised every half an hour. And it will be card payments only.
"Food-wise everything will be served on disposable plates, and it will be finger food we will be doing.
"The capacity has also been raised as a result of this. In the bar, the capacity is normally only 60, but with the new marquees we have managed to increase that to 120."
The 19th Hole, also in Carnoustie, has been making arrangements for opening in their car park for some time now and they outlined the measures they are putting in – which includes renaming the bar, for the time being, The Socially Distance Inn.
While they were disappointed not to get the green light in the first minister's announcement, they said safety was key prior to reopening.
A spokesperson told us: "We are a little disappointed but the health and safety of the public and our staff has to come first.
"It's encouraging to hear there has been a dramatic reduction from 19,000 folk infected down to 2,900 from a few weeks ago.
"Fingers crossed that when we are allowed to reopen the weather has gotten warmer as well and the number of cases is as low as it possibly can be.
"Whilst the 19th Hole Hotel remains closed, we will be introducing our outdoor pub and this will be housed in our beer garden and car park.
"We have named it 'The Social Distance Inn' and this unique outdoor pub will be housed in our fully branded 'open sided' marquee.
"A full service bar with draught and bottled beers, plus a range of wines, prosecco, spirits and soft drinks will be available, as well as a limited food menu being served.
"To assist with minimising contact, all ordering will be done via our new app. This will be available in both the Apple Store and Google Store before we open! We will be operating an entirely cashless venue and all payments will be via the app when you order your food or drinks to your table.
"Whilst the Scottish Government work to safely guide Scotland out of lockdown, we have been working really hard behind the scenes to ensure our 'pop up' outdoor bar can operate in the space occupied by our beer garden and our car park.
"Due to COVID-19, a number of requirements will be placed on entry into The Social Distance Inn.
"Access will be via a single entry point and a non-intrusive temperature check will be taken as a requirement of entry; you will be required to use our hand sanitiser stations both on entry and whilst you are on our premises; numbers will be restricted on a first come first served basis and no table reservations will be permitted; we will be asking each of our customers to bring a non-surgical face covering to be used for when you have to enter the building to make use of the washrooms (we will also have disposable coverings available); we will have non distancing signage and one way traffic flow systems and you will need to comply with these at all times.
"Full instructions for our app will be provided to customers at the time. We will also start trialling collection and delivery options as the app is rolled out. We are busy stress testing it to ensure it is as easy as possible to use before it is launched."
One of the biggest issues bars are facing is obtaining beer.
Rob said: "The problem is going to be getting beer. We had to destroy all the beer when we locked down and a lot of bottled beer has gone out of date, but as soon as the lights come on everyone will be expecting a pint of beer.
"We are working hard to get some in, but it's not proving easy."
The 19th hole spokesperson added: "We are working to acquire fresh beer supplies as the majority of the delivery crews have been furloughed."
At 172 at The Caird in Dundee, plans are in place to open the beer garden, with tables spaced to allow for two-metre distancing.
Owner Jimmy Marr said: "We're spacing tables out in the beer garden. We've got hand sanitisers and a system for using the toilets inside – staff would let one person in at a time – but the rest of the building will be shut."
In Dunkeld, the Atholl Arms hotel said their "hopes have been dashed" and that it brings more concern to the wider hospitality industry, but that they have everything in place for when they Scottish Government gives them the green light.
Owner Zsolt Balogh said: "This is very disappointing news from the Scottish Government today for Scottish hospitality businesses.
"The hopes for outdoor hospitality reopening have also been dashed and at best we can hope now they will reopen in early July. The main concern here is Scottish businesses will have three weeks less to build up finances and trade before furlough stops.
"That said, we are ready to go for when we can be given the go ahead. We have our tables set to be two metres apart and we've created an online ordering system. If guests request not to come into contact with staff then they can use the online system to tell us about that. Payments can also be made through this online system, or they can pay by card – both options will be available.
"Guests can choose their own table to sit at. They'll have the online system explained to them, their table number and how they order food or a drink. They do this online and their drinks will be delivered to their table.
"Staff will maintain a distance and we've had a risk assessment done on this. We've provided staff with PPE, including our chefs who have face shields to wear for the kitchen. We have a limit in place as well, there can't be more than two members of staff in any location at any one time, including behind the bar and in the kitchen.
"The PPE is not a requirement but have advised the staff to wear it. They can choose between a face shield or a face mask or bring their own face mask if they want to."