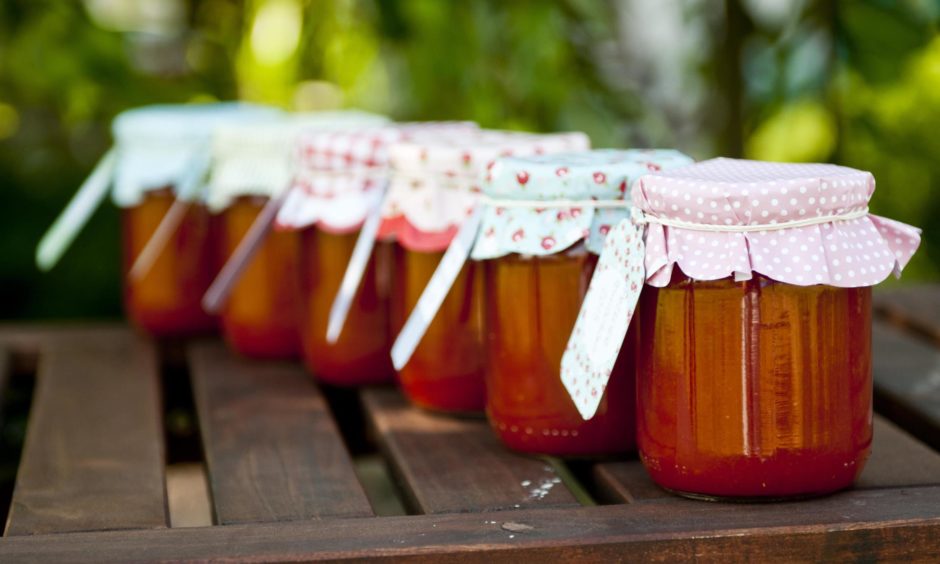 Kat Riach runs an off-grid bakery from her farm in Fife and regularly contributes to The Courier's food and drink magazine, The Menu
What do you do when you are rapidly approaching the end of autumn, and you're left with home grown produce that, despite regular sun dances to encourage it to blush with ripeness, remains resolutely in a state of vividness?
In our polytunnel there were a surprising number of fruits left on the tomato vines which had grown to a sufficient size, but which hadn't even started to blush red.
Whilst feeding these to our pigs and chickens was an option, we were keen to use them for culinary purposes. After pulling all of the remaining fruits from the vines, we gave the stalks to our pigs and chickens, and resolved to throw the fruits into making some Christmas chutney.
Start by taking a 7cm piece of ginger and bashing it with the end of a rolling pin to release the flavour, combine with 2-3 red chillies (optional) and secure in a piece of muslin which you can tie to the side of your pan.
We used 1.5kg of green tomatoes, the recipe can be adjusted to suit what you have. To this we added 900g seasonal cooking apples, 450g of shallots (or small onions), 450g sultanas, 1.75 litres of wine vinegar, 450g demerara sugar, the juice of 2 lemons, 25g mustard seeds (optional), 50g salt.
Chutneys always involve a lot of chopping, but once this stage is complete, it can happily be left bubbling away in the background whilst you are doing other things. Roughly slice the tomatoes, peel, chop and core the apples, and add, with the remaining ingredients, into a heavy based pan.
Secure your muslin bag to the side of the pan, so that the contents dangle into the other ingredients. Start over a low heat to dissolve the sugar, and then simmer for two hours without covering. After this, your chutney will have bubbled down to a thick, dark consistency.  Whilst still warm, pour into warm sterilised jars.
As the flavour of this chutney will improve over weeks, made now, this would be an excellent handmade gift.
More in this series:
Chickens, slugs and cavalo nero kale – it's all happening down on Kat's farm