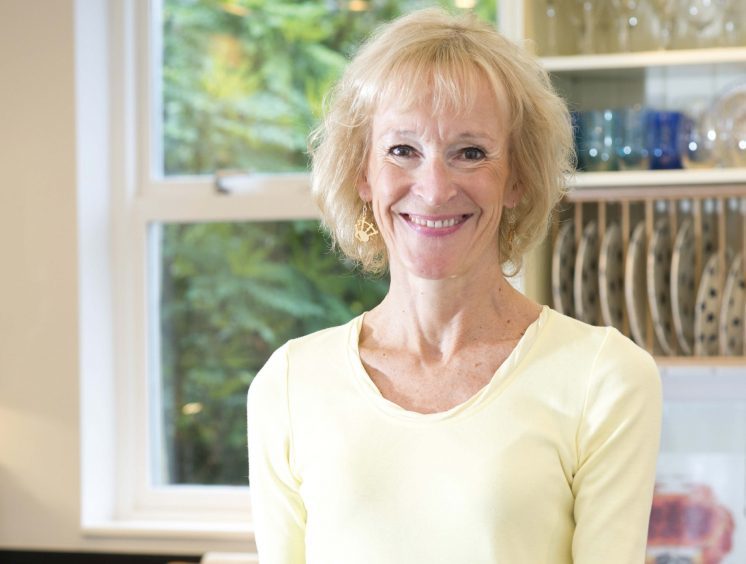 Food writer Sue Lawrence, queen of baking, is coming to Dundee as part of Book Week Scotland's Nourish event. Here, she gives Caroline Lindsay some food for thought.
Q Desert island food and why?
A  Any Scottish seafood – crab/lobster/scallops – simply cooked.
Q Favourite TV chef and why?
A  Rick Stein – he's always fun, intelligent, interesting.
Q Favourite cook book and why?
A  Too many to chose from but Nigel Slater's books always give me terrific ideas.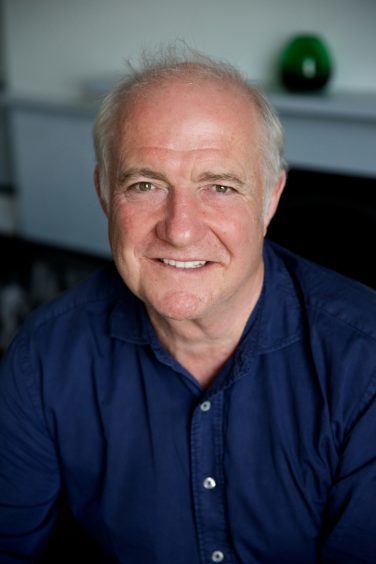 Q Favourite ingredient and why?
A Butter – used in both savoury and sweet dishes, it adds wonderful flavour to both.
Q Most hated ingredient and why?
A Okra (a veg, originally from Afrixa) – it's so slimy.
Q Perfect dinner guest and why?
A  One who doesn't stay too late; but if he/she does, then they must be able to organise a sing song.
Q Favourite kitchen gadget and why?
A Microplane grater: how did we zest our lemons before they were invented?
Q Favourite music to cook to and why?
A Piano music – any Chopin or Ludovico Einaudi or, best of all, Mendelssohn's Rondo Capricioso.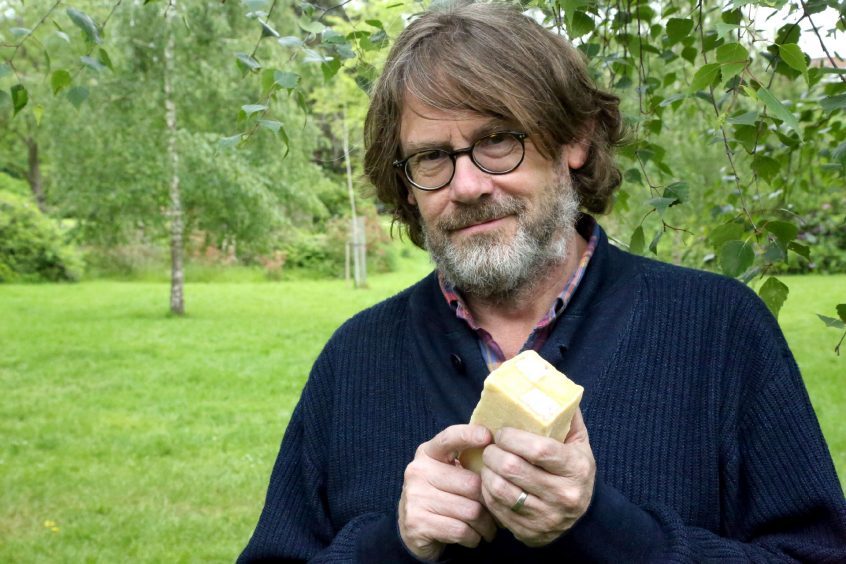 Q Perfect menu?
A Seafood, then lamb from the Islands or free range chicken from the Borders. Home-made ice cream for pud.
Q Favourite country for food and why?
A Italy – it has to be because they have so much variety and their food is less rich than classic French.
Q Favourite chef, alive or dead and why?
A Too many chefs  to chose from ; also many wonderful home cooks.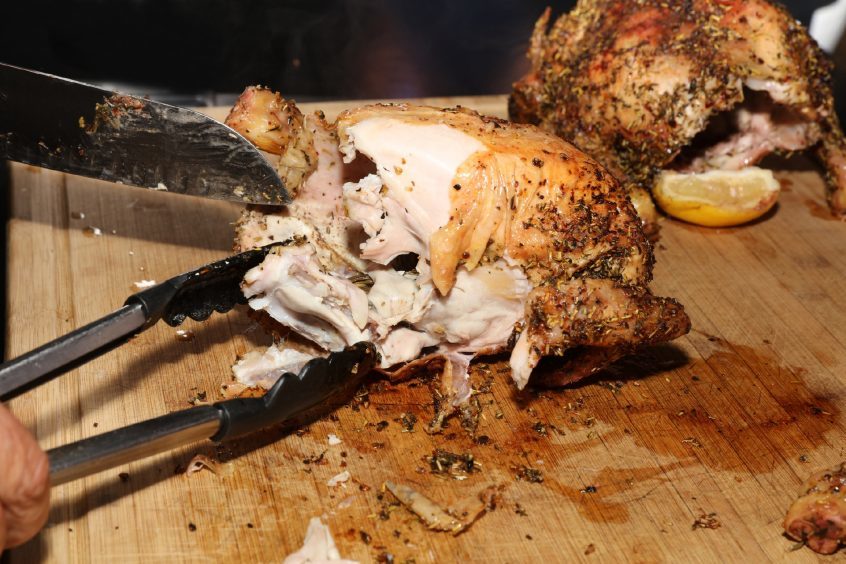 Q Favourite culinary season and why?
A Autumn – mushrooms, brambles, apples.
Q Salt or pepper and why?
A Both – they each have their own attributes in dishes.
Q Favourite herb and why?
A  Basil – though I do love thyme and rosemary as well.
Q Favourite spice and why?
A  Cumin for savoury; cinnamon for sweet. Both are warm spices, ideal for cooking with at this time of year.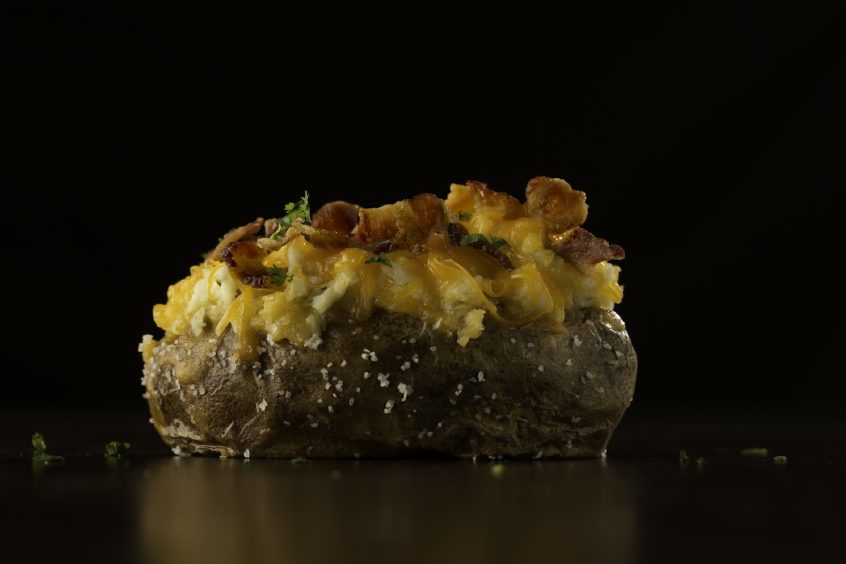 Q Favourite way to cook the humble potato?
A Crunchy-skinned baked potato or home-made fat oven chips.
Q Favourite go-to recipe if you're in a hurry?
A Pasta with quick tomato sauce zapped with chilli and with tinned sardines thrown in.
Q Favourite naughty nibble?
A Good chocolate isn't naughty.
Q Favourite health food?
A Good chocolate isn't unhealthy.
Q Ideal picnic dish?
A Ham sandwich with butter; sit on it in the car on the drive to your picnic (it's wrapped in foil and a tea towel!) – this squidges everything together beautifully.
Q Ideal BBQ food?
A Proper butcher's sausages – or beer-can chicken.
Q Are you critical of the food when you're dining out?
A No – as long as it's freshly cooked it will be just grand.
Q Do you tip in restaurants?
A Of course; waiting staff are not paid that well and I remember my impoverished student waitressing days well.
Q Top tip for failsafe cooking?
A Read recipes thoroughly if baking and follow instructions to the letter; you can improvise if you're doing anything other than baking.
Q Worst cooking sin in your opinion?
A Worst sin is NOT cooking.
Sticky apple cake with coconut crunch
Makes 1 large cake
Notes: This squidgy apple cake has the most delectable crunchy coconut topping, and not only looks amazing, it tastes divine. My friend Isabelle's daughter Jess Plews told me about enjoying a piece of cake called a lumberjack cake in her local café, and I thought the ingredients would appeal greatly to our Scottish sweet tooth. It is like sticky toffee pudding and Bounty bar (without the chocolate coating) rolled into one yummy cake. I defy you to stop at one slice.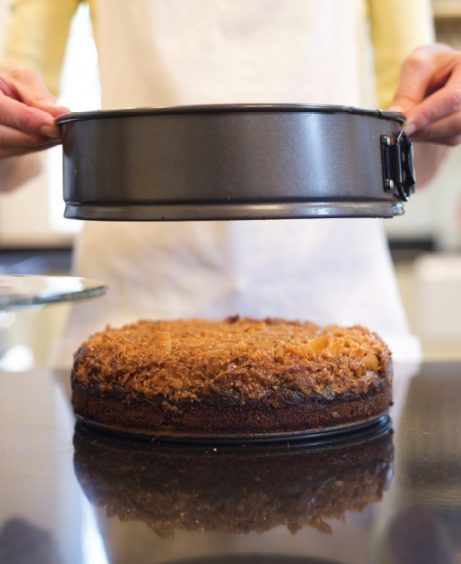 Ingredients
175g stoned dates, chopped
1 level tsp bicarbonate of soda
250ml boiling water
2 crisp green apples (such as Granny Smiths), peeled and chopped
100g butter, diced
100g golden caster sugar
75g light muscovado sugar
250g self-raising flour, sifted
2 medium free-range eggs, beaten
Coconut crunch topping:
75g butter
150g light muscovado sugar
100ml double cream
1 tsp vanilla extract
1 tbsp golden syrup
100g shredded coconut (or half desiccated/half coconut chips/flakes)
Directions
Place the dates in a large heavy saucepan with the bicarbonate of soda and 250ml boiling water. Warm over a low heat for 4–5 minutes until the dates are softened. Add the apples, then remove from the heat and stir in the butter. Once it has melted, add the sugars
and flour. Once these are thoroughly – but gently – combined, stir in the eggs.
Pour into a buttered, base-lined, loose-bottomed 23cm/9in cake tin that is at least 10cm deep. Bake on a foil-lined baking tray (in case of spillage) at 180C/350F/Gas 4 for 30 minutes.
Meanwhile, place the first five topping ingredients in another pan and bring slowly to the boil. Bubble away, stirring, for 2–3 minutes, then stir in the coconut and remove from the heat.
After the cake has baked for 30 minutes, remove and place on top of the cooker.
Slowly spoon the coconut mixture all over the top; this has to be done gradually and gently so that the cake does not collapse under the sudden weight! Once this is done, place back in the oven and continue to bake for a further 30 minutes until cooked through, covering loosely with foil after 15 minutes or so. The cake bakes for about one hour altogether.
Remove, cool, then carefully transfer to a serving plate to serve.
Recipe from Scottish Baking by Sue Lawrence, published by Birlinn, £17.99.
Scottish Soup, Berries and Baking with Sue Lawrence at the Central Library, Dundee, on Wednesday November 29, 2pm-3pm. Free, but booking essential at Eventbrite suelawrencedundee.eventbrite.co.uk