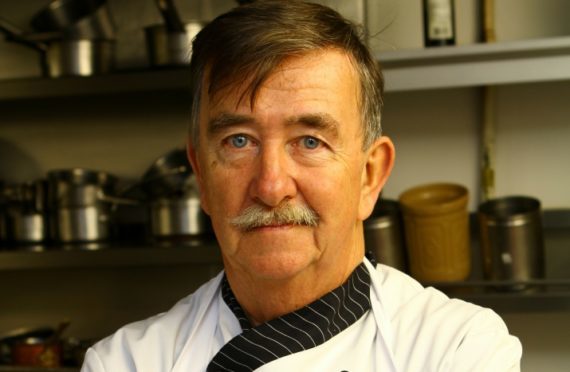 Jimmy Graham, chef patron of Ostlers Close in Cupar, shares his passion for Spanish cuisine with Caroline Lindsay
Q Desert island food?
A Fresh fillet of hake with parsley, capers and olive oil, as hake is my favourite fish, never tire of eating it and it's light to eat in the heat.
Q Favourite TV chef?
A Raymond Blanc – he's self taught, passionate, promotes seasonal produce and is entertaining.
Q Favourite cook book?
A The French Laundry by Thomas Keller, California – classical cooking with a modern twist, clean presentation of dishes.
Q Favourite ingredient?
A I like to cook with local rapeseed oil that I buy at the Fife Farmers Market. It gives roasted vegetables a lovely golden sheen.
Q Most hated ingredient?
A Foie – simply because I personally don't enjoy it and it's not a local ingredient. I prefer to cook ingredients that I would want to eat myself.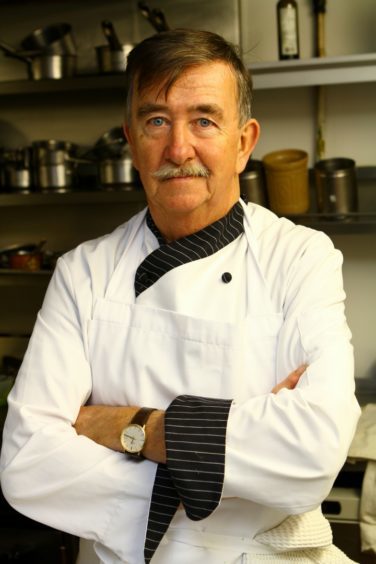 Q Perfect dinner guest?
A Sadly no longer with us – Sir Alan Smith. He was a Second World War fighter pilot hero who, with his lovely wife, was a customer of Ostlers Close. He was a charming gentleman, very engaging with many an interesting story to tell. He also appreciated his food.
Q Favourite kitchen gadget?
A Potato ricer – essential to make the perfect potato mash.
Q Favourite music to cook to?
A Certainly no distractions in a service kitchen, perhaps when things are less tense, Amparanoia – catchy Spanish music with a good tempo to speed up working!
Q Perfect menu?
A Creel-caught langoustines with garlic butter, followed by roast breast of grouse with chanterelles. To finish, creme caramel, queen of puddings.
Q Favourite country for food?
A Has to be Spain. We have visited many regions, each have their own food identity and they are passionate about authenticity, protect the heritage of regional dishes and have great markets with wonderful produce.
Q Favourite chef, alive or dead?
A Charlie Cardno – not a celebrity chef but the first head chef that I worked with. He was also a chef lecturer. He gave me great training and a passion for my craft.
Q Favourite culinary season?
A Scottish wild mushroom season – June to first frosts. A great time in general for Scottish produce but wild mushroom picking is a passion equal to cooking for me.
Q Salt or pepper?
A Salt, as it optimises flavour of ingredients to bring out the best in a dish. Not necessary to use in great quantities, as the customers can always add but never take away!
Q Favourite herb?
A Chervil for its delicate flavour, difficult to source so I grow my own in the polytunnel.
Q Favourite spice?
A Cinnamon – I enjoy the flavour and versatile for sweet or savoury.
Q Favourite way to cook the humble potato?
A Mash although the potato variety is important – Rooster or Maris Piper, using the ricer mentioned
above, hot milk and melted butter.
Q Favourite go-to recipe if you're in a hurry?
A Spanish patatas estrellados – simply fried potatoes with eggs added in and broken at the last minute. Chorizo or peppers can be added. Eat with Pata Negra Serrano ham.
Q Favourite naughty nibble?
A Dark chocolate, just before bed.
Q Favourite health food?
A Porridge made with medium oatmeal.
Q Ideal picnic dish?
A Spanish tortilla filled with ham and cheese.
Q Ideal BBQ food?
A Chuleton de Buey – ribeye on the bone, speciality of the Basque Country and cooked over an open wood fire.
Q Are you critical of the food when you're dining out?
A We enjoy being on the receiving end of dining out and are not so much critical, as analytical. However, we are enthusiastic in our praise when the food is delicious.
Q Do you tip in restaurants?
A Yes, unless the meal is poor or we encounter bad service.
Q Top tip for failsafe cooking?
A Be organised, heat your pan before starting to cook and allow your meat/fish to rest before serving.
Q Worst cooking sin in your opinion?
A Seasoning before tasting.
Fillet of hake with wild garlic crust
Ingredients
Serves 4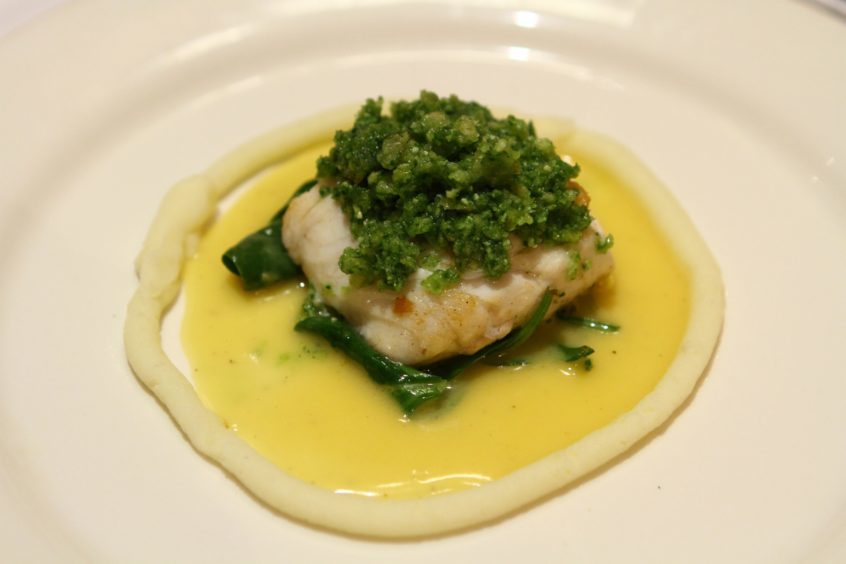 To make the wild garlic pesto: 100g wild garlic leaves
30g parmesan
30g pine nuts
40ml olive oil
For the fillets: Rapeseed oil for cooking
4 fillets of fresh hake
80g white/panko breadcrumbs
Wild garlic pesto
Maldon salt for seasoning
Directions
Make your pesto in advance, wash the garlic leaves in salted water, rinse and pat dry. Place all in ingredients in a blender and blitz to a smooth paste.
Place in sterilised jar and cover with oil to keep out air to maintain vibrant green colour – it keeps well in the fridge.
To cook the fish, heat frying pan till hot, coat base with oil, then place hake in pan, skin-side down. Lightly season the fish, cook for 2 minutes, then turn and cook for 1 minute. Remove pan from heat, mix breadcrumbs with sufficient pesto to colour them without becoming wet. Remove skin from the hake, lightly season the fish before topping with the pesto breadcrumbs.
Place in a hot oven for 2 minutes or toast under grill to finish. Any additional pesto can be used as a sauce.
www.ostlersclose.co.uk