Steve Wilson, executive chef at the Fairmont St Andrews talks seaweed, the Stone Roses and shichimi with Caroline Lindsay
Q Desert island food?
A Shepherd's pie. It reminds me of home – every time I came home to visit from working abroad that is the first meal my mum would make me.
Q Favourite TV chef?
A The late Anthony Bourdain, kitchen hero, highly respected for what he has done for the chefs of this world. It's a pleasure to watch his shows.
Q Favourite cook book?
A To many to choose from! My collection keeps getting bigger with over 400. I love reading cook books from all over the world.
Q Favourite ingredient?
A Any seafood from Scotland.
Q Most hated ingredient?
A Atlantic prawns: horrible things with no flavour, reminiscent of 1980s nightmare prawn cocktails…
Q Perfect dinner guest?
A My family – growing up in a kitchen and travelling with the job I rarely saw them all. So a good family dinner for me is perfect.
Q Favourite kitchen gadget?
A A microplane. It has so many uses; everything you put through it elevates a dish.
Q Favourite music to cook to?
A It depends on my mood, I like everything from jazz and blues to funk and soul, a bit of Rolling Stones to the Stone Roses – anything really! My wife is a fantastic saxophone player who has played in some cool bands so anything she plays too.
Q Perfect menu?
A The chef's tasting menu at the French laundry in Napa valley was the best meal I have ever had.
Q Favourite country for food?
A Too difficult to choose! I love good Japanese food and could eat it every day, but also Vietnamese as well – it's so light and aromatic, and I cannot forget Arabic food with the great spices and breads.
Q Favourite chef, alive or dead?
A Eli Leconte, now sadly passed. My mentor, he was an oracle on food what he did not know was not worth knowing. He was also a fantastic bee keeper.
Q Favourite culinary season?
A Spring. I think most chefs love spring and the chance to get out and start foraging and making lighter dishes.
Q Salt or pepper?
A Needs to be pepper. There are so many varieties and colours, each with different depths of flavour and I hear we need to reduce our salt intake so I can't pick salt.
Q Favourite herb and why?
A Seaweed! You can definitely use it in the same way you would any herb, in bread or pasta dishes, for example. It's a great salt substitute and the local guys at Mara at Bowhouse are fantastic at blending it.
Q Favourite spice?
A Shichimi tōgarashi, (Japanese five-spice) – it's great on ramen noodles and so much more.
Q Favourite way to cook the humble potato?
A Boiled pink fir apple potatoes with butter and parsley.
Q Favourite go-to recipe if you're in a hurry?
A I've never had one. if you make something, make it properly regardless of how long it takes. In the kitchen it's about mise en place and organisation and it's the same at home. Plan ahead and pick a dish according to how much time you have.
Q Favourite naughty nibble?
A A good burger – hard to come by these days
Q Favourite health food?
A Everything is good for you in moderation; life is too short so enjoy it.
Q Ideal picnic dish?
A Duck rillette and sourdough bread. What's not to like?
Q Ideal BBQ food?
A A good homemade burger.
Q Are you critical of the food when you're dining out?
A Yes and no. I have only complained a few times in my life when it was so bad it was inedible. I just generally don't go back to the place. I don't do TripAdvisor – word of mouth from people in the trade is better.
Q Do you tip in restaurants?
A For good food and service yes, and sometimes I do buy the kitchen a beer, they seem to appreciate that.
Q Top tip for failsafe cooking?
A Keep it simple, use lots of fresh herbs in salad and good quality meat from your butcher. Dinner doesn't need to be complicated. Think flavour first.
Q Worst cooking sin in your opinion?
A Deep fried pizza. Just – why?
Scottish king scallop carpaccio with vanilla crème fraiche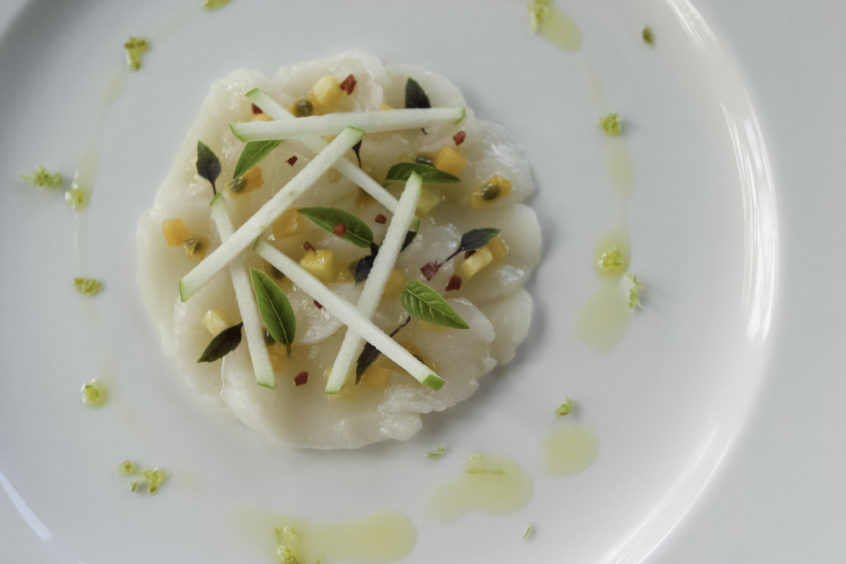 Ingredients
Serves 4
8 raw Scottish king scallops
¼ fresh pineapple
200ml fresh pineapple juice
30g fresh coriander
1 apricot (cut into strips)
1 peach peeled and diced small
1 passion fruit (seeded)
1/3 large red chilli (no seeds)
Directions
Mix the vanilla & crème fraiche together and chill until required. Marinade the scallops in the pineapple juice & coriander for one and a half to two hours to take the raw edge from the scallop.
Dice the peach and julienne the apricot, de-seed the passion fruit and dice the orange segments and then mix with the freshly squeezed orange and diced chilli.
Spoon the vanilla crème fraiche on the cold plate using a three inch metal ring as a template.
Slice 2 scallops per plate and set on top of the crème fraiche in a fan all around.
Brush with rapeseed oil and place a little of citrus fruits round the top of the King Scallops followed by the apricot and peach.
Place 5-7 apple sticks on top and garnish with the micro cress.
Steve and his team have created the International Sunday Brunch at the Fairmont. Priced at £32.50 per adult and £16 per child (under 5s eat free), the brunch is served from 1pm to 4pm every Sunday over the summer until August 26.