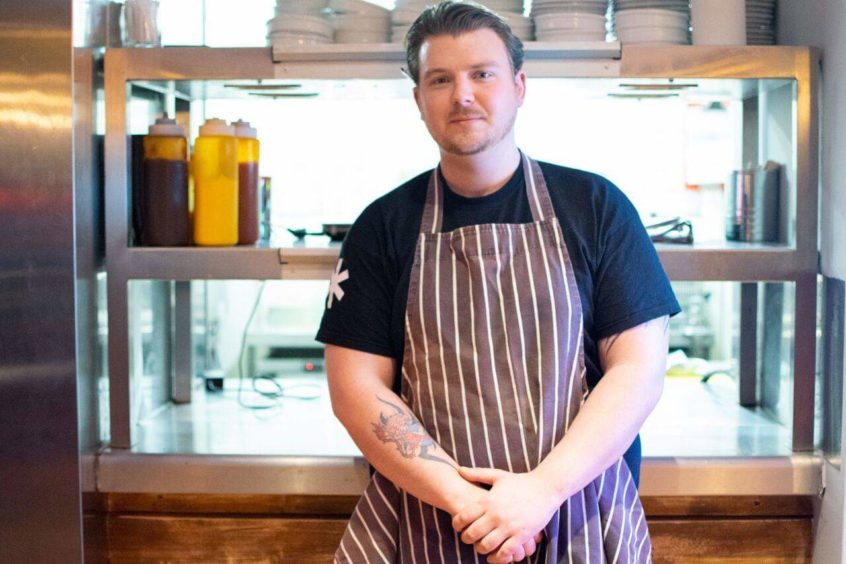 Q Desert island food?
A Mussels because they can be cooked with just about anything.
Q Favourite TV chef?
A Raymond Blanc as he's mainly self taught. He rose through the ranks from a pot washer to become one of the greatest chefs in the world.
Q Favourite cook book?
A Glasgow On A Plate – it was one of the first cookbooks I read before I worked in kitchens and it sparked my interest in cooking.
Q Favourite ingredient?
A Garlic – I use it in nearly everything.
Q Most hated ingredient?
A Glucose syrup. You can never get it off your whites!
Q Perfect dinner guest?
A Professor Brian Cox as I'm a massive fan of his podcast.
Q Favourite kitchen gadget?
A The Robot Coupe Food Processor – you can do loads with it.
Q Favourite music to cook to?
A The Rolling stones. There's a song for every mood.
Q Perfect menu?
A A small one that changes everyday.
Q Favourite country for food?
A Scotland, of course. We have such great ingredients on our doorstep including the very best game.
Q Favourite chef, alive or dead?
A Anthony Bourdain. I have watched all his documentaries and read all his books. I think he had a great perspective on the industry from his experiences and has taught me a lot.
Q Favourite culinary season?
A Winter – it's all about comfort food.
Q Salt or pepper?
A It's not a finished dish without both!
Q Favourite herb?
A Coriander – you can use it in almost anything and it will make the dish better.
Q Favourite spice?
A Pimento as it adds a great colour to your dish.
Q Favourite way to cook the humble potato?
A Pommes Anna.
Q Favourite go-to recipe if you're in a hurry?
A Any pasta dish as you can use whatever you have in the fridge.
Q Favourite naughty nibble?
A Crisps.
Q Favourite health food?
A Blueberries.
Q Ideal picnic dish?
A Sausage rolls.
Q Ideal BBQ food?
A Pulled pork shoulder.
Q Are you critical of the food when you're dining out?
A Annoyingly so!
Q Do you tip in restaurants?
A Usually more than they deserve.
Q Top tip for failsafe cooking?
A Cover the dish in tinfoil and cook it on a low heat in the oven because you are probably going to forget that it is there.
Q Worst cooking sin in your opinion?
A A dirty section!
Smoked haddock and celeriac croquettes
Makes 8-12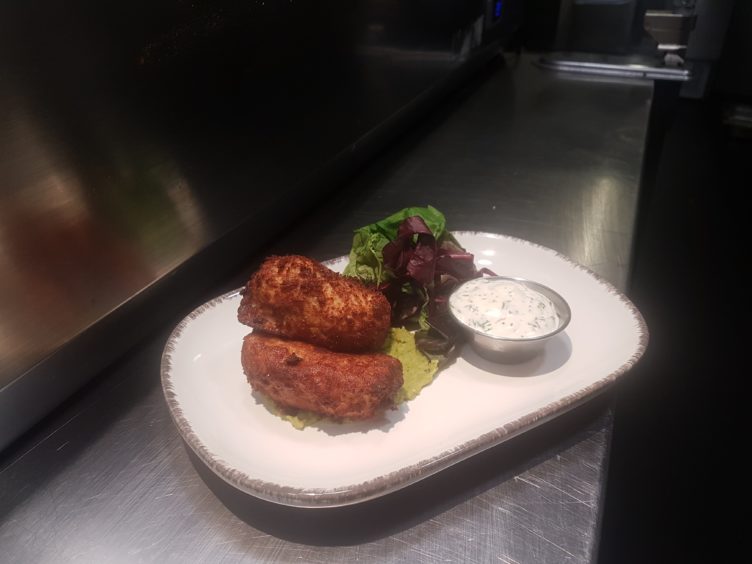 For the croquettes: 2 smoked haddock fillets, skins removed
400g celeriac
3 spring onions
1 lemon, juice only
50g dill, chopped
50g chives, chopped
1tsp wholegrain mustard
250g plain flour
2 eggs, beaten
250g Panko breadcrumbs
500ml milk, plus a little for the egg mix
Oil, for frying
Salt and pepper
For the dipping sauce: 50g chives, chopped
50g dill, chopped
1tsp wholegrain mustard
100g mayonnaise
directions
Poach the haddock fillets in the milk until flesh is opaque (this will take around 10 minutes). Drain the haddock and set aside to cool.
Peel and chop the celeriac into small chunks and place in boiling water until it is soft. Drain and set aside to cool.
Chop the spring onions finely and place in a mixing bowl. Add the juice of the lemon to the spring onions and then flake the haddock into the mix, ensuring there are no bones.
Mash the celeriac until smooth and add to the mix. Add half of the chopped dill, chives and wholegrain mustard and gently mix. Season to taste.
Form the mix into croquettes, roughly 2 inches long by 1 inch wide. Once shaped, freeze the croquettes until they are solid, as this will make it much easier to coat in breadcrumbs.
Get three mixing bowls and place the flour in one, eggs in another and the panko breadcrumbs in the last bowl. Add a splash of milk and seasoning to the eggs and whisk together.
Place the first croquette into the flour and coat and then shake off any excess. Next, dip it into the egg mix and make sure the whole croquette is coated evenly. Again, shake off excess. Finally dip the croquette into the breadcrumbs and coat it completely. Repeat this process until all they are all fully coated.
Next, cook the croquettes. Preheat the oven to 180C. Allow the croquettes to come to room temperature and then pan or deep fry them until they turn golden brown. Finish cooking them in the oven for around 8 minutes, making sure they are piping hot in the middle.
While the croquettes are cooking, make the dipping sauce. Mix together the remaining chopped chives, dill and wholegrain mustard with the mayonnaise for a dipping sauce. Serve and enjoy.