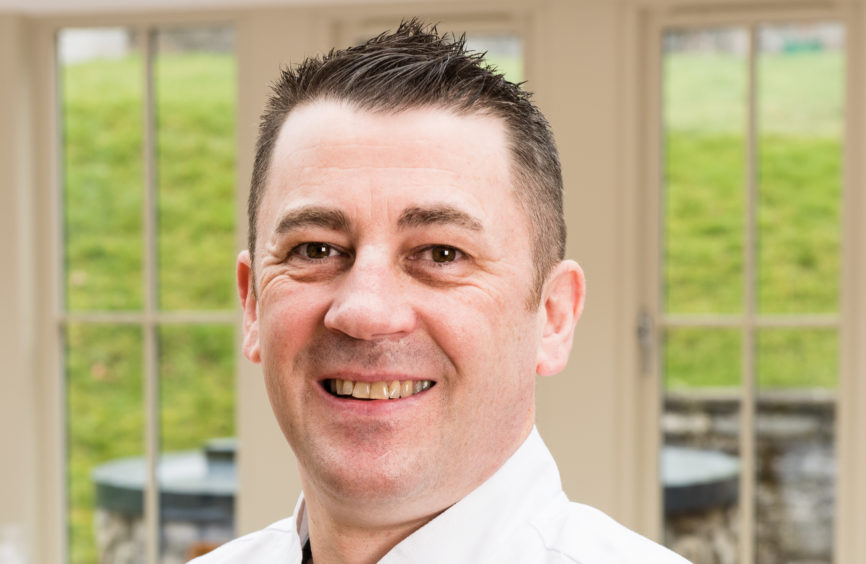 Jonathan Greer, head chef at The Orangery Restaurant at the Old Manse of Blair in Perthshire, can't resist butter but, as he tells Caroline Lindsay, you'll never find macaroni cheese on his menu.
Q Desert island food?
A My wife's Dromona chicken – a creamy, soupy casserole with broccoli.
Q Favourite TV chef?
A Raymond Blanc, he's an inspiration to watch; his knowledge, passion and drive along with his relaxed attitude while cooking are amazing.
Q Favourite cook book?
A White Heat by Marco Pierre White. The book never gets old no matter how many times you read it.
Q Favourite ingredient?
A Butter! Being from Northern Ireland it's a must, particularly for Irish champ which is loaded with butter. Butter adds flavour to any dish from beef to soups.
Q Most hated dish?
A Macaroni cheese, everything about it – the consistency and taste!
Q Perfect dinner guest?
A The late Andrew Fairlie. He's an inspiration to everyone in the industry and was a true gentleman.
Q Favourite kitchen gadget
A A Thermomix. It's like having an extra chef in the kitchen.
Q Favourite music to cook to?
A Anything…as long as it's not rap!
Q Perfect menu?
A Starter – a ballotine of foie gras with peach chutney and brioche; intermediate – wild mushroom ravioli with white bean froth and truffle; main – squab pigeon, Koffman cabbage, rosti and Madeira jus; dessert – hot Valrhona chocolate biscuit with milk ice cream.
Q Favourite country for food?
A It is to be Scotland for the seafood, shellfish and wild, foraged foods.
Q Favourite chef, alive or dead?
A Andrew Fairlie, for being the first Scot to win the Roux Scholarship and being the only chef in Scotland to have two Michelin stars. A gentleman and a legacy.
Q Favourite culinary season?
A Spring – everything is coming into bloom and it's an incredible time to create new dishes.
Q Salt or pepper?
A Both, as you can't use one without the other.
Q Favourite herb?
A Basil, it's an amazing herb and can be used in so many ways. It's so fragrant and gives fantastic flavour to dishes.
Q Favourite spice?
A Cumin – I like to use it for flavouring soups and purees as well as fish dishes. It's also great for using in marinades for meat and poultry.
Q Favourite way to cook the humble potato?
A Mash/champ – with lots of cream, packed with butter and scallions and plenty of salt and pepper.
Q Favourite go-to recipe if you're in a hurry?
A Mushroom risotto with a poached egg and Parmesan cheese.
Q Favourite naughty nibble?
A Cheese and onion crisps.
Q Favourite health food?
A Bananas, a great energy booster. If you're running low on energy they are a great pick-me-up and full of potassium.
Q Ideal picnic dish?
A Honey roast ham and coleslaw rolls, or roast chicken and mayonnaise sandwiches on St Andrews beach with my wife and kids and the dogs!
Q Ideal BBQ food?
A Cold beer, bbq chicken drumsticks, caramelised onion sausages and Caesar salad.
Q Are you critical of the food when you're dining out?
A If I'm paying good money and it's not right, yes, I would be critical.
Q Do you tip in restaurants?
A Yes, if the food and service has been worth it.
Q Top tip for failsafe cooking?
A Always use your five senses: taste, touch, sound, smell, sight. They can tell you a lot about food – from the temperature, to texture, taste, crispness and shape.
Q Worst cooking sin in your opinion?
A Using produce that isn't in season.
Meringue with sauce Anglaise, rhubarb and cream
Ingredients
Makes 6
For the meringue: 4 egg whites room temperature
1 cup caster sugar
Vanilla bean paste to flavour
For the sauce Anglaise: 4 egg yolks (saved from separated whites)
250ml double cream
70g caster sugar
1/2 teaspoon of vanilla bean paste
For the poached rhubarb: 454g rhubarb peeled and cut into 1 inch pieces
1/2 cup caster sugar
1 lemon zest and juice
568ml water
284ml sparkling elderflower juice
For the Chantilly cream: 1 cup double cream
1 teaspoon icing sugar
1 teaspoon vanilla bean paste
directions
For the meringue: Preheat oven to 110C. Using a large spoon dip into boiling water and shape the meringue as per picture into a quenelle onto parchment paper on tray.
Place egg whites in the bowl and whisk on low speed till are foamy and increased in volume, place on medium speed and gradually add sugar, increase speed to high and whisk until meringue reaches a stiff peak.
Whisk in vanilla paste and using a metal spoon shape the meringue onto parchment paper and place into oven and bake for 1 hour 30 mins
When cooked turn off oven and leave for 20/30 mins to dry out . If meringue is wet and sticky allow to bake for additional 10/15 minutes
Remove from parchment paper and set aside.
For the sauce Anglaise: In a heavy based saucepan heat cream and vanilla until boiling. While cream is heating, whisk together yolks and sugar until smooth. Slowly pour half the hot cream to egg mixture and whisk constantly, add mixture back into the other half of cream into saucepan and continue to cook stirring constantly until mixture coats the back of a spoon. Don't boil or you'll end up with scrambled egg.
For the poached rhubarb consomme: Toss chopped rhubarb in sugar and place in saucepan with boiling water, add vanilla and lemon zest and juice and place on heat to cook. Bring rhubarb to boil and let simmer for 30 minutes. Strain rhubarb through sieve and place in a bowl to cool down, strain remaining liquor through muslin. Add elderflower juice and leave to infuse.
For the Chantilly cream: Combine the double cream, icing sugar and vanilla to soft peak.
To assemble: Place sauce Anglaise in middle of bowl. Hollow out the underside of the meringue quenelle and mix a little rhubarb, chantilly cream and scooped out meringue together and place back into quenelle. Place quenelle on top of sauce Anglaise. Arrange cream on top of meringue and place some with cooked rhubarb on top also. Serve the consomme in a jug.