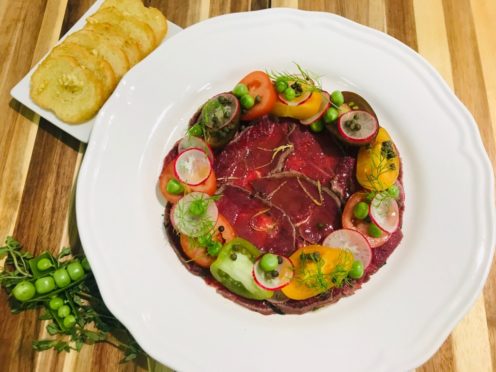 Originally from Fife, private events chef Barry Bryson of Cater Edinburgh shares his culinary recommendations and recalls meeting his favourite chef Nigel Slater at the Edinburgh Fringe. By Caroline Lindsay.
Q Desert island food?
A Eggs. Versatile, easy to cook and full of vitamin D, protein, iron and zinc. They also go with all the fish I am going to have to catch on the island.
Q Favourite TV chef?
A Marcus Wareing, I love his dishes but he has a brilliant modest tone. I think he sets a great calm and respectful example and finds a way to present his beautiful dishes without too much fanfare.
Q Favourite cook book?
A It's not so much a cookbook but one I reference which is the Flavour Thesaurus by Niki Segnit. It's helped me find better harmony with flavour pairings.
Q Favourite ingredients?
A The one ingredient I cannot imagine not having to hand is unsalted Scottish butter. I use it way beyond the pastry and baking elements of what I cook.
Q Most hated ingredient?
A Industrial non-free range chicken. When it comes to meat, cheap is never good. What you are consuming is what the animal has consumed. If the chicken costs £4 then trust me, it's not a good idea either ethically or physically.
Q Perfect dinner guest?
A Anyone who eats well and with appreciation and that makes me laugh, makes me think and then leaves quite early as I get up every day at 6.30am so I don't like late nights when I am not working but I am very sociable and love to cook for my friends.
Q Favourite kitchen gadget?
A I really do rate the Thermomix. It's expensive but they do they job well!
Q Favourite music to cook to?
A I never cook with music on at work. I love music, it's my second passion to food but it distracts me when I'm working, but, for deep cleaning and cooking at home it's very loud '80's pop or hip-hop as that's what the team like.
Q Perfect menu?
A Totally depends on the time of year but broadly I would say oysters then steak tartare followed by treacle tart and vanilla ice cream.
Q Favourite country for food?
A It has to be Scotland. I am lucky to have cooked in Spain, South America and Sweden in the past few months and worked with some exceptional produce but our shellfish and beef here is Scotland are the best… although the beef in Uruguay was a pretty close second!
Q Favourite chef, alive or dead?
A Nigel Slater. I read his book Toast 20 years ago then started reading his cookbooks. He has a language for food that creates vivid images. I think he is the hero of at-home talented cooks and was a champion for seasonal cookery long before it became the norm. Last year I had the chance to work with Nigel for the performance of Toast which featured at the Edinburgh Festival Fringe. It was a real honour to work with him and a dream come true!
Q Favourite culinary season?
A Early summer as we have so many amazing fresh vegetables at our disposal that you can eat and cook without importing them from overseas. Tomatoes, asparagus, strawberries, herbs, leaves, mushrooms, menus suddenly go full colour from June and I love it.
Q Salt or pepper?
A Salt but carefully. Under-seasoned food I can forgive, over-seasoned food is careless.
Q Favourite herb?
A Parsley. It's classic but the flavour is a great with so many things. I am slightly tiring of micro herbs but still appreciate the visual impact they can bring. I do love a bit of tarragon too.
Q Favourite spice?
A Coriander seeds. The smell as you toast them and then crush them is incredible.
Q Favourite way to cook the humble potato?
A Again it depends on the season but right now I am really into making potato and shallot tortilla as it feels summery and light.
Q Favourite go-to recipe if you're in a hurry?
A I can knock up a decent shellfish ceviche pretty fast!
Q Favourite health food?
A I don't really eat many so-called 'superfoods' as they are usually imported and I prefer to eat local produce. I consider anything fresh and seasonal as healthy. I avoid pre-prepared foods and I think you can have anything in moderation.
Q Ideal picnic dish?
A Smoked mackerel and potato salad. It is my absolute favourite thing to eat from a Tupperware box sat on the grass, feeding my dog any leftover mackerel, having a beer. Heaven.
Q Ideal BBQ food?
A I am like most people, throw any good quality produce on a barbecue and I will eat it. I love outdoor food and I love cooking outdoors.
Q Are you critical of the food when you're dining out?
A I don't think I am particularly critical but I am opinionated! I can have quite an emotional reaction to a wonderful dining experience but I can also get quite tense if it's executed badly. I would never be rude though, I loathe people being offhand with waiting staff. They didn't cook it! My mum taught me to appreciate food so I want to enjoy it, not critique it when I am out for dinner.
Q Do you tip in restaurants?
A I cannot think of a single time when I haven't. I think most people tip fairly and that's quite correct in my opinion.
Q Top tip for failsafe cooking?
A A good sharp knife, it's impossible to cook well without one.
Q Worst cooking sin in your opinion?
A I have a bugbear for excessive salt and sugar use in cooking.
Venison carpaccio
ingredients
serves
250g of trimmed venison or roe deer loin
Rock salt
Black pepper
8 medium sized British tomatoes
2 cloves smoked or super fresh British garlic
1 packet crunchy British red radishes
1 bag fresh British garden peas in their pods
200ml good quality extra virgin olive oil, plus extra for the marinade and garlic toast
1 unwaxed lemon
60g small capers
2 stalks fresh thyme
1 fennel (you just need the lovely herby flower at the top that looks like dill, not the bulb, you can keep that for something else)
75ml Scottish honey
1 half-baked baguette or ciabatta
Directions
First, place your piece of venison onto a clean chopping board and with a sharp knife carefully remove any small pieces of sinew that the butcher may have left, you should now have a large glistening dark red steak. Cut the venison lengthways in half so you have two thick pieces.
Next make the marinade. Strip the thyme flowers from the stalks and finely chop them. Add two or three pinches of rock salt and cracked black pepper to the thyme, a good glug of olive oil and honey and mix well. Coat the venison steaks with the mixture.
Next, heat a non-stick frying pan until it is smoking hot, and very quickly, seal the venison steaks. It should only take a couple of seconds per side.
Once sealed, put to one side to cool and then tightly roll in cling film to make a tube shape. Secure each end with some string. Once rolled, put the steaks into a freezer for an hour or two to firm up.
Whilst the venison is chilling, begin to prep your vegetables. Cut the tomatoes into chunky pieces and lightly salt them. Finley slice the radishes on a mandolin and place in cold water. Squeeze the excess vinegar from the capers. Trim the fennel herbs and put to one side for the garnish. Remove the peas from the pods.
Next, move on to make the dressing. Zest the lemon and reserve for later. Juice the lemon and gradually whisk in the olive oil until you have a combined emulsion, then add the honey.
Next, pre-heat your oven to 180C. Then cut the baguette or ciabatta into very thin slices and brush with some olive oil. Finley chop the garlic, sprinkle over the bread and bake in the oven for around 7 to 8 minutes until golden brown.
Remove the venison from the freezer and with a sharp knife cut into thin slices, removing any cling film as you go. Once you have some slices, get two pieces of baking paper, place the slices between the paper and using a rolling pin, flattening each slice evenly and carefully until very thin.
Finally, you can begin to plate. Cover the plate with the slices of thin venison carpaccio, then distribute the tomatoes over the top with the peas, capers, radish slices and lemon zest, fishing by drizzling the dressing over the top and delicately placing the fennel herbs. Finish with the garlic toast and enjoy!
cateredinburgh.com
Instagram: @chef.caterer.edinburgh
Twitter: @CaterbyBarryB