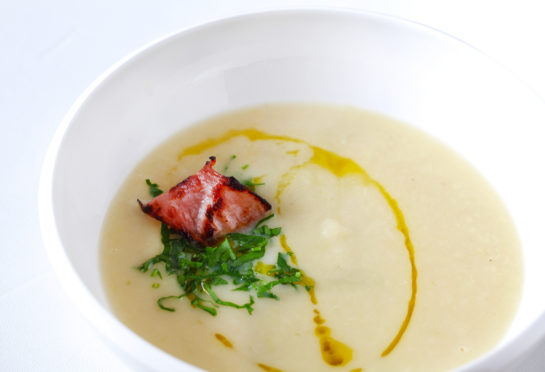 Garry Watson, chef proprietor of Gordon's Restaurant in Inverkeilor, gives celeriac a starring role in velvety smooth soup
In my restaurant I am constantly receiving compliments for our velouté course – a French term for a velvety smooth puree soup, silky smooth texture and packed full of flavour.
We serve it as a small intermediate between starter and main course. However, a large bowl of warming velouté is the best comfort food on a cold autumn day.
One of my favourite flavours is celeriac, one of the most underrated autumnal vegetables and often also overlooked as it's not the prettiest of vegetables.
But the flavour is amazing, combining a slight celery and aniseed flavour with a versatile creamy texture.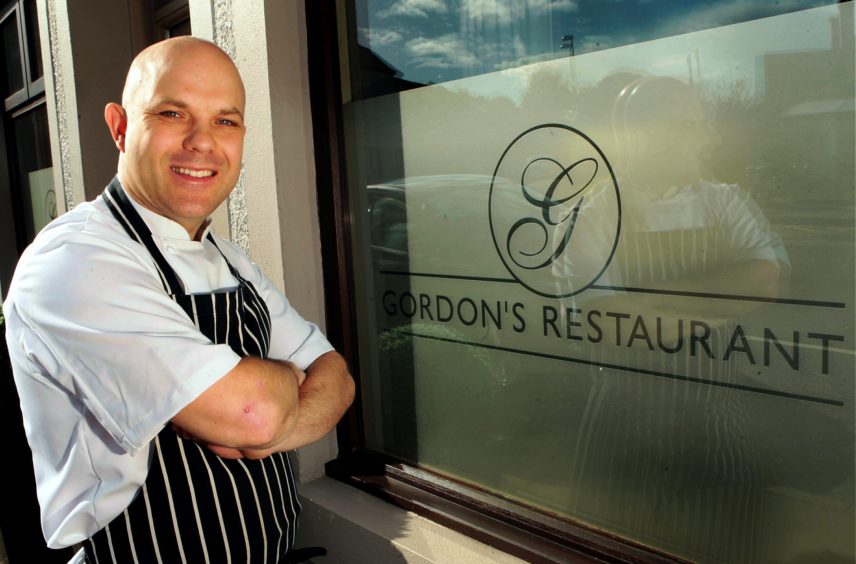 For the velouté heat 25g of butter in a large sauce pan and fry with 1 finely chopped onion and 50g of chopped streaky bacon until soft. Add 2 cloves of crushed garlic, the white part only of one chopped leek, 1 stick of peeled and chopped celery and fry for a further minute.
Then add 800g of peeled and chopped celeriac. Pour in 1 litre of chicken stock, boil and simmer for 20 mins or until celeriac is tender. While still hot carefully blend to a fine puree (I use a quality liquidiser) then add 200ml double cream, 50g butter and blend again until silky smooth. Season with salt and pepper to taste.
For garnish fry 4 rashers of pancetta until crisp then set aside. Peel and cut fine julienne (thin strips) of 50g celeriac and stir fry in butter for 2 minutes, drain on kitchen paper, then place a pile in the centre of a soup plate and ladle velouté around. Crumble the crispy pancetta over, sprinkle some finely chopped chives and finish with a few swirls of rapeseed oil and double cream.
Make a lunch supper meal out of soup by serving  along with my blue cheese and walnut toastie.
In a hot, dry, nonstick pan, toast 50g of chopped walnuts and set aside to cool. Mash 250g Arran Blue cheese (rind removed) along with 1 tablespoon chopped sage and walnuts then divide mixture between 8 slices of bloomer to make 4 sandwiches. Butter the outside of the sandwiches and fry both sides in a non-stick pan until golden brown and the cheese has melted. Cut into fat fingers, then serve with the velouté.
Chef's tip: If you're not keen on blue cheese, simply replace with your favourite cheese. Brie or a nippy cheddar also work really well.