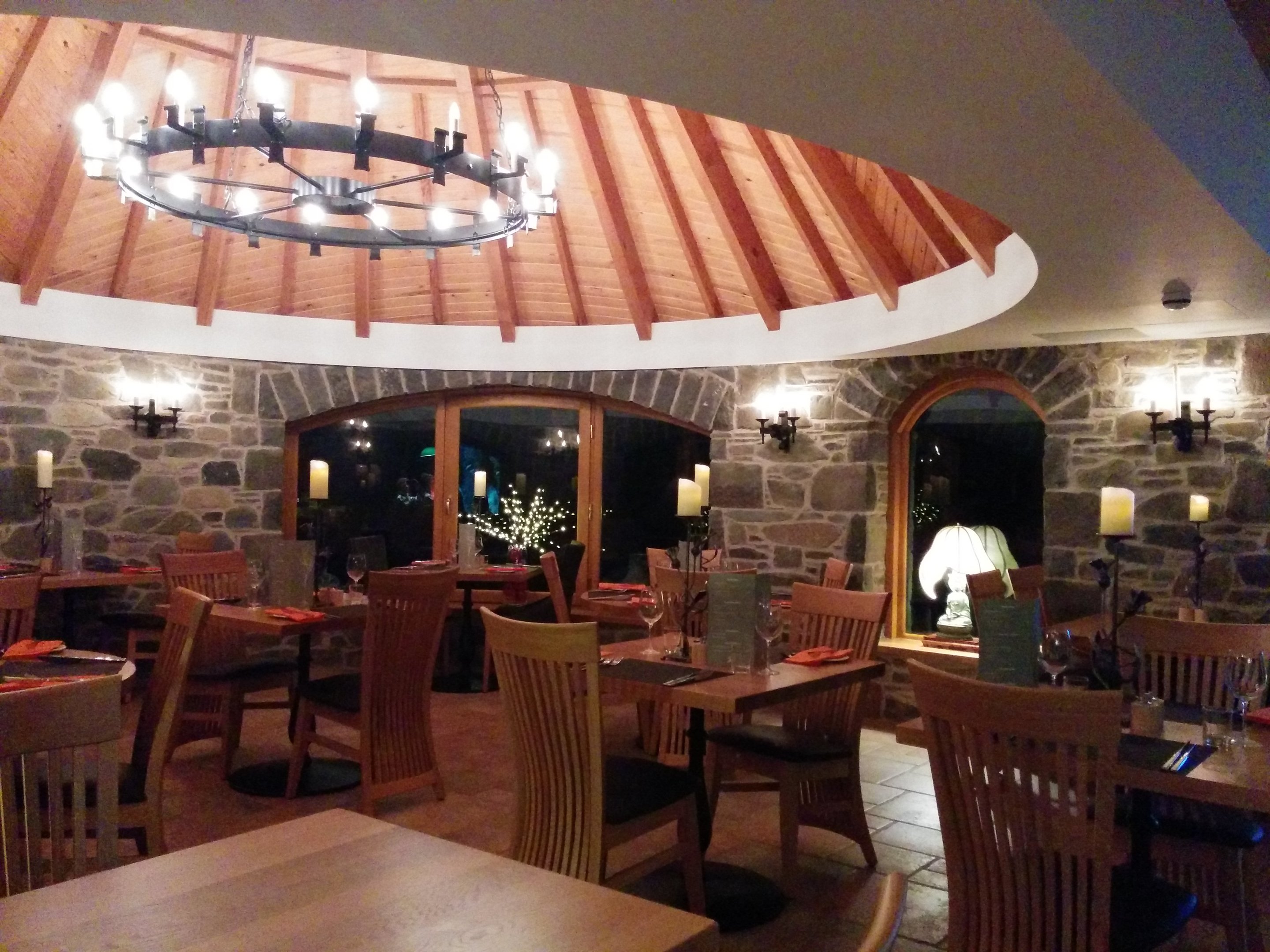 On the outskirts of Aberfeldy, Perthshire and up a long winding driveway, Errichel is not a place easy to stumble across; luckily, it is a destination well worth plugging into the sat-nav.
After browsing their website, I was surprised not to find a sample menu.  I am torn as to whether I am a fan of 'going in blind' as I get a lot of pleasure out of reading menus and whetting my appetite ahead of an evening out.  On this occasion, however, I was incredibly glad I hadn't seen anything beforehand as the menu was a delightful surprise.
Once inside the restaurant at this peaceful, idyllic setting, we were given the option of having a drink in the cosy library complete with sofas and open fire – the type of place I can imagine patrons setting the world to rights over a wee dram after a long evening. The main dining room is a quirky round room built of stone with fabulous views and an impressive wooden vaulted ceiling.
Once seated, we got down to the really good bit – the elusive menu. Errichel's ethos is detailed on the inside cover and the sourcing of ingredients is explained from their home-reared rare breed pigs right down to the local suppliers of their salad leaves and coffee. Extensive time has been taken to explain how much they care about sourcing from Perthshire but what excited me as I turned the page was that local Scottish produce certainly does not necessarily mean Scottish cuisine at Thyme.  The small set menu, consisting of only three starters, four main courses and three desserts was the most interesting and different specimen I had seen in a long time.
It took two aperitifs for us to choose, however I eventually settled on a starter of curried quail egg, Inka tomato, chargrilled artichoke, fine green bean, endive and chicory with bravas potatoes topped with chermoula dressing.  My chilled glass plate arrived with a smorgasbord of flavours – the tomatoes would perhaps have benefitted from not being so chilled but I really am nitpicking as the remainder of the dish was a divine experience flitting from one flavour to another, the subtlety of the curried egg complementing the warm comfort of the rich potatoes surrounded by simple but delicious garden produce.  My other half chose the chef's one-off special beer and spice Wester Ross Salmon Gravadlax which was an uncomplicated dish of delicate yet punchy cured fish flavoured with fennel, cumin and coriander – we were off to a winning start.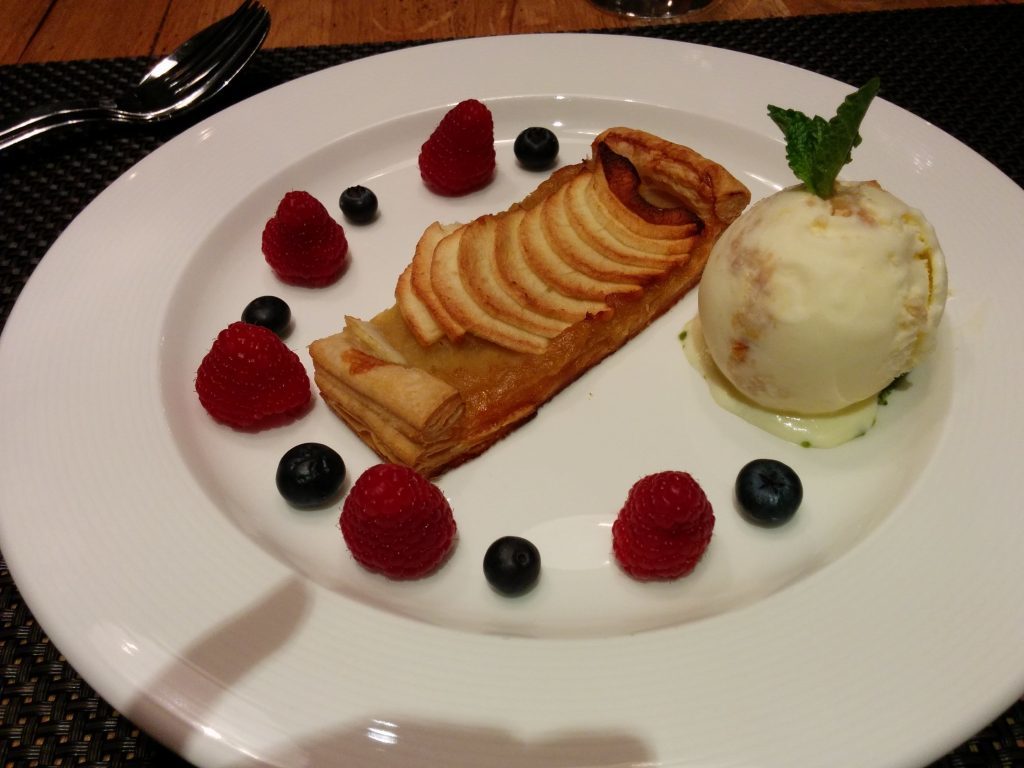 I was so torn between main courses and although was delighted with my proscutto-wrapped hake with creamed African morogo, I almost wish I had been more adventurous and gone for the vegetarian option which consisted of a more exotic combination of ingredients. My fish though, was delicious and dainty and I was left pining for more of the accompanying cockle butter. My partner's rare breed Shetland beef tagine was served in the traditional pottery dome and the slow cooked meat melted in the mouth as swiftly as the Errichel rhubarb also part of the stew did The occasional pop of pomegranate seeds added a lift and when scooped up with the couscous and yogurt this created a hearty and wonderfully complex mouthful.
Two desserts followed – my partner's pancake filled with sautéed black pepper and pastis strawberries was fine but was completely out-shone by my black cardamon and heather honey creme brûlée, spiced pear and nectarine compote drizzled with fig mulled wine coulis. The creaminess of the brûlée was beautifully enhanced by the deep, dark festive flavours of its accompaniments, this was a first class dessert.
Our experience at Thyme was different, unexpected and an utter delight. Fiona, the charming Front of House Manager could not have been more welcoming or attentive and great service always adds the icing to a great meal.  With outside event catering, a cook school, home-reared and preserved produce and holiday cottages, Errichel really has a lot to offer both local residents and visitors and I am looking forward to returning for a special treat again very soon.
Thyme at Errichel is open for dinner from Wednesday to Saturday, July to October.  The menu is £31 for 2 courses and £37 for 3 courses.
Info
Value: 9/10
Menu: 9.5 /10
Atmosphere: 8/10
Service: 9/10
Food: 9/10
Total: 44.5/50
Info: Thyme at Errichel
Address: Errichel Cottages, Crieff Road, Aberfeldy PH15 2EL
Tel: 01887 820850
Web: www.errichel.co.uk