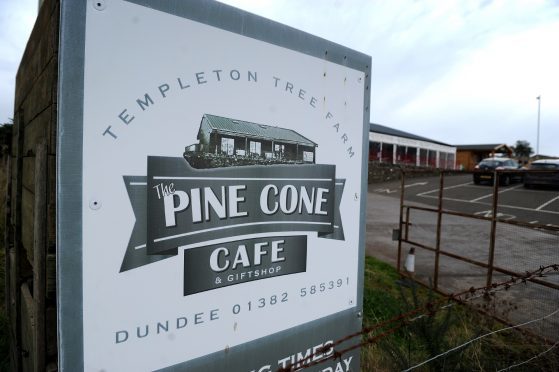 Well, the clocks have fallen back, Halloween and bonfire weekend have been and gone.  Does this mean that we can now look ahead to the big one, the royal icing on the perfectly marzipanned cake?
I am not one to get excited too soon but when I go for it, I go for it. Can I now unleash the festive anticipation and start getting ready for Christmas?
It was a rhetorical question, of course, as this week, not only did I make my Christmas cake, I visited my first full-on Christmas shop at Tayside Forestry near Camperdown.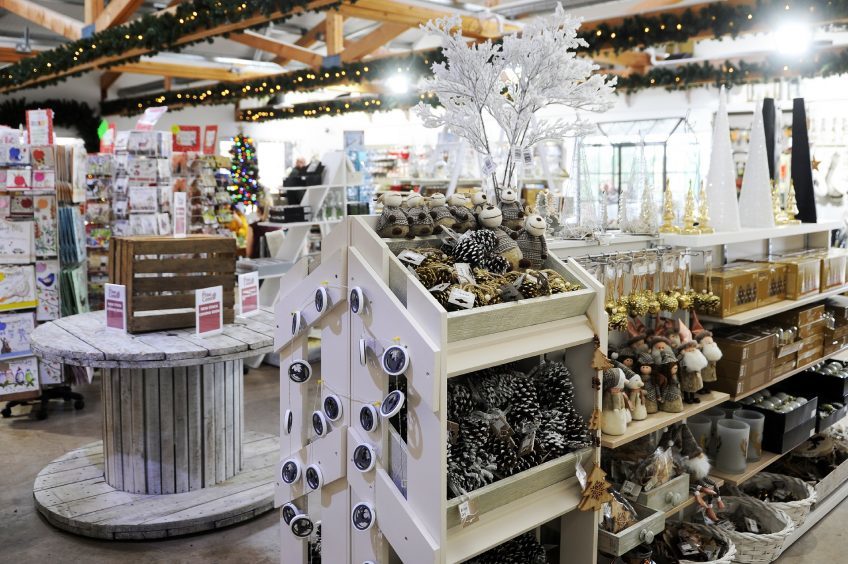 Mr Kerry and I have been known to purchase our tree from Tayside Forestry on several occasions, always forgetting to measure the height of the living room and each year struggling to either saw the bottom off the trunk, or scrape the top along the ceiling as Mr Kerry couldn't possibly get a smaller tree to be on the safe side. I have always ventured into the Christmas shop while we've been there but had never, before this week, stayed for refreshments.
Even on the drive up the forestry track, the excitement in the car was palpable. At this time of year, the buzz of activity is revving up and big machines are getting ready to net the trees.
Once we had parked, the first cute log cabin we came to was 'The Dog House'.  This is a little dining room for customers to come and enjoy refreshments with their canine companions. The tables are set up and there are water bowls already laid out. It makes total sense that dogs aren't allowed in the main cafe due to all the delicate Christmas decorations but it is lovely that this can still be an experience for the whole family.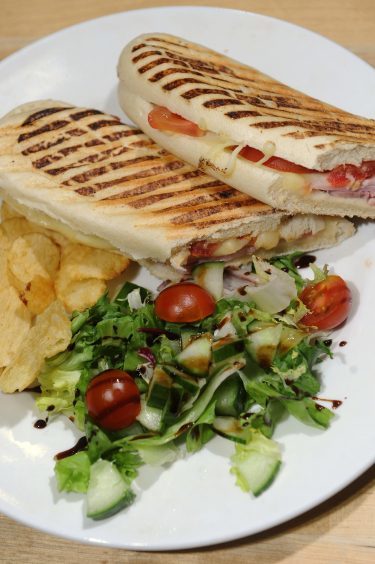 Walking in to the main cafe was a bit like walking into an Aladdin's Cave of Christmas. Ornaments adorn the shelves and, everywhere we looked, something was glistening or twinkling. Although the gift shop is predominantly on one side of the room, the cafe tables are still among the shelves on the other side and there is so much to look at all the time. Orders are taken at the counter and numbers handed out but first we chose our spot and took a look a the menu.
It is a long time since I've seen beans on toast on a cafe menu but it really grabbed me. Sometimes that familiar, comforting lunch does just the job and at £1.60, who could argue? I did resist the urge, however, and ordered a panini. I like the way the menu is laid out as each section, be it jacket potato, sandwich or panini, includes a long list of ingredients for customers to choose from. Two fillings come as standard but for 30p per addition, there is a lot of choice. It also means that everything is tailor-made to order, another bonus.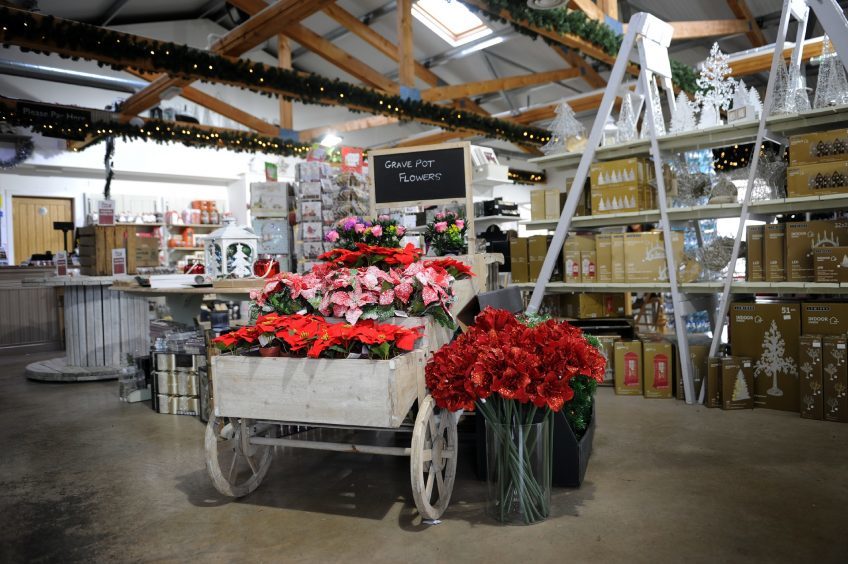 My mozzarella, ham and tomato variety was crunchy on the outside, piping hot, and oozy in the middle. No unwanted hidden extras such as mayonnaise or questionable béchamel, just the fillings I had asked for. It was served with crisps and a salad garnish that was chunky and fresh, with a simple but lovely vinaigrette.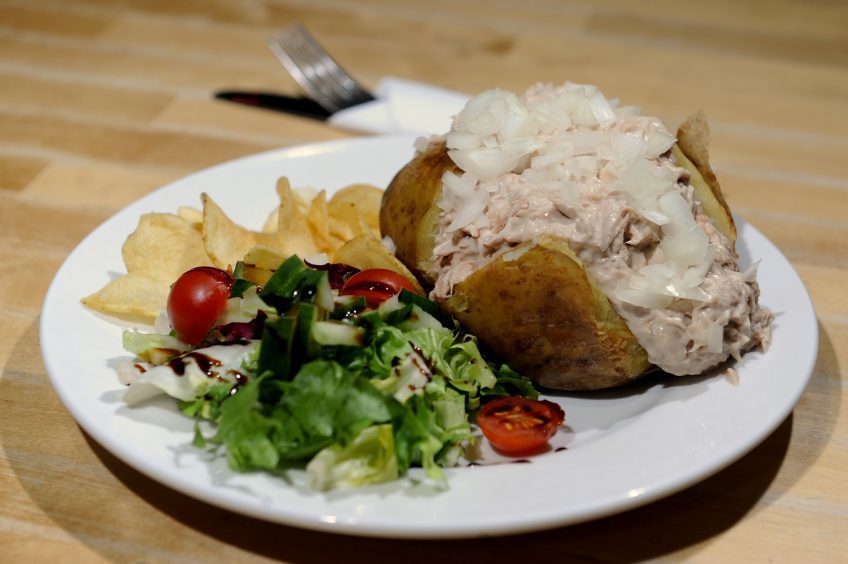 My friends both had a tuna jacket potato and remarked on how well cooked the spud was. Nothing sticky or wet, just a decent fluffy casing with cool tuna and diced onion as the filling. These were substantial lunches but the clever trick with asking people to order at the counter is that customers cannot avoid the tempting home baking right in front of them. We didn't even try to resist.
The lemon cake was so moist and zesty with a kind of marmalade glaze which added a nice bitterness to the sugary treat. Our other decadent delight was a Nutella scone. One might be forgiven for thinking that this was a plain scone served with Nutella but oh no.  The chef brought this to the table herself and explained how she had been experimenting with actually baking the scone with the Nutella inside. It was served with an extra dollop for good measure but the scone on its own was chocolatey and gooey enough. It was lovely to chat to the chef, who was also serving tables, to hear how proud and passionate she is about her trade – and so she should be.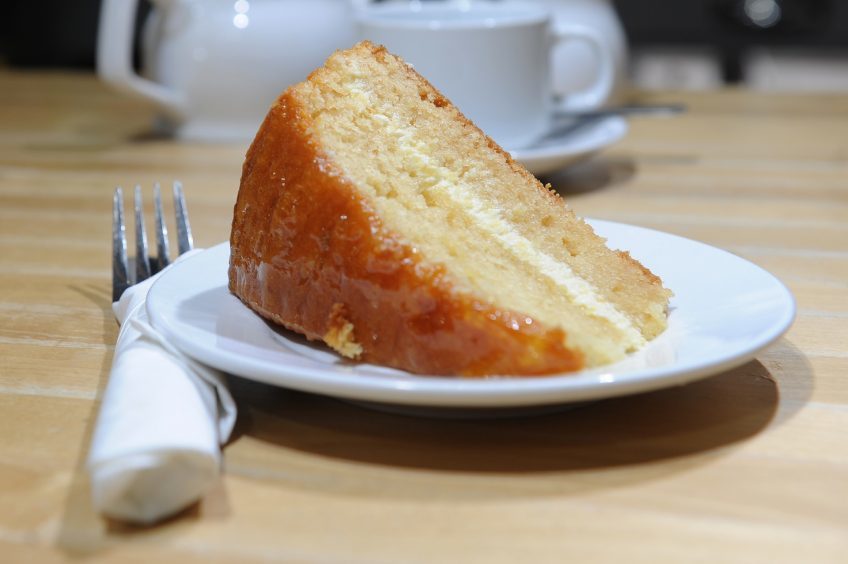 Each of the staff who served us was not just charming but chatty and, dare I say, jolly. They struggled to recommend cakes as they claimed to have too many favourites and, after sampling them, I'm not surprised.
This is a decent place for lunch with simple choices of sandwiches, a soup of the day, a more substantial burger and lots of home baking, including a larger than average selection of gluten free goods.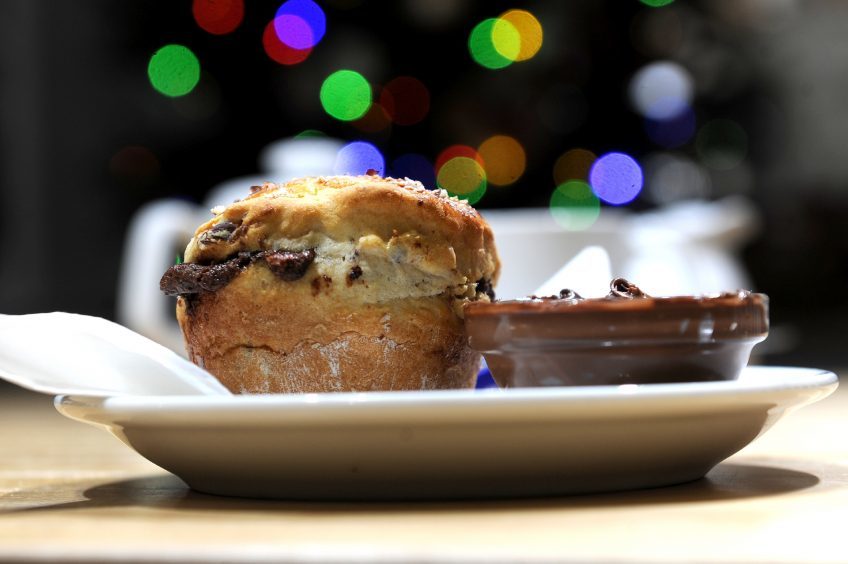 The term 'cheap and cheerful' can sometimes have slightly negative connotations but I use it in this instance with nothing but positivity. The food is excellent value for hearty lunch items and when surrounded by lovely people and Christmas decorations, we soon realised that more than a dusting of festive cheer had rubbed off on us too.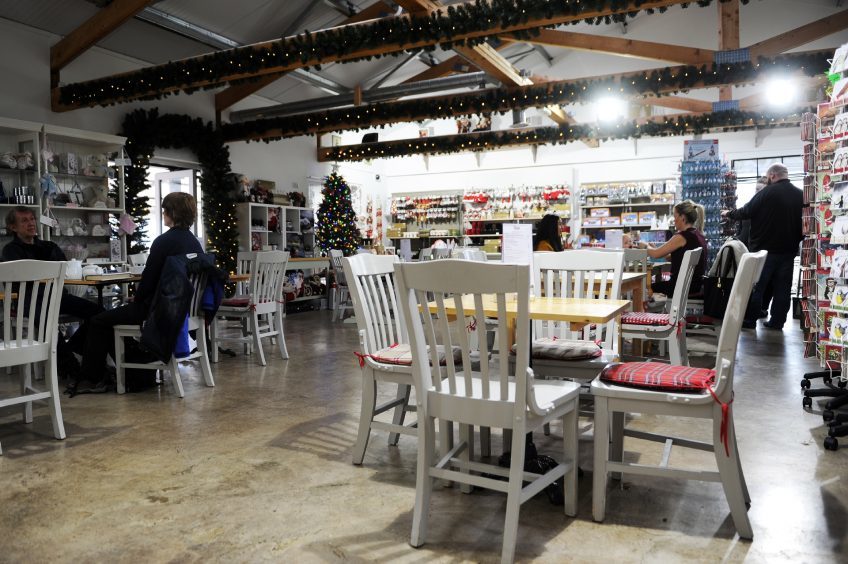 Info
Price: Breakfast and lunch: 95p – £5.20; cakes, traybakes and crepes: £1.40 – £2.00
Value: 10/10
Menu:  7/10
Atmosphere: 9/10
Service: 8/10
Food: 7/10
Total: 41/50
Info: The Pine Cone Cafe
Address: Templeton Christmas Tree Farm, Strathmartine, By Dundee, DD3 0PP
Tel: 01382 585391
Web: www.taysideforestry.co.uk/cafe-and-gift-shop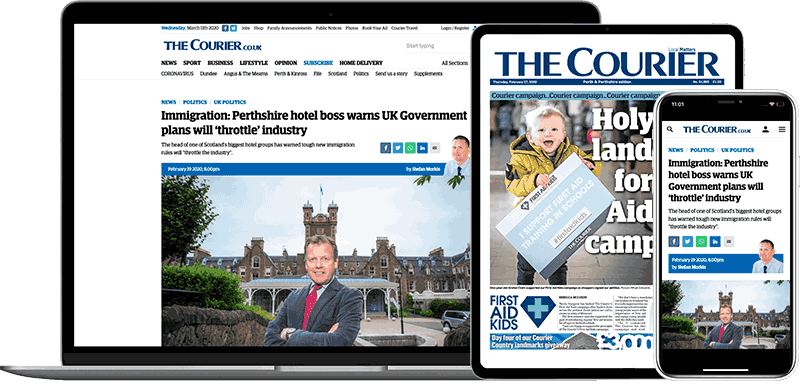 Help support quality local journalism … become a digital subscriber to The Courier
For as little as £5.99 a month you can access all of our content, including Premium articles.
Subscribe