As Glendoick Gardens celebrate their centenary, Caroline Lindsay meets owner Ken Cox and follows in the footsteps walked by his plant hunter grandfather 100 years ago.
Peering through the branches of a stunning pale pink rhododendron, Ken Cox looks every inch the plant hunter. The grandson of Euan Cox, one of Scotland's first plant hunters, Ken is thrilled to be celebrating the centenary of Glendoick Gardens in Perthshire, 100 years on from when his grandfather returned from Burma with new and rare plants and established a unique garden.
So how did Glendoick become a world centre for rhododendrons? After all, back in the early 20th Century the Cox family was heavily involved in Dundee's thriving jute industry and gardening hadn't really taken root at all. But then a chance meeting at a tea party in London in 1918 changed the course of Euan's life.
"Reginald Farrer was already one of the most famous garden writers and plant hunters of his day," Ken explains, himself an award-winning garden writer, and owner of Glendoick Garden Centre, with his wife Jane.
"Farrer asked Euan to accompany him to upper Burma on a plant collecting expedition in 1919 and this was the diversion Euan needed to excuse himself from the jute business."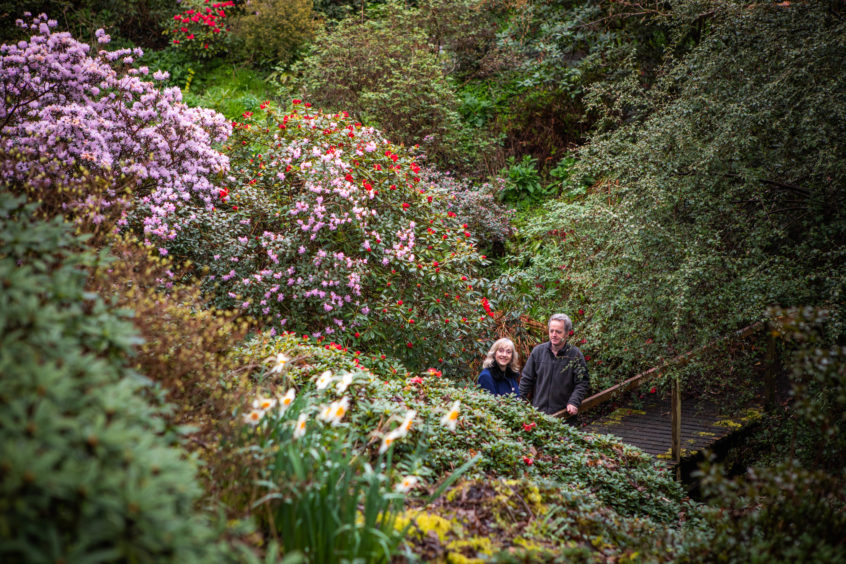 In fact this "diversion" was to have far-reaching consequences and lead to the Cox family's century-long involvement with plant collecting, particularly rhododendrons and azaleas, of which there are more than 1,000 species, found mainly in Asia and the Appalachian mountains of North America
On Euan's return to Glendoick he began the woodland garden – the 1920s were to become known as the golden age of woodland gardening – and many of the unique plants he brought back are still thriving 100 years on.
The gardens are at their peak just now and, as Ken leads me and Courier photographer Steve through the five-acre woodland garden, his passion for what he calls "the Den" is obvious. A couple of fallen tree trunks have been turned into impromptu seats, colonised by pretty plants.
"They're a perfect example of how nature takes over," smiles Ken, who knew many of the botanical names for plants when he was just three, and spent his childhood holidays helping to sow seeds.
He points out the sweeping view over the Carse of Gowrie and reveals plans to build a summerhouse here for visitors to enjoy the panorama during April and May when the woodland gardens are open.
What Ken doesn't know about the Ericaceae family – that's rhododendrons and azaleas to you and me – isn't worth knowing. When he was 19 Ken went to work in a rhododendron nursery in the US.
"They expected me to be an expert so I thought I'd better become one!" he chuckles. "I got out all my grandfather's and father's books and read them from cover to cover."
Today Ken is an internationally-renowned expert on rhododendrons, and a new edition of his 2005 book Rhododendrons and Azaleas: A Colour Guide is due to be published soon. His most recent book, Woodland Gardening: Landscaping with Rhododendrons, Magnolias and Camellias, was received to great acclaim last year.
As we climb a winding path through the Den, we pass rhododendrons and azaleas (an azalea flower has five stamens while a rhododendron has 10 or more) of all sizes and colours, from a beautiful vibrant crimson one from America, planted in 1982, to soft pink, and a delightful creamy yellow. One tree has enormous leaves, while another has soft downy velvet stems, "like stroking a rabbit's ear," says Ken.
"That's a hundred-year-old Taurus from Burma," he says, pointing to a majestic plant covered in flowers – my grandfather brought the seeds back from Burma.
"The idea of this garden is to create a stylised version of the Himalayas," he continues, pointing out larch trees, other conifers, rhododendrons, wild plants and bulbs that would be found in those far-flung Asian mountains.
Following in the intrepid footsteps of his grandfather and father Peter, Ken has carved out his own niche in the world of plant-hunting, leading nine expeditions to South and South-East Tibet and Arunachal Pradesh in India.
Inspired by books like Riddle of the Tsangpo Gorges and A Plant Hunter in Tibet by Frank Kingdon-Ward, vivid accounts of the explorer's expeditions to remote and often dangerous corners of Tibet, Ken says: "My very first trip was in 1992," he recalls. "We wanted to explore Tibet and my colleague had a Chinese fixer so we were able to spend the next nine years exploring there."
While China and Tibet were tricky enough to get permission to go plant hunting, India was almost impossible. But once again Ken struck lucky.
"My US exploring companion knew the Indian minister for tourism – we had just reissued the Kingdon-Ward book and showed it to Government officials and that opened doors for the very first time," he explains. "It was a completely new area – no one had ever explored it botanically before and we found 60ft rhododendrons there."
Not surprisingly, many of Ken's trips have been fraught with danger and one of the most memorable was a 1997/1998 trip to Tibet.
"We were held for a few days by Chinese military because they thought we were spies – they couldn't believe that we were really plant hunters."
Once the misunderstanding was sorted out, the press had a field day and Ken and his companions were dressed up with Indiana-Jones style props, along with headlines like: "Scottish Indiana Jones in quest to find rare flower."
Hanging from cliffs in the Himalayas to reach rare plant specimens and navigating treacherous river paths via dodgy rope bridges, while trusting in the knowledge of local porters, were part and parcel of daily life for Ken for many years. But sadly new restrictions have made plant hunting in remote parts of the world a thing of the past. One of Ken's last trips was up Fansipan, the highest mountain in Vietnam, where they found a new species of plant.
"That trip used to take three days but now there's a cable car up there," he sighs.
As we take in the gushing waterfall in the Den, surrounded by lush foliage, Ken points out an extraordinary-looking tree that looks for all the world like an elephant.
"This tree is part of the Glendoick story – it's a Tetradium Danielli but naturally we call it the Elephant Tree, and it's the biggest one of its type outside of China," he says proudly. "The plant hunter Ernest "Chinese" Wilson gave it to my father 100 years ago – Ernest introduced around 2000 Asian plant species to the West.
"The expert from the Tree Register of the British Isles says it's his favourite tree in the whole UK."
Ken reckons his grandfather, who passed away in 1977, would be pleased at how the gardens look today, especially as Ken took an old sycamore down, which Euan had always hated.
"But he would probably also want to know where his primulas have gone!" smiles Ken.
A three-generation history is something to be celebrated and Glendoick shares close ties with Exbury Gardens, a famous garden in Hampshire, which belongs to a branch of the Rothschild family, and which is also celebrating its centenary.
The beauty of Glendoick's woodland garden lies in its natural state.
"It looks like a wild natural garden but that's the illusion," says Ken, revealing that a lot of work goes into looking after the plants, protecting new growths from frost, strengthening fences against the predations of deer, and hybridising many of the world's most popular rhododendrons and azaleas, many of which have stunning coloured leaves.
"In a nutshell, you cut off a mutation and see if it's stable or not," he explains.
Glendoick also has collections of camellia, magnolia, lilies and meconopsis, to name but a few, and these are also grown in the nursery for sale in the garden centre.
"We are preserving the past but also looking to the future," says Ken. "Everyone knows about the garden centre but we want people to visit the woodland gardens when the plants are at their peak and witness a piece of living history."
The woodland gardens are open throughout April and May, 10am-4pm. Tickets available from the garden centre, £5 per adult, £3 per child.
Guided tours take place on May 4 and 11. Booking essential at www.glendoick.com