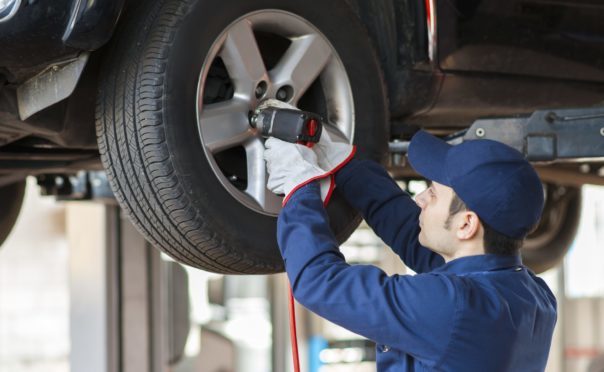 Dundee has the highest MOT failure rate in the UK.
New research shows 53.5% of cars in Dundee fail their MOT test – the highest rate in Britain.
Dundee is one of only four areas in the UK where more than half of cars fail their annual road-worthiness test, carried out on all cars over three years old.
The research was carried out by Automyze, the AA's car management website.
It analysed more than one million MOT records of UK registered vehicles owned by AA members, looking at pass and fail rates, and found that more than half of cars in Dundee (53.5%) failed their last MOT – most for preventable faults such as tyres, headlights and indicators.
Scotland did not come out of the study well, with seven out of the 20 towns and cities with the lowest MOT pass rates.
Aberdeen had the sixth worst pass rate, with 49.5% of cars failing, and Perth was next on the list with a 49.2% failure rate.
The Isle of Man has the highest MOT pass rate in the UK with 71.8% (failures 28.2%) of vehicles passing their last test at the first time.
Meanwhile, 18 out of the 20 towns and cities with the lowest MOT failure rates were in the south east of England.
Lucy Burnford, director of Automyze, said: "There could be a number of reasons why MOT failure rates are higher in Dundee, from the length of time people own their cars to the types of vehicle they own.
"However, some basic checks could bring failure rates down and save both time and money. There are multiple reasons why vehicles fail their MOT but the most common are tyres, headlights and indicators, which can be so easily fixed before the statutory roadworthiness test.
"Ahead of your vehicle's MOT, it's always worth doing some simple checks yourself to ensure anything straightforward like filling up the screen wash can be fixed in advance of your test."
ANALYSIS: Money talks when it comes to cars
Having the worst MOT pass rate in Britain is hardly a feather in Dundee's cap.
What are the reasons behind more than half the city's cars failing to pass the annual health check?
It's impossible to know for sure, but there are likely to be a number of factors at play.
Despite the billion-pound waterfront regeneration progress, Dundee remains a city with unemployment and poverty issues. It regularly features close to the top of Scottish league tables on deprivation.
Wealthy people tend to buy cars new and service them religiously so when their first MOT comes up after three years their vehicle will sail through.
Poorer people buy older cars. Many can't afford to service them as often as they should and they only see a garage is when it's MOT time.
A four-year old car is more likely to pass its MOT than a 12-year old car.
Rich or poor, however, it costs nothing to check your tyres, wipers, lights and fluid levels before booking your MOT.