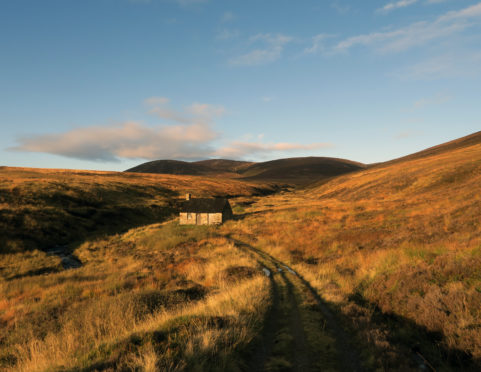 As a new book about Scotland's bothies is published, author Geoff Allan tells Gayle Ritchie about his obsession with the rustic shelters
Scattered throughout Scotland's wilderness, bothies are remote, basic shelters in which walkers can stay free of charge.
These evocative abandoned crofts, huts and farmsteads can often be a challenge to reach, but offer welcome respite from the elements and are an alternative to camping.
Bothy bagger Geoff Allan reckons these secluded hideaways can be much more than just a place to sleep – at their best, they represent a culture and a community.
Geoff's new book – Scottish Bothy Walks: Scotland's 28 best bothy adventures – is a stunning travel guide in which he shares "the best walks to the best bothies", highlighting the incredible wildlife, geography, history and culture along the route.
It's a follow-up to his first book, The Scottish Bothy Bible, a guide to more than 100 bothies, published in 2017.
"Being originally from Suffolk. I'd never heard of bothies until I joined Edinburgh University's mountaineering club," says Geoff, 50.
"I spent a Hogmanay in a bothy in a beautiful spot in the middle of nowhere near Glen Affric. It made me want to explore and discover more.
"When I was pushed for cash, the idea of finding free accommodation in the wilderness caught my imagination. Bothying soon became an obsession."
Geoff, a former surveyor who now works as a photographer and outdoor guide, loves the challenge of getting to a bothy, either on foot or by bike.
However, while some take hours to reach and involve navigating treacherous terrain, there are a few examples in his new book which are just a few miles or less from civilisation.
"There's a bothy for everyone, really," he muses. "But if the idea of sharing with a load of others doesn't appeal, don't head to a popular bothy on a Friday night. I avoid weekends altogether. It's better to pick a remote location and go mid-week, if you can."
Ryvoan, sometimes described as the perfect beginner's bothy, between Nethy Bridge and Glenmore near Aviemore, is stunning but Geoff has never stayed there because he prefers to go to places off the beaten track.
Bothy adventures are a fantastic way of meeting people from all walks of life, not just "outdoorsy types", he says.
"It opens your eyes to the different people out there, but I'd advise having good social skills," he warns.
"If you're open to meeting others, you'll get the best out of the experience. But of course, there are those who prefer not to engage and instead, go to another room on their own, and that's fine."
One of Geoff's favourite bothies – which is easy to get to – is Charr in Glen Dye. It's only two miles from the scenic B974 Cairn o' Mount road between Fettercairn and Banchory but offers true immersion in the wilderness and is a welcome spot for a sit down and shelter. Michael Portillo featured it in his Great British Railway Journeys series on BBC Two.
"It's remote, although not far from a main road, but you're likely to have the place to yourself," says Geoff.
Other favourites include Allt Scheicheachan, a small bothy above Blair Atholl in the Southern Cairngorms, and Bob Scott's, which sits in a secluded glen by the Lui Burn.
The stone and wooden building is, along with Corrour, probably the most frequented bothy in the Cairngorms.
Geoff's also a fan of Gelder Shiel Stables, on the northern flanks of Lochnagar.
"I also highly recommend Ruigh Aiteachain on Glenfeshie Estate, often referred to as the Feshie Bothy," he says.
"It's had a massive renovation, transforming it into five-star accommodation, with brass fittings and the works."
Other top bothies include remote Staoineag, reached either from Corrour Station on the train, a la Trainspotting, or by walking in from Glen Nevis.
"Arriving by train, you're dropped in the middle of nowhere so there's a real sense of escapism," muses Geoff.
"One summer, I met a group of siblings spreading their sister's ashes. We bonded and had a special evening together."
Most of his bothy trips have been positive but Geoff admits he's had a handful of bad experiences, too.
When he worked at the Clachaig Inn in Glencoe, he decided to seek out remote Meanach bothy one November.
"The cycle there took longer than expected and the river was in spate," he recalls. "I walked a mile upstream to find a safe stretch to cross. I belted towards the bothy and fell neck-deep into a bog. With a heavy rucksack on, I started to sink, fast. Panic set in but luckily I was able to claw my way out using my ice axe. I reached the bothy freezing and wet. That was a grim experience!"
When Geoff wrote his first book, he felt he was offering an insight into the secret world of bothies. However, he says some "bothy nerds" objected to him "exposing" their whereabouts.
"There are more than 100 to be discovered, so there's still an air of mystery about bothies," he reasons.
"The new book is a walking guide with mostly day walks, but also a few multi-adventures.
"You don't need to have any objective other than walking to the bothy, but the book does offer adventures – additional hillwalks and sites of interest nearby. The vast majority of bothies I've included are accessible to all."
For those new to bothying, Geoff suggest picking a bothy that's not too remote so you can decide whether you actually want to stay there.
"Bothies aren't everyone's cup of tea and they don't often offer luxury!" he laughs.
"Volunteers who maintain them, usually members of the MBA (Mountain Bothies Association) try to ensure they're kept robust and watertight, but beyond that facilities vary.
"A growing number have toilets, and there is even one with electricity, but generally, don't expect that and take everything you need to be self-sufficient.
"Keep warm, or you'll never go bothying again!"
info
Scottish Bothy Walks: Scotland's 28 best bothy adventures by Geoff Allan, £16.99, was released by Wild Things Publishing on March 1.
Using the bothy as a focus, Geoff guides the reader on a mix of day walks and multi-day adventures. Supported by stunning photographs, each walk contains a description of the route and bothy and a map detailing points of interest.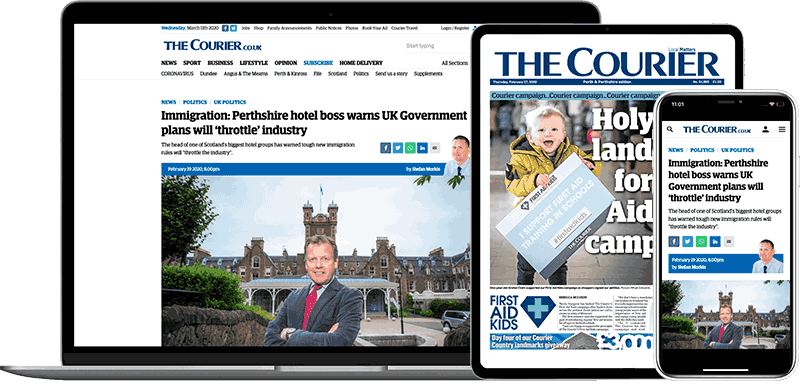 Help support quality local journalism … become a digital subscriber to The Courier
For as little as £5.99 a month you can access all of our content, including Premium articles.
Subscribe