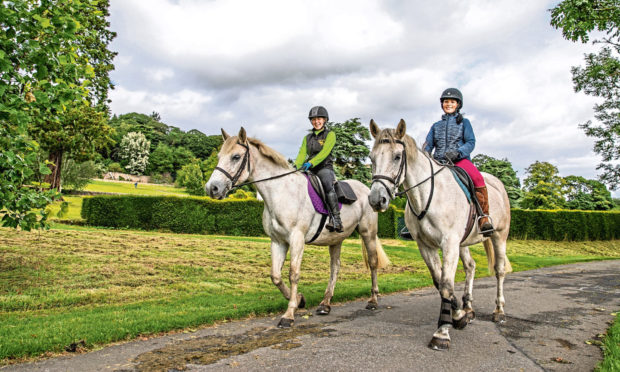 Horse lover Gayle goes for a hack around north-east Fife with the Barbarafield Riding School.
The wind is blowing through my hair and there's a huge grin on my face as my trusty steed canters through a lush, grassy field.
I'm in my happy place – riding a horse. If it's well-behaved, it has to be one of the best feelings in the world.
Riding is one of my major hobbies and I'm lucky enough to have an equine of my own in Aberdeenshire.
It's one thing riding your own – in my lad's case, he's young, inexperienced and has a good few "issues" thanks to his troubled background – but it's always exciting to hop on someone else's.
So when Wendy Berwick of Barbarafield Riding School, near Cupar, invites me to go for a hack on one of the centre's horses, I jump at the chance.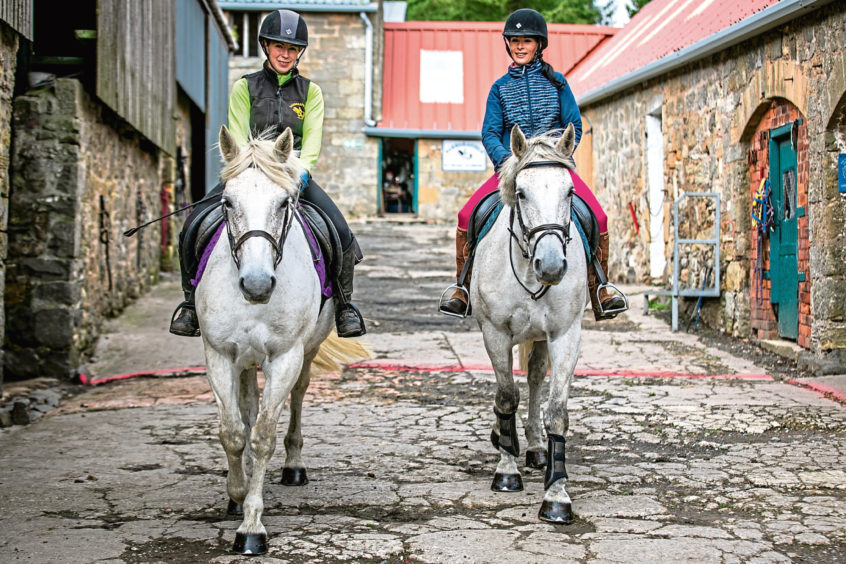 When I arrive, head instructor Kirstin McGregor is tacking up Duke, a 15.3hh Highland-Arab cross.
"He's a nice, reliable lad but he's definitely got a bit of a spark about him," reveals the 25-year-old.
As Duke is my ride for the afternoon, I'm liking the sound of that!
While Kirstin is saddling up her horse – Duke's sister, Fern – I say hello to Duke, stroking and reassuring him that I'm not an evil person coming to jab at his mouth and kick him sharply in the ribs.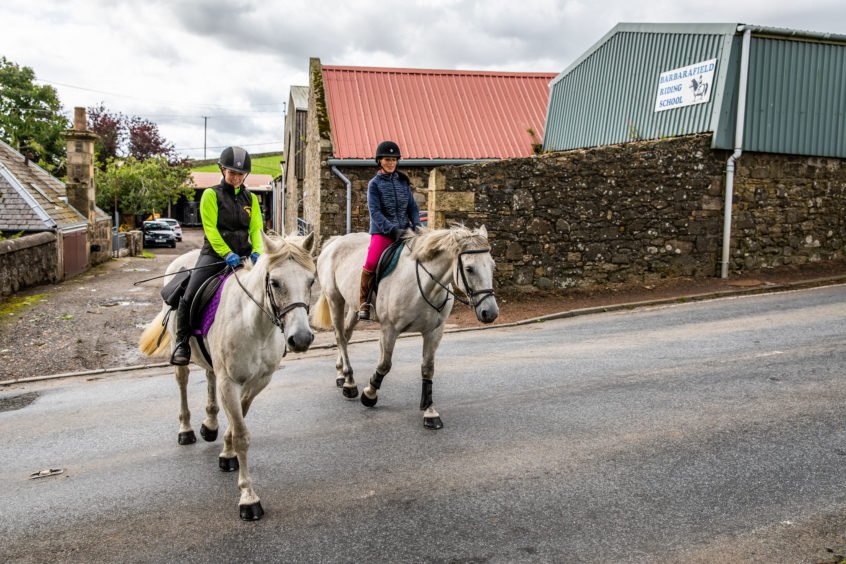 When we're ready, we hop on and wait for Wendy to do a "road check" (the riding school sits next to the busy A916) before we set off along a farm track.
Duke is bigger than my own horse, but he feels solid and trustworthy – everything you'd hope for in a riding school animal.
Once we've ridden along some field edges and past a docile herd of cattle, we approach a gate – the first of many.
I'm impressed when Kirstin leans over and opens it without dismounting. It's a great skill to have but I'm ashamed to say I don't offer to close it. My excuse? My back is a tad nippy – I injured it a few weeks ago – and I'm out of practice!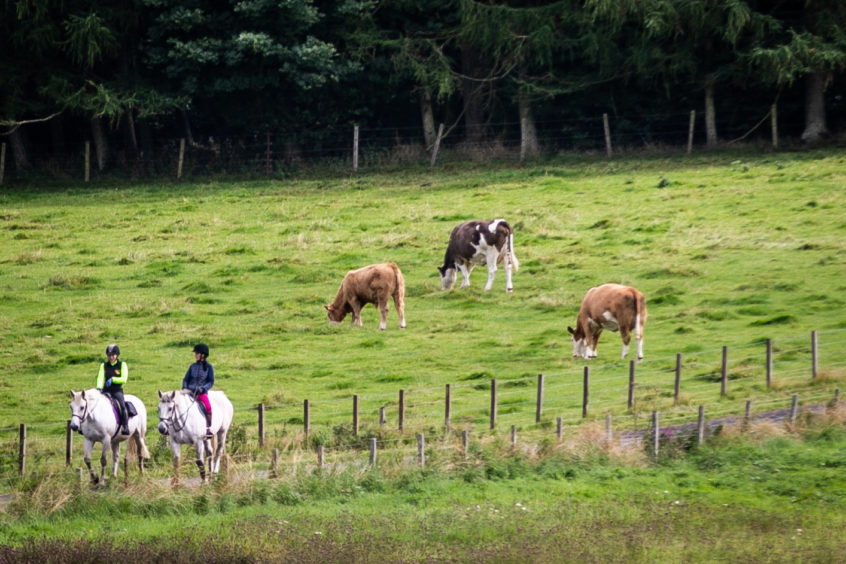 As we reach an inviting grassy track, we break into a trot, and then a sedate canter.
Duke's gait feels rather odd initially, but I realise that's probably because my stirrups are different lengths – a schoolboy error!
After I've sorted them, we shift up the gears again and enjoy a much nicer, more in-sync, canter. Terrific.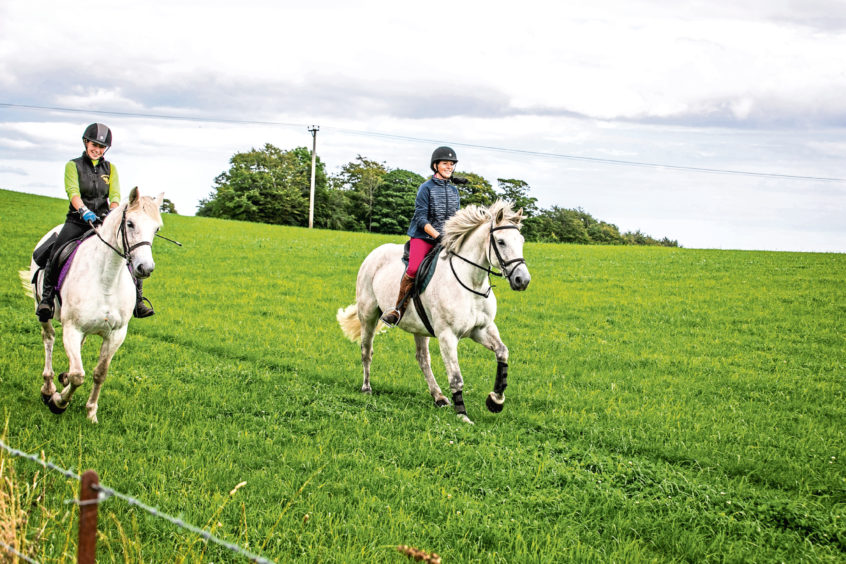 We ride through some of Fife's finest landscape, much of it steeped in history and bursting with beauty.
Hill of Tarvit, an Edwardian mansion house and gardens, owned by the National Trust for Scotland and boasting its own hickory golf course (the only remaining hickory golf course in the UK) is a highlight.
We're careful not to go near the course – hoof prints would be frowned upon – but we do pause to admire the beautifully-manicured greens.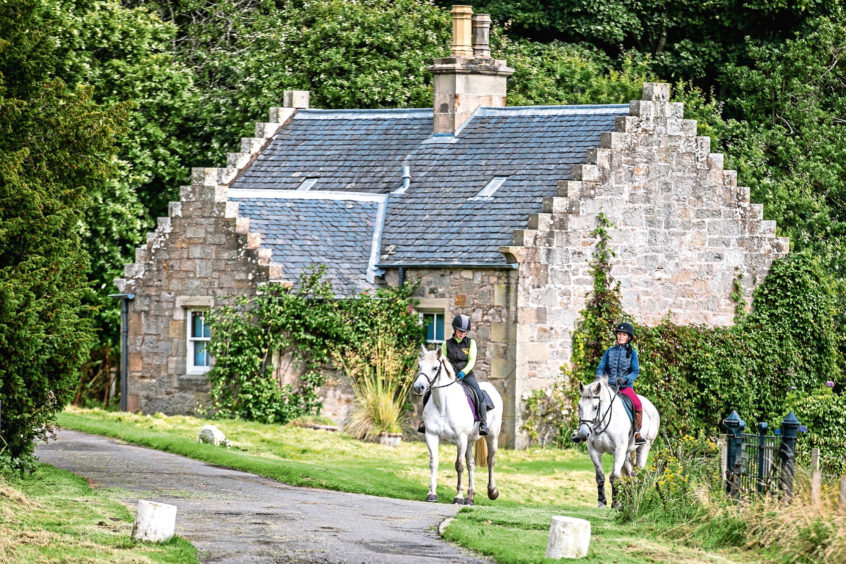 Another impressive landmark we pass is Scotstarvit Tower. This quirky 1500s tower house, surrounded by woodlands and overlooking the Craigrothie Burn, was the property of Edinburgh lawyer, poet and patron of the arts, Sir John Scot.
During a speedy canter past the building, Duke throws in a wee buck which I put down to a feeling of joy and exhilaration.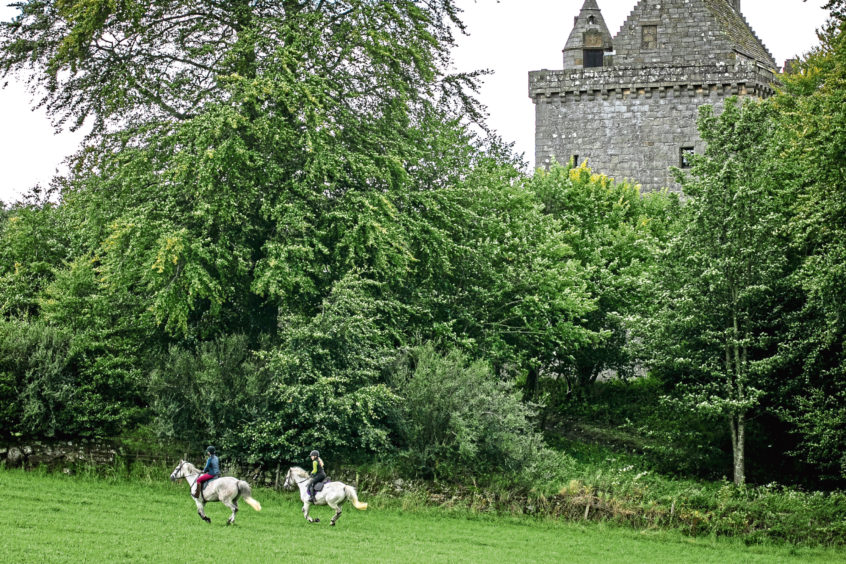 Heck, if I was a horse, I'd be bucking for joy at this stage of the game!
The ensuing canter up a steep hill allows Duke to let off any remaining steam and we arrive at the top happy as Larry and slightly out of puff.
We then walk along part of an old stage coach route which apparently once linked Edinburgh to Cupar.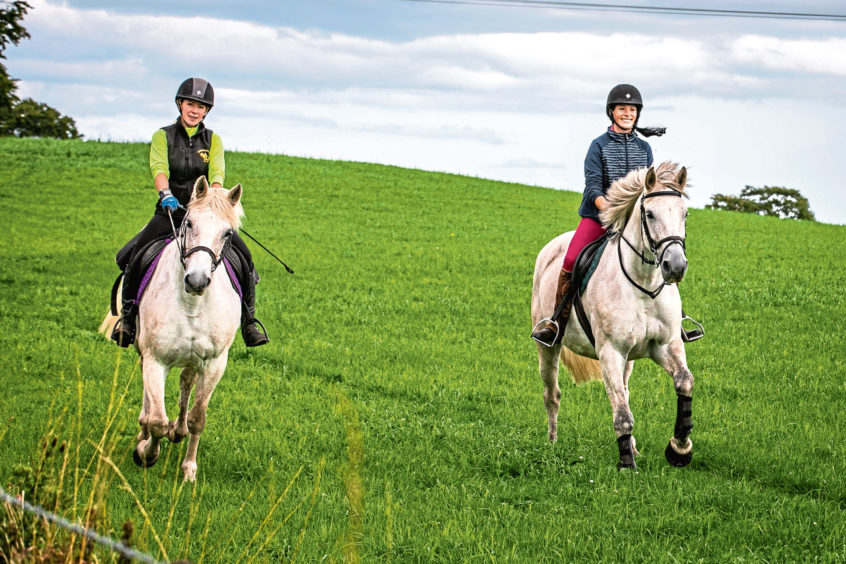 Back at base, I can't hide my grin, which seems to have grown to vast proportions.
"Come back in a few weeks and there'll be stubble fields galore to ride through!" beams an equally delighted Kirstin.
The great thing about hacks from Barbarafield is that they're done largely on and around the 300 acres of farmland owned by Wendy's family.
That means fields, which might otherwise be ploughed, are left in stubble from September through to March.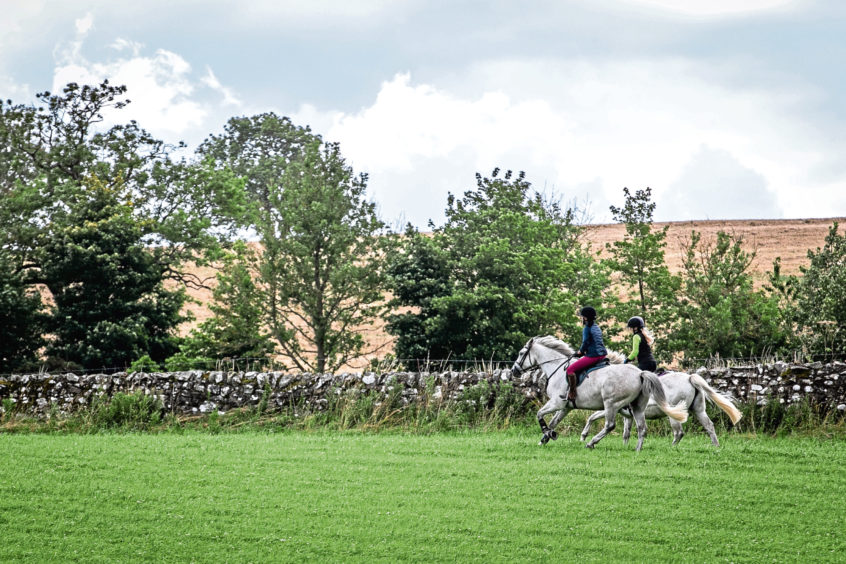 There are horses and ponies to suit riders of all standards but Wendy says all are "mentally and physically sound", which is reassuring.
"It's amazing how riding keeps you fit and tones you," she offers.
"I've one older lady rider who swears riding keeps her from stiffening up, while many people simply come along for a blether while on horseback.
"We can offer all forms of riding, whether you just want a plod or are up for a canter and a bit more excitement.
"Riding is great for de-stressing. It clears your head and if you're out hacking around Barbarafield, you can enjoy stunning scenery from a different perspective.
"As we're based on a working farm, you might see calving, lambing, hay-making or combining in action."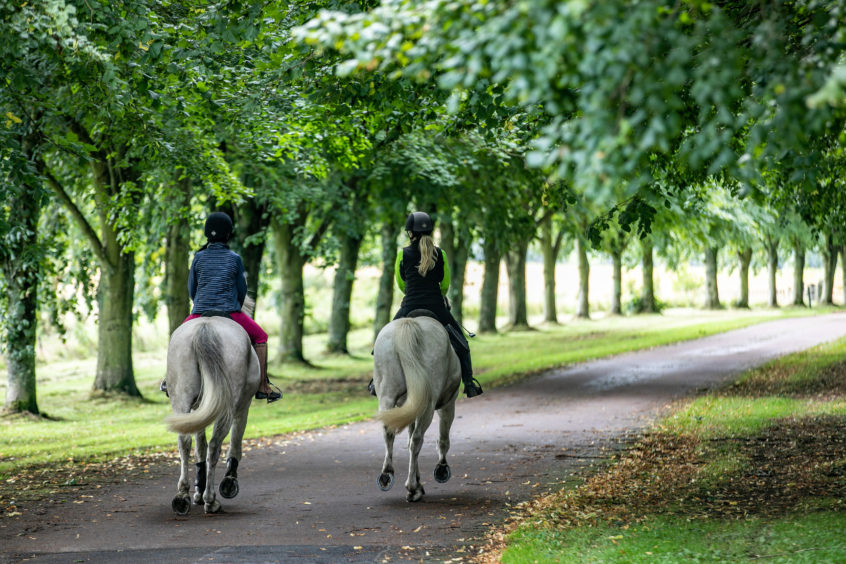 Lockdown proved a bit of a challenge, with no rides or lessons running, but the school's 20 horses all had to be kept fit – a job that fell largely to Kirstin, with busy mum and farmer Wendy helping out where possible.
"Susan Howard of Trekking and Riding Society of Scotland (TRSS) was fantastic at keeping us informed about what we needed to know for reopening," says Wendy. "As a TRSS-approved riding school, that advice was invaluable."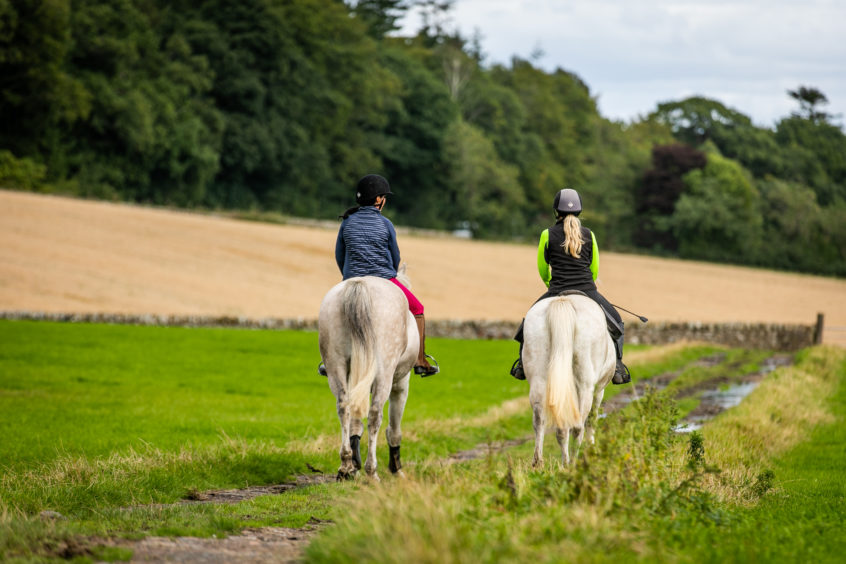 It's no surprise that the school has been inundated with bookings since lockdown eased but Wendy is limiting rider numbers as a result of Covid.
Great care is taken to keep everything clean, and saddles and bridles are sanitised after every ride and between clients.
In essence, staying safe and social distancing is pretty easy when you're out on a horse.
Happy hacking!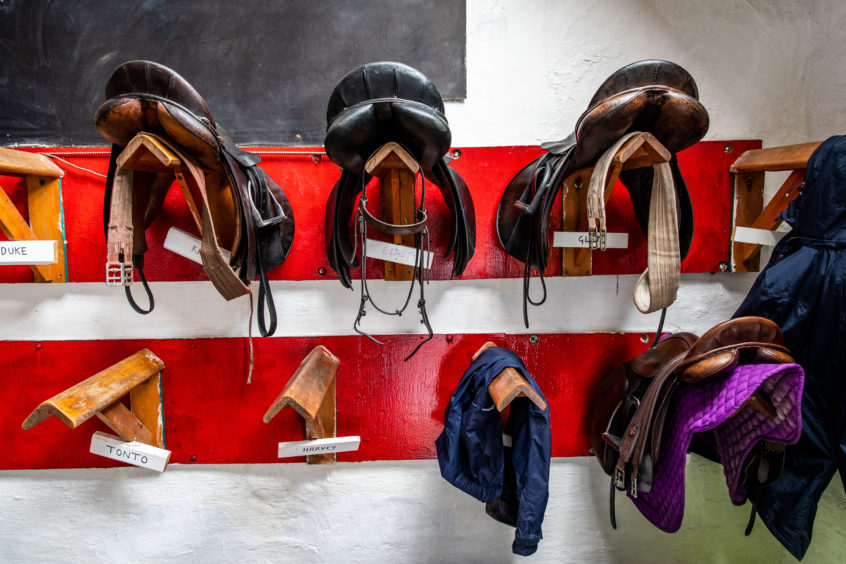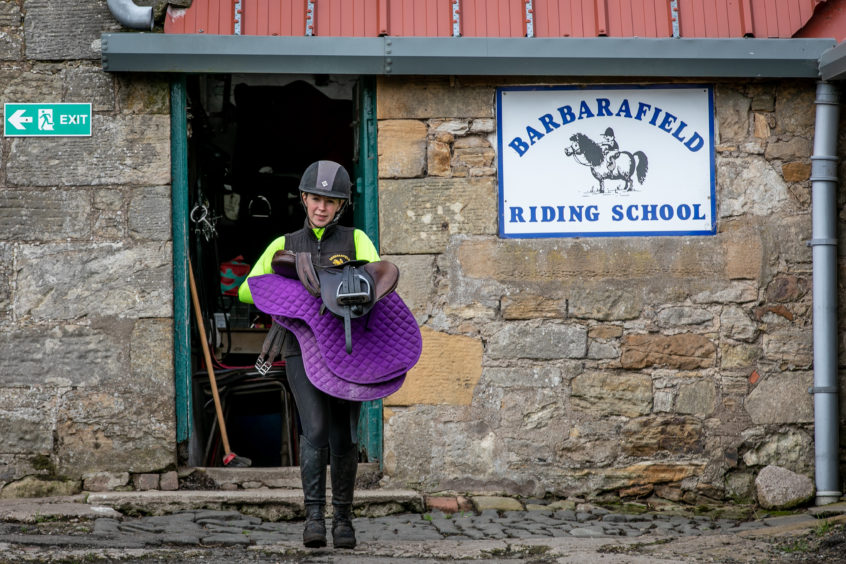 Info
Barbarafield Riding School was opened in 1956 by Wendy's auntie Christine Roberts.
The centre offers everything from 20 minute "intro to riding" sessions to three-hour "experienced" hacks, with kids' half or full day "pony experiences" including stable management, and fun pony club games. The one-hour farmland rides are hugely popular and run daily.
Rides can be split into smaller groups in fields so experienced riders can have a canter while novices or beginners can take a shortcut for a walk and a trot to catch up. For more details, see barbarafield.co.uk
There are many riding schools across Scotland which offer pleasure rides and tuition for riders of all standards. Check out Hayfield Equestrian Centre, hayfield-club.com, situated within the grounds of Hazlehead Park in Aberdeen.
Meanwhile, Aboyne-based Highlands Unbridled, highlandsunbridled.com, offers hacks from one to three hours, plus day rides and riding holidays.