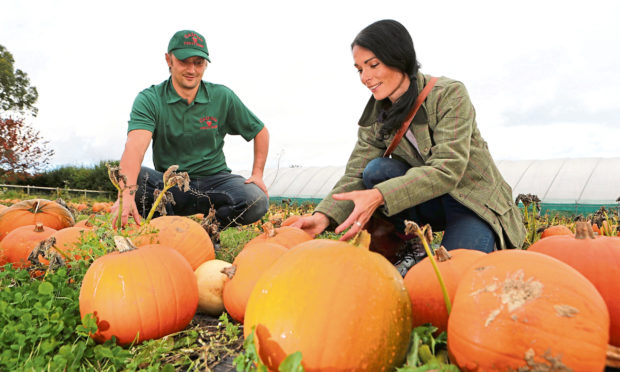 As Halloween approaches, Gayle goes pumpkin picking at Cairnie Fruit Farm.
As a wee girl growing up in Aberdeenshire, Halloween was all about the neeps.
The local farmer would gift me a turnip and I'd spend a happy few hours painstakingly hollowing out the contents and carving on a grotesque face.
I'd pop a candle inside (instantly transforming it into a lantern), dress up as a witch and go round terrorising the neighbours, who, admittedly, were few and far between because we lived in the country.
This was called "guising", a term that hails from the word "disguising".
It was pretty much the same deal as the Americanised trick-or-treating, but that seemed an ultra-modern, slightly alien concept back then.
Fast-forward several decades and pumpkins, as opposed to turnips, are all the rage when it comes to Halloween lanterns.
Yup, these beasts, available in a range of colours (but most popular is probably orange) are native to the USA.
Apparently, Europeans took the tradition to America in the mid-19th Century but immigrants found the pumpkin much easier to carve than the rock-hard swede. The new method soon found its way back across the Atlantic.
Whether a neep or a pumpkin, the concept is the same – the lanterns' purpose is to scare away evil spirits.
While a fan of ye olde Scottish tradition (and I rather miss the reek of burning neeps), the truth is, pumpkins are a heck of a lot more user-friendly. The flesh is soft and easy to carve and it makes an excellent mash, soup or pie.
So this year, I forgot about neeps and instead headed to Cairnie Fruit Farm near Cupar in Fife, one of the first sites to produce pick-your-own pumpkins in Scotland.
It's the pioneering farm's 21st year of growing pumpkins of all shapes, sizes and colours, and this year there are a staggering 15,000 to choose from.
I was lucky enough to get the pick of all the pumpkins the day before the patch officially opened to the public and I opted for a cheery orange beast, big enough to impress but not so heavy that I'd struggle to lug it around.
Fancy buying a selection? Take your pick from orange, green, striped, blue and even white versions, spookily known as "ghost pumpkins".
Don't worry – you don't need to heave your haul around with you; grab your pumpkin trolley and head into the field where you'll find the giant fruits.
You pay according to how much they weigh and prices range from £2.50 to £8.
A standard pumpkin will weigh between 20 and 30 pounds but Cairnie once produced a 75 pound beast!
"They're a bit smaller this year but they still meet all the criteria for being perfect pumpkins!" outdoor manager Radu Moldovan told me.
"We had 12,000 last year and we completely sold out, so we expanded the patch for 2020.
"Orange pumpkins are hugely popular but people really love the white, ghost ones, too."
The farm has strict rules in place for safety, with slots pre-booked online, hand sanitiser stations, track and trace and social distancing in operation.
Once you've had fun in the pumpkin patch, you can check out Cairnie's famous maize maze, which can grow at an astonishing rate of an inch a day and reaches a height of eight feet by late October.
The labyrinth of pathways and blind alleys extends over six acres and you can easily spend a couple of hours getting lost, while trying to find clues marked on a map.
The maze has a short life; it's harvested at the end of the month and fed to cattle – so hurry along now!
After all that, you can chill out in the cafe or check out the farm shop, which is stocked with all sorts of Halloween goodies.
The question is – will anyone go guising this year, with Covid restrictions in full force?
First Minister Nicola Sturgeon hasn't yet banned it (at the time of going to press) but it could be problematic.
There hasn't been an update on that stance since, but some Scots parents, keen to ensure Halloween isn't cancelled, are backing the concept of a "national pumpkin trail".
They're encouraging homeowners to place pumpkins around their homes so kids can wander past and count as many as possible.
Whatever happens, you can have fun carving your pumpkin, making its "face" look terrifying and then eating it.
I'll be sticking mine in the window to scare away any lurking evil spirits, or more likely, delivery drivers.
Info
Pick-your-own pumpkins runs at Cairnie Fruit farm until October 31. All tickets must be pre-booked online at cairniefruitfarm.co.uk.
Many pumpkin farms, including Udny Farms in Aberdeenshire, have sold out.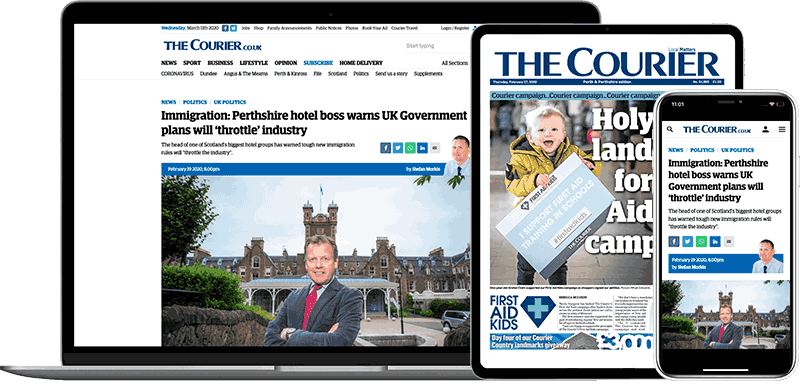 Help support quality local journalism … become a digital subscriber to The Courier
For as little as £5.99 a month you can access all of our content, including Premium articles.
Subscribe