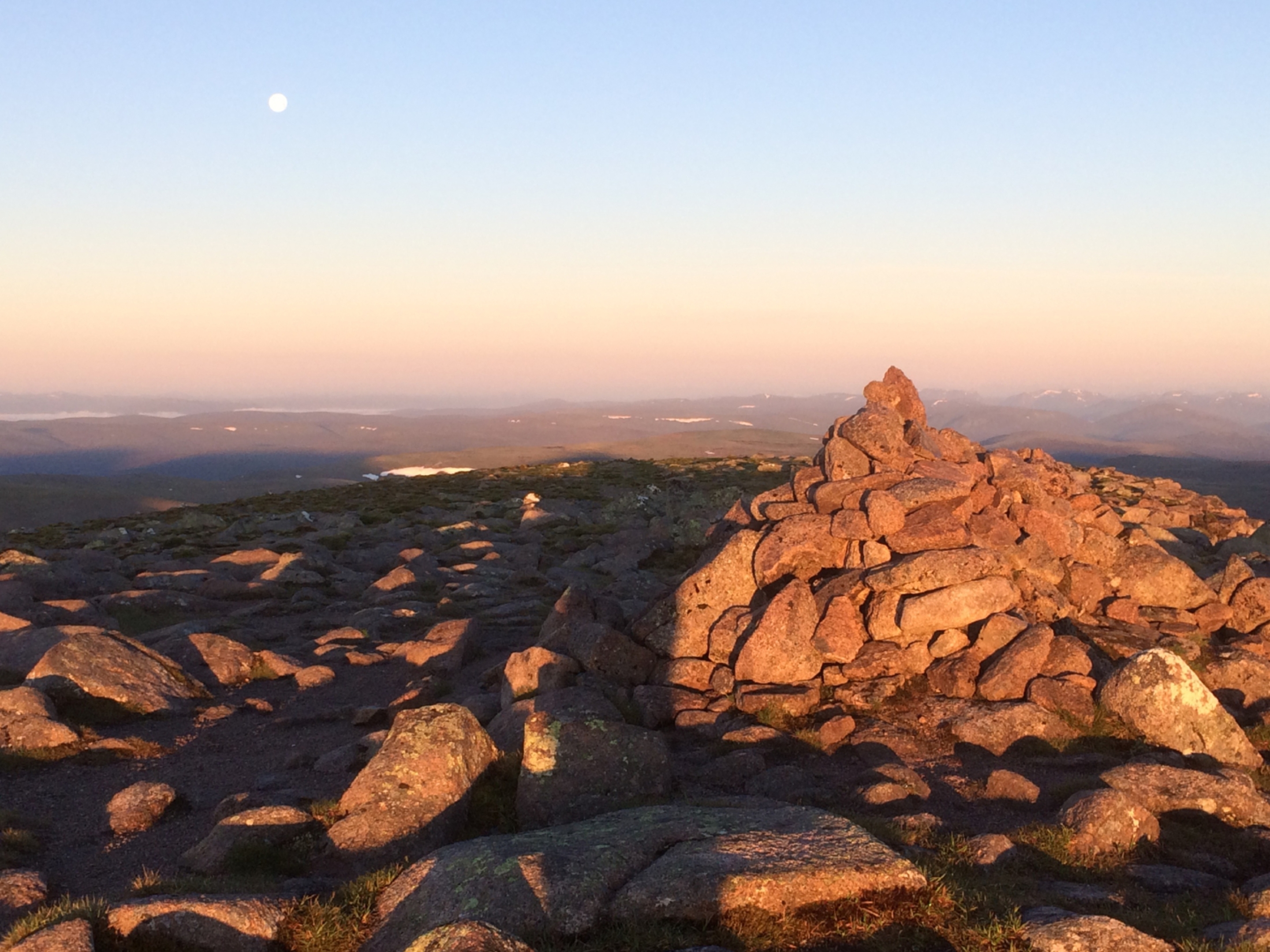 Alan Rowan has a passion for climbing mountains – through the night. He tells Gayle Ritchie why he's addicted to nocturnal peak-bagging
The moon had just broken through the clouds as Alan Rowan began to scale Braeriach, the third highest mountain in the UK.
After two hours of climbing, the light was coming up but the moon was still full and shining on the jagged cliffs of the towering Cairngorm peak.
It was 4.30am when Alan sat down at the rim of the corrie and watched the sun burst over the horizon while he had his breakfast.
"It was a day that reminded me why I fell in love with mountain walking," he says.
"I'm on the hills at least once a week, often more – I can't get out enough."
Alan has summited all 282 Munros (peaks over 3,000 feet) three times and is working through them a fourth time. He's also conquered all the Corbetts (peaks between 2,500 and 3,000 feet), and all 3,000-foot peaks in England, Ireland and Wales, many of them during the wee small hours.
"I love walking into a new day," says Alan, the author of Moonwalker. "You set off in the dark and walk into the light, the day coming alive with you the whole time.
"It's as if your senses are more highly attuned; you seem to take in so much more, the sights, the sounds and even the smells.
"I love the dark silhouettes of the mountains on approach, the smell of the wet earth, the silence that's peppered by the odd bird or animal call, the drip of water from the trees, the sigh of the wind. This all adds up to a truly sensory experience that you may miss during daylight hours. And you never tire of watching the sun rise."
Alan's new book, A Mountain Before Breakfast – which launches on November 24 at Dundee Mountain Film Festival – explores his night walks, particularly those with brilliant sunrises and sunsets, with the main focus on Corbetts.
He always saw Moonwalker as a two-part adventure, and his new book is the concluding part of the story.
The tone is light-hearted but it also deals with tragedy, with a chapter devoted to the death of a friend on the mountains.
Alan started night climbing when he was sports editor for the Daily Record in Glasgow and didn't finish work until midnight. The job was high-pressure and with his mind buzzing, he found it impossible to go home and fall asleep.
One night, back in 1994, he decided he'd use that buzz to drive to Fort William.His plan was to get a few hours' sleep in the car before climbing the next morning. However when he arrived, it was so beautiful that he set off up a mountain there and then, reaching the top in time to watch the sunrise.
From then on, night walking became an addiction, although he questions whether it would have started if he'd had a normal nine to five job, saying "the job dictated my mountains".
Having taken early retirement in 2009, Alan, 61, who lives in Carnoustie, now works as a freelance writer, author and journalist.
He still enjoys night walks, although not quite so many and rather, the emphasis is on aiming for sunrises and sunsets.
But he says he wouldn't encourage others to follow in his footsteps. "You need a lot of mountain experience – navigation, winter skills and so on – it's definitely not for beginners.
"If you do fancy it, there are lots of good mountain guides. At the very least, go out with someone who has a lot of experience.
"I took parties up Goatfell this year as part of Arran Mountain Festival, and up Ben Rinnes during the Moray Festival. None had ever tried a mountain night walk before and they loved it."
Alan's years of adventuring have shown him to trust his instincts, and on occasion, he's found himself driving for hours, only to turn back because something "felt wrong".
"Sometimes you just know something isn't right," he says.
"I'm sure some of my hill experiences were down to tiredness or dehydration, but Scotland is a land with a sad and often brutal past, and some of these glens and old ruins can be atmospheric and disquieting. At least that's what I told myself when I thought the trees were talking to me or when I was talking to those Victorian ghosts in the bothy!"
info
A Mountain Before Breakfast, by Alan Rowan, is launched on November 24.
The print version is available from Waterstones or £9.99 direct from munromoonwalker.com
The Kindle version is on Amazon for £5.
Waterstones Dundee is hosting a preview night on Wednesday November 23 at 6.30pm.
And Alan will be at Dundee Mountain Film Festival, which runs from November 24 to 26. He'll be selling copies of his new book, plus cards and calendars to help raise money for Scottish Mountain Rescue.