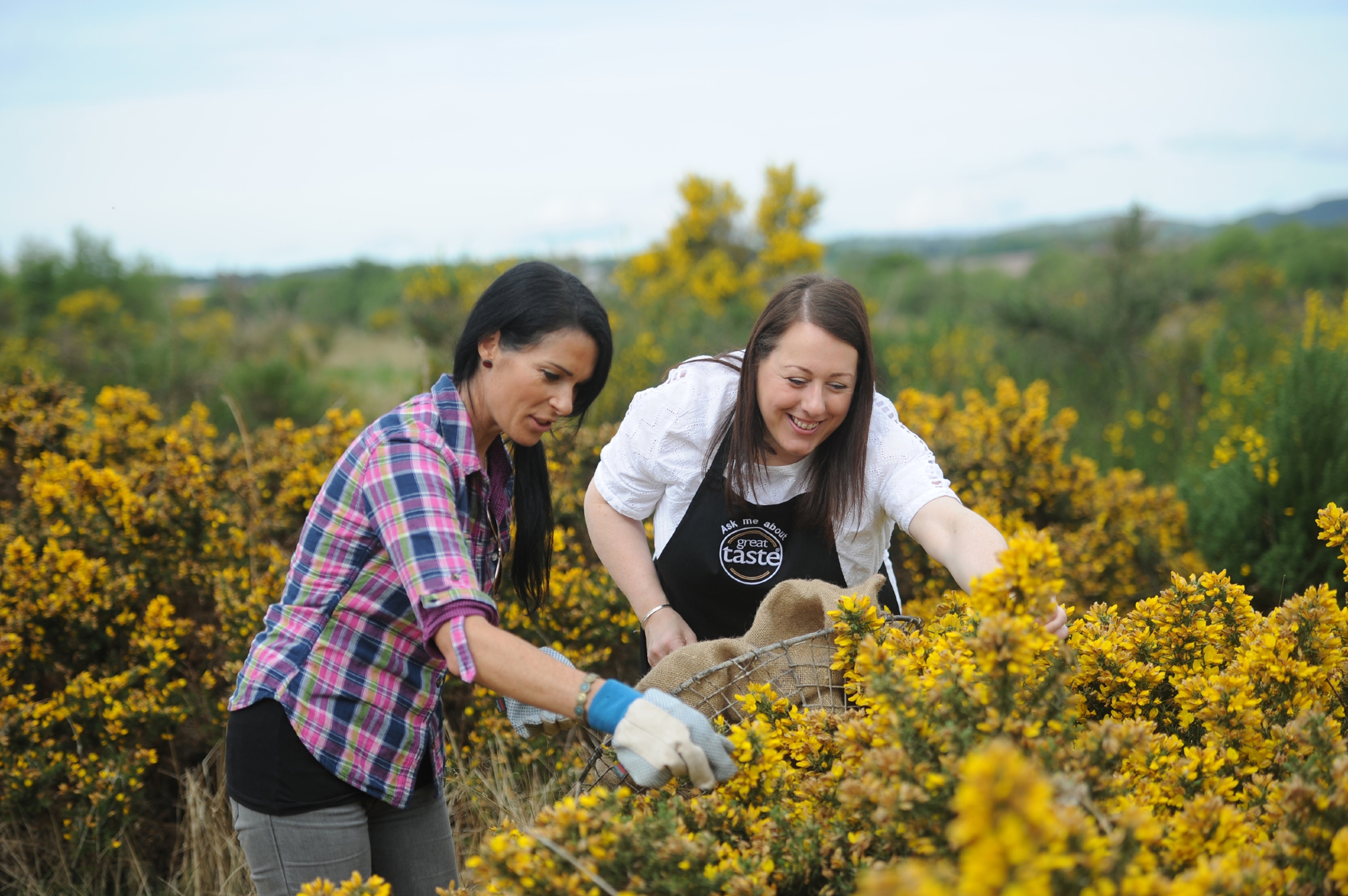 Bright yellow and with the scent and flavour of coconut, gorse flowers make a fantastic gin, as Gayle Ritchie discovers
Foraging for gorse flowers is a dangerous business unless you go dressed for battle.
I discovered this to my detriment when I went out picking the dazzling yellow blossoms in Perthshire with expert forager and gin maker Kim Cameron.
Kim, who runs the Gin Bothy from an old forge near Kirriemuir, has spent the last three years hand-making batches of artisan gin.
Most are infused with seasonal produce from local berry fields and farms but this year, she decided to branch out and see if she could make gorse syrup and add it to gin.
"Gorse is everywhere you look – on hedgerows, at the side of roads, in fields – and the smell is just sensational," says Kim, 39.
"People have been using it to spice up foods for years; there's a real sweetness to it. It flowers throughout the year but it's in abundance in spring."
Certainly, the traditional saying, "When gorse is out of bloom, kissing's out of season" has a strong element of truth in it – but spring, when every bush turns bright yellow, is the best time to pick.
A warm sunny day is ideal and Kim and I gather up a wicker basket and head to a site just along the road from the Gin Bothy HQ.
Climbing over a barbed wire fence, we fight through thistles and bracken to reach the yellow manna.
"You're looking to pick the flowering buds, pinching them from their base and trying not to crush them too much," explains Kim, deftly whipping off a few with her bare hands and dropping them into the basket.
I'm not quite so brave, so I sport a pair of oversized gardening gloves and lean in to the prickly bushes with great caution.
"Have a taste," offers Kim, passing me a gorse flower. "It smells beautifully coconut-ey and tastes a wee bit like bitter almonds."
I chew for a bit, and while I agree it smells gorgeous, I'm not convinced it tastes great.
The basket is filling up slowly but most of the flowers have been picked by Kim because I can't grip a sodding thing with these gloves on.
I chuck them aside, and brave the lethal spikes. "Ouch!" I exclaim, as one pierces a finger.
I carry on for a while, uninjured, but as soon as my concentration wanes, I'm rewarded with a sharp prick from a thorn.
Next time I do this, I will go armed in thick clothing and better fitting gloves.
Once the basket is brimming, we head back to the Gin Bothy, where Kim whips up a gorse syrup in minutes.
How does she do this? "I take sugar and water and bring it to the boil," explains Kim.
"Then, just as it's off the boil, I add the gorse and that's when it macerates and turns into syrup."
I watch as Kim sieves the flowers from the syrup and adds it to some of her "original" apple-based gin.
The final touch is adding a gorse flower to the side of the glass, and ta-dah, we have a "Gorse Collins".
"This will be marketed as Stirrup Cup and will be aimed at the equestrian market, golfers and shooters on the hill," says Kim.
"They can pop some into their hip flasks to keep them warm."
I sample some gorse gin, neat, and wow – it's a taste sensation.
The real joy lies in its simplicity.
"It's easy to make and designed so people go home and try making their own," smiles Kim.
"There's increasing awareness of edible plants and flowers and gorse is no secret.
"There's real theatre in food and drink whether that's seeing a gorse flower decorating a cocktail or having strips of chocolate peeking out of a glass.
"With gorse, the natural colour is so bright and it really makes the gin pop."
info
Raised along the road in Glenmarkie, Kim studied management at Glasgow University before embarking on a career across the UK and Ireland in retail and finance.
When her father took ill, she returned home, took over management of Peel Farm (she no longer manages it) and established the Jam Bothy.
After entering her product into the World Jampionships in Perthshire, her mum suggested adding the by-product of her mass jam-making – an excess of fruit juice – to gin.
The resulting drink, made with the help of a 17th century recipe, outsold Kim's jam and hence, the Gin Bothy was born.
The abundance of Angus and Perthshire fruits allows Kim to work through the year, producing exciting new gin flavours.
For more details. see www.ginbothy.co.uk