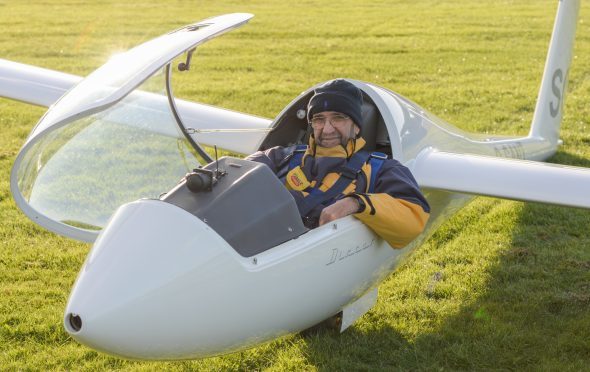 Michael Alexander speaks to lifelong glider pilot Santiago Cervantes about his passion for taking to the skies.
Soaring free as a bird over the Perth and Kinross countryside with only the sound of air rushing by the engine-less cockpit for company, Santiago Cervantes is in his element.
The 66-year-old retired commercial airline pilot would never describe his love of gliding as a hobby.
For him it's more than that. It's a passion that dates back almost 50 years to being a member of the Air Training Corps – an early taste of flying which led him on to a lifelong career in aviation.
"Gliding is a pure form of flying," says the Scottish Gliding Club member who lives in Scotlandwell.
"It's you, the machine and the elements.
"My particular goal is to get them all working together in harmony so as to fly as far and as fast as possible.
"When one achieves that – which is not often – one is in perfect harmony with one's surroundings and it's an exhilarating experience.
"Athletes call it being in the zone and when one gets it right it's like being on a knife edge – one's perceptions are heightened and one is totally in tune with your environment."
Born in Brighton to Spanish Republican parents who were forced out of Spain at the end of the Spanish Civil War, Sant describes himself as a "product of the welfare state".
He grew up in a council house and, after joining the ATC at 13, got a flying scholarship that allowed him to go on and become a pilot.
Securing his first job towing up gliders at Bristol Gliding Club, he fell in love with Scotland in 1973 after he and a friend brought a glider up to Portmoak from where he still flies.
Moving north, he became the first full time flying instructor at Tayside Aviation – known as Aerosport in those days – at Dundee Airport.
In the mid-1970s he spent two years bush flying for a construction company in Africa. He returned to fly light aircraft for Air Ecosse in Aberdeen and did the Dundee to Heathrow schedule, meeting his Dundonian wife-to-be Carol in 1983.
A three-year "privileged" spell flying for the British Antarctic Survey followed – working in Antarctica in winter and flying gliders back home in summer – before settling down back home flying mid-haul flights with British Midland.
He retired as an Airbus captain, based at Heathrow, in 2011and continues flying in his own glider whenever he can.
"The reason that I live in Scotland is that the mountains produce a meteorological phenomenon called standing waves," he adds.
"To use an analogy, the albatross can soar vast distances across the Southern Oceans using the lift created by the huge rollers created by the "Roaring Forties" wind.
"In Scotland we have a similar phenomenon. but in the atmosphere, where standing waves are create enabling gliders to fly up to altitudes of well over 30.000 feet and cover distances of over 1000 km.
"For example, on my recent flight of October 5, I did a flight of 783 km at a speed of 145kph."
Sant, who leads the BGA UK Open National Ladder for gliding endurance at the time of this interview, says the point about gliding is that its open to all.
He adds: "People have different abilities and desires. Gliding puts you in touch with the beauty of our surroundings.
There are times when you are in complete harmony with the environment. It's fantastic."