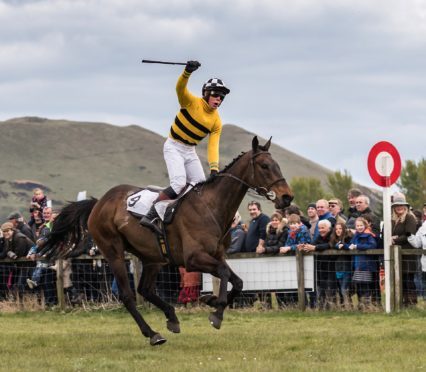 As Balcormo Races kicked off in Fife, Gayle Ritchie caught up with an amateur jockey competing in the thrilling point-to-point meeting
Cameron Wadge is a massive adrenalin junkie – a true speed demon if ever there was one.
When I meet up with the cheery 19-year-old, he's grinning from ear to ear, having just ridden one of his favourite horses up the gallops.
An amateur jockey based at top trainer Lucinda Russell's yard near Milnathort, Cameron is competing at Balcormo Races.
Thus far, his career has seen him ride in 36 point-to-point rides and his dream is to join the list of successful professional jockeys who have flourished under Lucinda's direction.
The event will see Cameron fly round the steeplechase – a racecourse boasting ditches and hedges as jumps – on a number of horses. He simply cannot wait.
"It's pure adrenalin," he beams. "Racing is brilliant fun and although I know it's potentially dangerous, it doesn't scare me at all.
"The fastest race I've ever done was around 30mph, which is pretty exciting."
As for Balcormo, Cameron is a massive fan of the event and the track.
"The atmosphere is electric, there are some great fences and it's a friendly community vibe where everyone helps out."
Cameron's family own a livery yard in the Borders, so horses have always played a huge part in his life.
He and his brother were lucky enough to have riding instructors for parents, and the horse-mad family enjoyed everything from eventing to cross country and hunting.
But racing was what truly gripped Cameron and so, after nagging his mum for years, she bought him his first point-to-point "schoolmaster" aged 16.
"I started to do really well, winning a few races and people said I should get myself to a yard," he recalls.
"I'm from Gretna but there was only one place I wanted to go – Lucinda Russell's!
"I've been given loads of great opportunities since I came here in June last year. Lucinda and her partner Peter Scudamore are amazing and I've never been out of the top three, coming first, second or third, this season."
While racing is Cameron's passion, he doesn't just show up at the racetrack without putting in a ton of work first.
He's based at Lucinda's yard full-time, and it's tough work, with him exercising up to nine horses a day.
"I turn up at 7.30am and ride two or three horses up the gallops before breakfast. Then I ride another two or three before lunch.
"In the afternoon, there's grooming and feeding and other yard duties, as well as riding more horses!
"We do schooling – walking, trotting and cantering – as well as jumping fences, hurdles and tyres.
"Lucinda and Peter are good to me; they put me on a lot of horses so I get a feel for it."
To make it in the world of racing, you need to keep in shape, so it's just as well Cameron loves running, and he covers up to 15 miles a week.
He doesn't touch weights though; the last thing a jockey needs is muscle.
"I worked at the family farm before I came here so I was pretty big!" he laughs. "I need to focus on keeping my weight down and being as light as possible.
"I don't eat much – the bare minimum – and I don't drink alcohol, although some lads do enjoy a pint."
Cameron's dream is to ride the "big" races, like the Grand National, and his future is looking bright.
The fact Lucinda's One for Arthur became the second horse trained in Scotland to win the Grand National in 2017 fills Cameron with hope.
Could it be that one day he takes the top spot on a winning horse? Watch this space!
For more information, www.balcormoraces.org/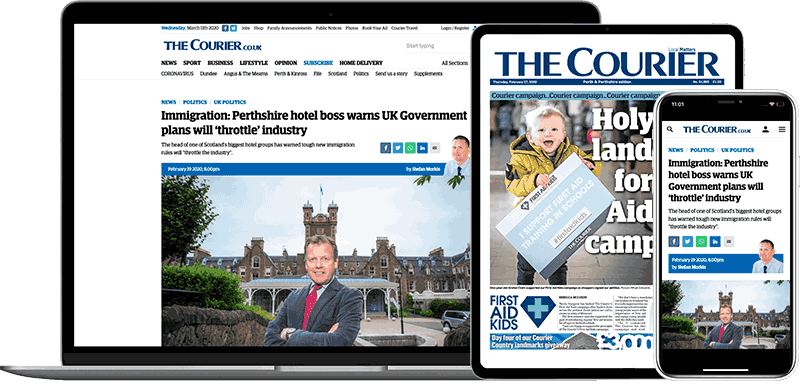 Help support quality local journalism … become a digital subscriber to The Courier
For as little as £5.99 a month you can access all of our content, including Premium articles.
Subscribe