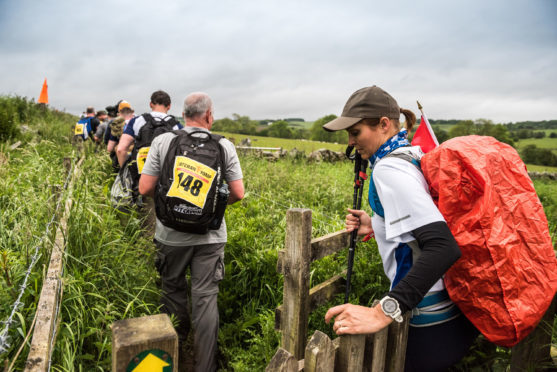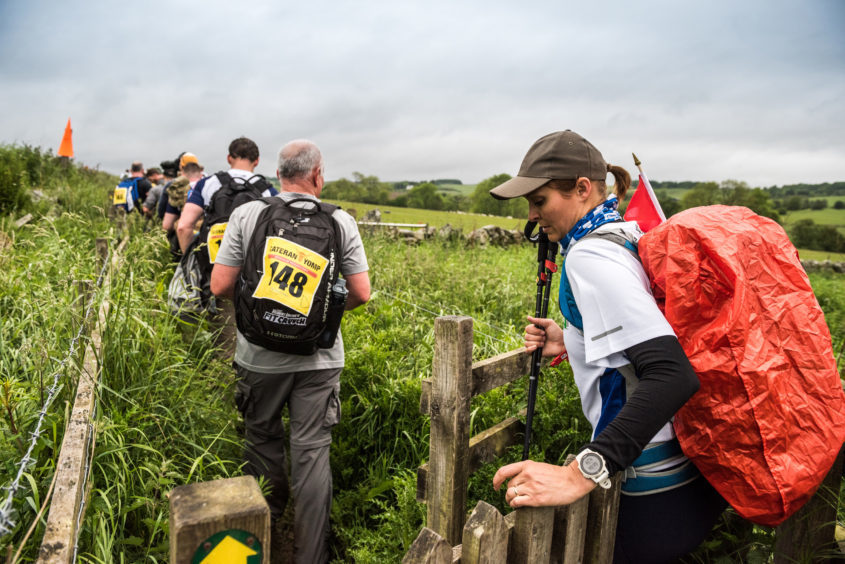 Ed Smith is the official photographer for the Cateran Yomp. His images expertly capture the blood, sweat and tears suffered by yompers as they tackle the gruelling 54 mile route. Gayle Ritchie finds out more…
Adventure sports photographer Ed Smith has been working as a photographer for more than a decade after being inspired as a child by his father and uncle's photos of kayaking and hang-gliding.
After studying photography in Cornwall, Ed went on to exhibit his award-winning work around the UK, working with The North Face, ABF The Soldiers' Charity and Glenmore Lodge, the National Outdoor Training Centre.
He is now based in Kingussie where he recently opened a photography gallery.
"I love a challenge. All my clients know that about me!" says Ed, who recently photographed the Frontline Walk, a 100km fundraising hike across the Western Front, the main theatre of war of the First World War.
For the last few years, Ed – who once photographed Irish comedian and outdoors enthusiast Ed Byrne white water canoeing for a magazine assignment – has been the official photographer for The Cateran Yomp — an epic, long-distance march through the Perthshire and Angus Glens.
As we count down the days until the Yomp takes places on June 9, we check out some of Ed's favourite images of the event.
THE YOMPER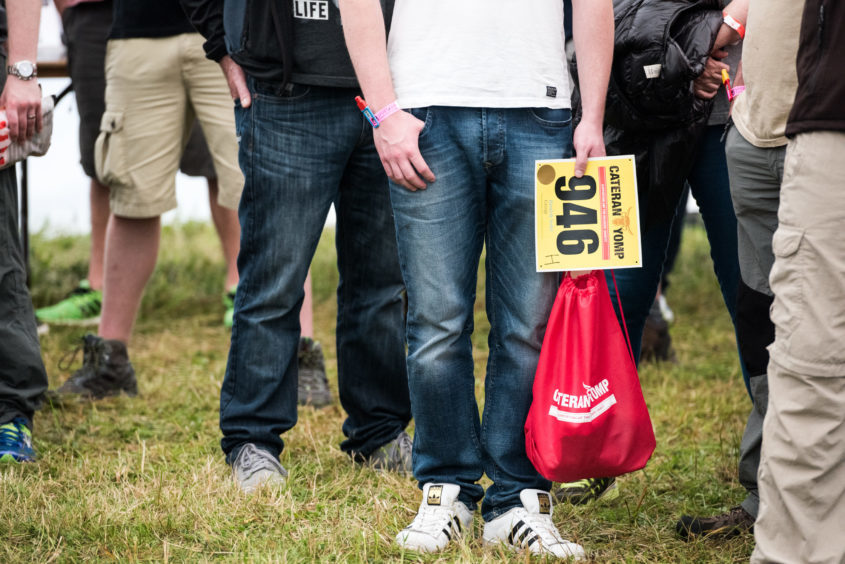 Ed says: "This scene caught my eye from a distance at the Yomp hub. One of the themes for Soldiers' Charity events is 'The Fundraising Army' and framing this shot to leave the owner of the bag out I wanted to convey the sense of support from relatively anonymous individuals… an army from all corners of the country that congregates for a great cause. Also facing the fact that those in greatest need and those making great contributions might be the most unlikely individuals in a crowd. In the context of the Yomp; who is the person next to you and how are you going to help each other through the next 24hrs."
FUN FACTS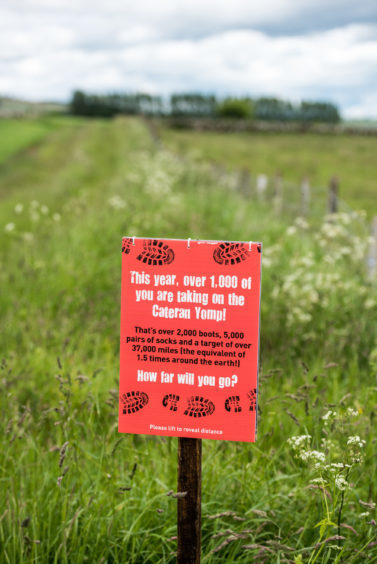 Ed says: "There's a great Scottish saying; 'many a mickle makes a muckle'. In essence lots of little things add up to something great. It seems particularly relevant to an event like the Yomp where your every single step is alongside 1,000 others. These facts convey a sense of scale of the event and the bigger picture of your effort is a huge motivating factor… it's good to know you're not in it alone!"
REGULARS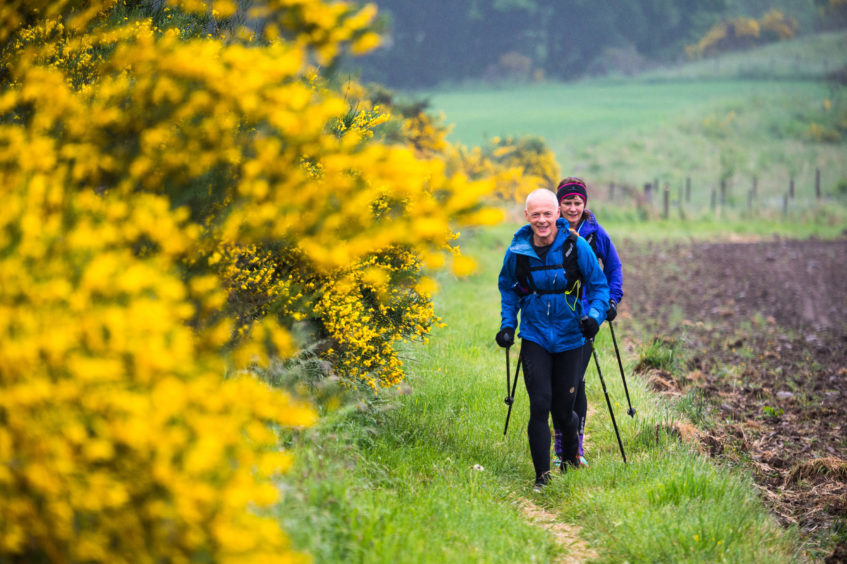 Ed says: "Doing one Yomp is a challenge, but coming back year after year is the pastime of an exclusive club of serial Yompers Tim and Jackie Heilbronn! These tend to be some of the first faces I see on the trails out of Blairgowrie and as I spot them around the trail they are seldom without a smile! They have competed in so many Yomp events, often being the first couple to finish, and having raised a lot of money."
THE NARROWS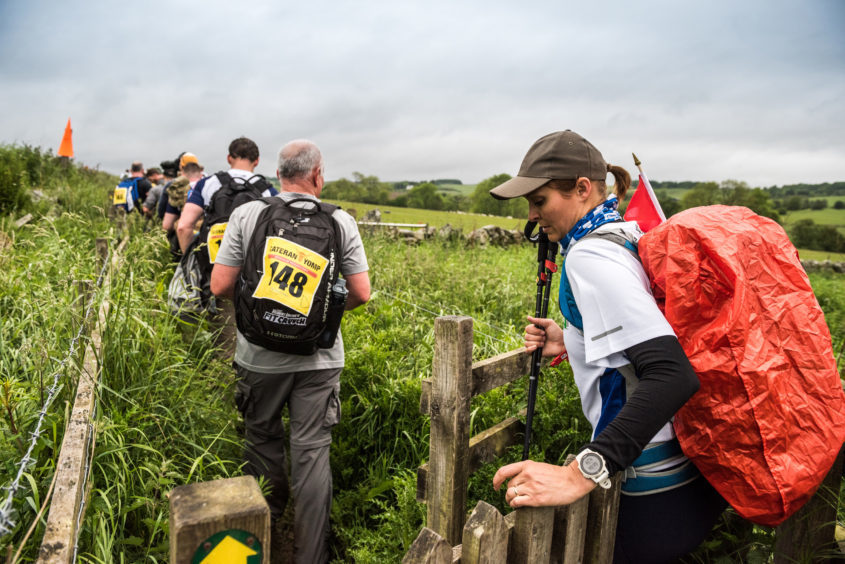 Ed says: "The Cateran Trail varies hugely on it's 54-mile journey from the wide open farms tracks of Blairgowrie to the winding trails of Glenshee. Being amongst 1,000 Yomping participants in the narrows near the Lornty burn is a sight and sensation to behold. Remember it's not a race (unless you want it to be!) and there's a long way to go so enjoy the rhythm as your legs warm into the trek."
INTERNATIONAL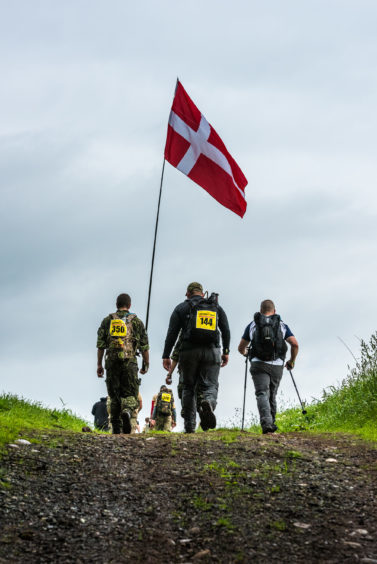 Ed says: "Looking up to the brow of this rise, a fairly heroic angle which seemed apt for the event, it was amazing to consider the international participants of the 2017 Yomp as Danish and American soldiers chatted together on their journey through the Scottish landscape. A true experience shared."
LEAVE YOUR LIMITS BEHIND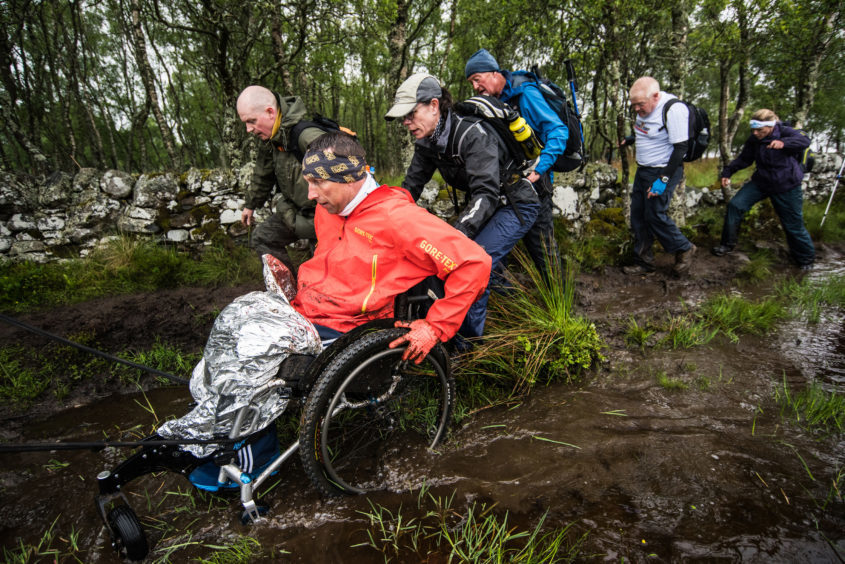 Ed says: "Seeing Shaun Gash propel his wheelchair through bogs, mud and over fences with the help of his team was a mind blowing  sight; this image is ingrained in my mind. The Yomp is a reminder that limits are not set in stone. Whilst doing this trek to fundraise in order to help unlock potential for others, be mindful that stepping up is also a great opportunity to smash your own glass ceiling as life seldom provides so much motivation in one place. Get involved and propel others along the way!"
SMILE AND ENJOY!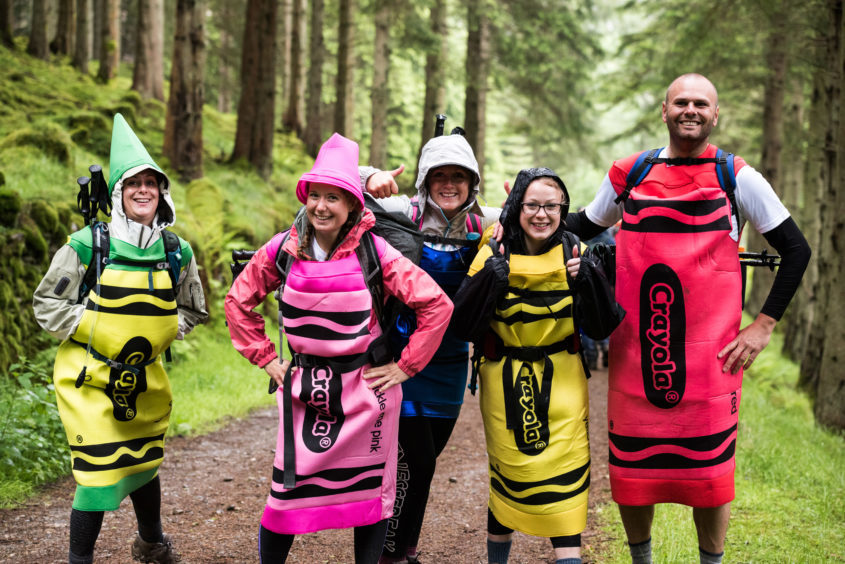 Ed says: "It might be tough, it might be gruelling, it might be rainy, muddy, boggy and soggy but don't forget to smile; you're in the experience of a lifetime! These crayons gave the press team some fun guessing potential headlines of the 2017 event, one of the favourites being 'participants colour a rainy day on the Cateran Trail'. It was quite a wet year but there's a huge sense of satisfaction in coming through the other side!"
AMBASSADOR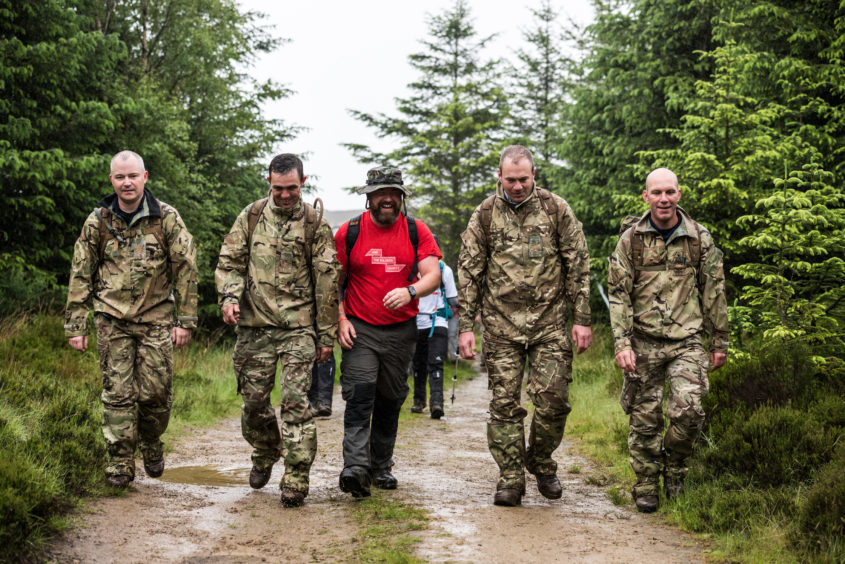 Ed says: "Prepare to have your mind blown. You'll meet and perhaps walk alongside the very people that are so grateful for your fundraising efforts. The experience and insight from these soldiers really puts a few blisters into perspective and is incredibly humbling. It's also fantastic to hear first hand the huge positive impact of the Soldiers' Charity."
THE CLIMB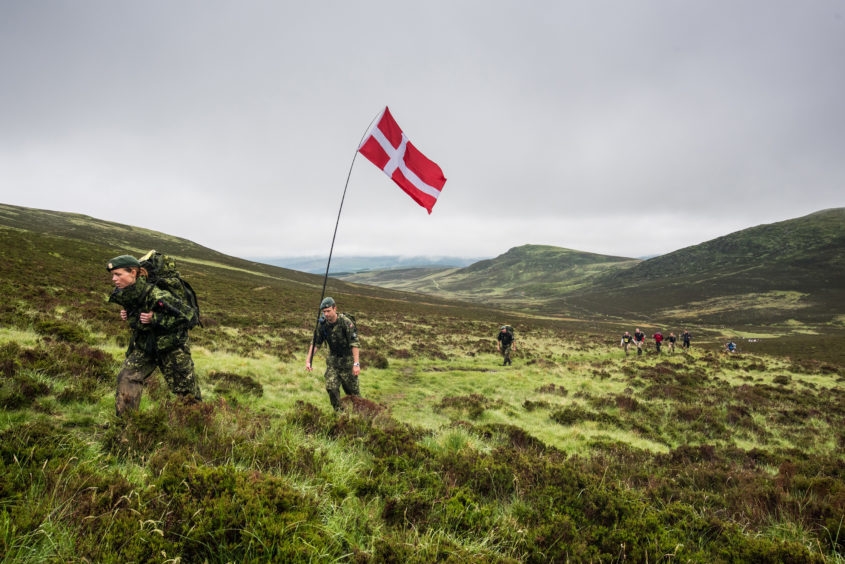 Ed says: "Perhaps the most gruelling terrain of the trail is the climb from the Enochdu hut until you can see over into Glenshee. The uphill trail is boggy in places and crosses a very exposed section of the Cateran Yomp where the weather has a huge influence on your pace. Giving yourself time to refuel at the hut is a great idea, particularly if it allows a dark cloud to pass so you can get a rewarding view across the glen and back over the kilometres you've already travelled."
SPECTACULAR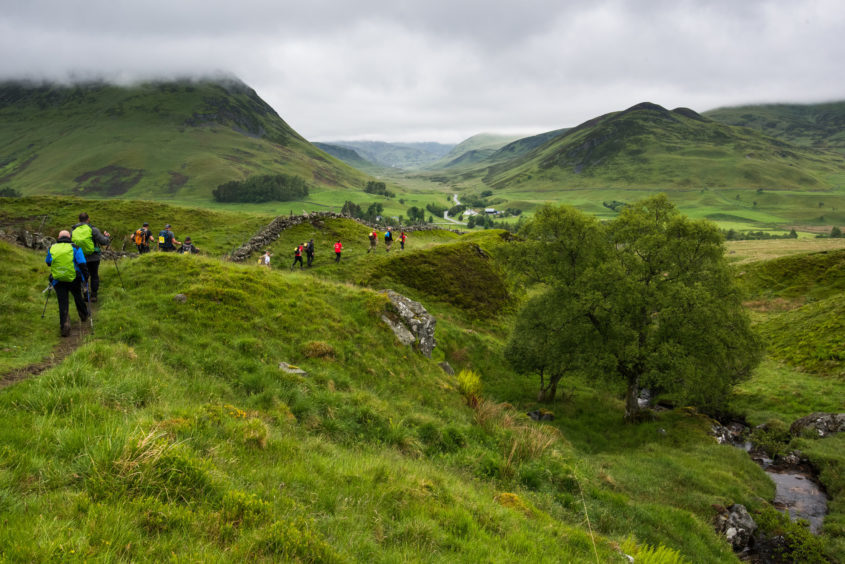 Ed says: "Heading down into Glenshee is nothing short of spectacular and one of the most uplifting sections of the course. Glenshee marks the halfway point of the full course and for those on the bronze distance you are a stone's throw from glory. The landscape is iconic as one of the most beautiful parts of Cairngorms national park which you have recently crossed into. The twisting narrow trail alongside the burn is perhaps my favourite location on the trail and if I had to pick one image to sum up the event this would be it."
PROMOTION THROUGH THE RANKS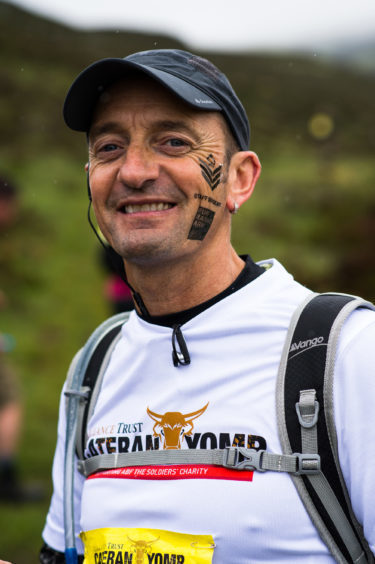 Ed says: "As your fundraising pot grows so too does your Cateran Yomp rank and it's good fun to see these temporary tattoos worn with pride throughout the event weekend. Although if you do choose to put it in a prominent location don't be surprised to find yourself being asked for a portrait or two!"
REGIMENTS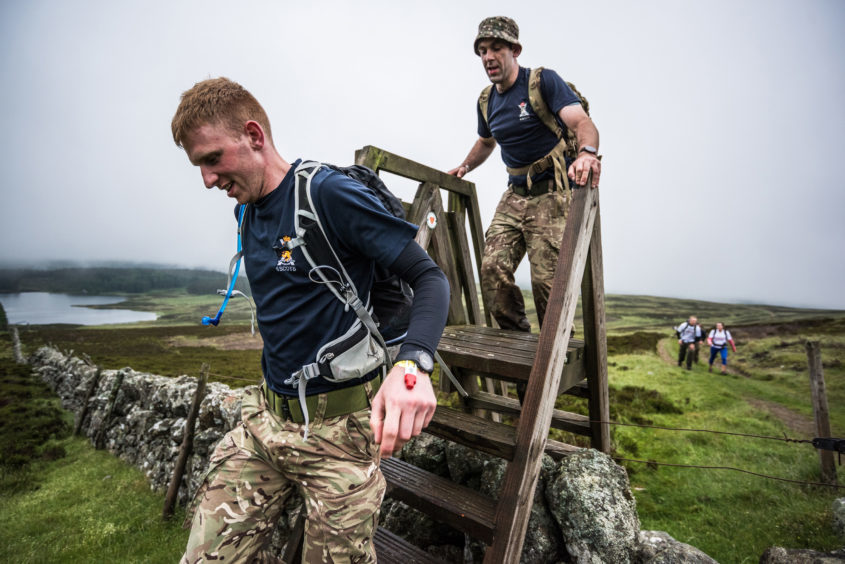 Ed says: "There's often a strong show of regimental teams in the Yomp and in 2016 the team from 6 Scots looked pretty comfortable on home turf. This image was taken almost three quarters of the way around the trail and these guys still seemed quite comfortable climbing up and hopping off styles. It goes to show that plenty of training in the right terrain goes a long way in the Yomp."
DINNER TIME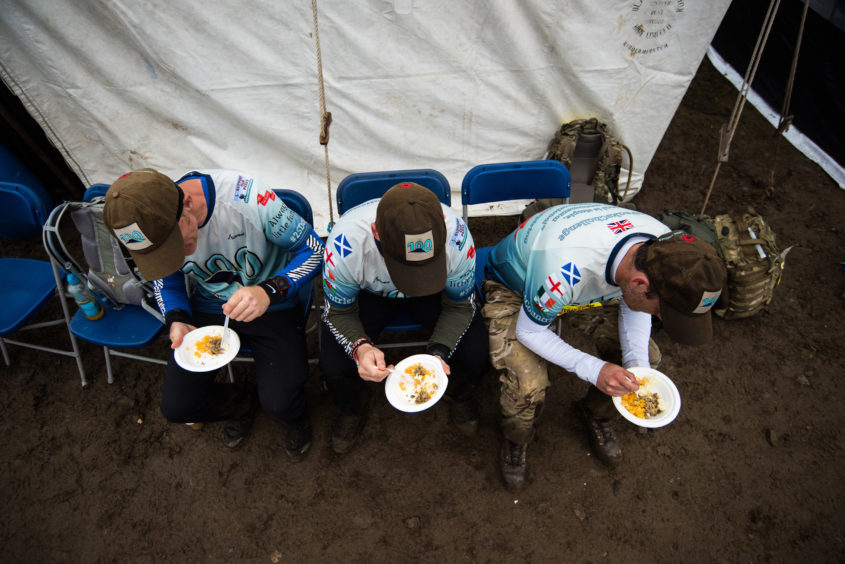 Ed says: "Spending a lot of time on Soldiers' Charity events with a large number of past and present military personnel you quickly learn that any opportunity to eat is to be jumped at. Especially if it's the Yomp with Haggis, Neeps and Tatties on offer! That's the kind of fuel that will keep those legs going as the silver finish is within reach for those stopping in Kirkton of Glenisla, and the small hours await those pushing on for the Gold."
THE WALL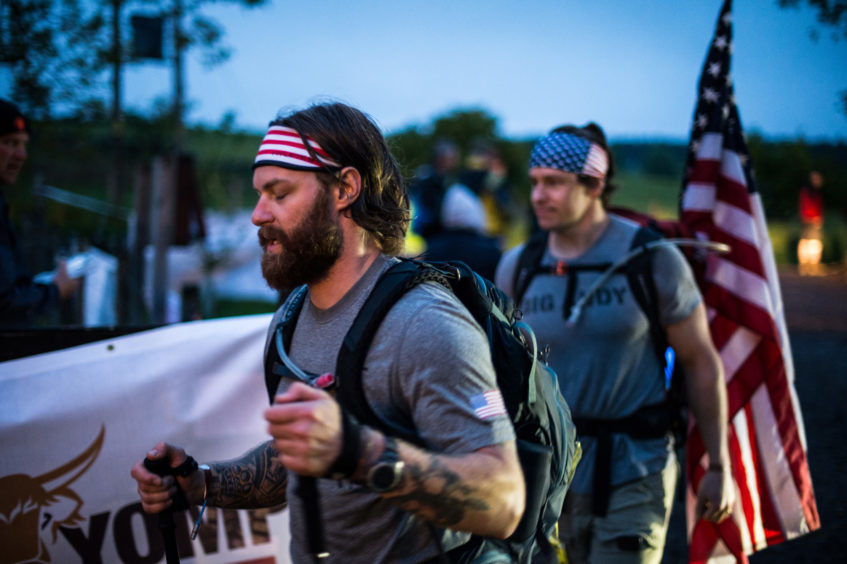 Ed says: "Reaching the silver finish puts many participants into uncharted territory – beyond the 30 mile mark – and is a sort of unofficial make or break point for a Gold finish attempt. The dwindling light and aching legs make for some emotional images that have to be taken to do this challenge justice; this is no walk in the park. It's not unusual for Gold participants to choose to finish here due to fatigue. In those circumstances there can be some downbeat faces as the clock ticks past midnight, but it's important to remind them what they have achieved in striding into ultra-distance territory."
GOING FOR GOLD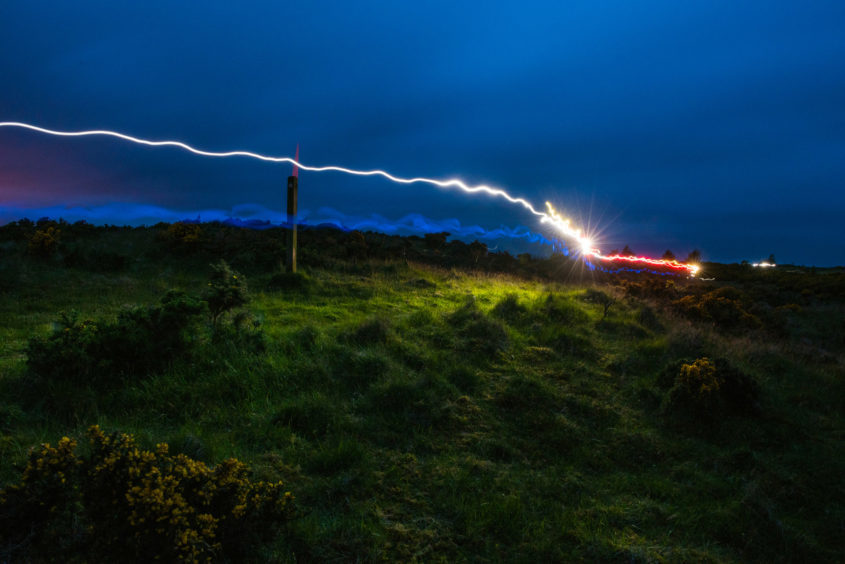 Ed says: "If you're driving past Alyth hill and surrounding area during the early hours of the morning you'd be forgiven for doing a double take at the spots of light making their way along the grassy slopes. These are Yompers heading for the home straight and nothing will stop them now. The sun that cruelly disappeared as they pushed through their wall at Glenisla will soon be on the rise again and the finish line awaits!"
info
Inspired to sign up for the Yomp by Ed's stunning pictures? This year's event takes place on June 9 and there are already almost 1,000 people taking part, but there's still time to sign up!
The adventure will see teams starting in Blairgowrie and hiking a breathtaking circular route through Kirkmichael, the Spittal of Glenshee and Kirkton of Glenisla. You can choose between a 54, 36, or 22-mile route.
It's a unique opportunity to experience some of Courier Country's finest scenery while raising vital funds for ABF The Soldiers' Charity. Last year a record-breaking 1,150 people signed up for the endurance event.
Now in its eighth year, the yomp has raised an incredible £2,888,707.98 for The Soldiers' Charity, as well as for local Scottish charities including The Alliance Trust Foundation, Perth and Kinross Countryside Trust and PSYBT.
All participants need to take part in teams of 3-6 people. Don't worry if you don't have a team – any individuals or pairs will be grouped together with individuals of similar abilities.
To find out more and to sign up for the Yomp, see www.soldierscharity.org/events/the-cateranyomp/