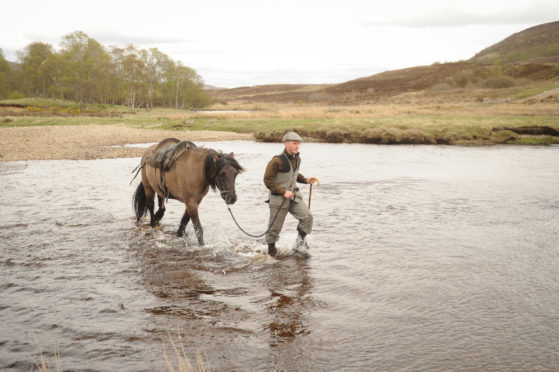 One the great spectacles of the Scottish Game Fair is the class for working hill ponies. Ahead of the event, Gayle meets one of the entrants and her handler
Tweed-clad Callum Low strides across a heathery hillock and wades through a peaty burn, a stocky Highland pony at his side.
His companion is Willow, a 10-year-old mare whose black mane and tail flow luxuriously in the breeze.
Callum, 22, is one of the gamekeepers at Invermark Estate. He manages grouse, deer stalking and other wildlife on the 55,000 acre sporting estate in Angus.
And get this – he was named Scotland's Young Gamekeeper of the Year in 2016, an honour bestowed upon him by the Scottish Gamekeepers Association.
Callum and Willow will be among those taking part in the Scottish Game Fair's class for working hill ponies, a competition set up in memory of Fred Taylor, a head stalker on the estate who died in 2012.
This year is the Game Fair's 30th anniversary, so it's going to be extra special.
"The working pony is a treasured tradition on many of Scotland's sporting estates and deer forests," says Callum, stroking Willow's neck softly.
"Fred was one of the most respected gamekeepers in Scotland and a big inspiration to me. He was a big fan of working Highland ponies and had a wealth of knowledge."
Alas, using ponies to take deer and stags off the hills is a dying tradition, with many estates choosing quad bikes instead these days.
The Game Fair competition celebrates these skills and aims to encourage more young people to work with the hardy animals.
It will be a fantastic spectacle, with ponies tacked up in deer saddles or game panniers, and gamekeepers sporting their estate tweeds as they proudly parade the main arena.
Gunmaker John Rigby & Co. is sponsoring the class with a traditional deerstalking rifle worth £12,000 as the prize.
Callum, who has been coming to Invermark to fish its rivers since he was a kid, can't wait.
"It's important to show what the ponies can do and how fantastic they look in their working tack," he says.
"They're mainly used for bringing deer off the hill after they've been stalked, shot and gralloched (disembowled), as some areas aren't suitable for all-terrain vehicles.
"They're very sure-footed, stocky and strong. It's amazing the weight they can carry – up to 17, even 18 stone stags.
"They're judged on how well turned out and well behaved they are."
Watching Callum with Willow, it's clear the bond between man and horse is strong, although Callum wasn't always an equine fan.
"I used to be petrified of horses but I've grown to love them as I've got to know them," he tells me.
"Another Highland, Prince, was my first insight into a horse that wasn't a complete nutter, and I love how their characters are all different."
One of the most gory aspects of training ponies to carry deer is familiarising them with the smell of deer blood.
To do that, keepers often hang deerskins in their fields and by water troughs. Luckily, Callum isn't the squeamish type.
"I've always wanted to be a gamekeeper; I love fishing, shooting and working outdoors," he says.
"I did three years at North Highland College in Thurso, but spent most of the time here – you can't learn the job in a classroom.
"The job changes with the seasons. You manage deer and grouse, there's vermin control, estate maintenance, tractor driving, training ponies, heather burning…it's so varied."
This will be the sixth year the Fred Taylor Memorial Trophy for working hill ponies has been presented and Fred's widow, Anne, will present the accolade.
"Fred was a huge advocate of using ponies and tradition rather than bikes or all-terrain vehicles which can leave a mess," she says.
"He was born in the glen and got a full time job as a keeper in 1971, becoming head keeper in 1981.
"Fred was quiet and calm and had a way with all animals; he could do anything with them – a bit like a horse whisperer.
"The competition is a wonderful spectacle and as well as the trophy and rifle, I give a bottle of whisky to the winner. It's a great honour and a fantastic day out."
info
The Scottish Game Fair is renowned for its have-a-go activities, whether shooting, fishing, fly casting or gundog challenges and this year's event takes place on June 29 and 30 and July 1 at Scone Palace Parklands.
Organisers are looking for volunteers to help and there are plenty of opportunities, including the coveted role of taking care of the hill ponies – sign up at www.scottishfair.com.
Other highlights include birds of prey, terrier racing and of course, The Fred Taylor Memorial Trophy for Working Hill Ponies. New for this year is the bush crafts and ancient countryside skills area.