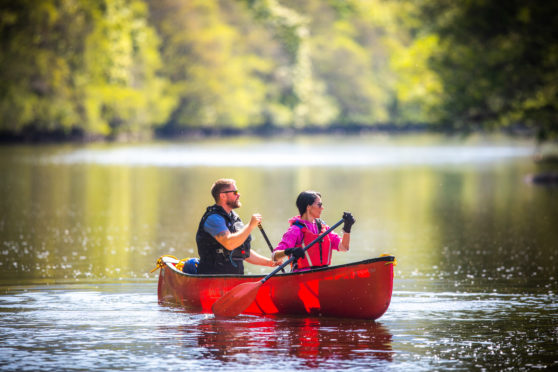 Gliding down meandering rivers, admiring mountain views and picnicking on an island. Sounds like heaven? Gayle goes open canoeing with Beyond Adventure…
Warming rays of sunshine beat down on my back as I float lazily down the River Lyon.
I'm on a canoeing trip with Aberfeldy-based outdoor company, Beyond Adventure, and it has to be one of the most chilled-out, yet fun, experiences I've had in yonks.
There are seven of us in the group, including operations manager Ross Dempster and guide Fred Cochrane, and having set off from Comrie Bridge, we're heading down the Lyon, a gorgeous tributary of the Tay.
Thanks to a lack of rainfall, the rivers are extremely low, so we're gliding smoothly and slowly, occasionally getting stuck on protruding rocks!
"I'll get out and push for this short section," hollers Fred, as we approach a particularly shallow stretch of water.
With a little bit of shuggling and shoogling, Ross and I make it through without scraping the bottom of the canoe too much.
"Keep your eyes peeled for wildlife along the banks," encourages Fred, as we paddle peacefully along.
"I've seen a few kingfishers here – their bright blue feathers are absolutely stunning. Look out for beavers, too."
Alas, we don't spot either species on this trip, but there's evidence of beaver activity, with gnawed tree stumps, chewed branches, and sticks stripped bare of bark.
While I'm sitting at the front of the craft, Ross takes up the rear.
As an experienced paddler, he's "in control" of steering, while I do my bit to help power us along.
When we reach some small rapids, Fred instructs us to follow his lead – smack bang through the middle!
This elicits a fair amount of shrieking as those at the front of their canoes (me included) get a soaking! Very refreshing indeed!
The great thing about open canoes is that they're very stable and pretty much impossible to topple. I remind myself of this when I manage to unbalance myself while trying to take a photo of fellow canoeists.
You can sit on the wooden seat, or, if this feels too precarious, kneel. I switch between positions throughout the day.
After an hour or so, we reach a wee island and Ross announces that'll we'll stop here for a picnic.
"Take a seat on that log while I get it sorted," he encourages, and without further ado, he opens up a bag jam-packed with mouthwatering delights, all courtesy of Ballintaggart Farm at nearby Grandtully.
There's smoked salmon and chive quiche, Jerusalem artichoke soup and Isle of Mull cheddar, with rocket and red onion marmalade rolls for starters.
The al fresco feast is rounded off with chocolate brownies, fresh strawberries and a pot of freshly brewed Glen Lyon coffee. Heavenly.
Once we've sat sunning ourselves for a while, a couple of folk – Ross included – get up and start skimming stones across the water.
"This is a great place for flat stones!" he quips, showing me a handful of smooth, flat ones.
Ross is brilliant at skimming, and he encourages me to have a go. I'm nowhere near as good and give up after a couple of throws.
Back on the water, we drink in awesome views of the surrounding hillscape, including the magnificent Munro of Schiehallion, also known as "the Fairy Hill of the Caledonians".
We pass a trio of friendly fishermen, giving them enough space so we don't upset them. They're all very pleasant and wish us a good day.
Returning to Aberfeldy, we paddle under the impressive humpbacked Wade's Bridge. It's an astounding example of military engineering and said to be the most important of 30 bridges built under General Wade's direction.
The bridge was designed by the Scottish architect William Adam, father of Robert Adam who went on to become perhaps the foremost country house architect in Britain.
Wade laid the foundation stone on April 23 1733, though the bridge was not actually built until the following summer.
Back at base, I catch up with Ross for a chat about the company's ethos.
"First and foremost, we're a paddling company, but we cover all sorts of adventures and outdoors expeditions," he tells me.
"The name, Beyond Adventure illustrates our ethos that there's more to outdoor activities than simply thrills and spills.
"The word 'beyond' can mean extending your skills through professional coaching, gaining a deeper appreciation of the natural environment, or taking time to immerse yourself more fully in the outdoor adventure experience.
"We like to educate people about the outdoors and inspire them to get out there themselves.
"We enjoy creating bespoke trips and building them around people, whatever their interests, levels of ability or age.
"From a half-day paddle on the Tay to what we call a 'micro adventure' in the West Coast – perhaps paddling in to the foot of and then climbing the Munro Suilven – anything is possible. There really are no limits."
info
Beyond Adventure celebrated its 20th birthday in 2018. The company offers all sorts of outdoors experiences, including kayaking trips, open canoeing, paddleboarding, gorge walking, mountain biking, bouldering and climbing, family adventures, bespoke and group options, and micro adventures – expeditions combining canoeing or paddling and camping. beyondadventure.co.uk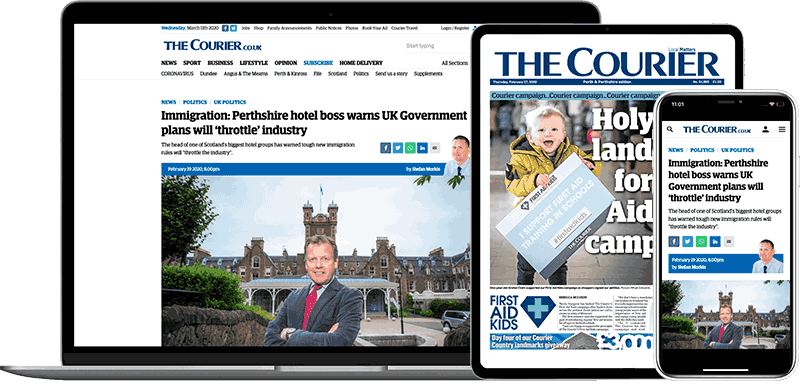 Help support quality local journalism … become a digital subscriber to The Courier
For as little as £5.99 a month you can access all of our content, including Premium articles.
Subscribe