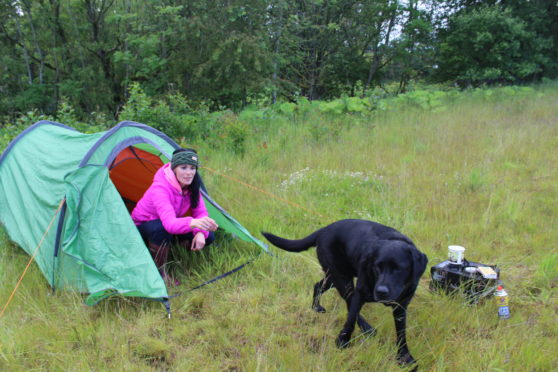 Gayle heads to the wilderness of Aberdeenshire for a walk to a bothy and a spot of wild camping…
I love wild camping – far from the madding crowd and ideally deep in the heart of a remote Scottish glen.
With summer here at long last, I chucked my new tent in the car and set off with my black Labrador, Toby, on my first wild camping adventure of 2019.
Our destination was Glen Dye in Aberdeenshire, a 45-minute drive from our home in Angus, up and over the scenic B974 Cairn o' Mount road between Fettercairn and Banchory.
I've been a big fan of the glen for many years and love the short walk to Charr Bothy.
It's just two miles from the main road but offers true immersion in the wilderness and is a welcome spot for a sit down and shelter from the elements.
Crossing the peaty Water of Dye, Toby and I set off up the glen with the sun on our backs, stupendous views across to 589-metre Clachnaben opening up before us.
I've never found the glen to be hoaching with walkers (maybe I've just been lucky), but there are always plenty of sheep and, this time, quite a few curious lambs.
Soon, the roof of the bothy came into view, but it took a few twists and turns before we actually arrived at it.
Maintained by the Mountain Bothies Association as an open refuge, Charr Bothy is surrounded by the ruins of a former township and is truly evocative.
From here, you can carry on to Clachnaben, or head up 778-metre Mount Battock.
We did neither, and instead, just sat outside soaking up the sun and indulging in a picnic.
Readers may be asking why I didn't sack off camping and simply stay in the bothy. Well, I much prefer the concept of camping.
As an aside, I'm ashamed to say that despite priding myself on being "Miss Outdoorsy", I've never stayed in a bothy. Perhaps 2019 will be the year I actually make it happen. Anyway, I digress…
I decided I'd complete the circular walk back to the car while the sun was still blazing and set up my tent in a slightly less exposed area because it was getting rather windy.
I found the perfect spot – slightly further up the glen and in a sheltered, grassy spot by a burn.
As this was my new tent's first outing (it's a Vango Scafell 200), I was slightly worried I'd take all night to erect it, so I was very glad when it proved easy-peasy.
With just two poles and a bunch of pegs, I flung it up in less than 15 minutes, with a bit of help from Toby of course.
Then it was time to bring out my gas stove and put on dinner – sizzling sausages in buns, a family-size bag of Kettle Chips, a few bottles of Corona, and the obligatory toasted marshmallows. Bliss.
It was a warm night, so I didn't need to build a fire, but I did need to apply LOTS of Avon Skin So Soft and Jungle Formula because the midges were rife!
As darkness descended, we moved into the tent and watched the sky change from pink to deep red through the flysheet.
When it came to sleeping arrangements, I wondered if things might be quite tight with a giant Labrador rootling around.
I'm very glad to report that there was plenty of room for both of us, although, had another human been present, it may have been a bit too cosy.
I slept as snug as a bug in a rug in my lightweight two-season sleeping bag, the odd grunt and grumble from Toby and the haunting hoot of an owl proving minor but not unpleasant disturbances.
I woke the next morning, refreshed, and ready for coffee and a bacon roll.
I washed my face in the burn, slathered on some sunscreen and, sad as I was to leave this glorious place, packed up the tent and headed back to the car as I had commitments for the rest of the weekend.
So, why go wild camping, as opposed to rocking up at an organised campsite, you may well ask?
For me, it's about the joy of being out in the wilderness, at one with nature – of watching the sun set over distant mountain peaks, or the morning mist hanging over a loch as you peer our from under canvas.
That kind of experience is rather spoiled in a campsite where you could potentially be surrounded by screeching kids, drunken yobs and blaring music. It's definitely not the experience I'm after, at least.
Wild camping is legal in Scotland, with a few exceptions, so if you're thinking about planning a trip, it's a good idea to familiarise yourself with the Scottish Outdoor Access Code.
Basically, campers should follow a policy of "leave-no-trace" – and that means taking away all your rubbish, leaving no evidence of a camp fire, and never cutting down or damaging trees.
You need to remember there won't be any public loos, so it's wise to pack a small trowel…
It's also worth paying attention to the landscape near your potential pitch.
That tiny, trickle of a stream you dipped your toes into during daylight hours could well turn into a torrent after heavy rain, and who wants to wake up at sparrow's fart to discover their tent has been flooded?
info
Check out the Scottish Outdoor Code at campingoutdooraccess-scotland.scot
Gayle camped in a (secret) grassy spot in Glen Dye. The tent she stayed in was a two-person Vango Scafell 200.
Her sleeping bag was the two season Vango Fuse 2. Both are available from vango.co.uk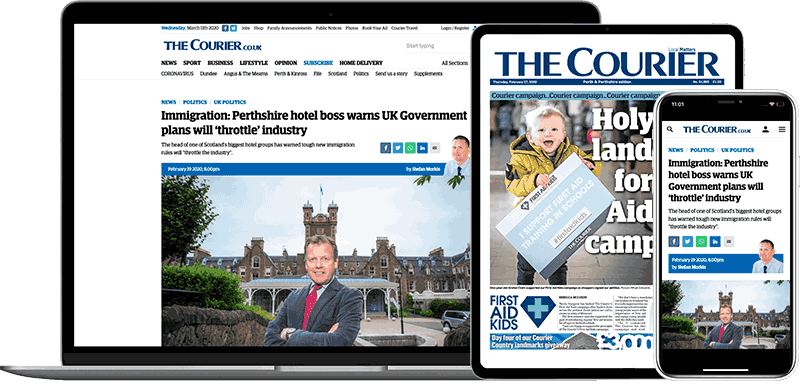 Help support quality local journalism … become a digital subscriber to The Courier
For as little as £5.99 a month you can access all of our content, including Premium articles.
Subscribe