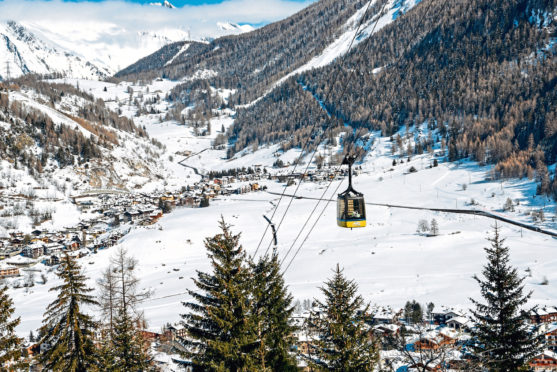 For an affordable, chilled-out ski holiday where you can country-hop into France, you can't beat the Italian resort of La Thuile, as Gayle Ritchie discovers…
Rock band ZZ Top's Bad To The Bone belts out through the speakers of the cafe's outdoor terrace as we relax in our deck chairs with warming glasses of mulled wine.
We're in true ski holiday heaven as we take in the panoramic views of the Italian Alps bathed in sunlight, and consider moseying back down the mountain for a spot of lunch.
For a no-stress, chilled-out ski trip, you can't go far wrong with La Thuile in Italy, at the top of the Aosta Valley, just over the border from France.
The resort, pronounced "la-tweel", is reasonably priced (our flights from Glasgow and self-catering accommodation for two cost just over £600 for a week via Crystal Ski), the slopes are crowd-free, the scenery is gorgeous, you can ski into France, and there are runs catering for all abilities.
The old mining village of La Thuile itself is pretty laid back, with a few shops, bars and restaurants, but it's definitely not the place to be if you're hell bent on a week of wild partying.
We stayed at Planibel Apartments, a rather ugly and soulless but very convenient complex right at the base of the ski lifts.
Having pre-booked our ski hire from Berthod Sport, a stone's throw from our room, it was a quick and easy process collecting them.
We had got up insultingly early to catch our 6am flight and felt wiped out, so we simply chilled out and bumbled around the resort, drinking in the mellow atmosphere and devouring giant pizzas and quaffing massive carafes of wine at wonderful restaurant La Grotta.
Back at our apartment we enjoyed a restful night's sleep in the cosy and extremely comfortable bed and woke early, 100% ready for action.
Suitably fortified after a breakfast of chocolate croissants and super-strong coffee at Bar La Buvette – another favourite – we headed for the slopes.
Alas, the weather was against us. Wild winds rocked the gondola back and forth as it ascended, shakily, to the top, and we paused for prosecco and beer in a cafe to let a blizzard abate before venturing out into an almost total whiteout.
Thankfully, things improved, and our afternoon was blessed with blue skies and barely a breath of air, allowing us to drink in the scenery and get our somewhat out of practice "ski legs" back on track.
I won't pretend I'm the best of skiers – quite the contrary – but I was able to tackle most of the red runs encountered, and a couple of blacks, without ending up in hospital.
There are plenty of open bowls and long, wooded runs which, depending on the snow conditions, the type of skis you're on, and your ability, can be great fun or a pain in the neck.
At times it got slushy and mushy, and I propelled myself along with my poles like some ancient crone while kids, presumably more skilled and obviously weighing much less than me, zipped past.
There were quite a lot of surprises along the slopes, I discovered, when I missed a signpost and found myself skiing down some treacherously steep, icy black runs. I made it to the bottom of most of these in one piece, but my dignity was shattered on the final day when I fell over, lost my skis, and waited shamefacedly and in a crumpled heap while a kind man skied them down to me. Mortifying.
There's plenty of skiing to keep you occupied around La Thuile for a week, but we were keen to head over the border to France.
This was a fun experience, involving some icy, shaded runs and a brisk facial exfoliation and frozen fingers as we slid over the top.
Reaching La Rosiere, the air became clear, the sun blinding and the panoramic views took our breath away.
Faced with such beauty we were more than happy to stop for several beers and slices of cake at gorgeous Restaurant le Flocon.
If you want to explore even more of the area you can visit Courmayeur, easily reached by bus and included on most lift passes.
Skiing aside, there are a few things to keep you occupied in La Thuile including checking out the museum (Maison Musee Berton), visiting its tourist tat and ski gear shops, or simply strolling through the streets or along the riverside, checking out crumbling old houses and churches aplenty.
It's worth mentioning Chocolat, a cafe which sells amazing chocolate and confectionery, and Angela's Cafe, which does great coffee and cake.
I spent a few early evenings stretching my weary ski legs with walks along a road which headed out of the village, watching as the sun dipped behind the mountains, turning from a weak yellow to a deep purple.
While our self-catering apartment had all the basics needed to whip up meals we only did this once, preferring to dine out instead.
After our amazing experience at La Grotta we found ourselves drawn back there time and time again.
We also tried La Fordze and Lo Tata, but found nothing could quite compare in terms of friendly staff and reasonably priced, fantastic fare (the bill was under £30 and we had eaten a lot).
Our plan had been to enjoy a relaxing holiday and we had no desire for après-ski madness. Apart from a couple of bustling bars – La Cage aux Folles is lively and King's Bar stays open until the early hours – nothing much happens in La Thuile after midnight.
We tended to have a few drinks with dinner and then on our way back bought beer, wine and snacks from the handy supermarket in the complex, and chilled out with the calorific haul in our room.
One of the most fabulous things about the complex was the deli, from which delicious aromas of everything from cheese to chocolate, sausages and soup, wafted seemingly at all times of day and night.
Tranquil on the slopes and in the picturesque village, La Thuile is a wonderful alternative to some of the more mainstream European resorts.
Most of the resort's slopes are north or east-facing and above 2,000m, so the snow is reliable and the pistes are kept well-groomed.
La Thuile offers some serious blacks and plenty off-piste action for expert skiers but it's largely for intermediates and beginners, with lots of gentle blue and red runs on the slopes of Les Suches, perfect for cruising and carving.
Known as Little Siberia among Italians, La Thuile enjoys amazing views of the Matterhorn, Monte Rosa and Mont Blanc.
Not a skier? You can enjoy dog sledding, ice skating and snowshoeing.
info
Gayle flew from Glasgow to Turin with a two-hour coach transfer to La Thuile. Her holiday was a package deal with Crystal Ski, crystalski.co.uk, and cost £652 for two people (£326 each) for a week.
She stayed at Planibel Apartments, www.hotelplanibel.it
Economy ski hire is available from Berthod Sport, skiset.co.uk, from 85 euros, or £73, for seven days.
Lift passes for seven days cost from 247 euros, or £212, per adult, lathuile.it
Gayle stayed at Erskine Bridge Hotel (10 minutes in a taxi from the airport) the night before the 6am flight from Glasgow, where a basic double room was £41, theerskinebridgehotel.co.uk
Hotel parking was £14 for the week. The taxi was £13 each way.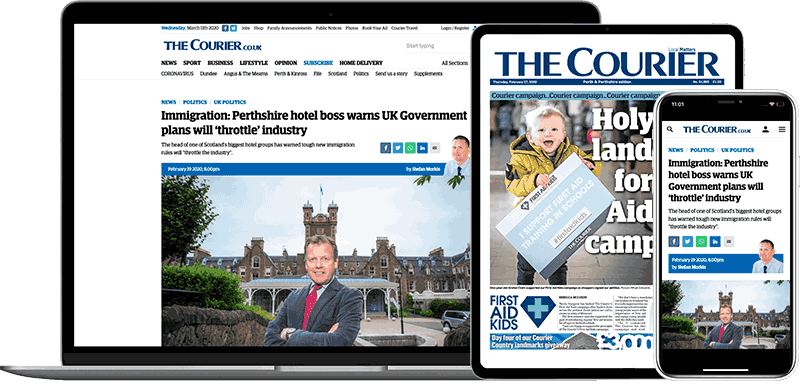 Help support quality local journalism … become a digital subscriber to The Courier
For as little as £5.99 a month you can access all of our content, including Premium articles.
Subscribe