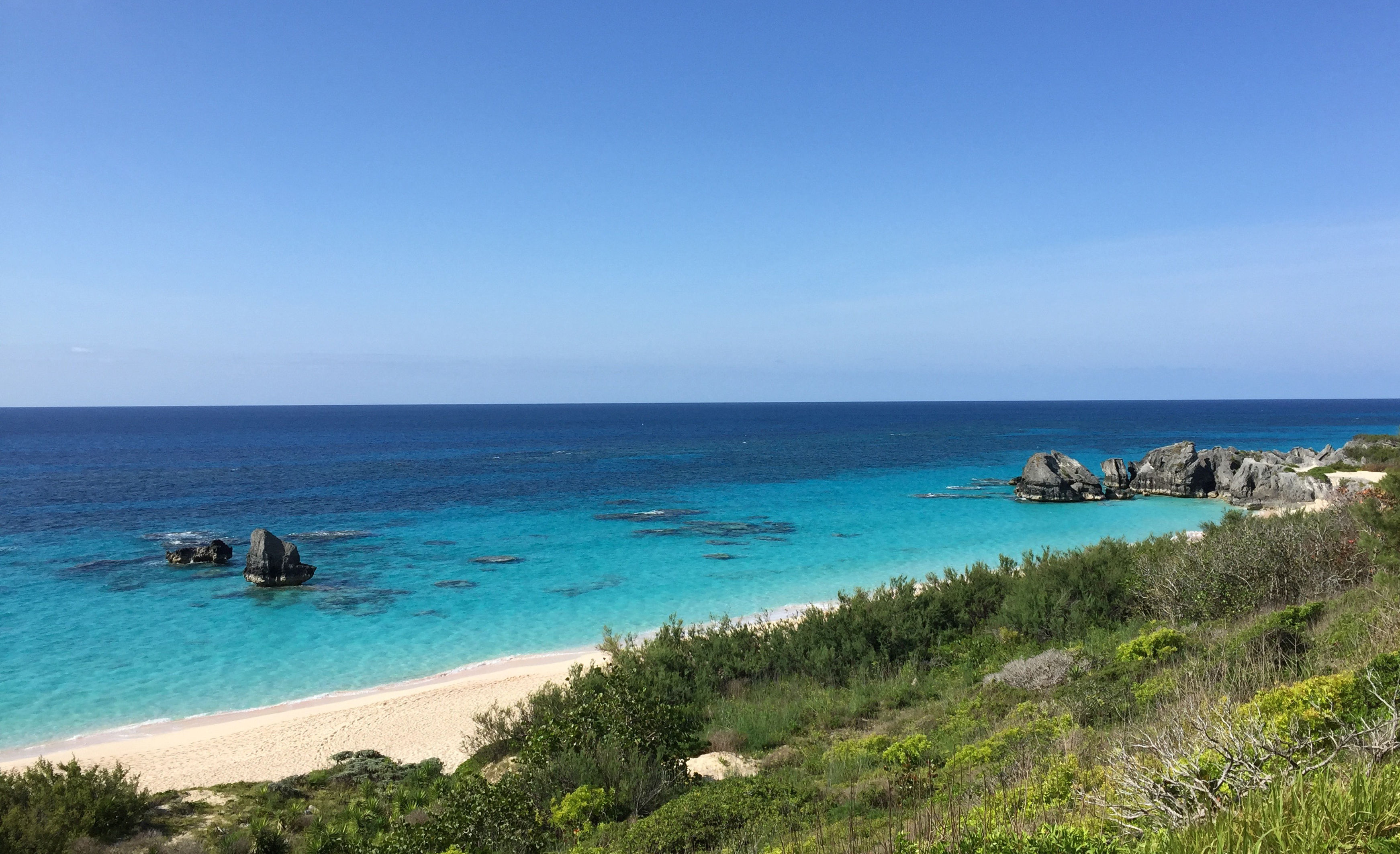 Next year, Bermuda will host the 35th America's Cup. James Edgar visits the Caribbean island to try his hand at sailing
Clutching my shiny new sailing manual, I look out over the still waters of Hamilton Harbour and watch the under-8s lesson glide back into the marina.
My nerves reassured, I start to wonder if I should have bothered wearing clothes I "don't mind getting wet" – this dinghy sailing doesn't look too difficult.
After I'm shown the ropes of my companion – the 12ft RS Feva – on the quayside, I am towed out into the blue Bermudian waters to see what she can do.
Within minutes, I understand why I was told to wear my bathing shorts. Getting to grips with the combination of ropes, rudders and rigging is trickier than I first thought.
I have come to Bermuda to master the basics of sailing dinghies, and even though I seem to spend most of my time swimming outside the boat, there surely can be no better place to learn.
Protected on almost all sides, Hamilton Harbour is a nursery for novices, and while I am here, the breeze is gentle and the sun always shines.
My course is with the Royal Bermuda Yacht Club, which is right on Hamilton's waterfront and proud to call itself one of the oldest Royal Clubs in the world.
Founded in 1844, its oak-panelled trophy room seems a little plush for me to learn my ports from my starboards and my bowlines from my clove hitches, but the nautical trinkets and claret jug trophies give me a sense of the club's history and grandeur, while spurring me on to do my best on the water.
My prize may only be the modest Royal Yachting Association's (RYA) Start Sailing qualification, but as I gaze at the intricate model boats and out over the bay, I allow myself to daydream about a far greater spectacle in the not too distant future.
In May and June next year (2017), the eyes of the world will be on Bermuda when it hosts the 35th America's Cup, and this remote British Overseas Territory could not be more excited.
Sailing is in the blood of the Bermudians, so now that the planet's biggest race is coming to town, it is impossible not to get caught up in the hype.
Around every corner I turn, I see an America's Cup logo, and in every conversation I have, the big race is high on the agenda. It's all about the Cup here.
The Great Sound will be the stage for the big races, with Bermuda's horseshoe-shaped coastline serving as a vast volcanic amphitheatre, from where fans can watch the drama unfold.
In the final, up against defending Oracle Team USA – who won the last Cup in 2013, will be the winner of the challenger series, the Louis Vuitton Cup.
Sir Ben Ainslie, the most successful sailor in Olympic history, captained the holders to victory last time round, but now he's hoping to steer his own team Land Rover Ben Ainslie Racing (BAR) to glory.
The original 1851 Cup was awarded to a Royal Yacht Squadron schooner named America for winning a race around the Isle of Wight, but the famous trophy has never since been in a British team's hands.
Land Rover BAR was launched in the presence of the Duchess of Cambridge in June 2014, and Sir Ben even took Kate on board his 45ft catamaran T1 for a training circuit in the Solent in May.
Now the British bid has the royal seal of approval and the Cup-holding skipper on board, there are high hopes it can be returned "home" after 166 years.
Britain's ties to Bermuda date back to 1609, when the flagship of the Virginia Company, the Sea Venture, was shipwrecked on its way to the new English colony of Jamestown in Virginia. To this day, Bermuda still maintains some very British characteristics: red pillar boxes, driving on the left and an unyielding passion for cricket.
Yet this tiny archipelago, with just 65,000 residents, is distinctly individual and quirky.
Pink, green and blue houses perch on the limestone rocks above the shore, and locals go about their business in equally flamboyant pastel-coloured Bermuda shorts and knee-high socks.
Measuring just under 21 square miles, this territory has an intimate charm which rubs off on visitors, and I easily find myself slipping into "island time" as I drink one of Bermuda's trademark Dark 'N' Stormy or Rum Swizzle cocktails on the famous pink beach.
Bermuda's history of swashbuckling pirates, shipwrecks and adventure means legend and folklore are intertwined with the genuine history of this mystical place.
Accounts by survivors of the Sea Venture are believed to have inspired William Shakespeare's final play, The Tempest, which he is thought to have written over the following two years.
Some scholars view the Bard's reference to "still-vex'd Bermoothes" as proof he had Bermuda in mind when penning the stormy scenes that see Alonso, his son Ferdinand and their companions wash up on Prospero's island.
Whether or not Shakespeare was genuinely inspired by the plight of the ship, the blend of fact and fiction over the last 400 years means the Tempest has become part of Bermuda's identity.
I am treated to a lively and entertaining account of the Sea Venture's fate, and what became of its 150 survivors, by the actors from the Haunted History tour at the old town of St. George's, now a Unesco World Heritage site.
With elaborate costumes and made-up faces, the players of this eccentric company take me on a meandering night-time journey through the cobbled streets of this historic town, past underground dungeons, eerie graveyards and winding alleys.
Back at sea, I find exploring Bermuda's coastline by kayak slightly easier to handle than the dinghies.
Paddling through the turquoise waters, I make my way out to a shipwreck called HMS Vixen, a Royal Navy gunship deliberately sunk in 1896 to prevent torpedo attacks.
Now the ship is a haven for marine life, and thousands of multi-coloured fish flash beneath my glass-bottomed kayak. Further along the shore, I even spy the occasional green turtle poking its head out of the blue water for air.
There is also plenty to explore by land on this Atlantic archipelago, as I discover during a bike ride along the renovated old Railway Trail, which follows 22 miles of the route taken by the ill-fated train that ran for just 17 years, from 1931 to 1948.
The short section I cycle down takes me past Fort Scaur, an imposing 19th century fortress designed to protect the Naval Dockyard from enemies attacking from the South Shore beaches.
These days, Scaur Hill Fort Park is a tranquil 22-acre area site with breathtaking views over the Great Sound – the perfect place to watch the America's Cup races.
And now I have my Start Sailing qualification, perhaps Sir Ben might consider me as a crew member for his team. But if not, I guess I'll sit up here with a Swizzle instead.
TRAVEL FACTS
James Edgar was a guest of the Bermuda Tourism Authority, who has launched a new 'learn to sail' programme in association with the Royal Bermuda Yacht Club and the Royal Hamilton Amateur Dinghy Club. Prices start from £110 per person, based on two persons taking a three-hour lesson or £450 per person for a one-week course.
:: Prestige Holidays (www.prestigeholidays.co.uk; 01425 471 140) offers seven nights at Hamilton Princess & Beach Club (room only) from £1,899pp (two sharing) – saving £651 per couple. Includes transfers and flights from Gatwick on September 13.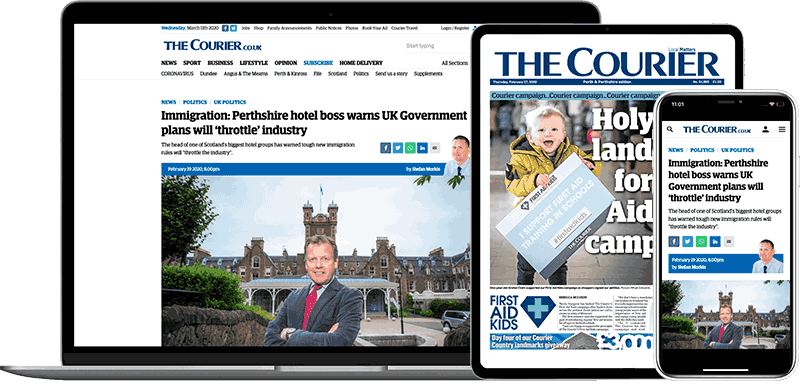 Help support quality local journalism … become a digital subscriber to The Courier
For as little as £5.99 a month you can access all of our content, including Premium articles.
Subscribe