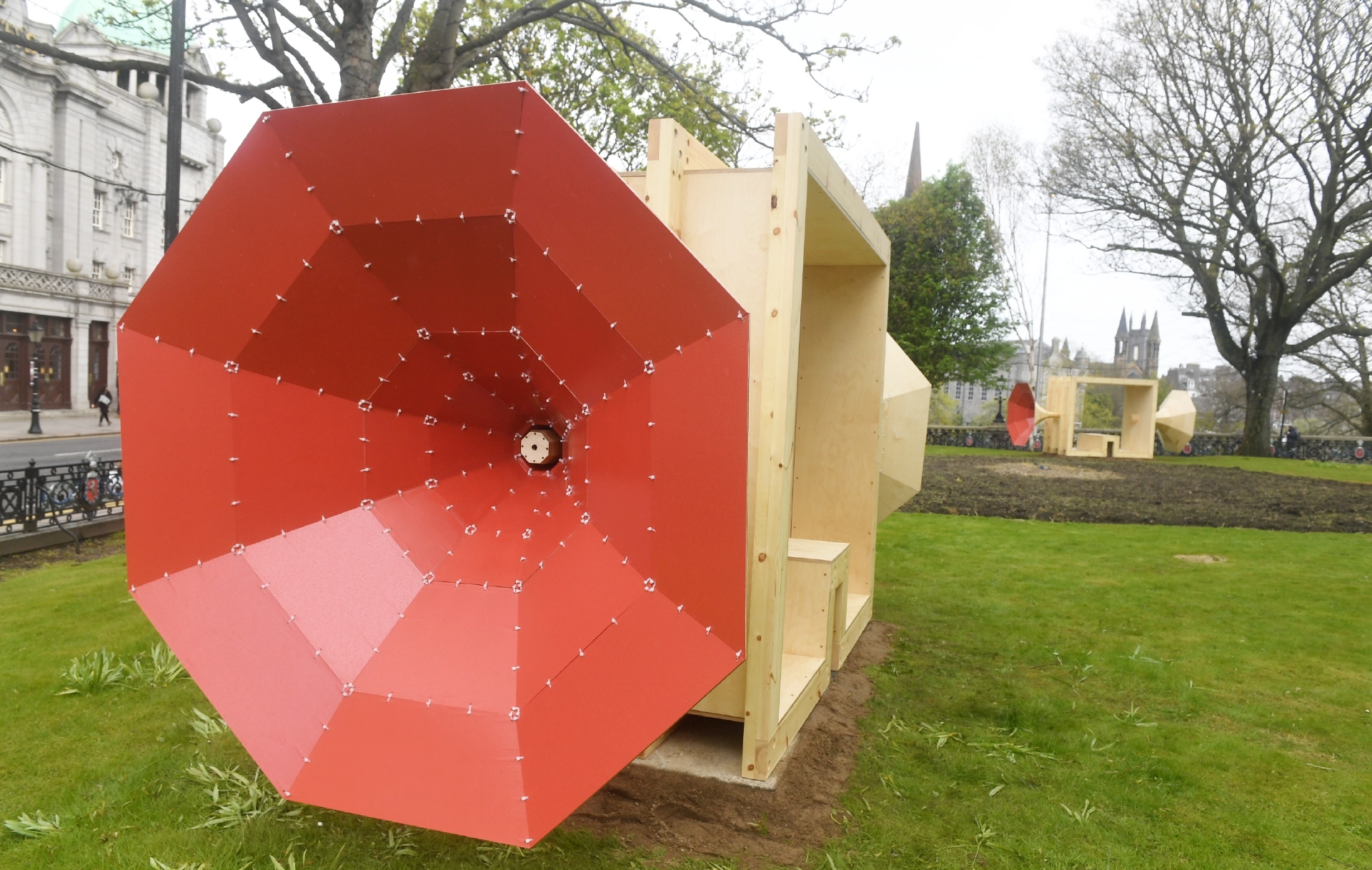 During a short break, Nadia Vidinova finds herself immersed in a side of Aberdeen that even the locals don't often see
As I wander from one exhibition to another, the entire city seems to shimmer in the sunlight.
Around lunchtime I stop at a global-themed restaurant which doubles up as a gallery and live music venue, before I head off for an evening of seriously surreal performance art.
No, I'm not in some trendy corner of London – I'm only an hour up the road in Aberdeen.
As a relative newcomer to Scotland, with little interest in the oil or fishing industries, I'd never felt an urgent desire to visit the granite city, instead gravitating towards Edinburgh and Glasgow when I wanted a culture fix beyond Dundee.
Plus, those grey buildings and biting North Sea winds mean Aberdeen always seems so cold.
However, a team of arts devotees has been working around the clock to change people's perceptions of the city and put it on the map as a cultural destination.
I was lucky enough to visit during Look Again, a visual art and design festival showcasing Aberdeen's history and heritage through contemporary art.
The five-day event was the first of a series of 11 festivals focusing on everything from art and technology to music and dance, which are taking place from the end of April until March 2018 as part of the VisitAberdeenshire, True North, The Real Scotland campaign.
"The idea is to create a new north", says Hilary Nicoll, associate director of Look Again. "There's this assumption that Aberdeen is all about oil and gas but the city existed before these industries for centuries so it has a rich history and culture."
One of the festival's main pieces was The Listener, a public art installation placed on grass opposite the Central Library. It certainly caught people's attention, though it's difficult to walk past a giant trumpet-like, talking sculpture without going for a closer look.
Passers-by were invited to sit in the alcove in the middle of the structure and listen to the anecdotes, urban myths and stories of local people narrated through built-in speakers.
Dundee-based creator Jason Nelson was on hand to guide me through the piece and explain how it symoblised people's relationship to their city.
Next was Record Store, a project dreamed up by artists Chris Biddlecombe and Janie Nicoll, showcasing more than 60 fictional record covers by Scottish artists with an interest in music-making. It wasn't difficult to find my way around the various festival highlights, as they were all dotted around the city centre and within walking distance of each other.
Some could be spotted without even trying, such as the wearable, inflatable "sculptures" in bright primary colours, which made them pop against the cold grey background of Marischal College.
Produced by Ruby Pester and Nadia Rossi, the pieces were part sculpture and part costume, resembling a machine hybrid emitting a humming sound.
The wearers bounced around, interacting with passers-by and walking through a series of temporary sculptures made from different types of granite by Swedish/Scottish designer Nick Ross.
The latter were named the Doric Boule, drawing attention to the traditional materials used to build the city.
A modern twist was provided through the Aberdeen Wall – a collection of tweets which had been sent out within a three-mile radius, ranging from the political to the ridiculous.
Perhaps the most "out-there" feature of the festival was Cloud Mushrooms, a performance by Ultimate Dancer and Fritz Welch held in the Anatomy Rooms multi-arts space, a former medical school. Blending bizarre elements of theatre, dance and fine art, it was impossible to categorise the work or even to describe it to someone who hasn't seen it for themselves.
Normally I'm somewhat sceptical of performance art, and I'm still not sure if I loved it or hated it. Strangely, it was a bit of both and I was definitely left intrigued.
For me, Look Again certainly piqued my interest and encouraged me to explore Aberdeen from more than a tourist's point of view, going to spots I'd never have thought of visiting otherwise.
My visit to the city was so full of variety that it was hard to believe I'd only been there for two days.
I saw more exhibitions and performances than I can list in one feature, visited pop-up shops and ate in all kinds of places, from artisan cafes to locally-owned restaurants serving dishes from around the world.
The much-praised beach lived up to its reputation, with a long stretch of golden sand and stunning views making for a pleasant walk to work off all that food. And if you're in the mood for shopping there's no place better than Union Street and the surrounding areas, which boast a huge range of high street stores, independent shops and malls.
Overall I found Aberdeen to be a vibrant city with stunning granite buildings which really do glitter in the sun.
info
Nadia stayed at Skene House Rosemount Apartment Hotel, 96 Rosemount Viaduct and ate lunch at Musa, 33 Exchange Street.
Information about the Aberdeen festival programme is available at: ebook.aberdeenfestivals.com