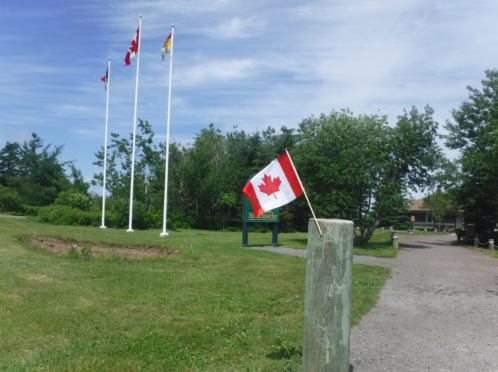 I'm all at sea. No, literally, I am out in the middle of Shediac bay, bobbing about on the good ship Lobster Tale.
Captain Ron Cormier and his crew have just dished up some freshly cooked crustaceans – save the one chicken ordered by an American – and are now demonstrating best practice on how to eat them.
"Now, what you want to do is snap the leg back at the knuckle, tear it apart in your hands and suck out the insides," the captain advises.
Surprisingly, the lobster before us is cold. Having been cooked on a grill until pink, it is custom in Shediac, Captain Cormier tells us, to dunk it in gallons of North Atlantic ocean water – of which there is plenty. The cold of the water allows the meat inside the body to contract from the shell, meaning you get as much of the fish as possible.
I crack away at the lobster's shell, putting to the back of my mind 20 minutes previously when I had helped drag the pot from the ocean floor and noted the little captives seemed quite content padding about. However, Shediac is the lobster capital of the world, so when in Shediac, do as…
Bears
Later that day, having driven a few hours up the Atlantic coast, I am spiraling my way to the top of a great fir tree, dodging branches and swatting mosquitoes in an attempt to find a perch to glimpse a magnificent sleuth of black bears.
I have my second environmental epiphany of the day in the wooden confines of Bear Man Richard Gougan's Little Big Bear Safari treehouse.
The bears, which are smaller than I had envisioned – but still large enough to tear me limb from limb – are quite majestic. They wander, almost in pairs, searching for food treats stowed away in the branches of the clearing made by Mr Gougan. I am told by business owners in the nearby town of Miramichi his methods are controversial and that the bears should be left to themselves.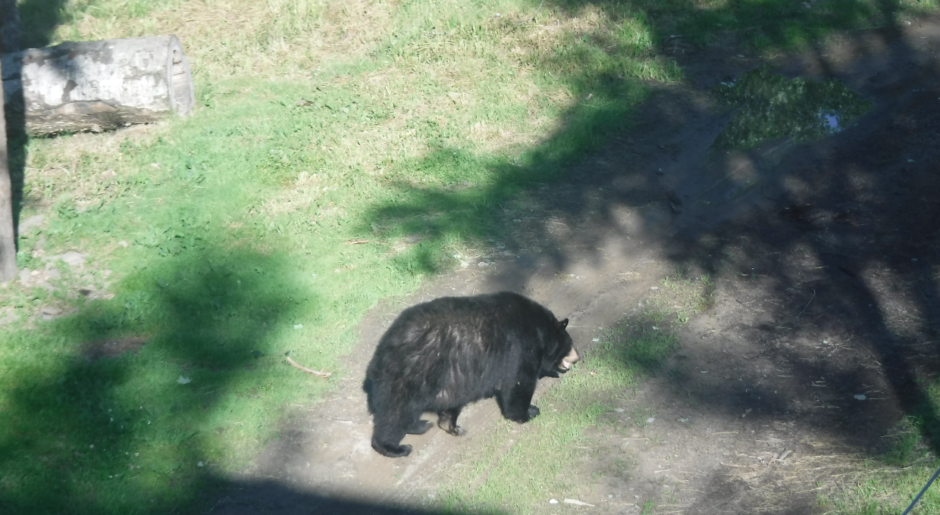 As I watch the black bears meander below, I'm overcome, for milliseconds, to go down and get a closer look. Fortunately, I lobster out, much to the relief of my insurers I'm sure. But the elegance these forest kings exude is captivating and I realise just how brief our time here has been, and will be.
There are a number of striking things about New Brunswick, the province I spent one week doing a month's worth of activities in.
Canoes
The day after my adventures on the ocean and in the woods, I piled into a Canadian kayak (or, as they call them in Canada, canoes) and paddled across the great salmon-filled Miramichi river.
The island of Beaubears, which was once home to the First Nation Mi'kmaq, then French settlers, then Acadians, then Scots, then the English and then Canadians.
In fact, it was an Aberdonian, they think, who set himself up as a New World settler and the boatyard on the island is the last surviving example of 19th Century shipbuilding in New Brunswick, and a Canadian heritage site.
Blackwatch 
What's striking about New Brunswick is how gloriously Canadian yet entirely similar to Scotland it is.
It is a vast province, despite being one of the country's smallest. During my stay, I drove just short of 1,500km – including a three night stop in St Andrews by the Sea.
The most obvious similarities occurred during my meeting with the intense and endearing Major Hal Skaarup. A veteran with more than 40 years military service in the Canadian armed forces, Hal now takes history tours around the Fredericton area, including the Canadian Blackwatch cemetery on the Nashwaak river.
While driving to meet Major Skaarup, I skid my rented Jeep to a halt on Route 148.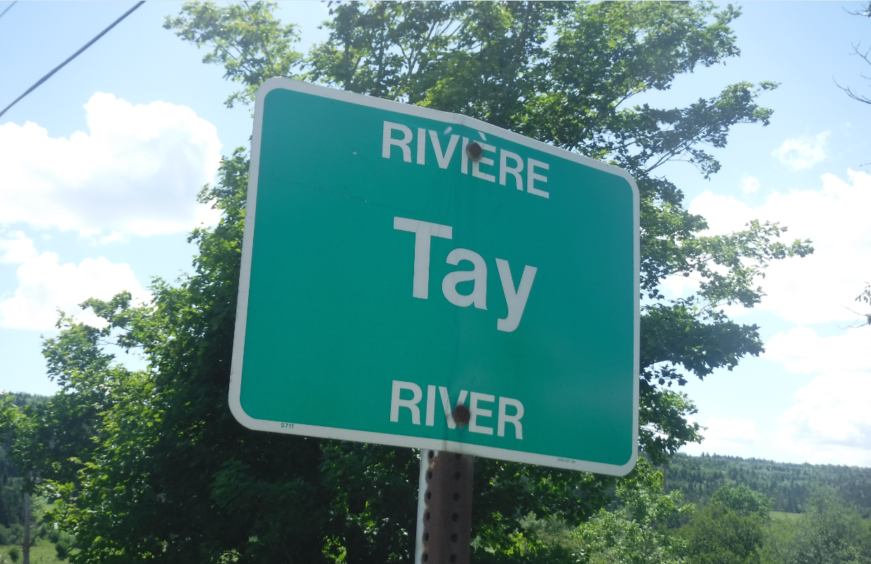 There, propped on the side of the road at the cusp of a bridge, is a sign telling me I'm crossing the river Tay. I look 100m down the road, and spot a second sign telling me I'm close to the village of Stanley.
At this stage, I had been driving for about three hours and as stunning as the scenery of the Miramichi river valley was, I had tuned out of what was 5m beyond my field of vision.
The cemetery, which interred long-deceased descendants of a good whack of New Brunswick's biggest city Fredericton, sat on the banks of what can only be described as a scaled up Courier Country. I could easily have been in Perthshire, standing on the banks of Faskally and looking towards Pitlochry.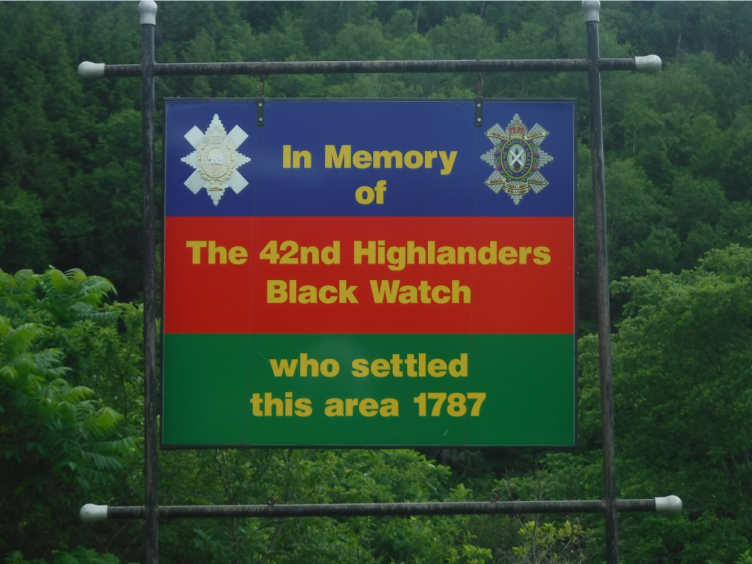 Major Skaarup tells me the soldiers buried beneath us could be distant cousins of both him and me, the earliest contingent of Canadian Blackwatch being New World immigrants from Scotland sometime in the 18th Century.
They were "gifted" the land where they now lay following their involvement in a long-forgotten conflict.
That night, having toured the graves of the soldiers and their families, I headed back to reality and into New Brunswick's capital city, Fredericton.
Beers
Fredericton is ace. I am not a copywriter or marketing expert, and it is doubtful, given the preceding sentence I ever will be. However, that was what I took from my short visit to the small city. With a population of 58,000 (half the size of Dundee) you would be forgiven for thinking there was not much going on.
Art galleries, craft beer pubs, museums, botanic gardens, a bustling downtown district with heaps of restaurants from across the globe and coffee shops which actually encourage you to read newspapers are all on offer – much to this millennial hipster's delight.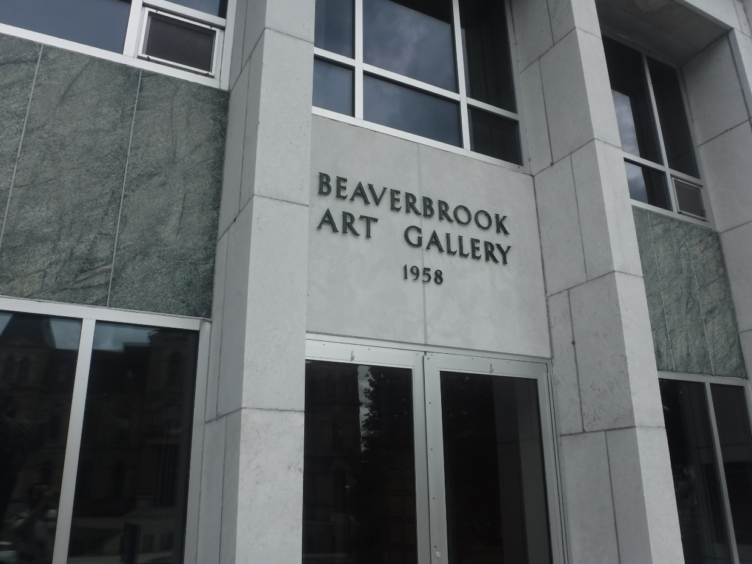 The Beaverbrook Art Gallery, which sits just off the St John's River, has an interesting mix of Canadian, American and British art, as well as fascinating cultural artefacts.
I was able to look at Lucian Freud's Hotel Window, which was placed in close proximity to a series of portraits of Michael Jackson drawn by a Fredericton 10-year-old. This mix of fine art and community-based outreach permeated the entire exhibit, offering a unique take on the importance of public art and providing a much needed change from stuffy art galleries.
At night, the craft beer revolution is alive and kicking in New Brunswick, with each bar happy to talk you through their wide selection of locally-made ales. Saying that, there is still plenty of Labbat and Moosehead on offer for those less inclined to look at a menu when choosing a tipple.
My personal favourites included the Snooty Fox, the King Street Ale House and the Graystone Brewing bar. A visit to Read's Newsstand and Cafe the morning after for freshly brewed coffee and a perusal through the papers certainly helped take the edge off.
Drinking in New Brunswick is a slightly different experience. The bars are much the same, however beer and liquor can only be purchased in specially-licensed stores, which explained the odd looks I received from staff in the supermarket when I asked where they stocked their lager.
Alma, a small fishing village, sits deep within the Bay of Fundy – home of the beautiful Fundy National Park. I hiked for several hours through a forest path up the Salmon river, the skyscraper trees shielding me from a blistering sun. For those seeking solitude, the park and its various walks can offer breath-taking views where you won't see another soul for hours at a time – although there is the distinct possibility you might run into a moose.
Curiously, the village of Alma also lays claim to having some of the best lobster on offer. It would be foolish to pit the two towns against each other.
More Lobster
Alma is awash with hidden secrets, which are out in the open as soon as you arrive. The sticky buns – sugary glazed pastries the size of a morning roll – are truly a New Brunswick delicacy rivalled only by the abundance and quality of their lobsters.
I was lucky enough, on my last night in Canada, to stay in a purpose-built home high up on the cliff side, nestled among the trees. The owners of the Cliffside Suites, Ken and Laurette Kelly, invited me over for dinner, where I was able to experience first-hand the true extent of New Brunswick hospitality. That's not to say I wasn't met warmly by everyone I met during my stay, because I most certainly was. Moreover, I was welcomed into their home, as a complete stranger, and treated like a friend. I learned, over the course of the evening and several large glasses of whisky, Ken had lived in almost every continent at one point as an officer of the Royal Canadian Mounted Police. Despite living in places as exotic as Singapore and Pakistan, he and his wife moved back to Canada.
As I sat, beaker in hand, gazing out over the national park, watching the tide pass out into the bay marooning the fishing boats where they berthed, the sun setting behind the acres of trees casting a red summer glow in near silence, I could see why.
Where to stay?
Shediac: Maison Tait Inn – A true Shediac landmark, the inn is located a stones throw away from the marina and a five minute walk to the nearest restaurants and bars. Prices from CAD 219 (£127) per night for bed and breakfast.
Miramichi: Governor's Mansion Inn – A hotel so steeped in history it serves dual purpose as a museum, the Governor's Mansion has in fact been visited by none other than HM the Queen Elizabeth II, during one of her commonwealth visits.
Visitors are given the royal treatment, prices starting from CAD 148 (£85) per night in the summer season for dinner, bed and breakfast.
Fredericton: Crowne Plaza Lord Beaverbrook Hotel – the Beaverbrook hotel sits on the banks of the St John river, and five minutes walk from the bustling downtown area, restaurants and bars.
It has everything you would expect from a Crowne Plaza, with pool, secure entry parking and fine dining hall.
Prices start from CAD 139 (£80) and breakfast is a payable optional.
Alma: Cliffside Suites – Set atop some of the most picturesque ocean scenery in the world, Ken and Laurette Kelly's Cliffside Suites are some of the most tranquil and captivating accommodation you can stay in New Brunswick. Alma is a small, quiet town so booking is essential. Cabins start from CAD 119 (£69) per night for self catered apartment.
How to get there
Flying to New Brunswick is super easy, with a regular, affordable flight from Glasgow Airport to Halifax International in Nova Scotia. From there, it is a scenic 1.5 hour drive across open highway.
Flights start at CAD 968 (£562) in the summer (cheaper than some flights to Europe) and the travellers have access to films, tv shows and sports matches, as well as food and drinks. Book with Canadian budget airline WestJet.
Drive
When hiring a car, I recommend picking up an SUV/ 4×4.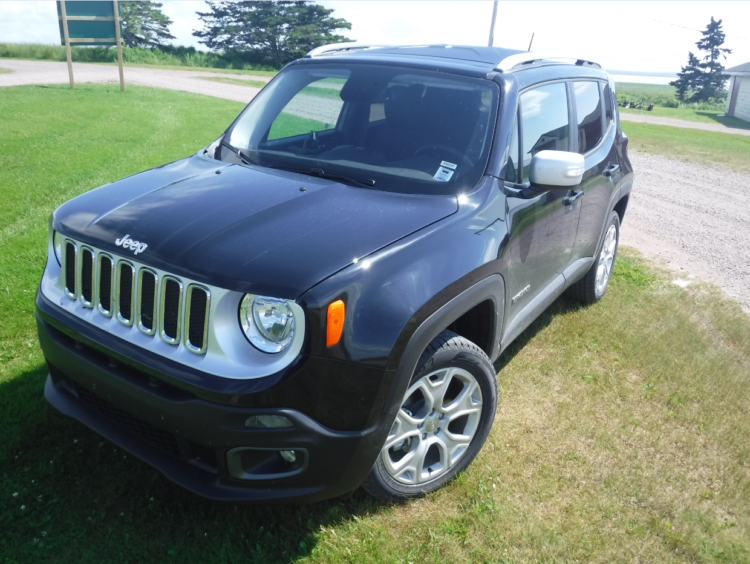 Most Canadian cars are automatics. I drove a Jeep Renegade, prices starting from CAD 447 (£260). Petrol is cheap compared to the UK, at CAD 1.30 (75p) per litre.