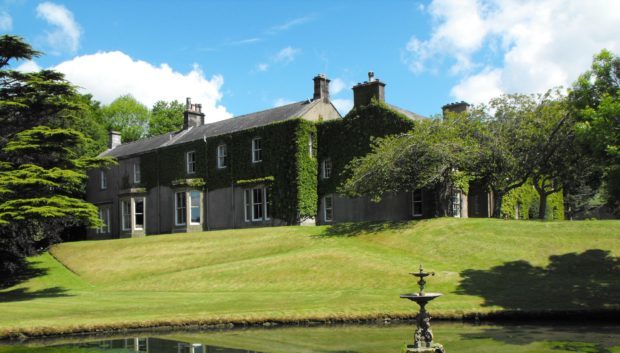 Farlam Hall Country House Hotel, near Brampton, offers a lot to people looking to spend some time in a beautiful part of the British countryside, including taking a trip to Hadrian's Wall and indulging in some stunning food.
But be warned – you will need some spare change to make the most of everything the area has to offer.
The staff are clearly proud that the hotel has made it into the Relais & Châteaux Guide 2018, with copies of the book found in the room, reception, corridors – almost everywhere you look. But it's understandable, as the guide is seen as the bible for independently owned luxury hotels around the world.
Prospective members are strictly evaluated on the "Five C" motto: character, cuisine, courtesy, calm and charm.
That does not necessarily make Farlam Hall to everyone's tastes, of course.
Situated less than a half-hour drive east from Carlisle, the hotel's surrounding area has lots to keep you busy, belying its peaceful atmosphere.
The hotel itself is wonderfully quiet but, with the Lake District, the aforementioned Hadrian's Wall, Northumberland National Park and Carlisle within driving distance, there is plenty to keep you interested.
Maps detailing nearby sites were on hand, and staff were more than willing to offer advice on where to go when asked about places of interest along Hadrian's Wall.
There are a number of museums and visitor centres along the wall for those wishing to learn a bit about the Roman Empire's presence in Britain – and how as they approached Scotland they simply threw up a huge wall to stop Scots from encroaching on their empire.
Vindolanda deserves special mention as you can wander around the ruins of a former Roman settlement.
Not much of the buildings are left, but a detailed map gives you an idea of what the area would have been like when it was occupied and, if you time your visit right, you might even see some archaeologists digging away, trying to unearth more secrets beneath the soil.
There is also an excellent museum behind the settlement, which has numerous discoveries made on the site. Among these is a plethora of footwear, some of which are in almost unbelievably good condition. I have some pairs at home that look more tattered.
Also nearby is The Sill – a wonderfully futuristic yet rustic tourist centre and B&B.
Sitting under a grassy roof designed to blend in with the natural surroundings, the building focuses more on the Northumberland National Park, which lies just to the north of the site, than the surrounding Roman history.
Almost completely powered by on-site renewable energy, The Sill is a great spot to have some lunch and enjoy the exhibitions, which include geology from the area's history.
However, if it's some relaxation you are after, the country home itself is peaceful and the staff helpful so it's also an ideal place for a spot of peace and quiet.
If traditional, floral décor is your thing then you will be in heaven.
The rooms will set you back up to £250 per night (although they're available from £155), and the dinner will cost you almost £50 per person each night so the hotel will be best suited to those with some money to burn.
But as soon as you sit down for your main meal, you will know where that money has gone.
On my two-night stay I experienced some of the best food I have ever had the fortune to taste.
The five-course bonanza starts with canapés in the drawing room before heading to the main dining room to enjoy the remaining pre-ordered courses.
Over my visit I devoured duck, sea bream, hake and asparagus. The fish in particular was delicate and mouth-watering.
All main courses are accompanied by a side dish of the chef's selected vegetables.
Seasonal root vegetables dominated affairs and all were worthy accompaniments to mains, but a special mention must go to the roast potatoes.
As much as I enjoy a roastie, they are not usually worth raving about. However, there was a sweetness to the skin that made them melt in the mouth more than the juiciest steak and they were soft and fluffy as well as firm.They're almost worth making the trip for alone.
If you're in the hotel during the afternoon you will be offered some tea with some wonderful homemade cakes. You won't leave the place hungry, that's for sure.
It should be noted, there are some protocols visitors are asked to observe.
For example, dinner should be ordered by 6.30pm – although, to be fair, that is to give the head chef time to prepare one of the best meals you're likely to have.
If you fancy a tipple with your dinner there is an impressive and exhaustive selection of wines from all over the world to choose from – though be prepared to spend at least £20 (and upwards of £70 if you're feeling flush) for the privilege.
The beer selection is limited, but not too much as I enjoyed a nice pint of Speckled Hen on both nights.
While you're eating your dinner, staff will be readying your room for the night as the hotel offers a turndown service. You wouldn't get that in a budget hotel chain.
Fans of Downton Abbey, and the plethora of similar television dramas that came in its wake, should love Farlam's throwback qualities.
Travelling through #Cumbria or around #HadriansWall this weekend? Pop into Farlam Hall for tea and coffee – we're the perfect place to unwind after a long walk ☕️? pic.twitter.com/nV6vnWuJct

— Farlam Hall (@FarlamHall) September 21, 2018
The hotel is set back from the road and has an impressive garden, which a number of different bird breeds clearly enjoyed. Ornithologists will have a great time sitting back and watching the many small birds going about their day.
Given its location public transport is not feasible and if, like me, you are not overly familiar with that part of the country then a satnav is advisable to get there.
If you have a spare bob or two and want to experience some quality food in beautiful surroundings, you could do far worse than visit Farlam Hall.
Info: Farlam Hall Country House Hotel (www.farlamhall.co.uk) in Brampton, Cumbria, offers double rooms from £155 pppn based on two sharing half-board (reduced overnight rate offered to guests who stay more than one night, except August/September when reduced rates apply to stays of five nights and more).
Reservations by phone: 01697 746234, email farlam@farlamhall.co.uk or visit www.farlamhall.co.uk.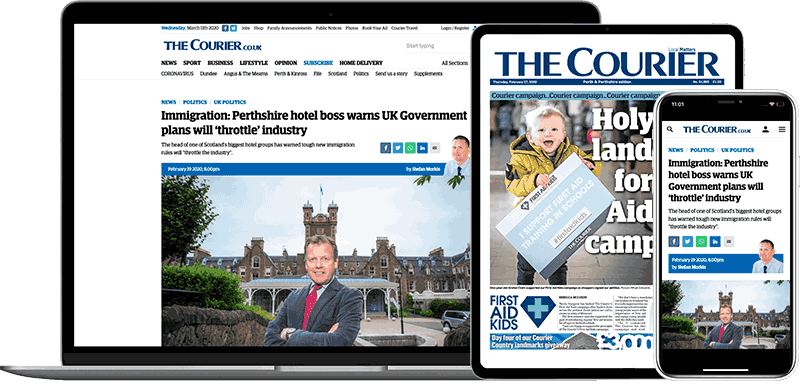 Help support quality local journalism … become a digital subscriber to The Courier
For as little as £5.99 a month you can access all of our content, including Premium articles.
Subscribe