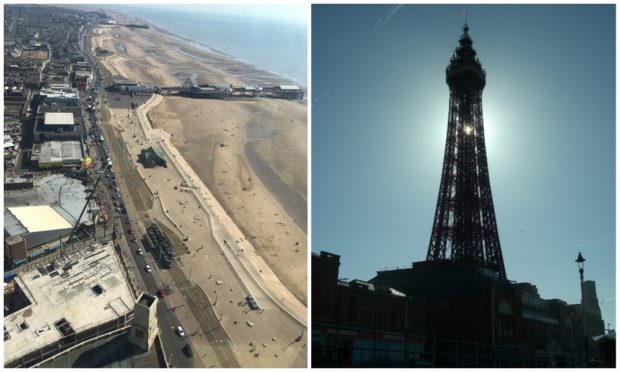 As a kid growing up in Manchester, our annual trip up the motorway to what will always be the jewel in the crown of British seaside resorts was always a major highlight.
But I'll be the first to admit Blackpool would not have been an instant choice when it came to choosing our next destination for a family break.
Sure, as a kid growing up in Manchester, I Ioved that journey, especially if meant a jaunt along the twinkle of the town's famous illuminations.
It's just not somewhere that came to mind as a destination for anything more than a day trip.
So, let me just say now, be prepared to be as pleasantly surprised as I was after a weekend in what remains the UK's most popular seaside destination.
Our accommodation for the two nights was The Big Blue Hotel, conveniently situated at the South Pier end of the seafront,
It proved an ideal base, offering secure off road parking and with a friendly welcome we were instantly impressed by how spacious, clean and comfortable our family room and on-suite bathroom were.
Most importantly, my two girls were delighted with the separate bunk bed area which also boasted their own TV and games console.
The hotel's Blue's Bar & Brasserie offered local cuisine as well as a-la-carte menu and there was a good value children's selection too.
Most importantly, the breakfast restaurant offered more choice than I'd experienced in any hotel in a long time.
As busy as the restaurant was of a morning, there was never the feeling of being overcrowded, whatever the breakfast you wished was there in abundance and with ample and polite staff, nothing was ever too much trouble.
Most exciting of all, the hotel boasted its own private entrance to Blackpool's world famous Pleasure Beach, something the kids found highly amusing.
With an efficient and regular tram service just yards from the hotel door, it was easy and convenient with young family in tow to head up to the seafront and explore what Blackpool is famous for.
Having talked about it for almost the entire journey down from Fife, what could be more British than a ride along the beach on the back of a donkey?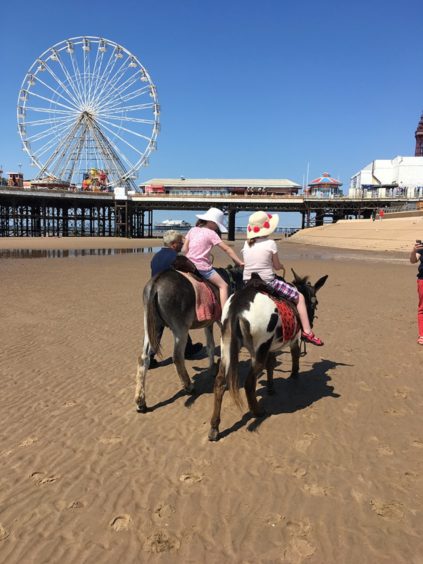 The girls could hardly contain themselves with the owner happy to tell us he'd was the fifth generation of his family to offer donkey rides having tendered his animals on Blackpool sands for over 50 years since the age of nine.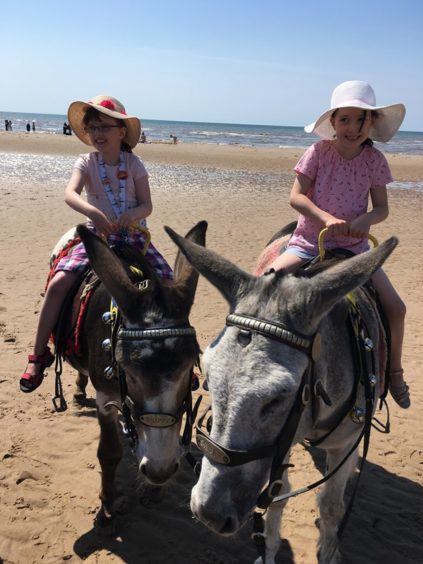 Undoubtedly, the jewel in the resort's famous Blackpool Tower.
One of the UK's most iconic and most recognisable structures, I urge any reader to put it on their must-visit list.
And what better time than now with the tower celebrating its 125th anniversary.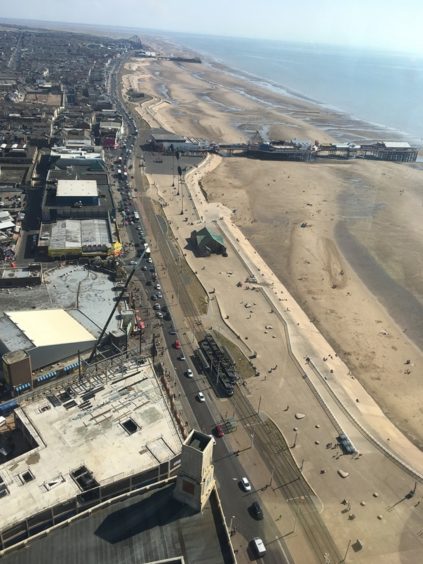 In the last decade visitors have flocked to the tower's world renowned ballroom. It's nothing short of a mecca for dance fans and once again one of Blackpool's most popular tourist attractions having received a huge boost thanks  to the wildly popular BBC TV show Strictly Come Dancing.
The tower also boasts the oldest permanent circus arena in the world having never missed a season, including through both World Wars, since the tower first opened in 1894.
Entering the 1,300 seater arena was a real step back in time with the thrills of the high trapeze and the charm of Mooky the clown leaving you breathless after a two-hour show.
The finale of which is a water spectacular where the arena's unique hydraulic floor sinks and fills with 42,000 gallons of water in less than a minute, even leaving me in awe.
While my wife made a beeline for the ballroom, she's arguably Strictly's biggest fan, and the kids had been left open mouthed at the high jinks of the circus, for me it was the experience of going to the top of the tower that I'd pretty much come to Blackpool for.
Inexplicable, considering I'd visited Blackpool many times as a child, I'd never actually been to the very top, and it was time to put that right.
Since 1998 the tower has featured the 360-degree glass floored Skywalk, 380 foot from the seafront below and bet your bottom dollar, if there's only one thing you do on your visit to Blackpool, make sure it is to visit this.
The floor will unnerve you, but it's the sheer exhilaration of the views, you can see as far as the Lake District on a clear day that, that makes this a must for any visitor.
And, yes, it was certainly worth the wait!
Blackpool can often be seen as brash and noisy, what seaside resort isn't?
But Blackpool can still pack a punch and offers any visitor a little bit of what traditional holidays were once like.
The joy of building sand castles on the beach, enjoying ice creams and eating fish and chips on the pier and seeing the town lit up at night will, I'm sure, live long in the memories of my two girls as they will with me, and that is something pretty special indeed.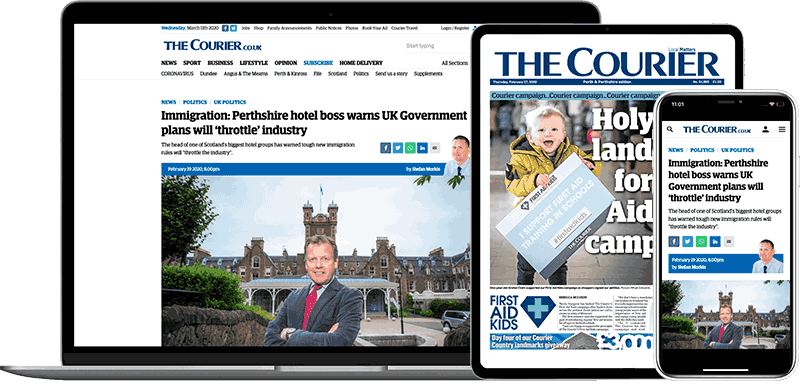 Help support quality local journalism … become a digital subscriber to The Courier
For as little as £5.99 a month you can access all of our content, including Premium articles.
Subscribe