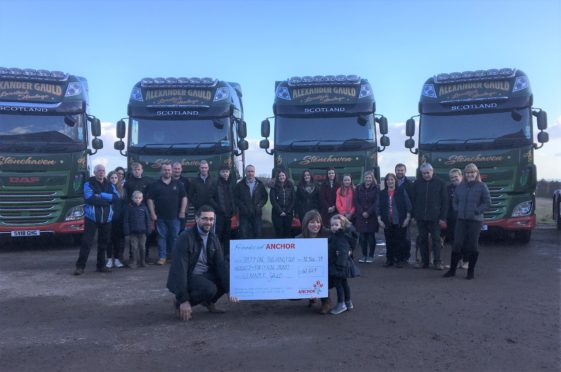 The family and staff at a Mearns haulage firm have dug deep to honour a key figure from the area who lost his battle with cancer, raising more than £61,000 for a north-east unit where he received treatment.
Graeme Gauld, the youngest partner of family-run livestock haulage firm Alexander Gauld of Stonehaven, has been described as  a "pillar of the local farming community."
He was diagnosed with stomach cancer in August 2018 and received treatment and care in the Aberdeen and North Centre for Haematology, Oncology and Radiotherapy (ANCHOR) Unit at Aberdeen Royal Infirmary.
After his diagnosis, Graeme's family and colleagues raised funds for Friends of ANCHOR, launching their fundraiser at Angus Show in June.
Fundraising at the show was a huge success, surpassing the expectations of Graeme and his family; wife Laura and three-year-old daughter Isla.
Thousands of pounds were donated in the first 48 hours and that figure quickly rose to tens of thousands, finally ending in an incredible £61,449.56.
Graeme sadly passed away on July 1 at Roxburghe House, aged 39.
Laura said: "Graeme was truly humbled by all the support we received, and that support gave him a much needed boost in the toughest of days.
"A huge testament to how loved and well-respected Graeme was in our community and beyond.
"The amounts raised from the fundraiser, along with the donations made at Graeme's funeral, came to a phenomenal amount of money.
"I am incredibly proud of Graeme, what he achieved in his life, how he dealt with his illness right to the end, with bravery and dignity and most of all, how much love he had for Isla and I; a love which extended to our family and his many, many friends.
"A truly special man to many, which was never more apparent from the support of the fundraiser, then to who all paid their last respects. What a man."
She thanked all those who supported the fundraiser, including his staff, family and friends.
Erica Banks, of Friends of ANCHOR, said: "We were deeply saddened to hear the news of Graeme's passing.
"From the moment the team at Alexander Gauld got in touch it was clear Graeme was a very special person in the lives of many, many people.
"It really was humbling to see the community rally around in such a strong way to show their support.
"To have raised such a significant sum of money is testament to what a well-loved character Graeme was.
"He was certainly a pillar of the local farming community and is dearly missed by many."